SLIDE-OUT WHEELCHAIR LIFT KEY ON NEW SCANIA SCHOOL BUSES
---
LEADING Victorian bus operator Ventura has added eight new Scania Touring school and charter coaches to its fleet, with a luggage-space-saving slide-out wheelchair lift a highlight, the company has announced.
Purchased for use from Ventura's outer-urban depots, four of the vehicles will be based at the hilly and picturesque village of Monbulk on the edge of Melbourne's Dandenong Ranges, Scania confirms.
The 57-seaters all feature powered wheelchair lifts above the rear wheels on the kerb-side, and a capacity for carrying two wheelchairs internally with the loss of four rows of seats on the left aisle, it explains.
The seats, though, have been designed to be easily removed and stored at the depot while a bespoke wheelchair-lashing system has been designed and the chairs' occupants are secured with three-point seat belts for additional safety, Scania explains.
Although freshly commissioned, the Touring coaches have been welcomed quickly into Ventura's Monbulk fleet, it adds.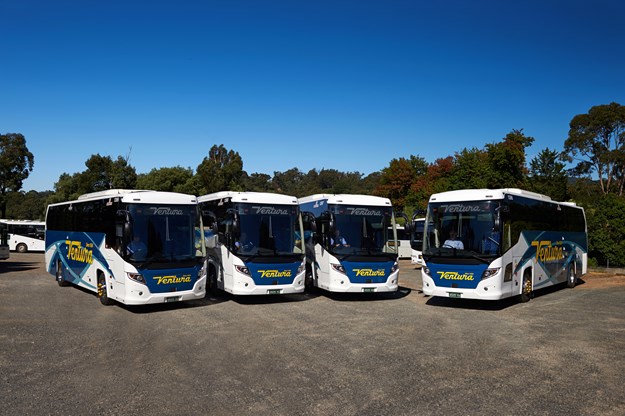 LUGGAGE CAPACITY
Long-serving driver Roy Beattie says the new Touring was very smooth to drive and the ZF automatic transmission provided a refined travelling experience for the passengers.
"It is more comfortable for drivers and passengers, and the braking system is very well calibrated, too. I recently did a school camp run and the luggage all fitted - and we had a lot of it," he said of the Scania Touring's 9m3 luggage capacity.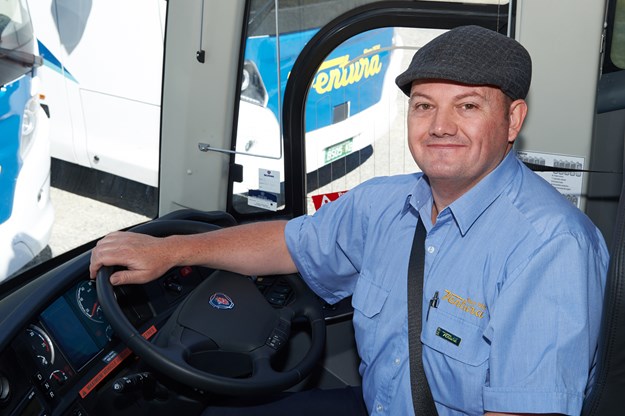 "The school kids were really happy to be driven around in a new bus and one that's smart and quiet," he said.
A benefit of the slide-out wheelchair lift design is that is does not eat into precious luggage space as previous lift mechanisms have, Scania explains.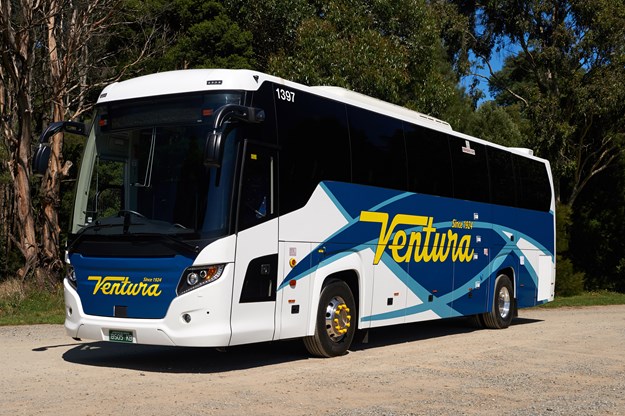 LATEST TECH
Further driver assistance technologies have also made a positive impression on Beattie, he says.
"I was previously driving a 2000-model manual transmission Scania bus and the difference is significant. There's so much more technology on these new vehicles, such as Lane Departure Warning and Adaptive Cruise Control, but also nice features such as a heated driver's seat, which gets hot very quickly and no doubt will be very popular in the winter."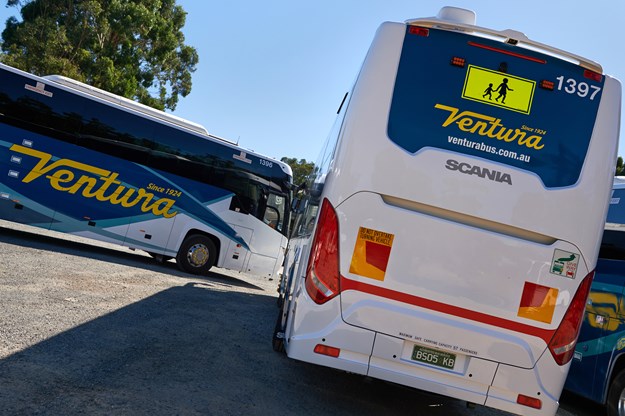 "We also have a dual-radio system so we can have the passengers and driver listening to different stations, although I have made a playlist for my school run and play that through the system," Beattie explained.
"The new buses have plenty of power and, even when fully loaded, they are getting up the steep hills around here very easily. The bus also cruises at high speed very nicely. I took a charter to Philip Island recently and the bus sits very securely at 85-90km/h.
"It's a dream to drive. It's like the bus becomes an extension of you; it's very predictable," Beattie said.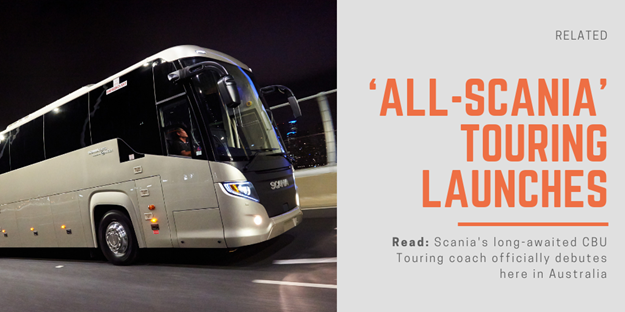 DRIVER COMFORT
Shaun Staggard has been driving for Ventura for nine years and says the new bus has been well received by school kids on his runs.
"They're impressed with it and happy to be on an upgraded bus - and for a driver over six-foot-tall like me, the driver area is very accommodating," Staggard said.
"The switches are all in the right place, there's plenty of space and the mirrors are good, so it's easy to drive."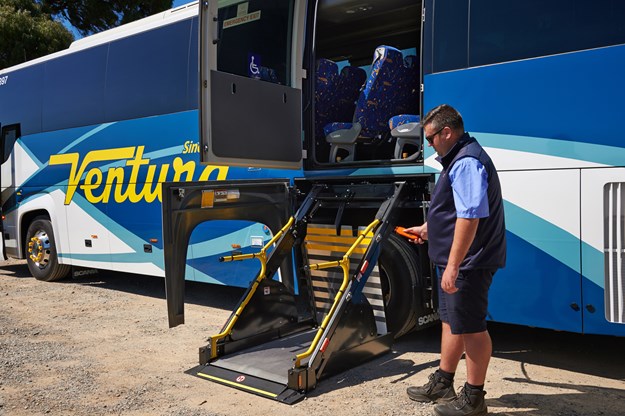 NATURAL FIT
Speaking exclusively to ABC Magazine (www.busnews.com.au), Julian Gurney, director of Sales for Scania Buses and Engines said: "The Scania Touring has been quickly accepted into the school and charter bus market in Australia."
"We have gone to great lengths to specify the Touring with the highest output in terms of power and torque that the ZF six-speed auto could handle. For our 9.0-litre five-cylinder engine that is 360hp and 1700Nm.
"We're also offering our 13.0-litre six-cylinder engine at 360hp, but with additional torque, peaking at 1850Nm, making these two combinations the clear winner when it comes to driveability, reduced fuel consumption and total cost of ownership (TCO)," Gurney explained. 
"Scania has engineered the Touring to be reliable in service, extremely durable especially in arduous driving environments, and with the benefit of mass production, consistent quality of manufacture leads to greater in-service uptime, which is crucial to our customers.
"With a pipeline of product on stream from the factory, we're able to offer reduced delivery times. We also offer the additional advantage of fitting locally sourced seating to operator preference, bringing the best of both worlds."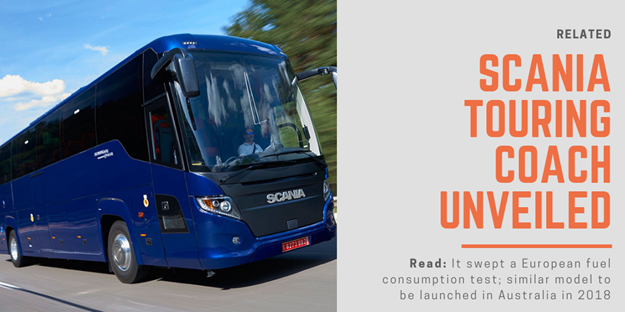 TAILORED DELIVERY
Gurney adds that the Scania 'from bumper-to-bumper' concept, plus its nationwide network company-owned branches and authorised dealers, delivers a single point of contact for operators throughout the extensive working life of these vehicles.
"Scania Touring has been a success in Australia from day one, and its inclusion as part of the Ventura fleet for school and charter work is a perfect example of how Scania tailors its products to meet its customers' needs," he stated.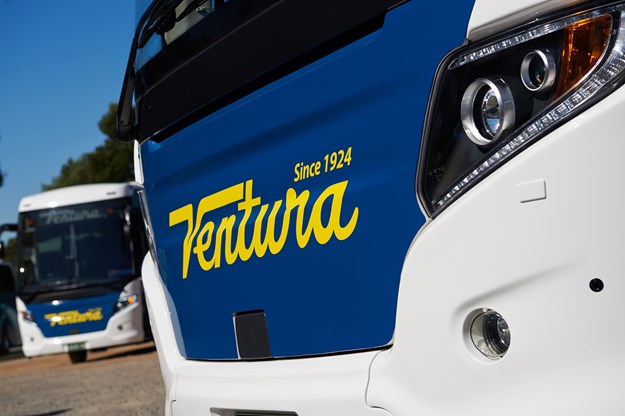 ABOUT VENTURA
Ventura Bus Lines is the largest provider of public bus transport services in Melbourne, it states.
Its fleet of 883 buses operates across 141 routes out of 12 depots and move, on average, 36 million people each year, it explains.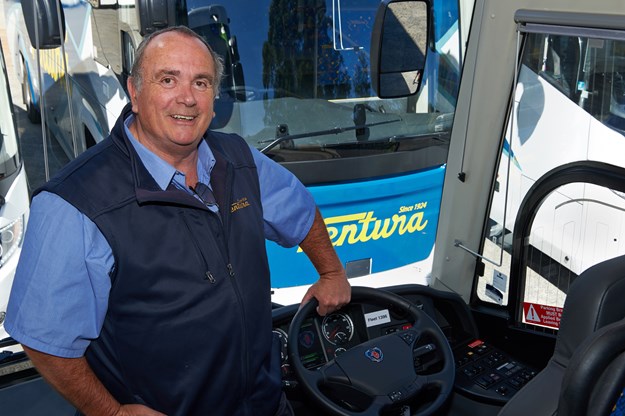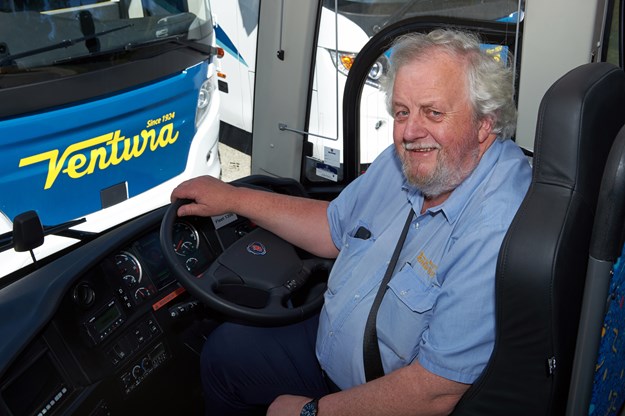 Subscribe to our newsletter
Sign up to receive the ABC e-newsletter, digital magazine and other offers we choose to share with you straight to your inbox
You can also follow our updates by liking us on Facebook.