SAFETY FIRST – SOUTHERN CROSS TRANSIT
---
OPERATOR: For nearly two decades Frank Oliveri has been running Southern Cross Transit, a part of the G&C Oliveri Group of companies. With an aim to further improve its safety and efficiency standards, the school bus and charter services operator has recently added two new Mercedes-Benz O500 RS Irizar buses to its fleet.
Bus operations run in this family. The Oliveris are well-known in the Australian bus transit sector. The business was set up by Giovanni Oliveri and his brothers in the early 1950s. As the business expanded and families grew, they branched out in different directions within the transport sector. In 1992, Giovanni and his wife Caterina Oliveri's five children separated from the other Oliveris to set their own businesses under the G&C Oliveri Group.
Today, the five siblings - Joe Oliveri, Frank Oliveri, Carmel Faruggia, Domenica Sprock and Frances Oliveri - make up the board of directors of Southern Cross Transit, as well as Sydney-based Interline Bus Service. The sole shareholder is their mother, Caterina. Frank is the managing director of Southern Cross Transit, while big brother Joe is the managing director of Interline. Carmel is the finance and admin director, while Domenica and Frances share administrative duties.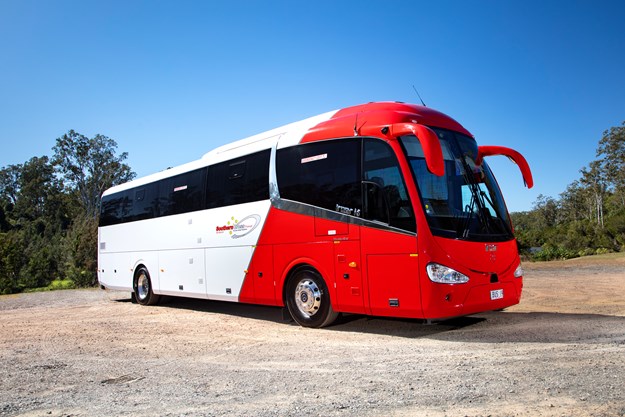 HOW IT STARTED
"My career in transport started in 1978 when my dad passed away and I stepped into his shoes," Frank Oliveri said.
"I worked across a range of positions within the Oliveri family group of companies before moving on to Murrays Coaches for over a year and then joining the rest of the family in Interline Bus Services in 1992.
"We purchased Southern Cross Transit in August 2002 from the previous owner, Wally Horwood. It came about during the 2000 Sydney Olympics, where I met someone who directed me to Southern Cross Transit. So I came to Queensland to meet Mr Horwood and, 12 months later, we had purchased the business."
Now the next generation of the Oliveris has entered the family business, with his son, John, who is the general manager of Southern Cross Transit.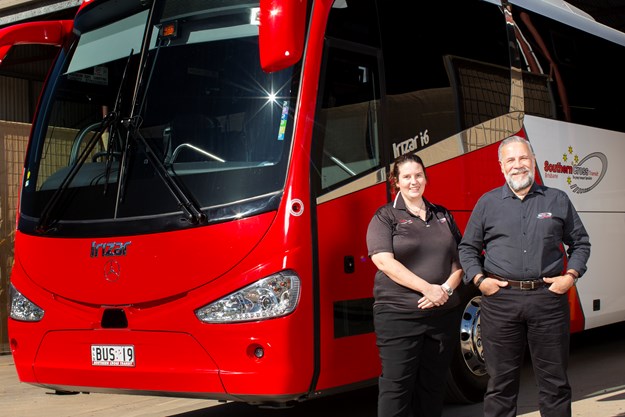 WHAT SCT DOES
The company specialises in school transport services, with a mix of government contracts and private school transport, operating in the western suburbs of Brisbane and the northern suburbs of Ipswich.
The Queensland government contracts are operated under the Student Transport Assistance Scheme (STAS), which is administered by the Department of Transport and Main Roads (DTMR). Southern Cross Transit has just over 2,000 registered students and averages 1,700–1,800 students per school day. Additionally, it operates a number of private school transport services on a charter-hire basis, such as sports, excursions and shuttle services. It also works closely with Kangaroo Bus Lines and Thompsons Bus Services in rail replacement works.
"Since acquiring the business nearly two decades ago we have specialised our operations and our fleet to concentrate on government school contracts and school transport – these constitute up to 95 per cent of our core business," Oliveri said.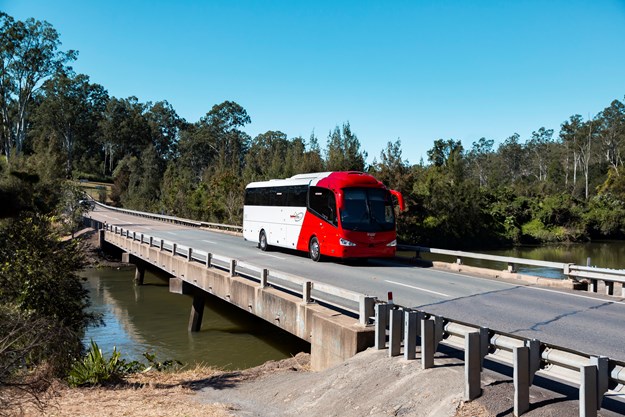 THE PEOPLE
Talking with Oliveri it is hard not to be impressed by his immense pride in his family, the legacy of his father, the unparalleled guidance of his mother, and his current team at Southern Cross Transit.
"Our parents made sacrifices so we have all these opportunities today. They instilled family values and morals in us, which we all hold above almost any commercial reality," he said.
"Our operations manager Brianna Jordan, charter and tours manager Debbie Moore, fleet supervisor Rhys Barclay and my son, John, make an amazing team that I'm very proud of.
"We value our staff and they are certainly not numbers for us. We know every employee by name, we see them every day and we endeavour to help them where we can.
"We have an excellent driving team. We have a bank of 35 drivers – from semi-retired professionals to full-time drivers.
"We have extensive training programmes, which is a huge aspect of our business. We speak to them closely to find out ways in which we can improve their work environments, so that we can deliver a standard of service that is unequalled."

THE FLEET
"We currently have 31 vehicles and operate 28 services. The average life of our fleet is six years, which is down from 21 years from when we bought the business in 2002, so we're very proud of that. The fleet comprises a mix of Volvo and Mercedes-Benz vehicles. The reason we focus on these two brands is that they are synonymous with safety and efficiency. Our latest addition is of two new 'Benz O500RS Irizar i6 school and charter buses, as they present the highest level of both of these features," Oliveri explained.
"Our research had indicated that we would be making significant fuel savings with these two new vehicles. We have moved from fully automatic specifications to automated manual transmission, which is the 'Benz eight-speed powershift transmission. The reason was fuel economy. Honestly, it is left-field to what the rest of our fleet is, so this is going to be a test to see how they perform.
"In the past we had purchased O500R chassis and our experience of those was excellent and, given that the new O500RS chassis offered some extra safety and efficiency features, we decided to invest in these. We were equally impressed with the fantastic after-sales support of the Mercedes-Benz and Irizar teams and we hope to have a fleet of Irizars in the future," he said.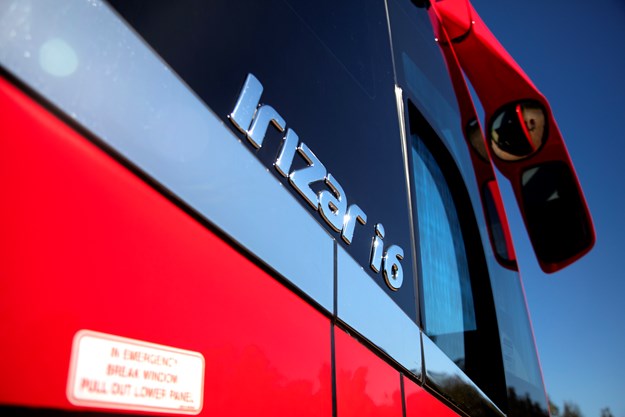 STAND-OUT SERVICE
The state government's STAS contract is fare-based, meaning operators like Southern Cross Transit holding these contracts are paid per student as opposed to a kilometre-based contract where the operator is paid per kilometre travelled. As a result, the company is allowed to legally carry as many as 91 students in a standard 57-bench-seat bus. However, while there is no commercial incentive to have seat-belted buses, as it limits the capacity of students they can carry, Southern Cross Transit aims to operate the safest and most comfortable vehicles and, therefore, all its fleet is fully air-conditioned and seat belted.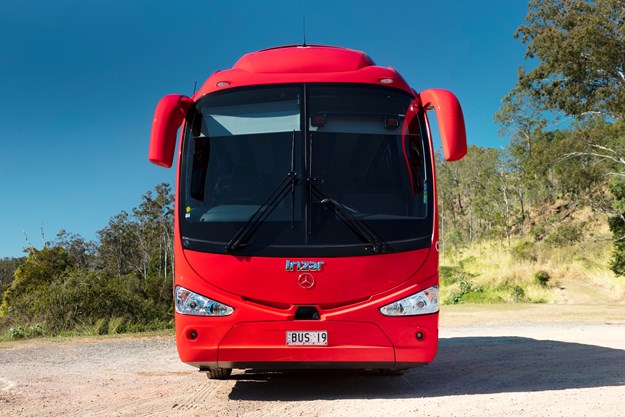 "That is our mandate – to provide our community with the safest and most efficient school buses. There is a financial penalty to us in doing so, but ... it gives us a good standing in the market of private school charter and school transport," Oliveri said.
One of the biggest challenges for the business is competitive pricing in the market, he says.
School transport, as well as adult charter business, is extremely competitive due to the smaller players that do not have overhead costs, such as those of operating a depot and workshop, as in the case of Southern Cross Transit.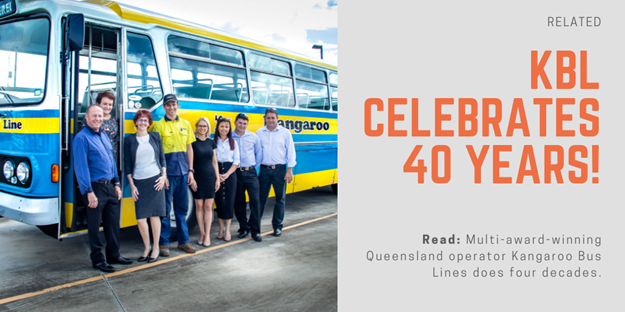 However, said Oliveri: "We don't want to be the cheapest service provider. Our aim is to be safest and most efficient and that's why we've purchased these 'Benz-Irizar models and invested in these extra safety features."
Being primarily a school charter, the shutdown period as a result of the Covid-19 pandemic hit the business hard, as it lost 30 per cent of its revenue. A further 15 per cent of its revenue that normally comes from cash fares from students who are not eligible for state funding also dried up. Despite that, Oliveri remains optimistic for the future.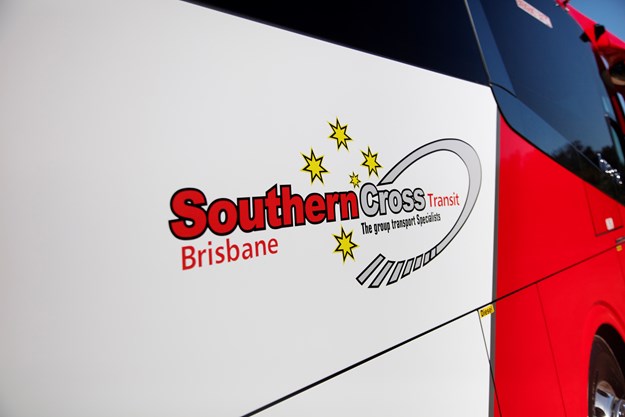 "Now that full services have resumed, the challenge for us is to retain our market share of the school charter business, which we believe should get back to normal by Term Four of this year," he said.
"Our future plan is to grow our operations, particularly in the adult tour and charter market. However, we do not wish to grow at the expense of safety standards. That is something we will never compromise on."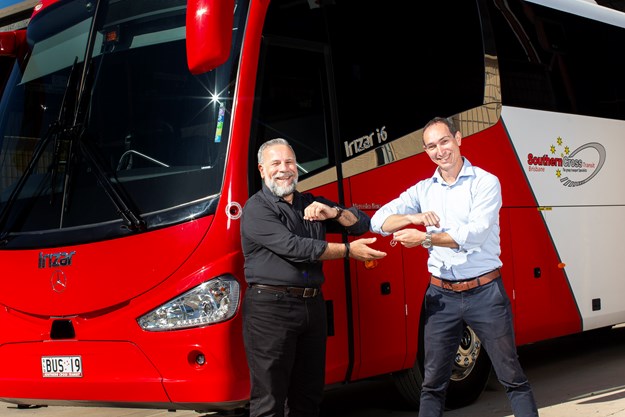 NEW O500 RS IRIZARS
"Mercedes-Benz is excited that Southern Cross Transit has taken delivery of the O500 RS Irizar i6 3,700 school/charter bus, equipped with our proven OM457 Euro5 engine and GO240 eight-speed automated manual transmission, after being the first company to place an order for this new model in Australia," said Mercedes-Benz Buses (Daimler Truck and Bus Australia Pacific Pty Ltd) senior manager Mehmet Karal.
"We know they will benefit from the comfort and the economy of this fantastic product. Importantly, this vehicle also features the most advanced safety systems such as lane departure assistance, active emergency braking system, and electronic stability program (ESP) among others to make sure everyone gets home safely.
"The O500 RS chassis is our best-selling coach chassis in the traditional bus markets, where Mercedes-Benz has been the undisputed market leader for decades. We are proud to introduce this vehicle finally to Australian bus and coach operators," Karal explained.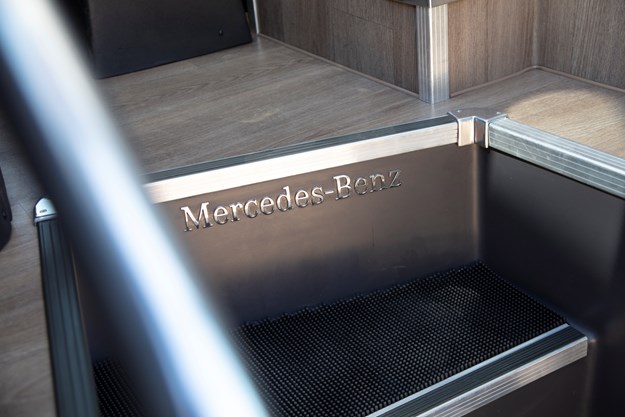 Subscribe to our newsletter
Sign up to receive the ABC e-newsletter, digital magazine and other offers we choose to share with you straight to your inbox
You can also follow our updates by liking us on Facebook.