THE LONG GAME - LTD BUS & TRUCK
---
OPERATOR: Despite the current economic downturn, Queensland-based LTD Bus & Truck Rentals is optimistic for long-term growth thanks to its operational strength, teamwork and good clientele.
For more than 25 years LTD Bus & Truck Rentals has been operating a truck and bus hire business at the same premises on the Gold Coast, Queensland.
Current owner and managing director Glenn Mitchell started working in the company in 2003. Seven years later he became a partner in the business with then-owner Laurie Doyle, who retired in 2013.
Speaking fondly of his old partner, Mitchell says he was lucky to have had the chance to co-partner with Doyle.
"I am very grateful to have started this business journey with Laurie. I owe exactly where I am today to having such a good partner. He still helps me to this day," Mitchell said.
"We are still a very small family owned business. We have five staff members, with another member joining our team later this year."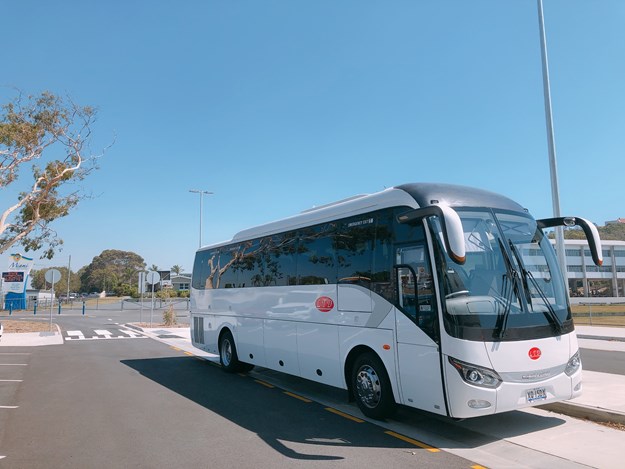 Mitchell, who is a qualified mechanic, is currently in charge of LTD's on-site workshop, where the company handles complete maintenance of all the vehicles. He oversees the day-to-day operations at the workshop – including mechanical safety inspections on all heavy vehicles.
The business specialises in vehicle hire for a range of activities including sporting events, private functions, goods delivery, airport transfer and self-drive charter. Throughout the years the fleet has expanded to include a range of moving trucks, vans, utes, minibuses, and large buses for 'dry hire' service, the company explains.
"Our vehicle rental business delivers to both Coolangatta and Brisbane airports, so our customers have the flexibility of flying in and picking vehicles from right there," Mitchell said.
"Our vehicles are registered with the grounds operations at both the airports, making it more convenient for customers to collect the vehicles," he added.
LTD Bus & Truck Rentals also supplies coaches and minivans to schools from Brisbane to northern New South Wales, and freight vehicles to trucking companies through south-east Queensland.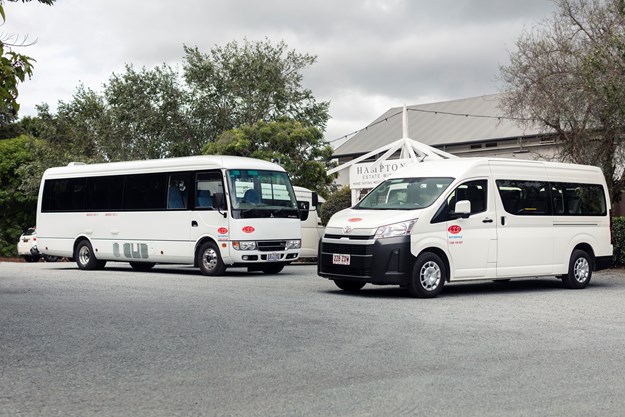 THE FLEET
LTD currently has 45 vehicles in its fleet – from 12-seat commuter buses, Toyota Hiace minivans, to Mitsubishi Fuso 25-seat Deluxe models and fully equipped King Long coaches.
"We are probably one of the only companies that not only has dry hires large coaches, but has the quality of vehicles available. We try and offer our customers the newest and fully equipped vehicles.
"We now do 12- to 61-seat coaches dry-hire, as well as removal trucks. All of our fleet is now automatic," Mitchell explained.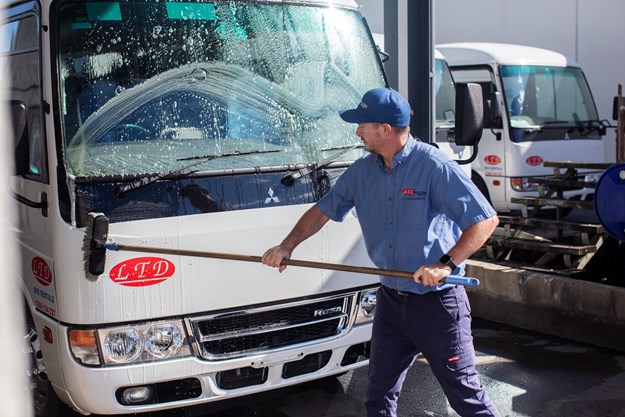 When LTD first started operating, there were up to 15 vehicles in the range of 12- to 53-seat coaches, many of which were used. As the business grew they were in a position to purchase new large coaches on an ongoing basis. This is one thing Mitchell is particularly proud of in LTD's success. 
"We're now at a stage where we turn over our big coaches every five years to supply the best quality we can. We normally have a two-year turnaround for our smaller coaches, like 25-seaters or less, other light vehicles, and all our trucks."
So does he have any preferred makes and models?
"Obviously we have been through a lot of models over the years. Because we service all our own vehicles, I suppose it was very teething over the years to work out which ones were most reliable and easiest to maintain whether it be servicing, doing tyres, or whether it needs any adjustments on the road and the availability of people to work on them. That's why we've stuck to Hino trucks, Toyota minivans, Fuso 25-seaters and King Long coaches," he explained.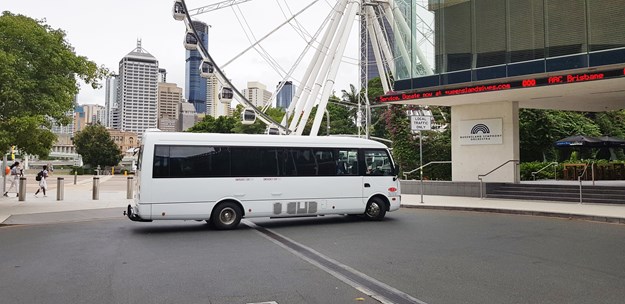 COVID-19 IMPACT
Like countless other businesses across the landscape, LTD Bus & Truck Rentals has been affected by the coronavirus pandemic, but Mitchell has managed to retain his optimism and enthusiasm for the next chapter.
"I thought it was an April Fools' joke, but obviously it's not. It really put the handbrake on up to 90 per cent of the businesses that we deal with and that we rely upon, but we're really looking forward to coming out at the other end of this," he said.
Mitchell had to request his staff to go on annual leave for the first two weeks of the shutdown as he managed operations by himself. Once the government brought in the Jobkeeper Payment scheme he has had his staff work in weekly shifts and scaled back on business expenses considerably until things start looking up again.
"I think we have a good bank on board, Bank of Queensland (BOQ), and we're happy that everybody is working together, including the government to come out the other end strong," Mitchell said.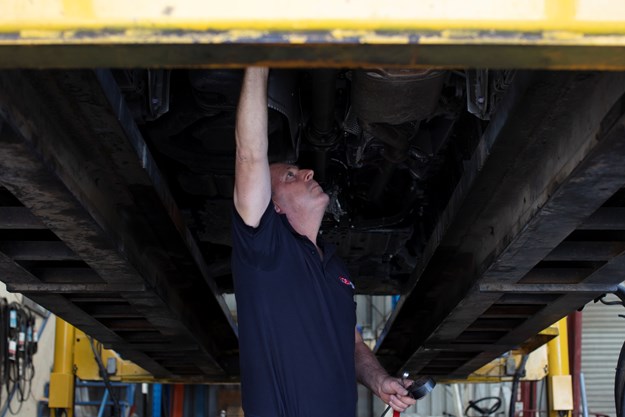 OTHER CHALLENGES
Despite its steady growth, LTD Bus & Truck Rentals has seen a few challenges along the way although nothing that Mitchell and his team weren't able to overcome.
"Like any other business we still come across some challenges in the day-to-day operations. Being a small team means we have to rely on subcontractors for certain jobs like select bus charters, which can be a little challenging at times. In the early days we had a few issues, but now the operations mostly run smoothly at all times," Mitchell said.
"I'm blessed to have two staff members who have been working with us for 15 years, so we have that level of expertise and dedication in our company.
"Every year that passes we also feel fortunate to have an excellent clientele base. We have so many good customers and it is a pleasure working with them in ways that complement each other."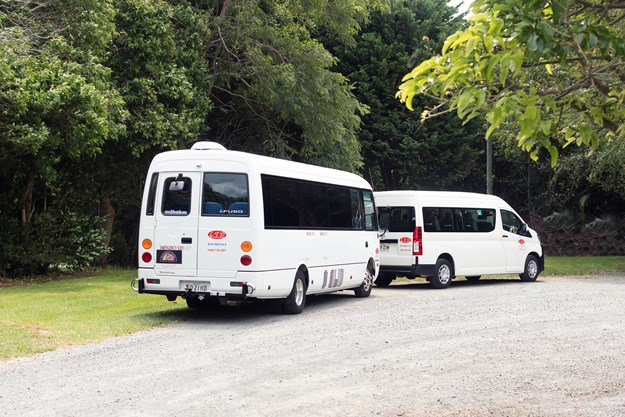 The gloom and uncertainly brought upon the market by the pandemic notwithstanding, Mitchell feels confident that his business will begin its forward journey soon.
"It has been a bit of a punch in the gut, but I'm hoping that in two years' time we might be back to where we were," he said.  
"We're continually growing and continuing to supply newer vehicles for the peace of mind of our fantastic customer base that is also growing.
"Our coaches go all over Australia – from the snow to Uluru. We have quite a few regular customers and even though this year might be a bit different, we're hoping to have them back on board next year and hoping there will be a lot more.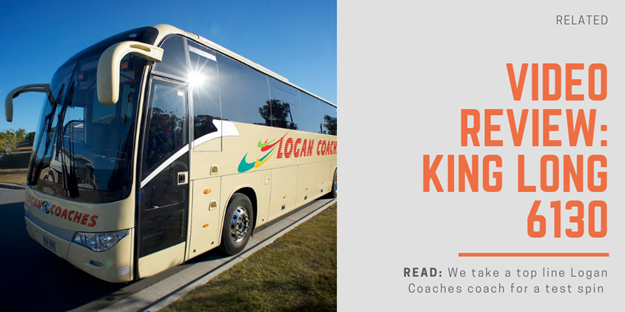 Subscribe to our newsletter
Sign up to receive the ABC e-newsletter, digital magazine and other offers we choose to share with you straight to your inbox
You can also follow our updates by liking us on Facebook.