SCHOOL BUS ANTI-VIRUS STRATEGY SAVES VICTORIAN COACH OPERATOR
---
EARLY INTERVENTION and rapid deployment of an anti-coronavirus bus-cleaning strategy has helped one Melbourne-based coach operator maintain key school-run contracts since the Covid-19 pandemic broke, the company reports.
Alston Coaches says its quick decisions to employ a professional cleaning team to disinfect its fleet rigorously and clear and honest communication with clients enabled it to keep much of its school bus business running – about 80 per cent of all business - which once seemed impossible when news of the outbreak in Australia earlier reached fever-pitch.
Local schools such as St Margaret's Junior and Senior Schools, and Berwick Grammar School, Haileybury Private School, Brighton Grammar School and Mentone Girls' Grammar implemented Alston Coaches' rapidly formalised Covid-19 policy and appreciated its pro-activeness to ensure student safety while using its services, it says.
The bus company - which mostly covers school bus and charter tourism routes across Victoria - implemented anti-virus policies and procedures almost immediately once the World Health Organisation (WHO) declared the Covid-19 coronavirus as a global pandemic, though the company had been monitoring its spread intently since reports of its start in a Wuhan, China, wet market.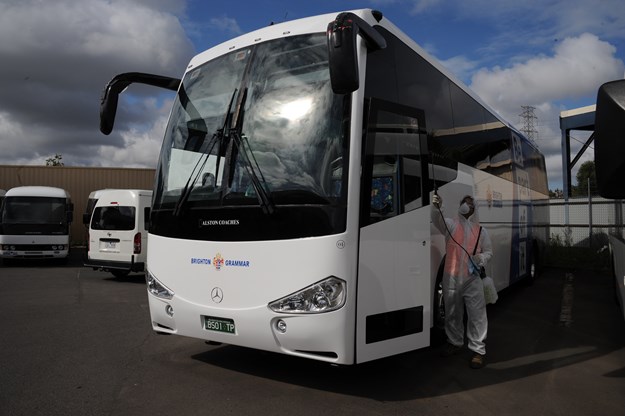 AUDITABLE ACCOUNTABILITY
Paying tribute to its drivers' dedication to customer safety and service, Alston Coaches managing director Fazlaan Farook says auditable driver bus cleaning regimes and constant communication with its school clients helped reduce or allay much of the 'virus on buses' fear.
"The Covid-19 pandemic was announced on Wednesday, 11 March, by the World Health Organisation (WHO). The day after the WHO announcement we developed the policy and procedures we knew we needed to implement for our own survival as a business, fast," said Farook.
"On Friday, 13 March, we purchased 200 litres of hospital grade disinfectant and aerosol spray bottles.
"Saturday 14th, we disinfected the complete fleet. All drivers were instructed on how to disinfect their bus prior to students or clients entering. When the last student or client exited, the bus was to be disinfected prior to any person or persons entering the bus again.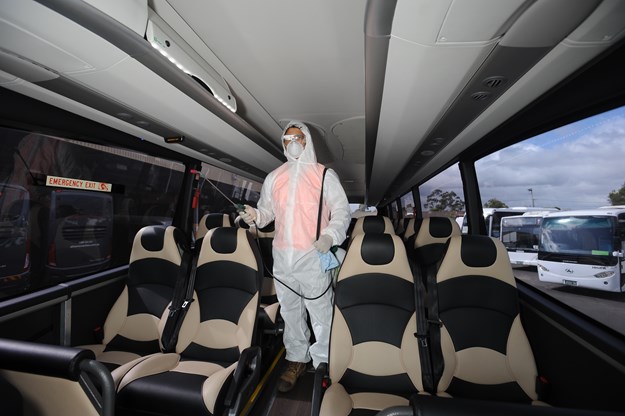 "Crucially, drivers were instructed to fill out a 'disinfectant form' stating the date, time and location of the bus for audit purposes," Farook explained.
"On Sunday 15th we drafted emails for schools and clients clearly outlining our new disinfecting procedures and anti-virus strategy. With Monday being a public holiday in Victoria for Moomba, we disseminated the emails to all our schools and clients at approximately 8.30am on Tuesday morning," he said.
"To be sure, the vehicles were disinfected again before despatching from depot.
"During the day we disinfected five sub-contractor buses, with the sub-contractors querying at the time what we were doing.
"We have kept up this regime since that time and are still fortunately transporting school children on our buses, with many of them needing it because they might not have been able to be looked after and study from home in isolation etc.
"We believe such quick moves have helped us salvage much of our valued school-route side of the business, which we needed to because of the massive impact to our coach tourism side overall," he explained.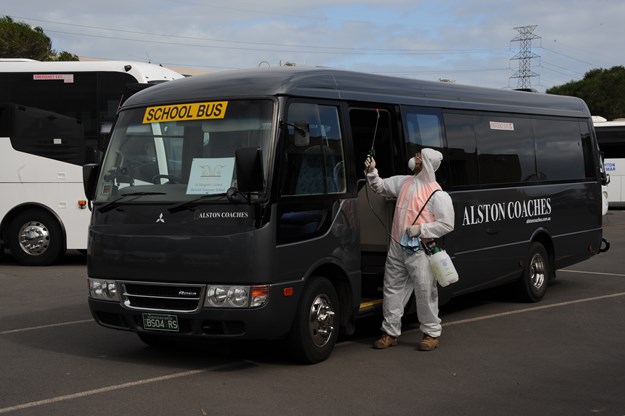 DRIVER RESPECT
Alston Coaches' co-ordinator Glen Antonovich adds that the company owes much thanks to its drivers, whom were quick to adapt to the new procedures and were willing to 'own' their efforts towards ensuring customers travelled as safe as possible and help keen the business ticking over during these trying times.
"Our drivers deserve a lot of credit for this and we place great emphasis on our team," explained Antonovich.
"We care about the psychological and financial well-being of our team; we keep all team members updated weekly on the latest developments with regards to their entitlements and that includes annual leave, sick leave, long service leave, public holidays and the accrual of current and future entitlements," he stated.
"Our coach drivers don't just drive, they care. Our driver's first interaction with the passenger begins even before they enter our coach – even more so now with these new cleaning and disinfecting measures.
"They go beyond to ensure their passengers have the best experience possible on their journey - no matter where they are going or what the passenger story is."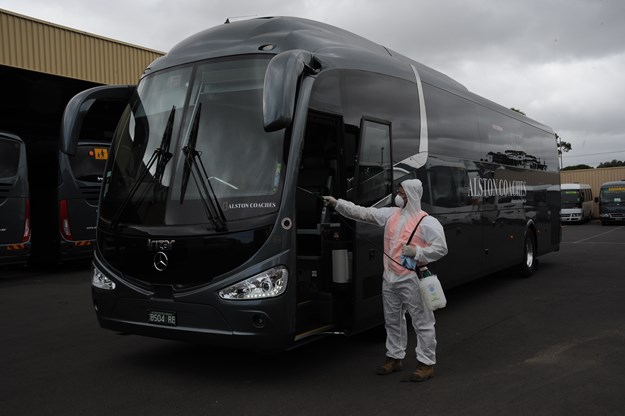 ABOUT ALSTON
Alston Coach and Bus is committed to providing accessible charter and bus services to customers with special requirements and it does not tolerate discrimination, it states.
It has a fleet of modern luxury Mercedes-Benz-chassis'd, Irizar-bodied, 51-57-seat coaches and a smaller fleet ranging from chauffeured cars, luxury people-movers and commuter buses, it explains.
The company welcomes all and provides assistance to those customers who may have a disability, as its drivers are trained to help, it states.
Subscribe to our newsletter
Sign up to receive the ABC e-newsletter, digital magazine and other offers we choose to share with you straight to your inbox
You can also follow our updates by liking us on Facebook.