MERCEDES-BENZ BUS 'REPURPOSED' FOR CORONAVIRUS FIGHT
---
A MERCEDES-BENZ Citaro bus has been converted in just three weeks as an essential-service, high-capacity, critical-care ambulance to transport Covid-19-affected patients - with the driver's area fully protected from infection - Daimler Europe confirms.
A joint project between Daimler Buses and the German Red Cross Emergency Medical Services Heidenheim-Ulm, with the Ulm University Hospital and bus operator Stadtwerke Ulm/Neu-Ulm also involved, the former MB Citaro inter-city bus is equipped with four intensive care beds and was converted at Daimler's manufacturing plant in Neu-Ulm, Germany.
The Citaro conversion makes now makes the bus the largest intensive care ambulance in Germany, which is to be used by German Red Cross Emergency Medical Services Heidenheim-Ulm (DRK-Rettungsdienst Heidenheim-Ulm gGmbH).
As a loan vehicle, initially it will be available to the DRK for six months. The University Hospital in Ulm is providing the specialised medical staff, while operator SWU Stadtwerke Ulm/Neu-Ulm GmbH (public utility company) is providing the drivers and a depot, as well as supplying technical maintenance personnel.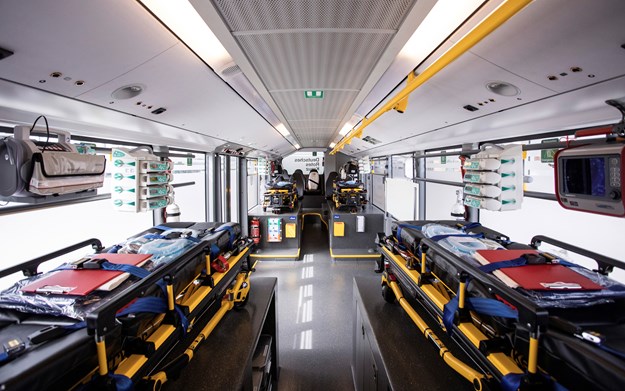 "Among other professions, it is currently the staff in hospitals and care facilities who are working steadfastly and who particularly deserve our respect," said Till Oberwörder, head of Daimler Buses.
"Therefore, I am delighted that we are able to support the DRK by supplying transportation capacity," he explained.
"As a bus manufacturer, we want to contribute to the fight against the Covid-19 pandemic at a local level. A diverse range of activities at the Neu-Ulm plant show that there are good initiatives and strategies from our colleagues even now," he said.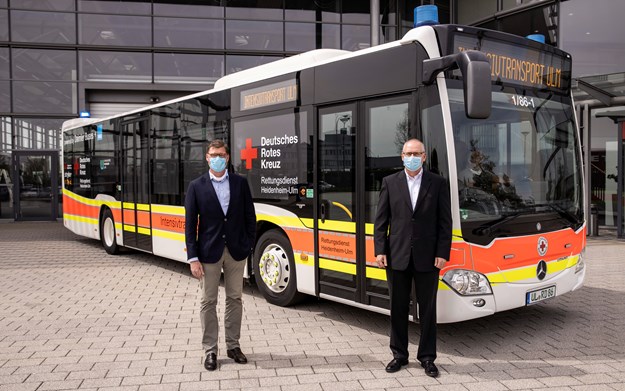 HYGIENICALLY PROTECTED
In terms of hygiene demands given it's for Covid-19-related transport mainly, a disinfectant sprayer can be used in the patient compartment once transportation is completed, confirms Daimler.
Crucially, the area for the driver is separated from the patient compartment by a wall and the ventilation system has been converted, Daimler says. As a result the driver has no contact with patients and is not exposed to any infection, the company confirms.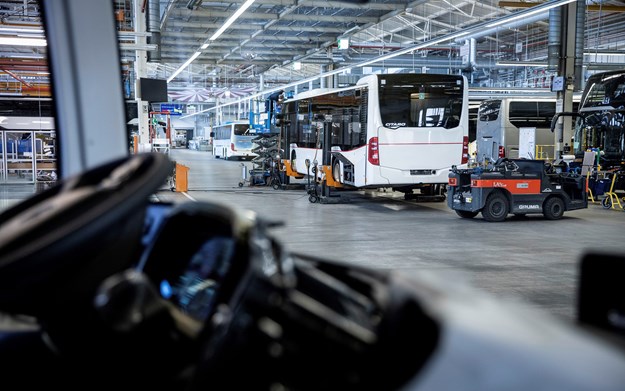 THE IDEA
Managing director of the DRK-Rettungsdienst Heidenheim-Ulm, David Richter, had the idea of converting a bus in response to the need to increase intensive care transportation capacities, now necessary in many places, to which Daimler Buses was, "…able to pledge its fast and uncomplicated support," the company explains.
Within days a demonstration vehicle on stock at Daimler Buses was presented for conversion. A team of 12 employees from bus production in Neu-Ulm converted the bus to a high-capacity critical care ambulance in just 15 working days, according to Daimler.
Both the conversion and the supply of the medical equipment were completed in close co-operation with DRK-Rettungsdienst Heidenheim-Ulm, it points out.
"The high-capacity critical care ambulance puts DRK-Rettungsdienst Heidenheim-Ulm and the doctors from Ulm's University Hospital in a position to efficiently relieve hospitals where intensive care beds are in short supply. And not only in the Ulm/Neu-Ulm area but in other regions and states," said Richter.
Professor Kühlmuß, district medical officer for DRK-Rettungsdienst added: "Something that normally would take months and years was implemented within a few weeks together with Daimler Buses in an exemplary fashion. And in doing so this is not just a bus, but an efficient transportation and relief concept. In my opinion this is only possible with such a transportation capacity."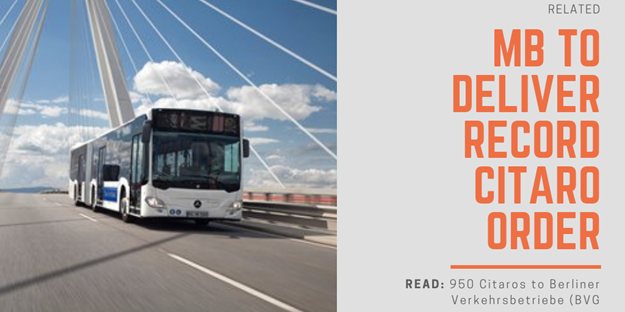 TRANSPORTATION HELP
The 2019-model Mercedes-Benz Citaro was an inter-city bus with 45 seats and standing room for 40 persons; it is now equipped with four complete intensive care beds.
As Daimler explains, thanks to the repurposed bus the German Red Cross in Ulm can react fast and transport intensive care patients to other hospitals if necessary. The journeys are supervised by two intensive-care doctors from the Ulm University Hospital, plus there are three paramedics and two ambulance officers supplied by DRK-Rettungsdienst Heidenheim-Ulm on board.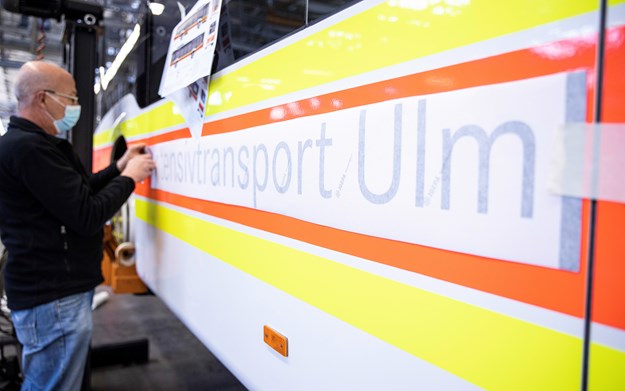 MEDICAL EQUIPMENT
The bus is equipped with four electrohydraulic wheeled stretchers with a loading system; four intensive-care ventilators; four monitoring screens; a sonography unit; and a blood-gas analysis device, for example.
Daimler Buses also created stowage space for sufficient medicines, nursing equipment, additional breathing apparatus and protective clothing, it says.
Interestingly, the Citaro has been repurposed so the patients can be transported in various positions. The side windows have been laminated for privacy and the bus has been equipped with a blue light and a siren, the company states.
GREAT INITIATIVE
Gunter Czisch, mayor of Ulm, is full of praise for the initiative: "Represented by Stadtwerke Ulm/Neu-Ulm, we can be proud that we are a part of this unique pilot project. The transportation vehicle from the Daimler Buses plant in Neu-Ulm clearly shows what innovations the Ulm/Neu-Ulm region is capable of."
Managing director of SWU Stadtwerke Ulm/Neu-Ulm GmbH, Klaus Eder, added: "For some time now SWU has been supporting numerous initiatives and aid projects in the region under the motto #WirFürEuch (WeForYou). For us, organising the driving staff for the transportation of critical care patients and taking care of the repairs and maintenance on the vehicle is a good opportunity to help. After all, we transport over 40 million passengers safely and reliably every year."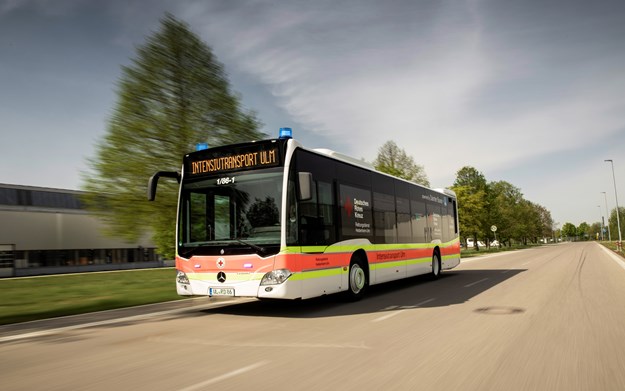 GREATER USAGE 
Though such a vehicle is primarily available to the critical care transport system within the state of Baden-Württemberg, it could be used for 'supra-regional' and cross-state operations, says Daimler.
How often and in which regions the high-capacity ambulance will be used depends mainly on the further development of the Covid-19 pandemic, however, it states.
Subscribe to our newsletter
Sign up to receive the ABC e-newsletter, digital magazine and other offers we choose to share with you straight to your inbox
You can also follow our updates by liking us on Facebook.