GOING FORWARD – IAN CRAIG
---
INTERVIEW: World events have put unprecedented focus on the public transport sector - arguably in particular buses and coaches. Much of the industry is already adjusting and refining practices and procedures, if it hasn't done so already. As one of the bigger operators in the business, ABC magazine chats exclusively with Transdev Australasia's chief officer Bus Operations, Ian Craig, about Covid-19 coronavirus and all things going forward.
ABC: Hello, Ian. It's great finally catching up with you since you took on this role. Firstly, how does it feel to be the current chief officer Bus Operations of Transdev Australasia? Is it all that you expected, or what were the unexpected aspects to handle?
IC: When I first joined the business at the beginning of 2019, Transdev Melbourne had faced some significant challenges including driver and mechanic shortages, fleet presentation and availability issues and significant traffic disruptions on the network.
As a business we needed to focus on the fundamentals – delivering a safe, clean and reliable service. There were some challenges along the way, but by doing this we achieved some outstanding results. In just a short time we achieved our on-time running target, significantly reduced customer complaints, improved the comfort and presentation of the fleet including the delivery of 86 new buses into our fleet, and established a recruitment initiative called the Journey Maker Academy to recruit more drivers. We also were able to leverage our global expertise in zero-emission technology and introduced the trial of Victoria's first fully electric bus built locally, here in Victoria.
ABC: What's your career background to date? How did it all get started?
IC: Buses are in my blood. My family have been moving people (and sometimes things) across south west Scotland since 1921. This inspired a passion for all things transport.
I've also held senior leadership roles at ARRIVA, Edinburgh Trams, Lothian Buses, National Express and SAPTCO prior to joining Transdev. My experience working across different modes of transport in Europe and the Middle East has meant I can bring key learnings and apply them here in a local context. Over the course of my career I have seen that effective public transport has the potential to bring towns and cities to life and this is something that continues to excite me when I go to work each day.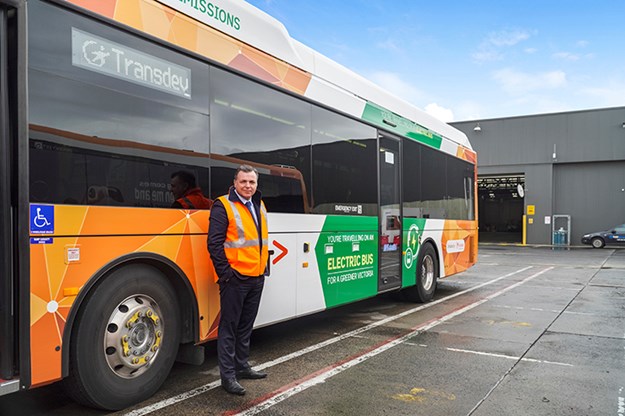 ABC: So you are an actual bus fan? What is it that you love about buses?
IC: I am a third generation people-mover, therefore really didn't have much of a choice in the matter! I do, however, love what I do and always have. Transdev has some really great people who do amazing things every day and, for me, it is a real privilege to work alongside people who share my passion.
ABC: Right, let's talk coronavirus – aka Covid-19. We've seen various other countries' approaches to saving and enhancing their public transport patronage since the virus was first publically announced. Should people now be alarmed about using public transport in Australia? Should new anti-bacterial metals and materials be used in bus production? What bus and coach 'sterilisation' and cleaning processes need to be in place, if at all?
IC: The Covid-19 virus is an unprecedented issue which is impacting transport companies globally. The safety of our drivers and passengers is an absolute priority and this is an issue we are following closely.
Some of the key measures we have put in place include:
- Appointed a dedicated Coordinating Officer to oversee Transdev Melbourne's response to Coronavirus;
- Increased the frequency of cleaning and sanitisation of all our buses, including "high touch areas" such as handrails and posts, grab straps, seat top handles, window ledges and bell presses;
- Implemented social distancing measures through the creation of exclusion zones in the front sections of our buses;
- Encouraged passengers to top up their myki before they travel, reducing cash handling and maintaining social distancing between customers and drivers;
- Provided frontline teams with additional support such as extra availability of sanitisers, customer contact protocols and tailored information and support as they work to keep our essential service running;
- Encouraged passengers, where possible, to stagger their travel times to comply with social distancing measures;
- Installed passenger information in buses about key behaviours to prevent the spread of Coronavirus;
- Updated our annual leave policy to give our people peace of mind and help them make informed choices about taking leave, as well as introducing exclusion periods for those who choose to travel overseas;
- Suspended all business travel and are providing remote or video-based communication alternatives where possible.
In terms of anti-bacterial metals, our fleets contain stainless steel panels with an anti-bacterial coating. This ensures we are able to control the reapplication of this coating ensuring the anti-bacterial properties remains effective. The fabric seats in our fleet are also treated with an anti-bacterial coating.
We are in constant communication with health authorities in Australia and New Zealand and use the latest advice to guide our decision making.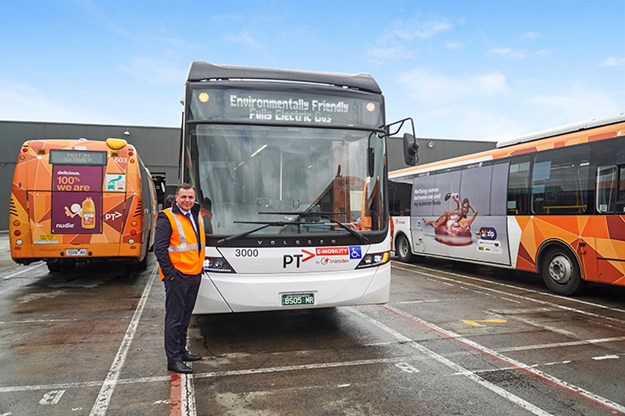 ABC: It's been just over a year now that you've been in this role. How did your first 12 months go? What are your ideas and plans for Transdev Australasia? What do we as an industry need to do, or where do we need to be in future?
IC:  I'm incredibly proud of what we, as a team, have achieved in a relatively short period of time. Over the next 12 months, our customers will continue to be at the heart of our decision making.
In 2020, we have some exciting initiatives planned – including the delivery of the remainder of the Victorian Government's 100 bus order, which will further improve the comfort and reliability of our service for our customers.
The trial of Victoria's first fully electric bus will also continue throughout the year and we look forward to sharing the findings of the trial with our partners.
In May, I will be stepping back from my role as managing director of Transdev Melbourne to focus on my role as Chief Officer Bus Operations. This role oversees all of Transdev's Australasian bus operations. I will be handing the reigns over to Loretta Lynch, who started at Transdev in March.
Loretta is a well-recognised and experienced leader in the public transport industry, and well positioned to lead the Transdev Melbourne team.
Loretta has previously held the positions of managing director and chief financial officer at G:link, Keolis Downer's Gold Coast light-rail operation. At G:link, Loretta oversaw a programme that reduced injury statistics by 75 per cent over 18 months, the successful delivery of increased transport services during the 2018 Commonwealth Games, and the successful launch of Gold Coast Light Rail Stage 2.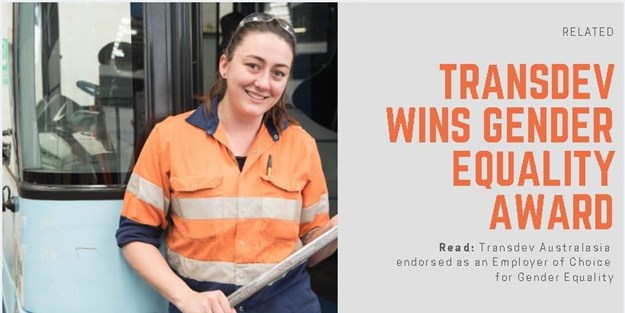 ABC: So New Zealand also is under your remit as MD in this region. Are there different challenges there for the company?
IC:  In 2019, Transdev Australasia acquired Mana Newlands Coach Services and Howick and Eastern Buses. These acquisitions are an exciting opportunity for Transdev and signal our commitment to New Zealand.
However, like any new market it presents both opportunities and challenges. Differences in government and policy perspectives, including environmental priorities and targets, are all factors that need to be negotiated.
ABC: In terms of buses, the latest product you have on fleet is the Volgren-bodied, BYD electric chassis bus. How has that trial been going so far and what have been its successes and or stumbling blocks, if any? What do your drivers say about it?
IC:  The trial of the electric bus is continuing until 2021. The bus is currently operating on Route 246 between Elsternwick and Clifton Hill via St Kilda. Later it will operate on other medium and high-frequency inner city routes alternating between routes regularly to ensure the bus is tested in a range of operating environments.
This route was selected for the trial as the trial route needs to be repeatable with buses following each other in closely timed proximity for comparison between the performance of existing late model Euro 5 and Euro 6 emission standard diesel buses and the new electric bus.
So far, we are seeing some positive results, we will have more to say about the performance of the electric bus later in the trial period. We are receiving some very positive feedback from both our drivers and members of the public.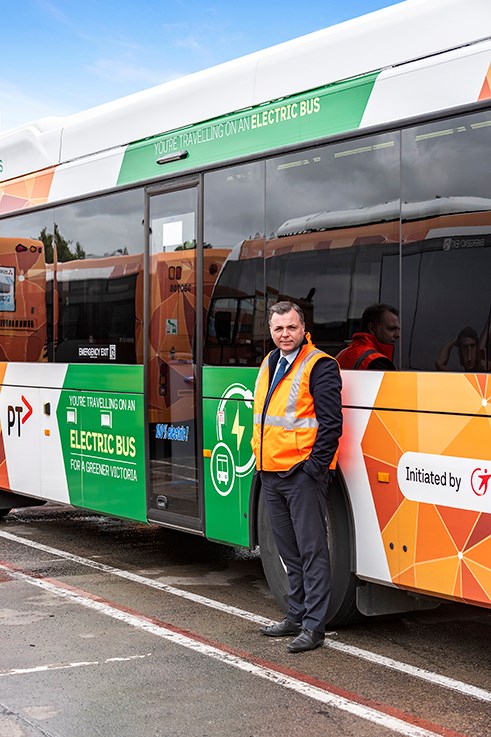 ABC: What are your views on alternative fuels? The Transdev fleet still has diesel buses in this country; how quickly should operators like yourselves be adopting Euro 6 fully, or is there still time for older diesels to still be used if non-one is really complaining? Or are more electric buses coming soon?
IC: Transdev is a leader in sustainable mobility, and we support transport initiatives that reduce emissions and pollution and promote a better quality of life in the communities where we operate. Today, we operate over 800 zero-emission buses in 27 communities in nine countries. Each year, we add new cities and new vehicles to our network.
However, transitioning fleets to electric requires more than replacing diesel buses with electric. Upgrades to existing depots, training for employees and changes to scheduling also need to be considered.
We were delighted the Victorian Government committed to purchasing 40 Euro 6 buses as part of its order of 100 new buses for the Transdev Melbourne fleet. These buses are lower emissions and are quieter, meaning lower operational costs and improved passenger comfort. Ultimately, the decision to purchase a specific type of vehicle is determined by individual public transport authorities.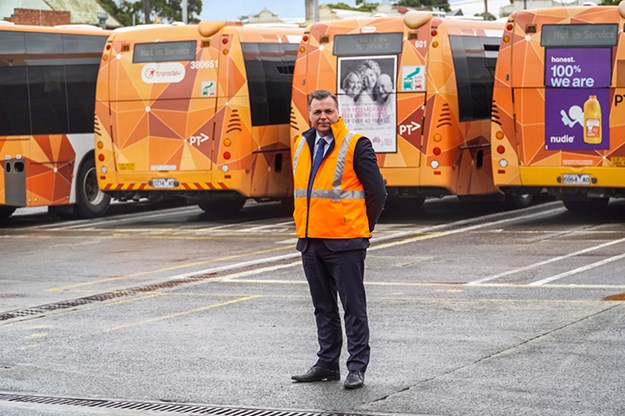 ABC: Much attention is on electric buses on trial in Australia or coming to our shores in future soon; where does hybrid tech sit in the scope of what Transdev Australasia wants to do with its bus services?
IC: Around the world, Transdev fleets comprise a range of eco-friendly mobility options - alternative fuels, hybrid and fully electric vehicles. We are the leading operator of zero-emission mobility solutions globally, and can draw on our experience and expertise in this area.
In the future, hydrogen may become the energy source of choice for transportation networks around the world. However, right now, electric vehicle technology is more advanced than hydrogen fuel cells. We are excited to be partnering with Auckland Transport and expect to be operating one of their hydrogen fleet towards the end of this year.
ABC: Transdev Australasia is one of a few key big public transport operators here in the region now, with many traditional smaller operators having been acquired by such bigger entities along the way. Any further expansion plans? Should industry fear certain operators increasing size while others close down or sell up as things consolidate? Is such consolidation a bad thing? Or why is it advantageous to the greater industry?
IC: The world has changed and these days there is a lot of regulation bus operators need to comply with including environmental and safety regulation. Larger operators are often better equipped to manage complex regulatory environments. Consolidation when managed effectively, often results in better outcomes for clients. At Transdev, we operate different modes of transport across a global network and draw on our experience and expertise to deliver better outcomes for customers.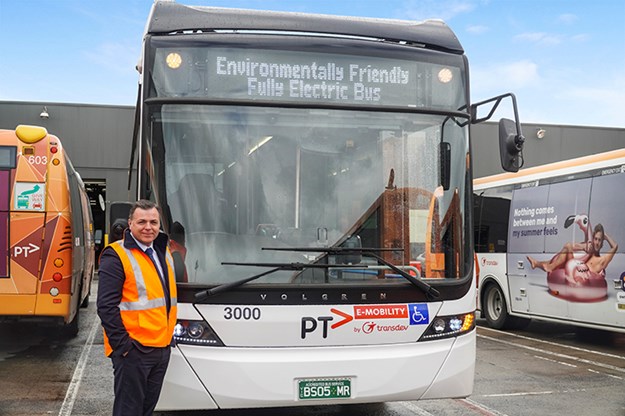 ABC: How big is the Transdev Australasian fleet currently? What's the mix of brands used or is it all one preferred brand or combination? What's been the most successful or reliable product that Transdev has used in this market thus far and why?
IC: Across Australia and New Zealand we operate a fleet of just over 1735 buses. This includes a mix of Scania, Volvo, MAN, Mercedes-Benz and Optare models. When supporting clients with procurement projects, we work closely with our clients to recommend the vehicles which will be best suited to the operation and will deliver the best safety and environmental performance.
ABC: Around the world, where does Transdev as an operator sit in terms of being number one in regions or countries? Is it number one in most countries now?
IC: Transdev operates in 18 countries across five continents. Our focus is to develop long-term partnerships with businesses and public authorities, in the development of safe and innovative mobility solutions. We are the leading zero-emission mobility operator in Europe, and actively sharing our knowledge and expertise with our partners here in Australia.
ABC: Your HQ is in Victoria and other States report to you, or is each state a lot more independent in what they do with their fleets in terms of scheduling and general public transport strategy? Is Transdev in all states and territories?
IC: We currently operate bus fleets in Brisbane, Sydney, Melbourne, Perth, Auckland and Wellington. While there are some commonalties and knowledge that can be shared across the bus businesses, scheduling decisions are determined by each bus business. General public transport strategy is usually informed by the relevant public transport authorities in each region; we work in partnership with the relevant authorities to deliver services.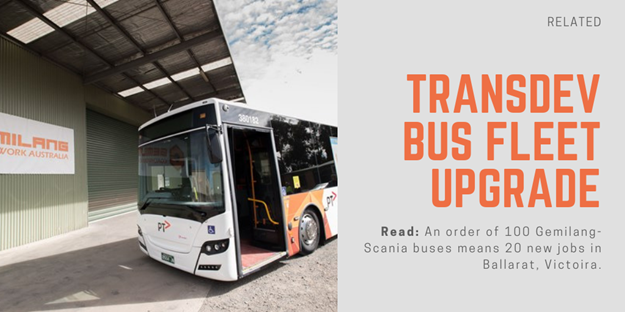 ABC: Driverless buses – will Transdev be operating autonomous vehicles soon and can it confirm what will happen to the role of the traditional driver? Any driverless bus trails coming up or insight into what branded product will be used? Or will a few different manufacturers' product be tested? How are current tests going? From logistical and legal views, what are the implications for the Asia-Pacific region?
IC: At Transdev, our belief is that shared autonomous transport will change the way we travel and live, and present a valuable opportunity to provide first and last mile for communities.
We have successfully completed an Australian-first trial of a fully electric autonomous driverless shuttle known as ARDi in Armidale.
The Armidale Regional Driverless Initiative (ARDi) was the first automated shuttle to operate in mixed traffic within a city centre and operated on one of the longest and most complex trial routes. The trial helped us understand the technical capabilities of ARDi and how it integrated into the transport network and operated in real-life urban traffic scenarios.
Our drivers will remain a core part of the business and do a wonderful job of greeting our customers every day and getting them where they need to go. In the medium term, autonomous technologies present some exciting opportunities for application in our depots.
ABC: What double-decker buses does Transdev have in the fleet, if at all these days? Any chance for more coming on board and which areas would they be used in and why there?
IC: Transdev currently has a number of double decker buses operating in New South Wales, Auckland and Wellington. Ultimately, the decision to purchase double decker buses lies with individual public transport authorities.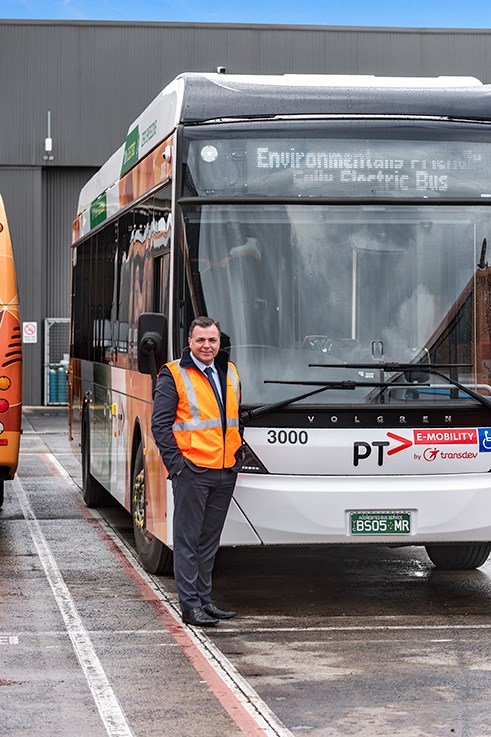 ABC:  So what is it that you, as a person, uniquely bring to this role? What is it that makes you different that will help enhance the managing director role you have been appointed with?
IC: I am a big believer that you are as only as good as your team. Luckily, we have an outstanding team in Melbourne and across each of our bus businesses. Their passion for operational excellence and improving the customer experience inspires me on a daily basis. I see my role as creating the right environment for my team to succeed in and helping move challenges out of the way.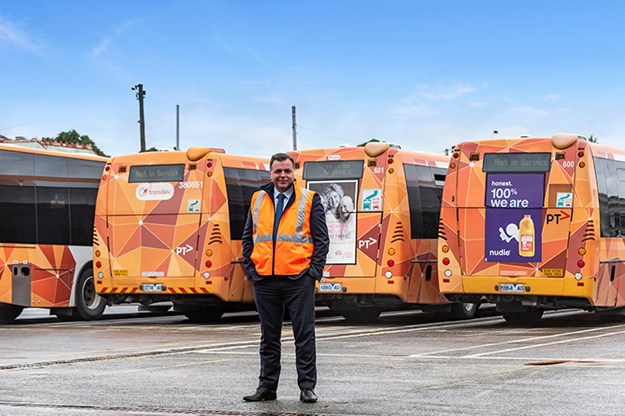 TRIVIAL PURSUIT
1. SONG STUCK IN YOUR HEAD RIGHT NOW...
Bad Man's Song by Tears for Fears            
2. LAST GREAT PLACE YOU VISITED...
Waiheke Island off Auckland, great New Zealand wines and picturesque beaches.
3. A FAVOURITE DISH...
I'm a traditionalist – I love having a beautiful steak at Rockpool, or finding somewhere that does a great curry. 
4. A FAVOURITE DRINK...
I love a Hendricks gin and tonic, or a peaty Islay malt whisky – what else!
5. IF YOU COULD CHANGE THE WORLD YOU WOULD...
As a keen sailor, plastic pollution in the ocean breaks my heart and is a situation we need to address – urgently.
6. YOU LEARNED ABOUT YOURSELF TODAY THAT...
I really prefer to talk to people than send an email!
7. THE ONE THING YOU CAN'T LIVE WITHOUT IS...
My morning coffee.
8. YOUR MOST EMBARRASING MOMENT IS...
I've had some funny moments when people have misunderstood my accent, or when a word commonly used in Scotland to describe something very benign has a completely different meaning in Australia and is greeted with horrified looks!
Subscribe to our newsletter
Sign up to receive the ABC e-newsletter, digital magazine and other offers we choose to share with you straight to your inbox
You can also follow our updates by liking us on Facebook.