STATE TRANSIT BUS HELPS CELEBRATE SYDNEY MARDI GRAS 2020
---
FOR THE SECOND consecutive year, Sydney's State Transit has decked out one of its buses in a colourful rainbow theme to help celebrate the city's 42nd Annual Gay and Lesbian Mardi Gras this year, it was announced, recently.
The Custom-bodied CB80 on Scania city bus chassis hit the road on Sunday, 16 February, to help celebrate the two-week iconic LGBTIQ-inspired (Lesbian, Gay, Bisexual, Transgender, Intersex and Queer) Mardi Gras festival.
Highlighted by the City of Sydney council, around 617,000 people attended the festival last year, with an international media reach of 3.6 billion people and a contribution of more than AUD$131 million to the NSW economy.
According to State Transit, the 'rainbow bus' is operating out of Randwick Depot and is in service for its customers until March.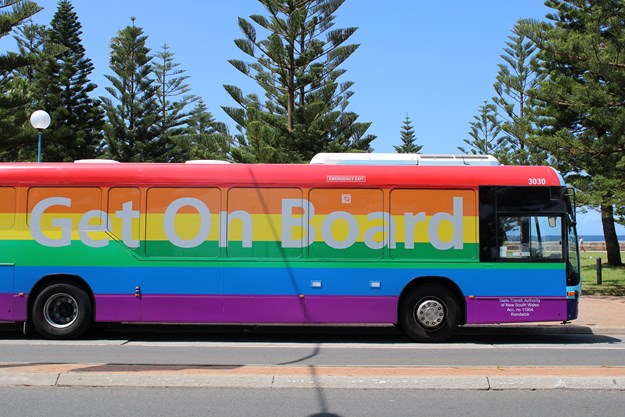 Customers can find where the Mardi Gras bus is running on the network through real-time transport apps such as TripView and NextThere, it confirms.
The wrapped bus will operate through Sydney areas such as Darlinghurst, Potts Point, Surry Hills and Newtown on routes like the X39, 311 and 373, it states.
This is the second consecutive year State Transit has decorated a bus in a rainbow wrap; however, this year's rainbow bus will not participate as a float in the Sydney Gay and Lesbian Mardi Gras parade, State Transit explains.
COMMUNITY CONNECTION
"The Mardi Gras bus is an important sign of our continued support of the LGTBQI community, some who are our colleagues that do State Transit proud in the workplace every day," said State Transit CEO Tony Eid.
"State Transit has a very diverse workforce and I'm proud as CEO that we recognise and acknowledge this in a way that connects us the community.
"The rainbow bus is a great way to share this event with our customers.
"The bus is sure to brighten up the commute when it arrives at bus stops throughout the Eastern Suburbs and travels along Oxford Street into the heart of the CBD."

CITY OF SYDNEY
On February 14 – Valentine's Day – Sydney Deputy Lord Mayor Jess Scully officially launched the 2020 Sydney Mardi Gras season with the raising of the rainbow flag above Sydney Town Hall, where it will fly until celebrations end on Sunday, 1 March.
The rainbow flag originated in San Francisco more than 40 years ago and was designed by artist Gilbert Baker, the council explains. Since then it has become a worldwide emblem of gay pride and gay-friendly areas, it adds.
"The red in the flag symbolises life, while orange denotes healing, yellow is for sunlight, green represents nature, blue stands for harmony and violet signifies spirit," it states on its website www.cityofsydney.nsw.gov.au/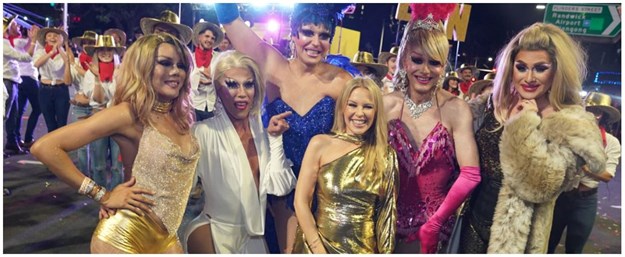 ABOUT MARDI GRAS
Sydney Gay and Lesbian Mardi Gras (SGLMG) is one of the oldest continuously operating LGBTQI organisations in Australia, it states.
SGLMG was built on the foundations laid by early community activists who fought for LGBTQI rights in a time of wide-spread, institutionalised oppression and discrimination, it explains.
From these origins, SGLMG has evolved to include a strong focus on celebration while maintaining a commitment to social justice for LGBTQI communities, it says.
Its vision is to be, "…a global leader in the promotion of diversity, inclusion, equity and social justice through culture, creativity and partnerships."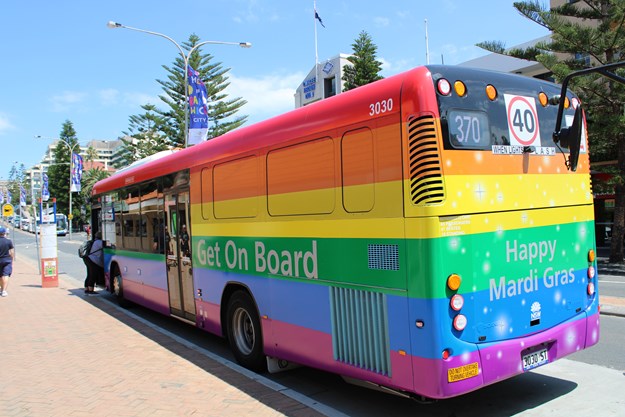 Subscribe to our newsletter
Sign up to receive the ABC e-newsletter, digital magazine and other offers we choose to share with you straight to your inbox
You can also follow our updates by liking us on Facebook.