ELECTRIC BUSES NOT 'SILENT KILLERS': EXPERT
---
EXCLUSIVE: Recent findings from a university report is needlessly causing dismay about electric vehicles, their "silent" operation and the potential for pedestrian impacts, according to a specialist in EV impact-prevention technology.
Such technology has been around for many years and 'could' mitigate this risk – but only if the external pedestrian alert function is activated, says Clive Rogers, managing director of Fleetsafe, which promotes a technology called Mobileye.
Using machine vision the technology detects and classifies vulnerable road users - pedestrians and cyclists, he explains. It can, at that point, trigger an external audible device to notify the pedestrian that a vehicle is approaching. Should the pedestrian continue on a path that would result in an imminent collision, the system will issue an audible alert to the driver to take action and prevent the collision, he adds. 
"The system can, at the same time, trigger another external audible device or the vehicle's horn, to warn the pedestrian of an imminent collision," Rogers said.
In 2016, two years prior to the survey, Volvo Bus Europe launched such technology at the IAA commercial vehicle event in Hannover, Germany, with the system to be introduced on Volvo's European city bus fleet in 2017. Rogers explains this was based on the Mobileye system.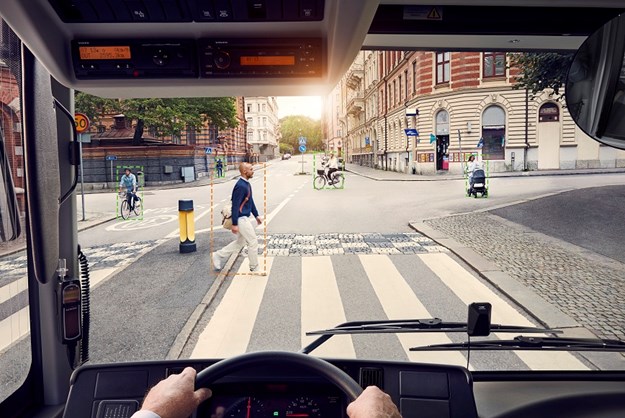 Readily available in Australia, Mobileye is used by existing bus operators including Transport for Brisbane (Brisbane City Council), CDC (NSW & VIC) and STA (B-line buses only), he confirms.
"The Mobileye system includes pedestrian detection and driver alert as standard. However, none of these operators have the external pedestrian alert function activated, which could prove ideal for electric buses on our roads now and in future," he said.
Mobileye supplies 27 bus, truck and car OEMs, which implement the technology at their factories. The aftermarket solutions are built upon the same core architecture as the OEM systems and can be retro-fitted to any vehicle, Rogers says.
The aftermarket solutions can be tailored and configured to suit individual fleet requirements and they can be locked to avoid drivers disabling them.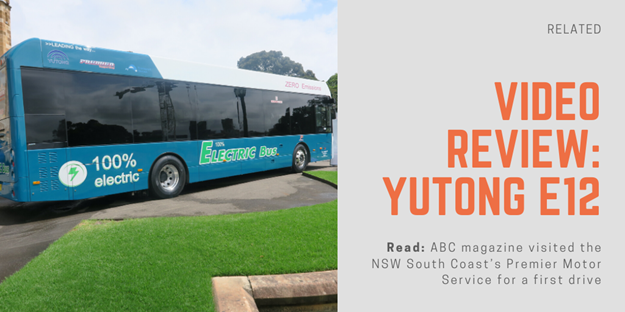 NSW E-BUS TRIALS
With most of the electric bus trials in NSW involving Yutong E12 product thus far, when ABC magazine (www.busnews.com.au) contacted the local arm of the Chinese company it explained it indeed also has such safety technology on its buses.
"With Yutong's extensive full electric bus fleet worldwide, we have identified this issue and incorporated an audible pedestrian warning system that can be activated by the driver in high-risk areas for pedestrian collisions," said Yutong Australia general manager Lou Riccardi.
"Yutong will take on board any outcome identified by government to ensure passenger and pedestrian safety," he added.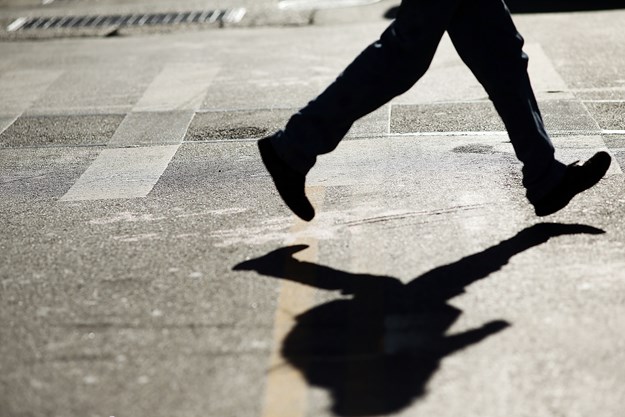 VISION IMPARED
According to a recent article published online via the national broadcaster's website www.abc.net.au, titled Electric Vehicles Pose Threat to Vision-impaired People, NSW Inquiry Told, Vision Australia and Blind Citizens Australia cited findings from a 2018 Monash University survey of the blind and low-vision community in their submissions to a New South Wales Government inquiry into electric buses.
As it states, the survey found 35 per cent of respondents reported having experienced either a collision or near-collision with an electric vehicle.
"The introduction of electric or hybrid vehicles has caused significant issues for pedestrians who are blind or vision-impaired because [electric vehicles] are silent," representatives of Blind Citizens Australia told the inquiry, it says.
"This was identified to be a substantial issue in London, where electric buses will have mandatory installation of a minimum noise emission for electric buses to eradicate the issues for blind or vision-impaired pedestrians."
As cited in the article, Vision Australia says more than 380,000 Australians were blind or had low vision, and that walking was their main means of commuting.
It quotes the group's manager of government relations and advocacy, Chris Edwards, as saying the risks posed by electric vehicles could not be underestimated.
"Electric vehicles are going to become more prominent on the roads and they don't make any noise, particularly at low speeds," Edwards said.
"So when you are in the car park minding your own business these cars can really surprise you and, as someone who is blind, create a significant danger."
The article continues to explain that Monash University's research found engine noise and the noise tyres made on the road were vital cues and being able to hear the sounds could mean the difference between taking the first step onto the road and crossing safely, or being injured — perhaps killed.
It quotes Edwards as saying 'the risks were real'.
"It's really important that as we move forward with electric vehicles that are supposed to be about 90 per cent of the fleet by 2050 that we ensure they are safe — certainly for people who are blind or with low vision, but also for the entire community," he said.
It explains that Edwards advocates acoustic vehicle alert systems should be fitted to electric vehicles to warn people who could be in harm's way.
"We have been working very closely with Government and alerting them to this issue and we want Australia to be consistent with other countries like the United States and Europe that have mandated these audio vehicle alerting systems to ensure they do make a minimum noise when travelling slowly," he said.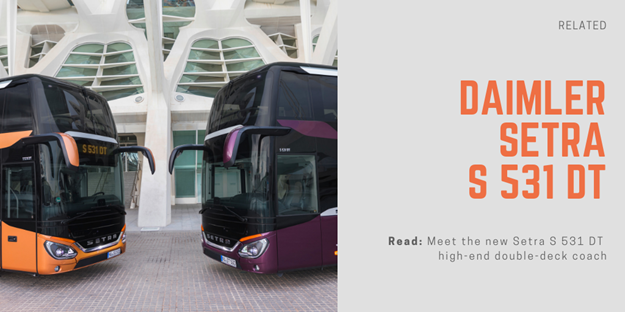 WHEN SILENCE ISN'T GOLDEN
During Volvo Buses' 2016 introduction of this type of warning system, it was part of the company's electro-mobility drive. It explained that as the proportion of electrified vehicles in urban traffic continues to grow, exhaust fumes and noise continue to disappear. At the same time, however, it is important to also eliminate any risks that might arise as the vehicles in the urban environment operate much more quietly, Volvo says.
"The bus can be heard – but without being disruptive. We've solved this problem by developing a synthetic background sound with a frequency range that is not perceived as disruptive. For instance, it does not penetrate windows with triple glazing, unlike the low-frequency noise made by a diesel engine," explained Peter Danielsson, director Vehicle Features and Safety at Volvo Buses, at the time.
Subscribe to our newsletter
Sign up to receive the ABC e-newsletter, digital magazine and other offers we choose to share with you straight to your inbox
You can also follow our updates by liking us on Facebook.