BELGIAN BUSFEST – BUSWORLD EUROPE, 2019
---
EVENT: Having moved from its traditional Kortrijk location, Busworld Europe – as it's now known – found a suitably welcoming new home in the capital of Belgium: Brussels. In its biggest incarnation yet, featuring a raft of top bus players, the 2019 global bus phenomenon didn't disappoint.
It would have been a big ask for many Australians and Kiwis to make it last October to the massive bus and coach extravaganza that is Busworld Europe, given it's around the peak of our own show season with things like the BusVic 2019 Conference and Expo giving us a healthy bus fix – but by all accounts a solid Southern Hemisphere contingent from Down Under made the trek to Belgium to partake in the world bus fest.
Held every second year, but supported by a satellite system of franchised shows around the world in between, the Busworld Europe juggernaut was in full swing for the 2019 event, which had for the first time moved to larger premises in Brussels.
Touted as "the biggest bus and coach only exhibition in the world", held 18-23 October, Busworld Europe 2019 attracted just under 40,000 visitors, according to organisers, which was an increase of more than 2,500 eager show-goers made up of exhibitors, delegates, the public, members of the press and all the organising teams.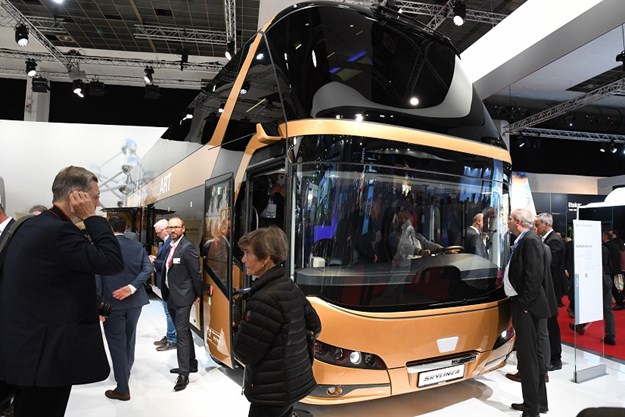 It was on larger premises, too, with more space (50,000 to 79,000 square metres) for more exhibitors (376 to 511, of which 176 were newcomers) to keep people informed and entertained.
A comprehensive array of companies exhibited, with brands including: Volvo, Solaris, Daimler, Van Hool, Scania, Iveco, MAN, Otokar, Ayats, ADL, VDL, Higer, King Long, Unvi, Deltabus, Safra, Ziehl-Abegg, Indcar, Yutong, Temsa, Isuzu, Intergralia, Irizar BYD, Caetano, Ebusco, Negobus, MCV, Karsan, CRRC, Erener and Mellor Coachcraft.
Overall feedback was very positive, say organisers, with 2019 considered most definitely a milestone in Busworld's history.
As expected, electrification was the major theme, which organisers say has naturally evolved from show to show. Insiders say almost every bus present inside and outside the Brussels Expo was equipped with an electric driveline.
"It was all about batteries, autonomy, kWh, charging possibilities – clearly electricity was in the air," they say.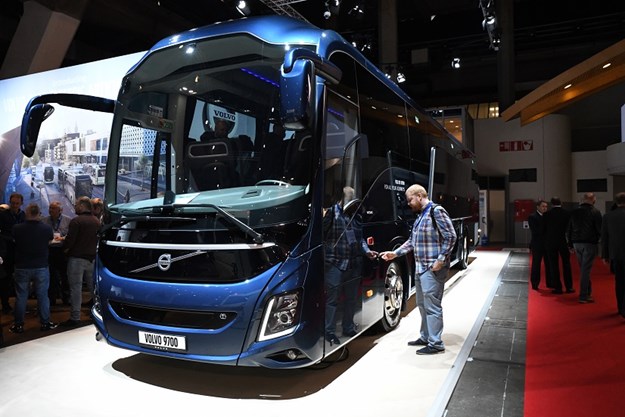 INTERNATIONAL AUDIENCE
In total, 511 exhibitors came from 37 countries with the top three, in terms of sheer numbers, being Turkey, Germany and China. Visitors came from 143 countries, a marked improvement compared with the 118 countries in 2017. This translated into Busworld clearly confirming and even reinforcing itself as the biennial international sales and networking platform for all professionals in the bus and coach industry around the world, organisers say.
Redgy Deschacht, president of Busworld, reacted proudly: "Of course this is the best possible evolution for Busworld we have been working and hoping for. Edition after edition, the growth and 'internationalisation' went hand in hand."
"We would not have been able to do this without the loyal support of our exhibitors."
LOCATION, LOCATION, LOCATION!
Moving from Kortrijk wasn't a popular decision from early on, given many exhibitors quite liked it there, from what we had heard, but the move to Brussels seems vindicated after this most recent gathering's success – driven purely by a need for more room. No bad thing and a good sign of growth.
Legendary Busworld exhibition director Mieke Glorieux confirmed happily: "We did it! It was a lot of work and a lot of sleepless nights, but we can all be very proud of the result."
"I want to thank all people involved in this success: my own team, the Kortrijk Xpo team – who moved to Brussels with us to organise the extra services – and last but not least the Brussels Expo team, who did a tremendous job in hosting us.
"I am, as always, very grateful for the many exhibitors who supported us and the numerous visitors that came, more than ever, from all over the world. So in short: I am very happy!" she said.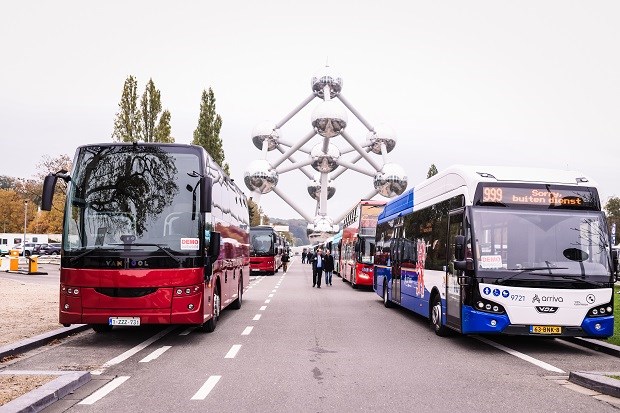 Looking back at the result and how she felt, Glorieux said: "Tired but satisfied, it's just fantastic."
"Did you see those crowds Monday? We registered 10,000 visitors on Monday. We had set ourselves the target of 40,000 visitors for the 25th silver edition. Well, we are going to exceed that number," she explained.
On the Tuesday morning, coaches and taxis were constantly arriving and departing, and hundreds of visitors who came from the metro station were flowing to the main entrance in hand luggage trolleys, organisers describe.
"My biggest fear for this first edition in Brussels was the number of visitors. Because this Busworld edition is about a third larger than the previous editions in Kortrijk, we had to surpass the number of visitors of 35,000 in Kortrijk to avoid empty halls. Now that I see how crowded it is, I am really satisfied.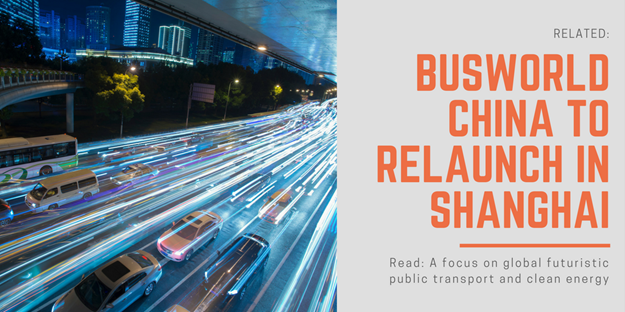 "On Sunday and Monday most foreign visitors arrived in Brussels and they will stay for two days. We are therefore expecting more than 40,000 visitors for this 25th edition of Busworld. We owe this increased interest to the fact that the fair has been moved to Brussels, close to Brussels Airport, the city centre and the many hotels in and around the capital," she explained.
"We even succeeded in copying the conviviality, the atmosphere and the familial character of 'Kortrijk' to Brussels. I am therefore very satisfied. There are always things which can be improved of course, but this Busworld edition has really succeeded."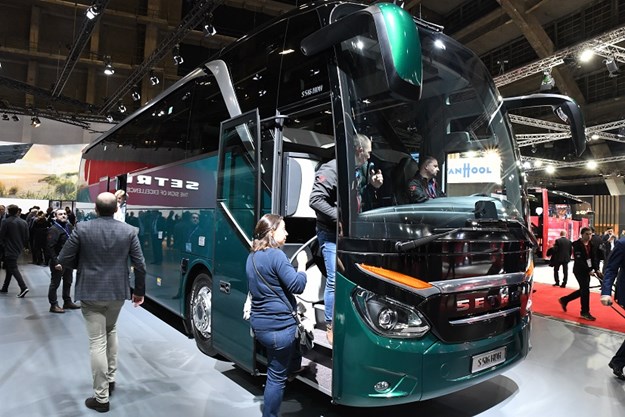 BUSWORLD ACADEMY
As with all events, the visual appreciation and exhibitor atmosphere is one thing, but the bus and coach and greater public transport 'theory' – the lectures and speakers and in-depth discussion – is equally crucial to a show's comprehensive success, and the Busworld Academy programme, from all accounts, smashed it.
This time it welcomed 154 speakers and 1,017 participants. Launched in 2013, it has grown across four editions from 40 people to more than 1,000 participants in 2019, including 550 International Bus Conference delegates, organisers confirm.
The seminars and conferences were organised in collaboration with UITP, VIAS, ICB-institute, Ghent University, NGVA and the American Bus Association.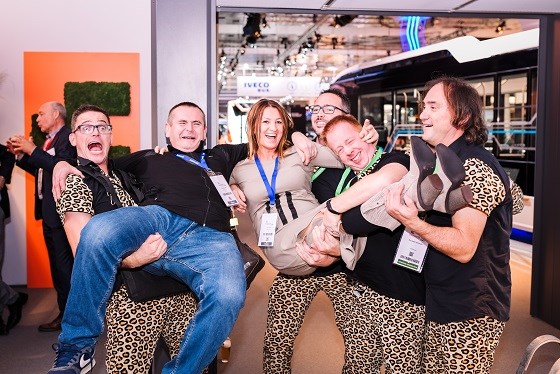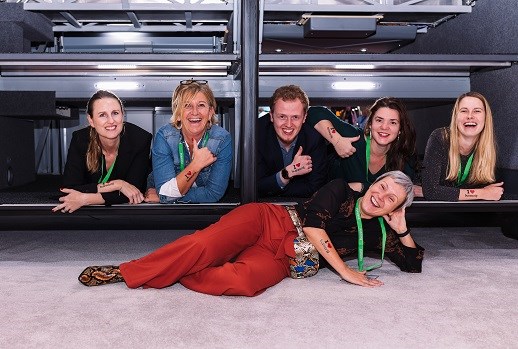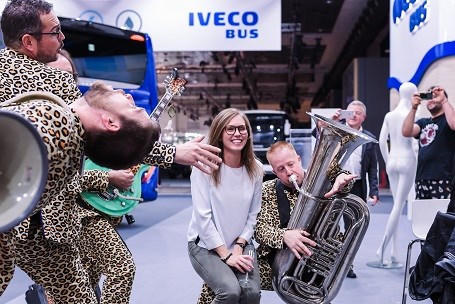 As expected, current 'hot topics' in the bus industry were covered including:
• The evolution towards autonomous buses;
• The implementation of Mobility as a Service (MaaS) and the ongoing digitalisation;
• The way towards low- and zero-emission bus services;
• The future of SMEs in the industry;
• The import regulations for buses and components in the US; plus
• Improving road safety via adapted infrastructure, etc.
  The 550 International Bus Conference delegates visited the exhibition through "thematic visits", organised by UITP.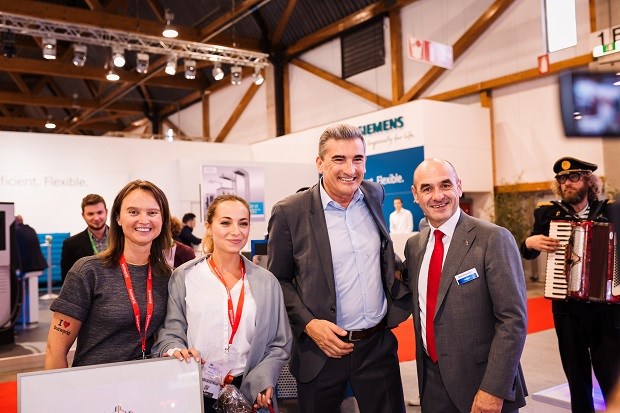 MISS & MISTER BUSWORLD 2019
Viktoria Sooki, PR and marketing manager at Electrobus Europe (joint venture CRRC and Ikarus) and Heinz Kiess, head of sales and marketing at MAN, were awarded the respective titles of Miss and Mister Busworld 2019.
In doing so, they followed in the footsteps of their predecessors, Charlotte Engels (Automet) and Dirk Snauwaert (Van Hool), who won the title in 2017 for their many years of commitment to Busworld.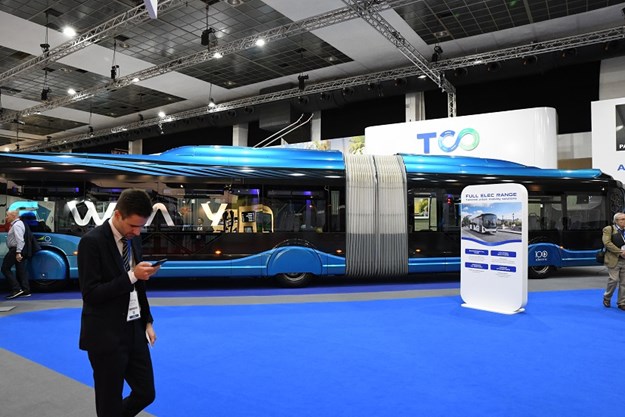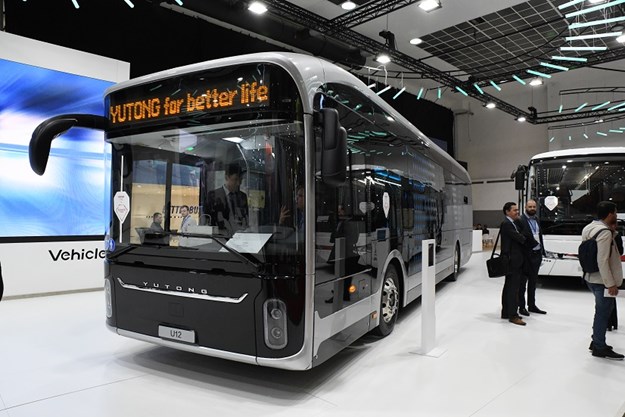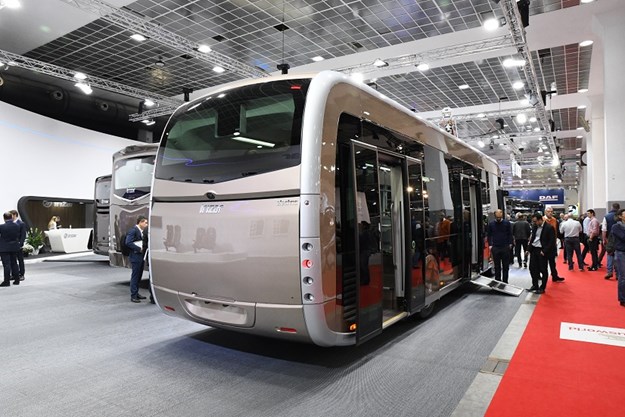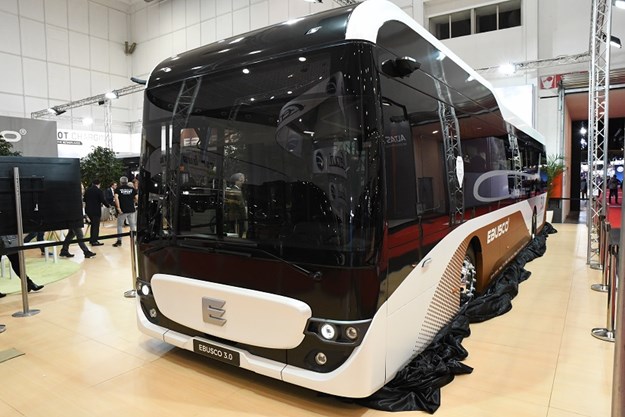 BUSWORLD - NORTH AMERICA
In collaboration with the American Bus Association (ABA), Busworld Academy organised an information session recently on the fiercely exaggerated fears implied by 'Buy America', the organisation says.
After a brief introduction by chairman Don De Vivo, CEO Peter Pantuso outlined the history of the ABA founded in 1926.
With 900 affiliated companies (approximately 2,000 vehicles), the ABA represents 60 per cent of the coach companies. It organises a travel fair, but not a vehicle fair like Busworld, show insiders confirm. That is why ABA and Busworld are the ideal partners to organise a bus and coach show based on the European model in North America, as well, organisers say. 
With only a handful of its own OEMs, there is still room for newcomers in the United States, especially when it comes to suppliers, Busworld explains.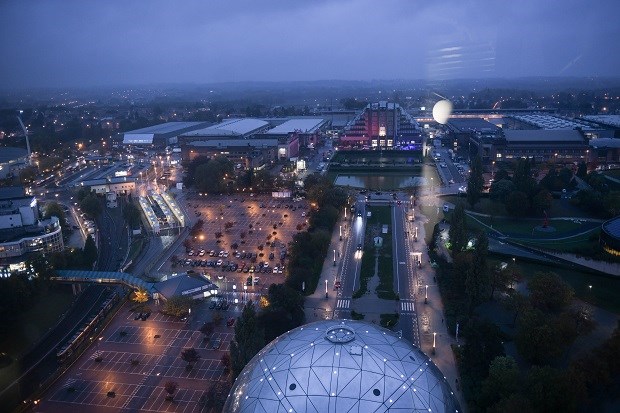 A detailed explanation of the 'Buy America' regulations quickly made it clear that the fear of not being allowed to import into the US is unjustified, they say.
This import restriction only applies to city buses that are financed (partially or entirely) with federal public money, while regional or urban concessions are not affected, Busworld explains. School buses and coaches are not subject to this restriction.
There is also an exemption for parts or systems that are not available in the US or that are lacking in quality and for orders below USD$150,000 (A$217,000). Software is also not subject to this restriction. 
Together, ABA and Busworld are organising the first Busworld North America for 2021 to be held in Baltimore, Maryland.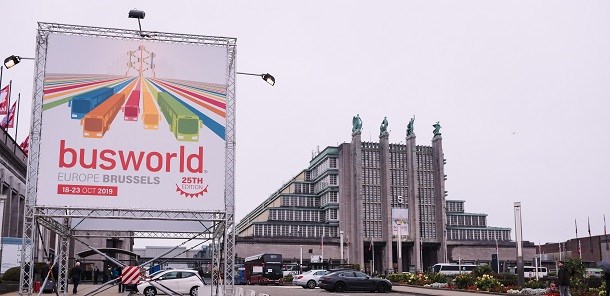 WHEN NEXT?
Busworld – which once started as the 'Car&Bus salon' – will celebrate its 50th birthday during the next edition of Busworld Europe, taking place in the Brussels Expo during October 9–14, 2021.
Previously, the first day of the exhibition has always been a Friday, but in 2021 Busworld will be open for visitors from Saturday, 9 October, until Thursday, October 14, organisers confirm.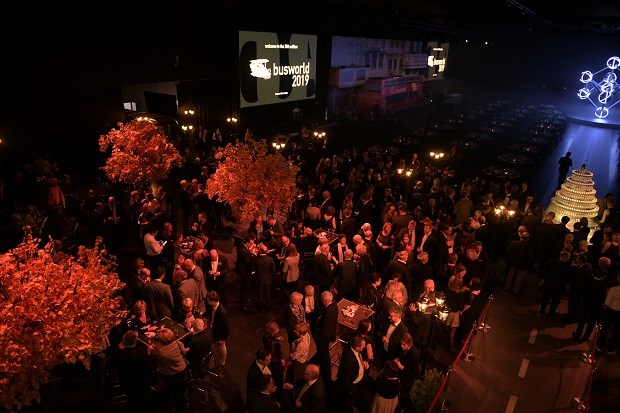 Subscribe to our newsletter
Sign up to receive the ABC e-newsletter, digital magazine and other offers we choose to share with you straight to your inbox
You can also follow our updates by liking us on Facebook.