TASBUS CONFERENCE, 2019
---
EVENT: It was another gem of an event from the TasBus team, this year taking place where it hasn't been for several years – in beautiful Launceston, northern Tasmania.
It's been a long time coming but once again Launceston took centre stage for the wonderful 2019 TasBus Conference, held May 31 to June 1 in the heart-warmingly stylish Country Club Tasmania, Prospect.
Here, Tassie bus fans had travelled from all over the country and the state – still needing more from the latter, but we'll get to that soon – to partake in this year's stunning event. With an even bigger charity-benefit plan and a range of hot bus topics to be discussed, about 160 guests attended to give it their full support and attention.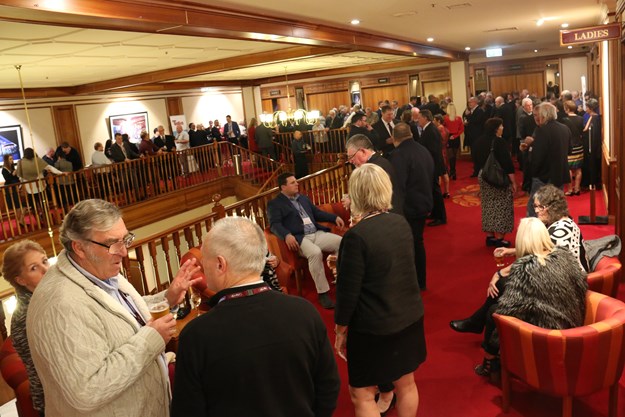 While 'word around the campfire is' delegates have a greater inclination to attend the TasBus event when it's held in Hobart, key industry players are keen to encourage all Tasmanian bus people to please really try to make the effort to support the event regardless of where it's held on The Apple Isle.
There are many obvious reasons for this, but the main ones that need to be stated are A) so that it shows local and interstate dignitaries you support and care about the Tasmanian bus industry and its issues, and B) it helps spread your 'traveller's' dollar into the local economy at these different locations, which is always a good thing for the businesses there. If whatever north v south v east v west rivalry could be swept aside each year when the decision-making process to attend TasBus is being made, an industry is imploring you to do so.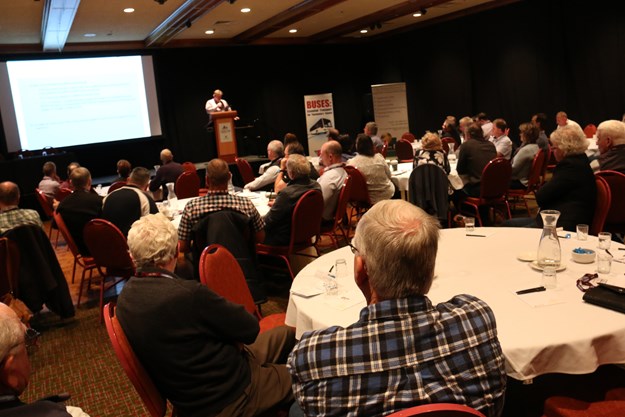 HOT TOPICS
Following another epic Welcome Drinks function on the Friday night prior, delegates were bright eyed and bushy tailed up early on the Saturday for a range of key speakers and guests.
Welcomed by TasBus general manager Geoff Lewis, conference attendees were soon into the thick of the topics, such as the lessons learned from the Southern Network rollout, as discussed by John Dawson from the Department of State Growth, and a range of national industrial relations issues, expertly chatted about – including the odd one-liners to keep people on their toes ("Taswegians", "Just follow the bouncing ball and you can't get into trouble type thing") – by industry legend Ian McDonald from the Australian Public Transport Industrial Association (APTIA).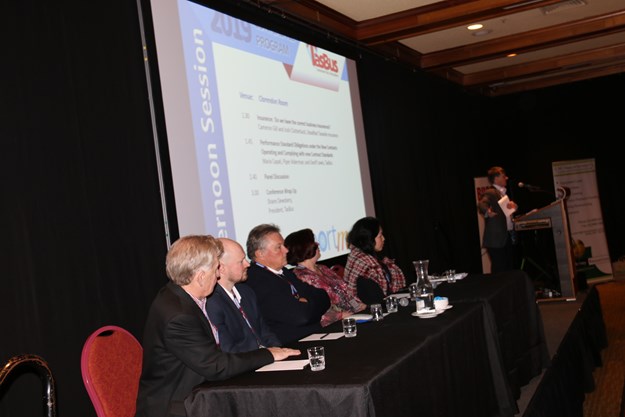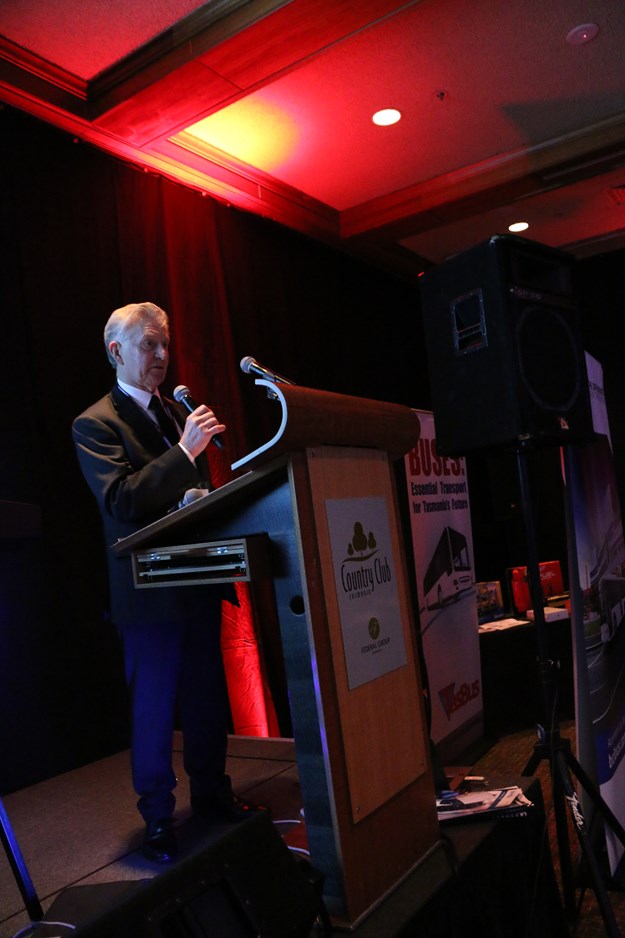 Prior to an amazing lunch, including desserts to die for, Dixie Emmerton from the Centre for Tasmanian Industry discussed how to introduce new staff into your business.
Hunger satiated, the afternoon topics continued: Do you have the correct business insurances? – asked Cameron Gill and Josh Clutterbuck from Steadfast Taswide Insurance; while Piper Alderman's Maria Capati and Geoff Lewis gave a pretty gritty overview of performance standard obligations and compliance under the new contracts that are operating.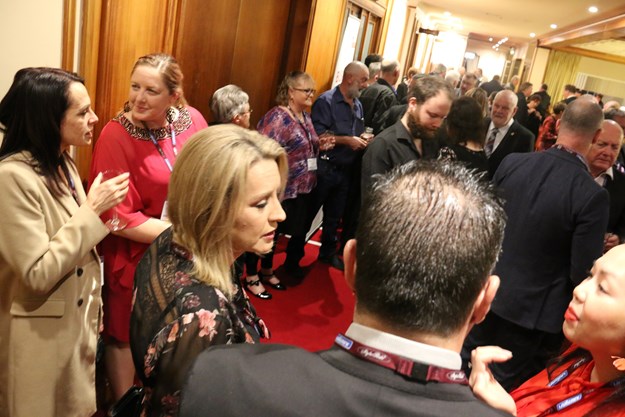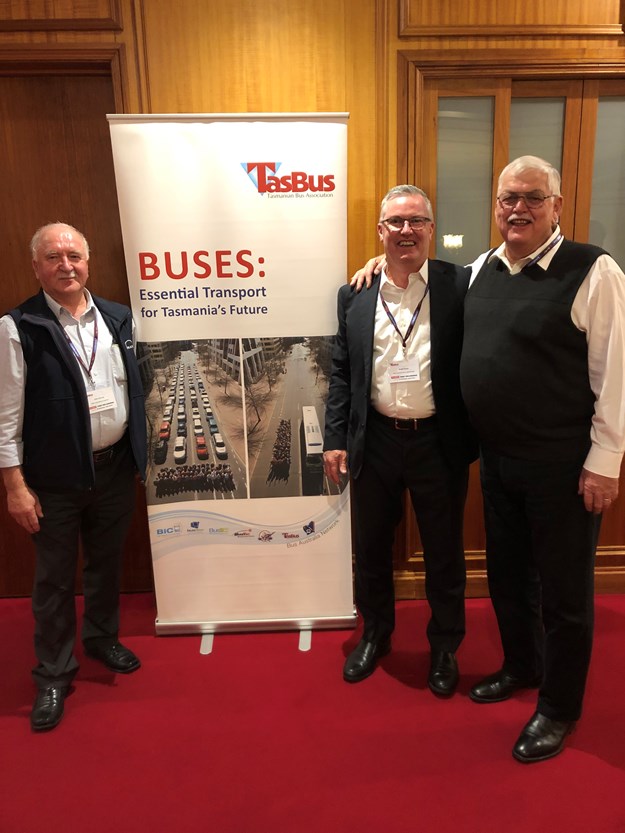 While there were some operators flummoxed by certain examples and scenarios (for example, operators now needing to inform the government whether it snowed on a particular day of their route operations – when presumably such meteorological information could be easily sourced independently – or that 100 per cent of any additional fares collected above contractual limits needed to handed over, rather than some equitable share of, say, 50 per cent between operator and the government), it was a healthy discussion to bring industry up to speed with how things need to be conducted from now on.
With an ensuing panel discussion and Conference wrap-up by TasBus president Shane 'Bubbles' Dewsbery complete, it was time for the AGM before the highly anticipated gala dinner and unique TasBus charity raffle and auction this year.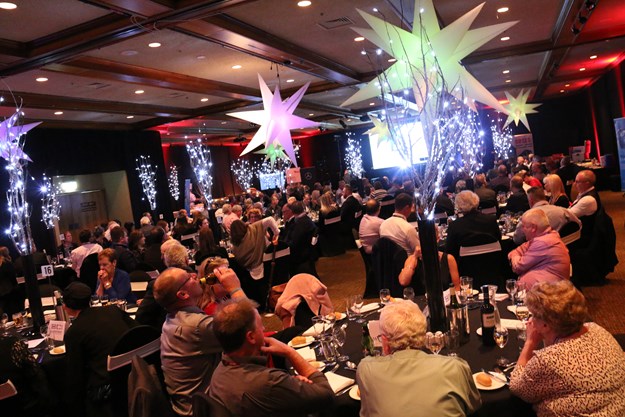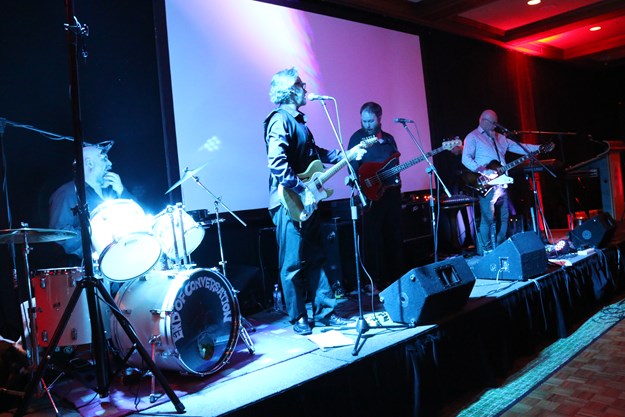 AN EVEN BIGGER HEART
Last year we were witness to the Tasmanian bus industry's benevolence in a big way and that trend was virtually doubled in 2019, with a new and even bigger charity structure now in place.
Punters we all goo-goo and ga-ga once loveable Guide Dogs Tasmania pooch Violet turned up to steal the show, the blonde Labrador showing amazing prowess to sleep for most of the event amongst all the noise while showing even more skill in not scoffing down any of the fantastic food she could no doubt smell. What a legend!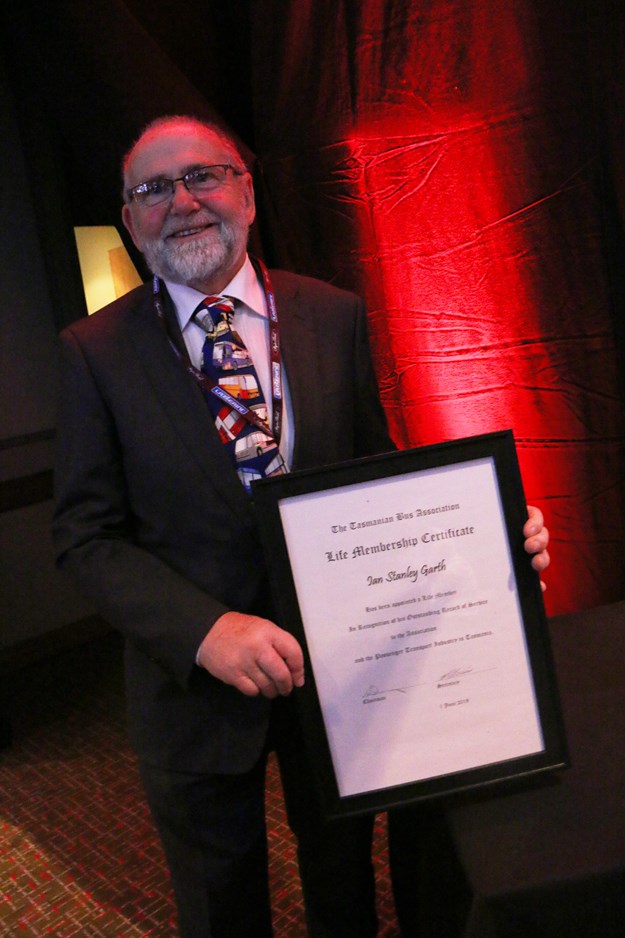 Under the expert eye of dog handler Kim Ryan, Violet represented Guide Dogs Tasmania as one of two charities selected by TasBus directors that would each receive $5,000, plus an equal split of all monies raised that night from delegates.
The other noble charity chosen was called Inside Out 4 Kids, run by the Launceston City Mission, which was received by Ray Green on the night.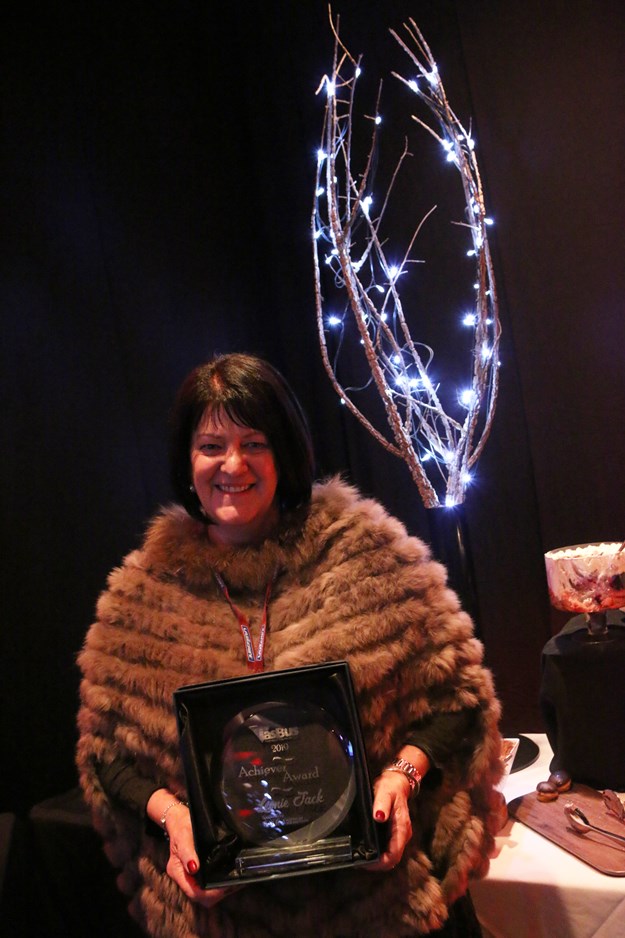 WELL-EARNED AWARDS
For 2019, the Achiever Award was won by Leonie Jack and the Life Member Award was won by Ian Garth.
And so the gala night continued until late, with the dance floor expertly used by those wanting to shake their money-makers to the music of Tassie coverband End of Conversation.
With the 2019 Conference done and dusted we look forward to 2020's event to be held May 22-23 at Hotel Grand Chancellor, Hobart.
We'll see you there...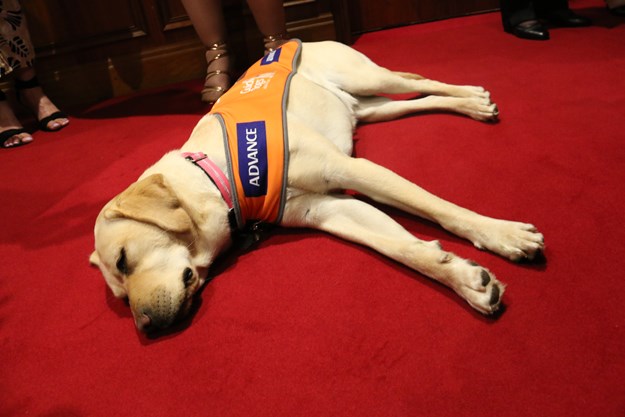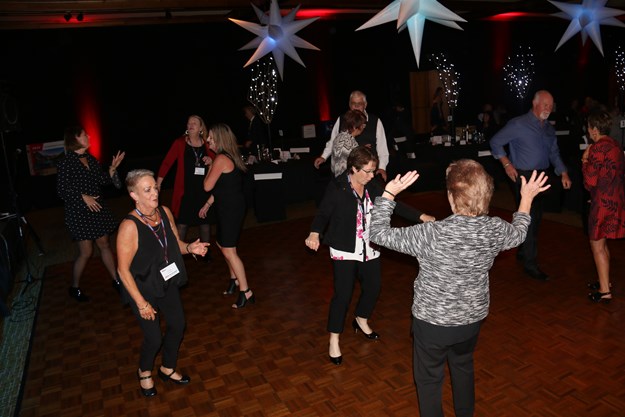 CHANGING OF THE GUARD
There is lots happening on the TasBus front with many changes afoot, as discussed on the night by president Shane Dewsbery.
He highlighted that the state's bus and coach industry needs to address: how integrated ticketing is managed; future transport infrastructure; upgrading school bus fleets to include seatbelts; looking at mechanisms to bust congestion; and technology that gets us 'thinking outside the square'.
Yet he also highlighted structural changes coming for TasBus.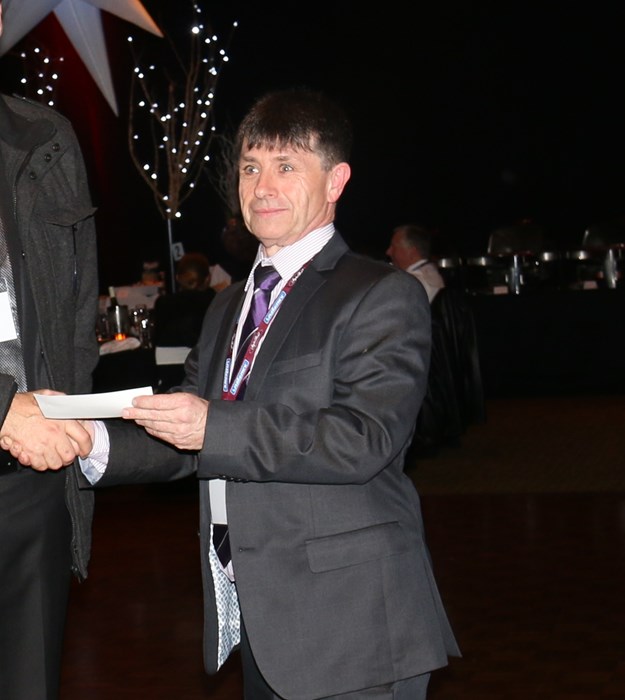 "Sadly, this year we have seen the loss of John Creswell, Spencer Targett and also the retirement of Ian Ward, which will leave a big hole in the bus industry. Our sympathy to the Creswell and the Targett families," Dewsbery said.
"We welcome back to the board: Kimbra Wells, Peter O'Driscoll, Peter Seabourne, Jonathan Gregory, Travis Targett, and Bernard Manion.
"Congratulations to Simon McDermott to the vice president role and I also would like to thank Peter O'Driscoll for his support over these years – and, of course, the ol' fellow Geoffrey Lewis.
"I welcome Francis Roberts back to the Board and Chris Breen from Metro. There's still plenty to do this year with finalising the implementation and, from today's sessions, setting our businesses up for the new contracts and addressing some of the concerns of the tour and charter businesses.
"The Association will also go through change with the company structure, as you see the back end of me after this year and the winding down of Geoff.
"This again is the opportunity to change with our industry and our membership needs."
Subscribe to our newsletter
Sign up to receive the ABC e-newsletter, digital magazine and other offers we choose to share with you straight to your inbox
You can also follow our updates by liking us on Facebook.