COUNTRY COMFORT - EGGINS COMFORT COACHES
---
OPERATOR: Fourth-generation Eggins Comfort Coaches prides itself on just that - comfort - offering a modern fleet of buses and high-end coaches.
When the November, 2019, bushfires hit the little town of Taree on the mid-north coast of New South Wales, brothers Simon and Richard Eggins acted swiftly, pouring endless help into the local community.
While communities across NSW have worked tirelessly to battle dozens of these fires all over the state, the brothers were running free shuttle buses between the evacuation centres.
Deadly weather conditions sent fast-moving bushfires through the area, destroying 124 homes and damaging 67 of them on November 8.
Simon Eggins, who manages contracts and compliance, says life's back to normal now, but expects more fires due to dry weather conditions.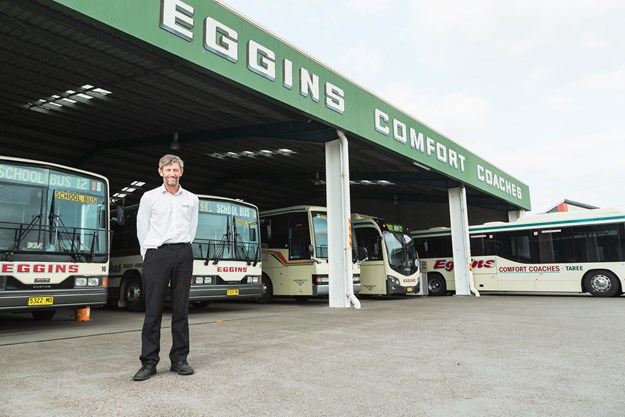 "When the fires were at their peak we had staff issues; they couldn't get into the office because we only could carry a limited amount of services due to the road closures and the fires," Eggins said.
"We had a lot of logistics work and road closures, which led to modifying the routes.
"Our area was hit particularly hard, but over the past month or so it's been OK. We had to cancel some services and we ran a few services early due to the bushfires and we also ran free shuttle buses between the evacuation centres just to help out the community," he added.
"We're a very community-based company and I think the fires brought the best out in people; people helped each other and made sure everything ran as smoothly.
"We can't control the climate and, obviously, global warming is a big factor in the fires, so potentially there will be more issues especially in our area in regards to this, so we just need to be vigilant and also remember what roads have closed previously and what directions the fire came from."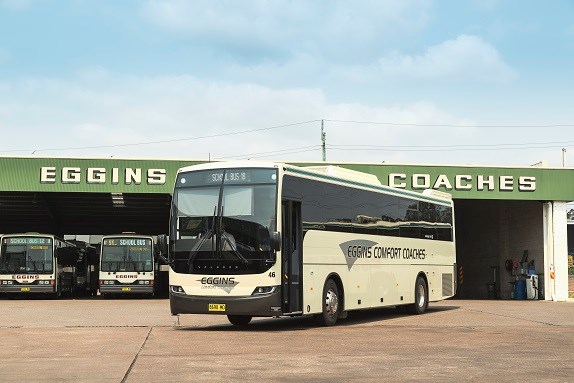 A MODERN OUTLOOK
A lot has changed since Harold Eggins started the business in 1929.
He bought his first bus and began a daily service carrying passengers and school children between Taree and Wingham.
Using a slow gas-producing engine, the trip took 35 minutes over gravel roads. Five years later he bought a second bus and began employing other drivers.
The company continued growing thanks to locals attending dances, which were held up to four nights a week in the outlying areas in the Manning district, transporting them between Taree, Old Bar, Wingham, Jones Island and Kooranghat.
His buses were also a familiar sight at the Old Bar, carrying surf club members and families.
Within 10 years, the business grew to four buses, with 41 present today.
Simon's grandfather, Dallas, joined the company at the age of 15, leaving school to help Harold during the war years. Later on his son, Lachlan, joined - with his sons Simon and Richard helping steer the company into a new direction.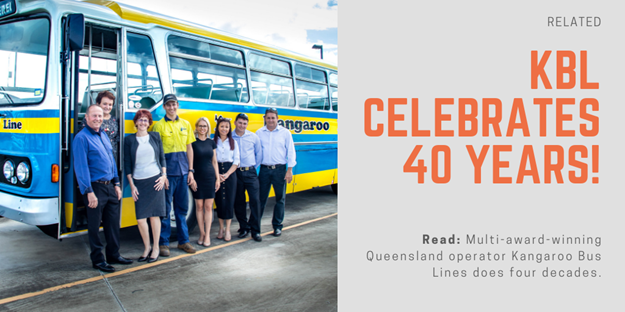 "We've had to modernise and comply with all the necessary compliances over the years," Eggins explained.
"We're always looking at improving things; we try and have systems in place so we can look at being a viable company in the future.
"A lot of the challenges come from complying with all the government regulations and contracts. We stay on top by being reasonably proactive and anything that could be a complaint or an issue we deal with generally before it's an issue before us," he added.
"We're always doing a lot of pre-planning for where the routes are going to and where the population is going to go and making sure that we're on top of it.
"Being local we all grew up in the area so we know our demographic pretty well; we're very well known in the area and we try to make sure that any issues that could possibly arise we're prepared for."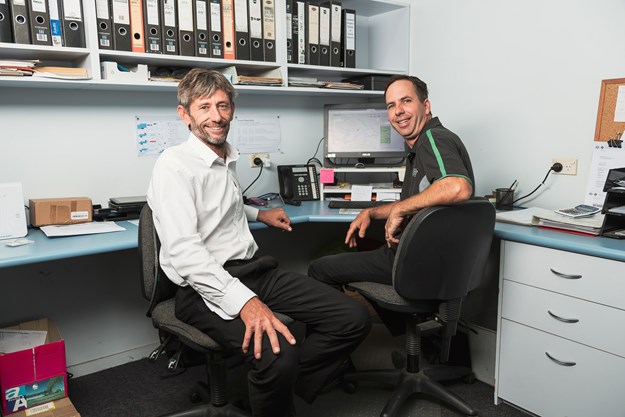 NEW FLEET
The company purchased seven new Scania and Volvo buses over the past year – with the last four received in December.
The business services 15 local schools, carrying up to 100,000 passengers a year.
The company had previously held country-wide tours, but stopped offering that service due to lack of money.
"We haven't done tours for quite a number of years – there just wasn't the margin," Eggins explained.
"Since then we've concentrated more on the school and route services, which are contracted to the state government. We've got an existing contract, so we haven't had to tender for anything, but there is a lot of challenges moving forward with potential tendering. At the moment we're still contracted to our own area."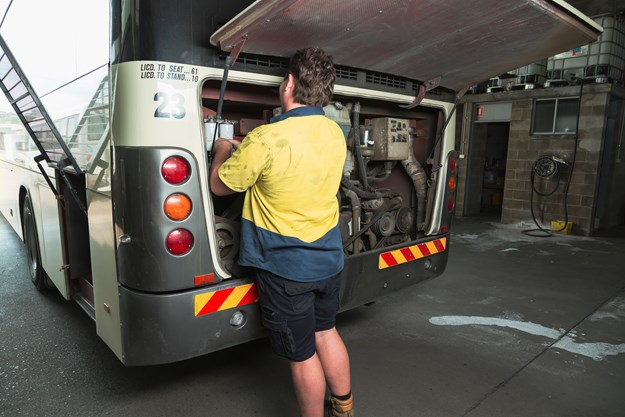 With only three per cent of their patrons paying full fares, Eggins' business is based on passenger numbers rather than revenue. The rest of its patrons are children, pensioners and seniors.
The company's low-floor fleet is also wheel-chair accessible.
"When we got the disabled buses I was actually quite surprised, I thought that they wouldn't be used, but a lot of disabled people use the services at the moment and pretty much all of our services are disabled except for the school services."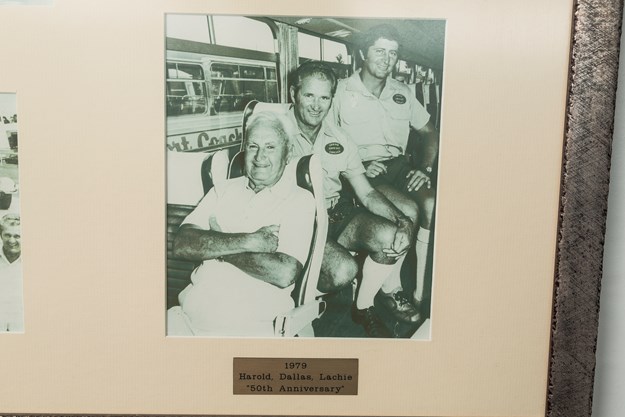 LESSONS LEARNED
Although he's not involved in the day-to-day business, Lachlan still takes part in the affairs.
What Simon has learnt from his father is that staff is everything.
"I've learnt to treat staff well especially if they're good staff and also be respectful to everybody including your community and passengers," he explained.
"I know from my grandfather, Dallas, that Harold was very meticulous in how the vehicle should be maintained; it should always be immaculately presented and well-cleaned.
"The driver should also be well-presented and the bus should be in good working order.
"Dallas loves the vehicles and depots to be well maintained and he looked after his staff well because if you're the bus driver you're the face of the company and he always ran things very efficiently and looked into the future.
"The depots we have at the moment were built in the 1970s and they're still adequate for what we have now, so we had the foresight to see that we would need a large environment with all the facilities required to run a good bus company."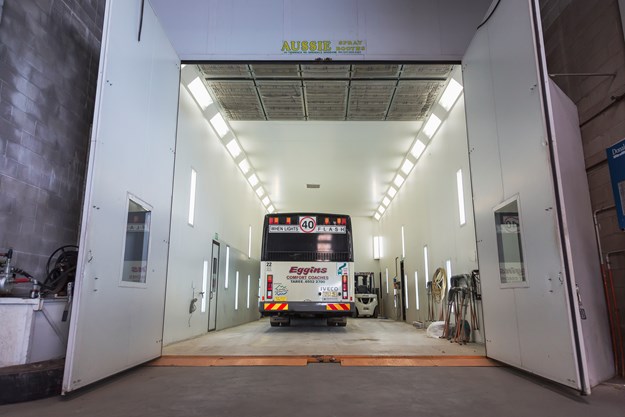 The company does its own panel work with four in-house mechanics, he explains.
The brothers hope their next generation will take the business over.
Richard has two sons who are interested already, with Simon's six-year-old being groomed for the business, too.
"We're not planning on selling it," he said. "We'll keep it in the family for as long as we can run it in a good manner," Eggins added proudly.
"We'll have to modify ourselves for the commercial environment that's out there, though; you need to be commercially viable to stay in the business and I'd imagine there will be some changes in regards to electric vehicles and a few other bits and pieces.
"Where we're situated and the amount of sun we have we see potential to have solar [power] and battery-powered [buses] and charge the vehicles at night; that will depend on how the technology goes and how cost effective it is."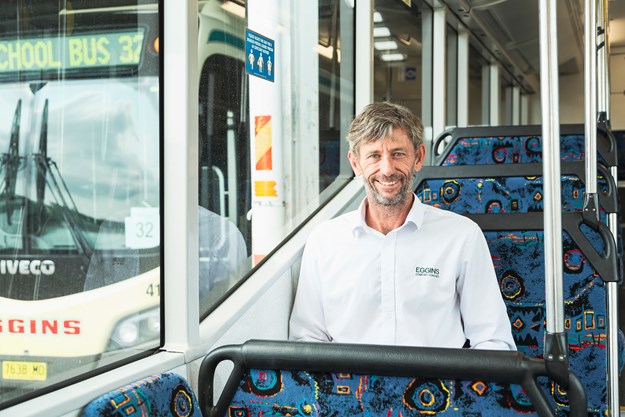 ABOUT COMFORT COACHES
Eggins Comfort Coaches is available for charter by community groups, schools, sporting groups, business groups, individuals and special events, it states.
If you have an organisation which brings like-minded people together and you are seeking a bus with driver to take you safely and conveniently to your destination, Eggins Comfort Coaches offers affordable tailored pricing to suit most budgets, it says.
Running your own day tour is a great way to raise funds for your organisation and the company offers some suggested day-trip itineraries to get you inspired, it explains.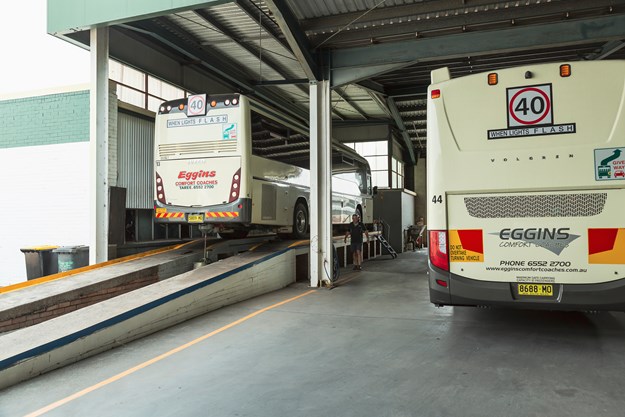 Subscribe to our newsletter
Sign up to receive the ABC e-newsletter, digital magazine and other offers we choose to share with you straight to your inbox
You can also follow our updates by liking us on Facebook.