WELL-OILED MACHINE - DARREN WALES
---
INTERVIEW: Speaking for the first time officially to the media since the mammoth AMA Group took over Wales Truck & Bus Repairs earlier in 2019, newly appointed CEO Darren Wales was happy to give an exclusive insight to ABC magazine and its sister title ATN now that the local 'dust has settled' in the collision-repair scene.
ABC: G'day, Darren. Since the AMA Group takeover of Wales Bus & Truck Repairs, how have things been settling in for you in your new role? 
DW: Fantastic! We have a great team around us with a passion for the heavy motor industry and repair industry. I can't speak highly enough of the dedication and commitment that our guys (and girls) have shown in the transition stage. I have been in the industry for over 30 years and I think that I have learnt more in the past six months from our people than I have in many years. The workload is intense, but I am enjoying it.
ABC: What has been the response from your trucking and bus clients to the takeover and expansion plans?
DW: The response from the industry at large, both the trucking and bus industries, has been overwhelming. Our national clients have relished the opportunity to finally have a dedicated, truly national repair network of the highest calibre. I don't like the word synergies, but each and every one of our branches across the country brings something unique to the table. We can all benefit from this, along with our valued client base.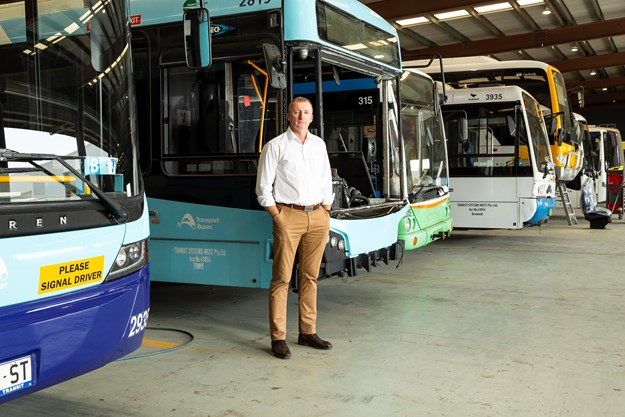 ABC: How will relationships with insurance companies work in practice and which ones are they?
DW: All of our insurance company partners have been extremely positive and supportive. They see the benefits in dealing with an ASX-listed public company, with the transparency, economies of scale and regulatory governance that it provides.
ABC: How will relationships with OEMs work in practice and which truck ones, if any, are they? Has there been any change in the working dynamic with any of your bus OEMs since Wales became a part of the AMA Group?
DW: We have a great relationship with our OEMs, both in the truck and bus divisions. Streamlined parts purchasing on a national basis and the ability to work with the OEMs in gaining valuable repair processes and techniques is a must.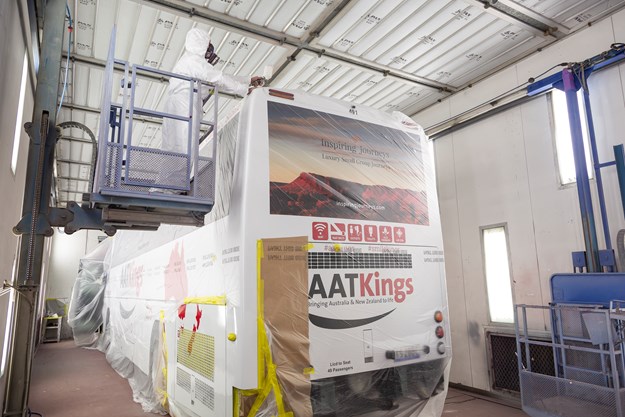 ABC: How long will the consolidation process last; when will the enterprise be big enough? Are any of your existing competitors already in AMA's sights, or what qualities of an enterprise would it be looking for?
DW: What I would say from the outset is that we are not growing and expanding for growth's sake. Like any other volume-based industry, relationships are critical, and these, along with our reach and breadth of services, means we can take on any challenge. Most importantly, because of our scale, we can keep costs down for our customer base.
Our industry and clients dictate the growth strategy for AMA HM (AMA Heavy Motor division). We are extremely selective of our repairer partners who join the AMA network. Only top-tier repairers are invited to be a part of our network, ensuring the quality of repairs and client service levels remain world class.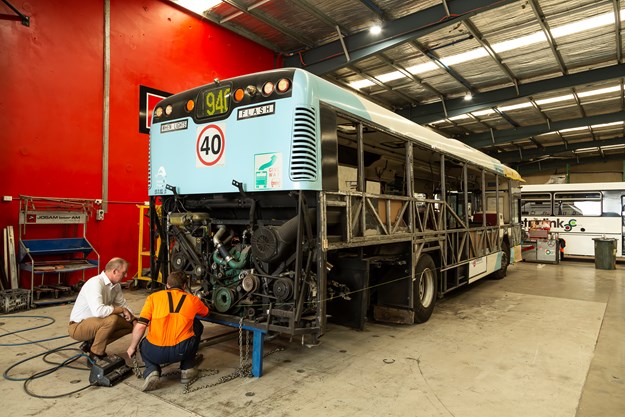 ABC: What innovations are being considered for heavy vehicles?
DW: ADAS (Advanced Driver Assistance Systems) is a huge leap in terms of truck (and bus) technology. It goes without saying that the equipment, training and investment to repair and re-calibrate these vehicles after an accident require enormous amounts of investment to cater for this. AMA is at the forefront in providing this investment in order to return vehicles to original manufacturer's specifications, something which independent operators may find difficult. AMA is exploring a range of options to enable market leadership on this issue across all divisions.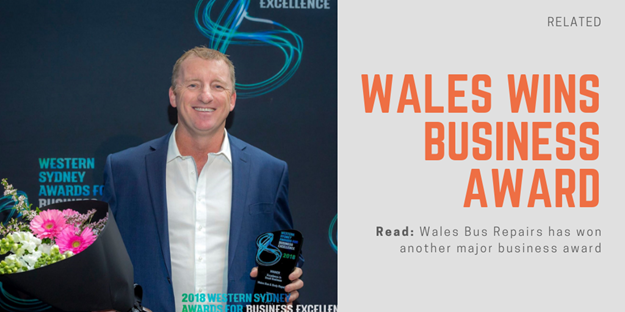 ABC: How are the choices of greenfield sites being made?
DW: Again, we choose greenfield sites based on our clients' – both vehicle owners and insurers – needs and expectations.
ABC: Where are you sourcing skilled personnel from and how easy/hard is that at present? Have there been any job losses or role changes other than your new role?
DW: Our people are our number one focus and AMA is extremely proud of our dedicated team. The retention of our existing staff from our acquired businesses is vital. One of the main points of difference I have experienced personally going from an independent operator to a national MSO is their focus on training and improving their employees' skill levels. It never stops!
AMA has implemented a 'People Excellence Programme' and partnered with communities and training organisations to upskill and promote growth within the company ranks. We have had a few structural changes, but are always looking for more skilled, motivated and ambitious people to cater for our growth.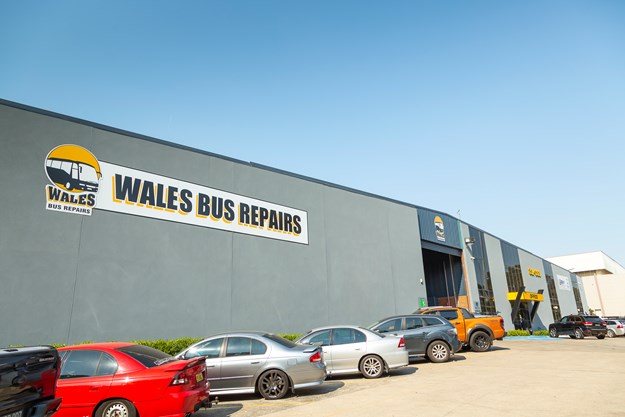 ABC: Is the nation's economic softness having any impact on the repair sector, good or bad?
DW: The economy and transport industry in general can be challenging at times. We are prepared for any downturn and our variety of services and expertise means if one particular segment slows down, we ramp up to attract work across other parts of the business. Our fundamentals are sound, our people and culture incredible, so this gives us a great opportunity to take our company to the next level.
ABC: It seems AMA Group's share price has dropped a bit since the take-over of Wales. Is that a seasonal response or some event or trend in the collision-repair industry affecting the current result?
DW: That's simply not true! There are many factors which influence the share price. The share price is impacted by divisional performance and market conditions. These factors cannot be attributed to the Heavy Motor division.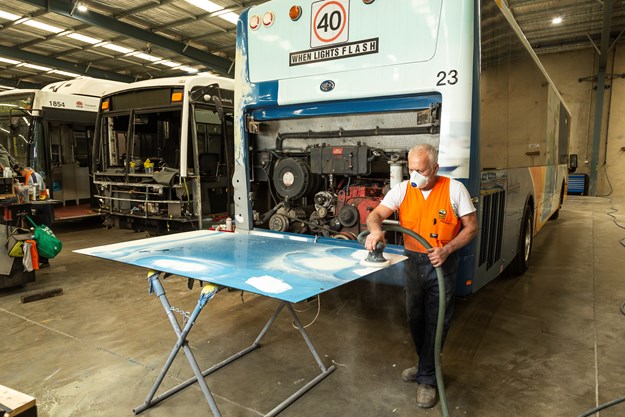 In November the share price was at an all-time high! The Heavy Vehicle business has been a great addition to the AMA Group, both from a revenue and profit perspective. The market doesn't judge the AMA Group on one part of the sum of its parts, it looks at the entire business.
The Heavy Vehicle business is a significant contributor to the AMA Group and will continue to do so.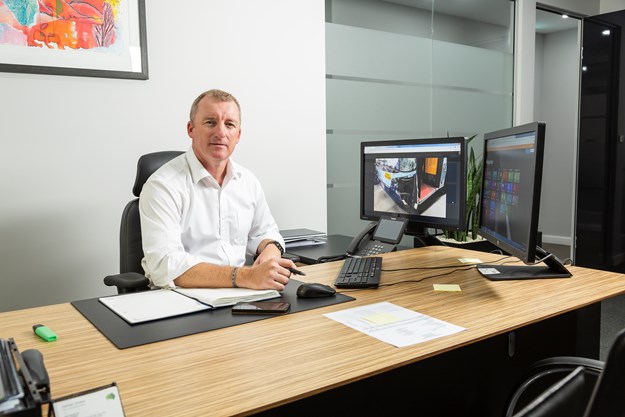 ABC: So, Darren, given the size of the AMA Group and the breadth that it has in networking, whereabouts is everything and who is doing what from a heavy motor collision-repair point of view?
DW: "Currently, we have a number of actual branches across the country and we are retaining the individual brands at the moment under the one AMA umbrella.
These are as follows: Western Australia – Parins; South Australia – All Transport Smash; Victoria – Recar; Queensland (Brisbane) – Recar; Queensland (Townsville) – Recar; NSW – Wales Truck Repairs and NSW again – Wales Bus Repairs."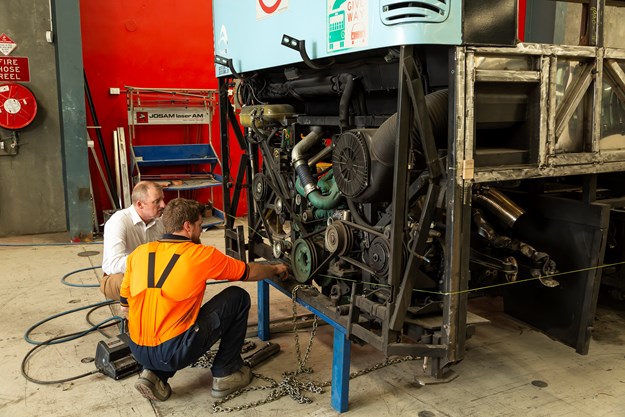 TRIVIAL PURSUIT
1. SONG STUCK IN YOUR HEAD RIGHT NOW...
Amy Winehouse – Valerie (first song on my playlist).
2. LAST GREAT PLACE YOU VISITED...
Croatia – family holiday in June. Was amazing!
3. A FAVOURITE DISH...
Anything Japanese.
4. A FAVOURITE DRINK... 
Any Barossa Valley Shiraz (or any Shiraz for that matter).
5. IF YOU COULD CHANGE THE WORLD YOU WOULD...
End poverty.
6. SOMETHING THAT YOU LEARNED ABOUT YOURSELF TODAY...
That I am nowhere as good as my team around me (I learn this every day).
7. THE ONE THING YOU CAN'T LIVE WITHOUT IS...
Without question, my family.
8. YOUR MOST EMBARRASING MOMENT IS...
Too many to list… but anytime I try my hand at public speaking.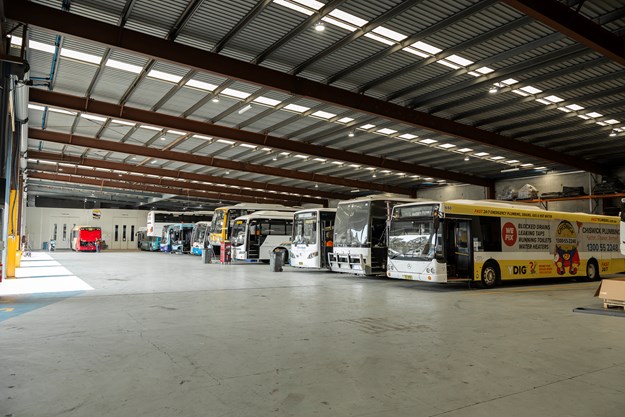 Subscribe to our newsletter
Sign up to receive the ABC e-newsletter, digital magazine and other offers we choose to share with you straight to your inbox
You can also follow our updates by liking us on Facebook.