TOUR DE FORCE – COWAN'S BUS SERVICE
---
OPERATOR: As a mother, bus driver and manager of Cowan's Bus Service, Katie Cowan is not your ordinary 25-year-old.
While most people her age are busy establishing a career, Katie Cowan wears many hats – juggling motherhood, a business and the occasional bus drive. For the past two years she's managed the family business, taking over from her father, James.
She joined the company a decade ago, hosting charter tours across the country before driving buses.
The business is located in Sandy Hallow, a small rural town in New South Wales known for coal mining.
The company also provides school runs and has struggled obtaining drivers, but it didn't mean Cowan sat still; she got her medium rigid licence at the age of 19.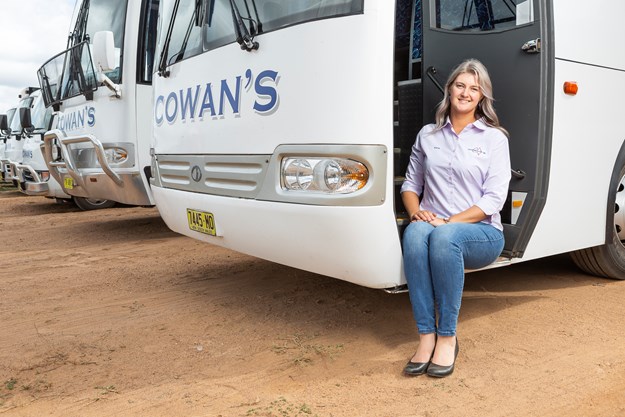 "When I was coming into more responsibility within the business, it was at the time of the mining boom and we were very stretched trying to find a bus driver for a 16-hours per week bus run on $30 per hour when the mines were offering a lot more hours on a lot more pay," Cowan said.
"This prompted me to get my MR licence. We're in a very busy coal mining area and probably the biggest challenge for us has been getting staff; with the school runs we only have a couple of hours in the morning and couple of hours in the afternoon, whereas the coal mines offer 12-hour shifts.
"That's the biggest challenge for us, which is why I got my licence at a young age because we needed drivers."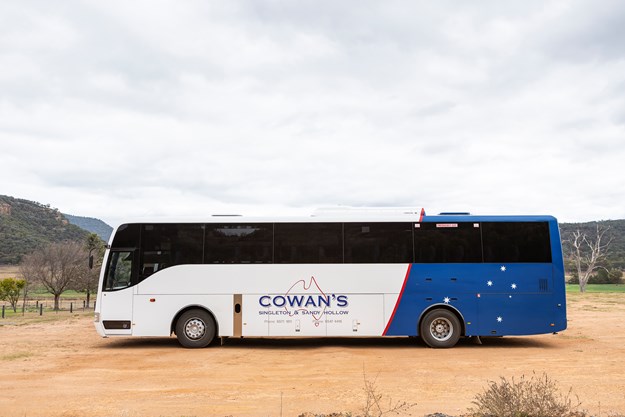 With a fleet of 13 vehicles, of which two are charter coaches and the rest school buses, the company has 10 drivers. Half of them are women.
Last year Cowan upgraded her licence to heavy combination, and with her daughter in kindergarten she's been able to not only attend her excursion in Dubbo, but drive all of the students there.
Age has never been a barrier; in fact, Cowan says she loves being a younger person in the industry.
"While some may believe it would be a hindrance, I find that the older people who have been in the industry for a longer time are always willing to share their stories and expertise with me," she explained.
"I love the interaction with our customers over the phone and, as often as possible, I try to personally see our tours away or welcome them home."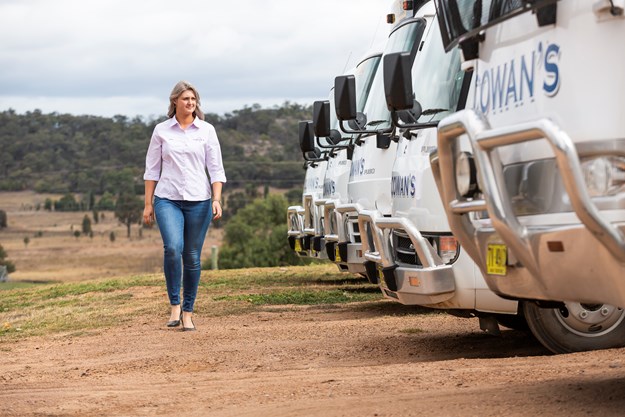 SOMETHING DIFFERENT
One of the things that sets Cowan's apart is the service it provides such as home pick-up; passengers who embark on a tour are collected from their homes and taken on a holiday.
The company organises everything from tickets to accommodation, having put together 12 tours this year, with another 17 booked for next year. Cowan has focused more on tours since joining the business.
"As I've been in the office longer we've been putting more on, we've been growing," she explained.
"We've been having a great patronage these days. I think a lot of other coach companies have taken a step back and we've been picking up.
"For us, we've noticed that more people are travelling nowadays, but that being said when we're on the road we're not seeing as many coaches at the moment.
"However, we're getting quite full trips," she said.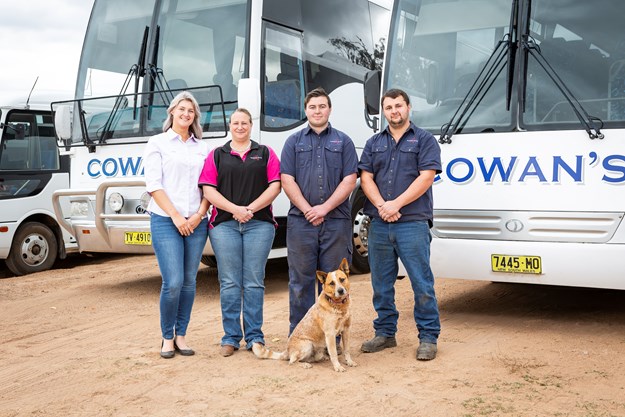 SOLID CONTINUITY
Being an only child, it was always expected of Cowan to join the business. However, it wasn't difficult to talk her into it as she developed an early passion for the business when joining her father on tours.
"He always wanted me to work in the business and, at first, I was a little bit hesitant, but when I was in high school I started working here after school and that evolved into a one day a week school-based traineeship," she said.
"I finished school on the Thursday and came to work on the Friday, and then every day since," she explained.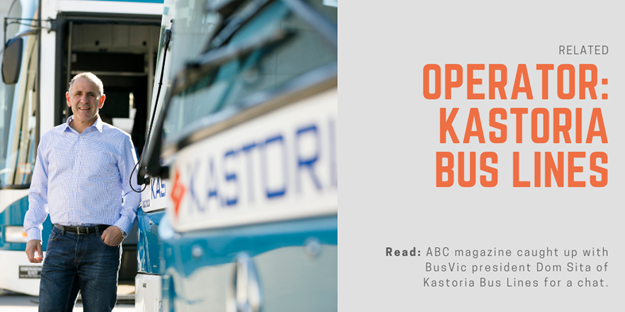 "It was a smooth transition and I just came to love it."
She's managed to attract drivers for school runs through word of mouth, of which most are parents who bring their own kids on the runs.
"We have more women, particularly parents who go on bus runs and drop their own kids at school, [they've] got the middle of the day to themselves and then pick their kids up in the afternoon," Cowan said.
"That's working very well for us at the moment; we've had to adapt to the flexibility of having drivers take their kids on the bus, but that seems to be working for us and that way it's giving flexibility to parents."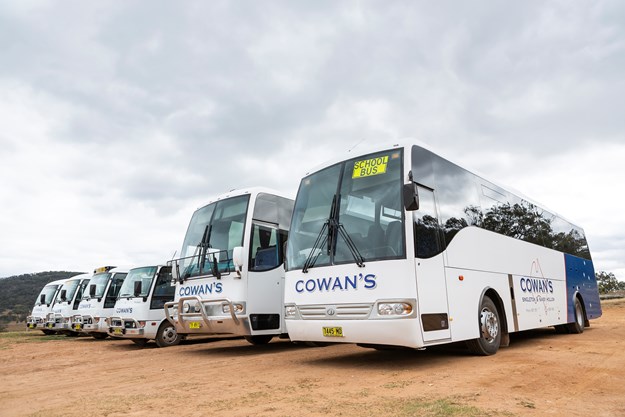 HISTORY LESSON
Cowan's grandparents purchased their first bus in the 1980s, servicing a school. Her father then bought that bus from them in 1999, establishing the business.
He saw value in school runs and, two years later, bought a couple more for Merriwa. In 2003, he then bought his first coach.
"Our local community were asking for more bus services and my dad had ended up taking our old school bus on Sydney trips on the weekends," Cowan recalled.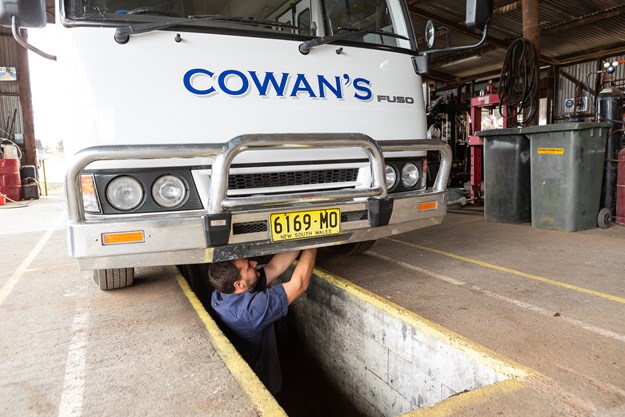 "With the newest addition to our fleet we completed our first tour to Darwin in 2004 through central Australia – it was a great hit. A year later we then ordered a brand-new coach to keep up with demand and started adding more tours.
"The following 10 years from our first tour has seen my dad operate almost every tour. During this time I went along on a handful of tours that aligned with school holidays."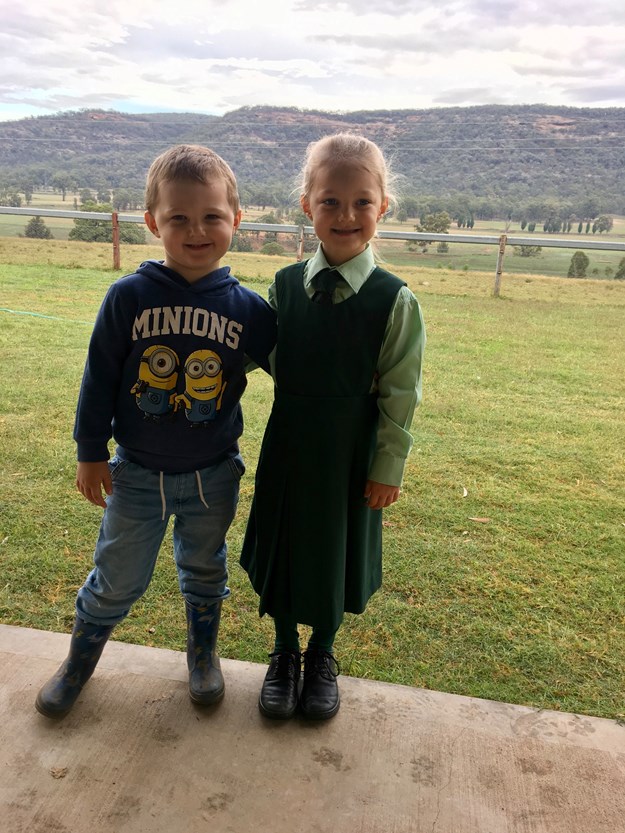 NEWEST ADDITION
Most of Cowan's fleet are Mitsubishi buses – and this year the company took delivery of a new touring coach: a MAN 26.500.
"In order to get our new coach I had to promise my dad that I would still be keen on the business for the next 10 years until we have at least paid it off," she said.
"We had our other touring coach since 2006, so I had finally convinced dad for a facelift.
"We have added all the bells and whistles available to us into our newest addition; the unveiling actually ended up being on my birthday and it was the best having so many of our travellers there to celebrate the coach and it made for a very memorable birthday."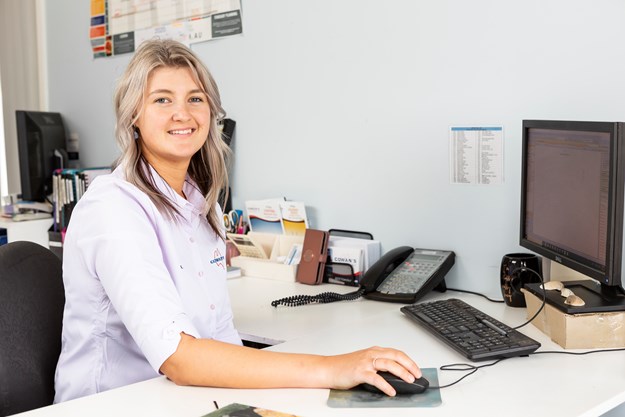 The coach features a fridge where passengers' medication can be stored, a toilet, reclining seats, seven TV screens, arm and footrests, USB charging ports on each seat and Wi-Fi.
"Our drivers really love the cruise control feature that tells them the speed and distance of the vehicle they are behind," Cowan added.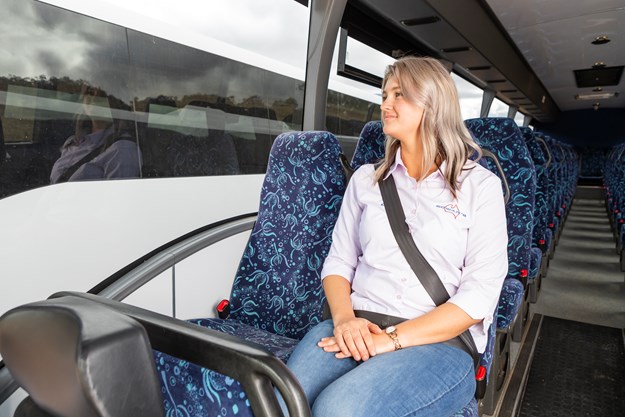 FUTURE PLANS
Cowan wants the business to keep ticking along as it is, saying it's all about maintaining current business structure.
"I think we've grown to a point that we're happy to sit at now. We don't want to reduce it, but we don't want to add any more either," she said.
"Although since 2014 dad's been busy on the farm and I haven't been on tours whilst raising my young family, this hasn't impacted the touring.
"We are so lucky to have so many wonderful people working with us that we can rely on; we would struggle to operate without each person.
"We are a small business and we all know each other on a personal level," Cowan said.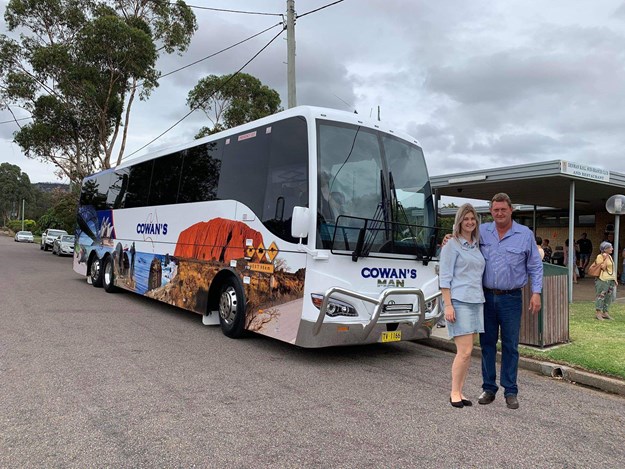 "This ranges from our school bus drivers safely getting the kids to and from school each day to the coach drivers, who are away from home for extended periods showing our customers our beautiful country.
"Buses can't drive themselves, fix themselves or make bookings for themselves so we value each other and our team works well because of it."
The company has recently joined the local netball competition in Merriwa with its own team: Cowans BUSters.
"We have our office staff, a mechanic and some bus drivers and some of their family members in the team and it is a great way to catch up outside of work – and especially doing something physical instead of sitting in the bus or at the computer," Cowan added.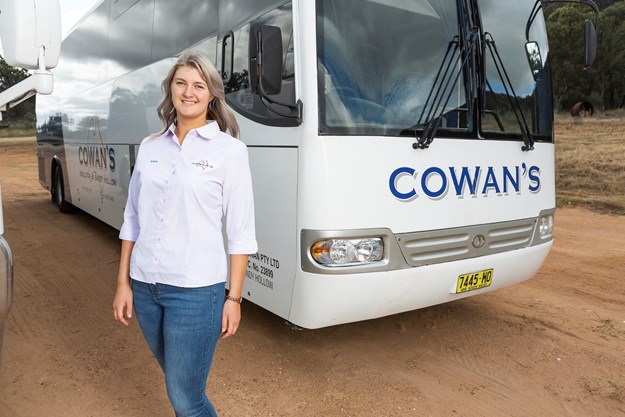 ABOUT COWAN'S
As a family owned and operated business, Cowan's Bus Service can provide all travel needs, it says.
Its fleet currently consists of a range of buses and coaches, all painted in its strikingly elegant white, red, and blue colours and furnished with all the conveniences and comforts required and expected, it says. Its coach sizes range from 24 seats up to 57 seats.
It can arrange your next holiday, with options stretching from a North Queensland adventure to a tour through the lush forests and vistas of Tasmania, the company states. Or perhaps you might just need a day out on one of its day tours – and if you have a group function it is also available for private charter.
Subscribe to our newsletter
Sign up to receive the ABC e-newsletter, digital magazine and other offers we choose to share with you straight to your inbox
You can also follow our updates by liking us on Facebook.