ABC ISSUE 387 – OUT NOW!
---
What if the rate of change in buses, public transport, social media, inter-generational communication skills and … the 'price of fish and chips', for that matter, is waaaaaaaay faster than once thought?
Reality check! That's what you get when you come to many of the state-based bus industry conferences and even more so, arguably, when attending the national one, garnering useful expert information from the world over.
Time … and age … it seems will get the better of us all – and that's just the lucky ones who get to spend as much of it as they can on this humble blue-green planet before our numbers come up. And, no, not the lottery numbers, unfortunately.
If there was ever any doubt things have, were, are changing at a phenomenal rate - whether it be bus business or modern life in general - attending a bus event where some amazing keynote speakers bring you bang up to date is a big mental smack in the face of just how that rate of change might be fundamentally underestimated by many of us. This is totally in the context that our estimation of what that rate was – gained through paying attention at such events, general global research and a sixth sense tapping into a vibe day to day – was a pretty good estimation to begin with.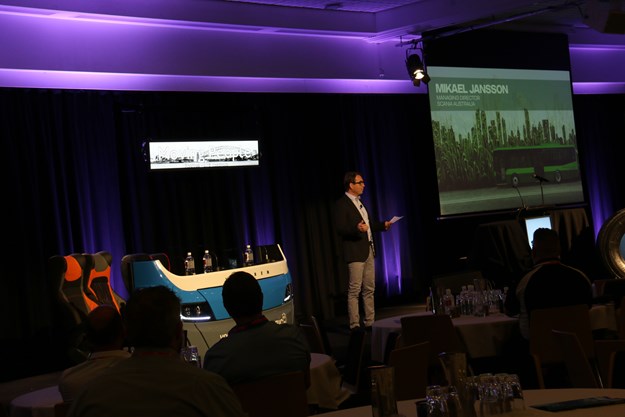 CHANGE A COMIN'
At the 2019 BIC National Conference held in Canberra on November 17–21, such a rate of advanced change – and just how fast we are aging, is the depressing reality of it, really – was clearly evident through a range of topics and discussions affecting our bus and public transport-related industries.
Speakers like Scania Australia's CEO Mikael Jansson raised 'reality check' points to assembled conference delegates and bus operators that outlined change is coming: globally, locally and generationally.
"It might be scary. It might be confronting. But you can't hide from it. You can't ignore it," Jansson said.
"Together we must drive the change with solutions that are commercially viable. We can take control of the future of the industry together.
"And while driving the shift to a sustainable transport system is global, and needs to be successful – driven by the need to reduce our carbon footprint and to help the world cope with rapid urbanisation," he said – and with Scania's Julian Gurney, director of sales – Bus and Engines, adding an entertaining pitch about how bio-waste (ie. human poop!) becoming viable bio-fuel to run buses on (even bringing a clean new porcelain 'dunny' [toilet] up on stage for dramatic effect) – it touched on a certain theme permeating throughout the conference. That the 'change underwriting the change' is today's youth. Actually, no, it's not even today's (try tomorrow's).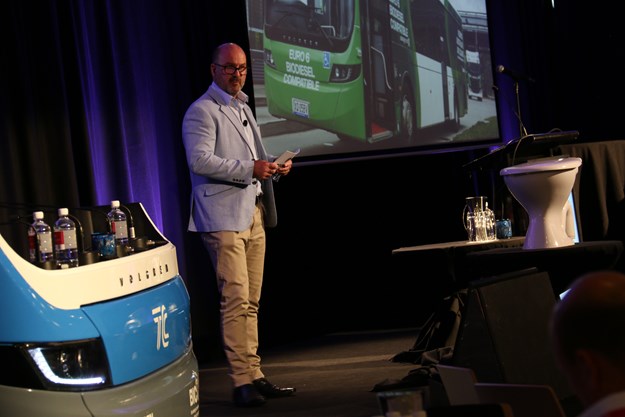 Though he correctly highlighted that environmental issues aren't going away and that, "…inside five years this [bus] industry will see changes filtering through the system. If you doubt that then consider this: within 10 years these kids will have the power to vote, at council, state and federal level," this 'change' is affected by something even earlier than that.
Earlier and … fascinatingly more differently thinking. Or maybe it's just how humans have thought and conversed forever, just in a modern context? Anyway…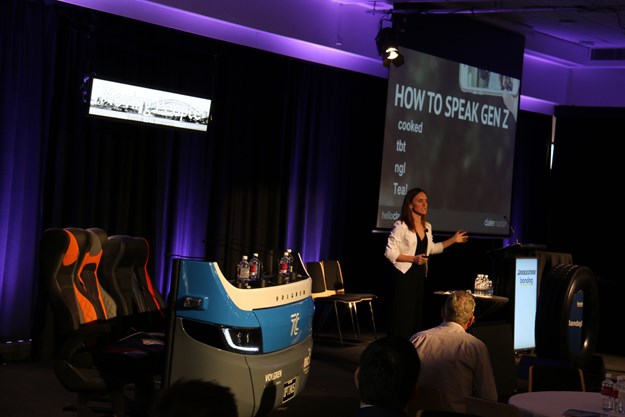 WHAT GEN NOW?
We heard from erudite speaker Claire Madden, arguably the nation's leading voice on Generation Z. As an author, social researcher, keynote speaker and media commentator, she's an expert in interpreting social trends, demographics and implications of generational change.
I'd listened to her thoroughly entertaining presentation last year about where different generations were at with communication, focussing on the youth of today and the online, text-message-driven evolution of language and acronyms permeating their lives.
At this year's event there was even more to take in. And I have to admit for as much as I've prided myself on 'thinking I'm hip and happening', being 'down with the kids', and appreciating how certain abbreviations have come to be and why, there was a point some I just couldn't work out – and when I did, I was equally flummoxed and fascinated by the thought process that would have led to their creation in the first place. So yep, I felt pretty damned old that day – LOL.
The point is, this is the way of the world and its future. Bus business and public transport needs to best appreciate that these kids will be in our workforces and be leaders and voters and commuters in future, so just when you're thinking you are adjusting fast enough for their communication and future technological change – think again and always multiply that by 10, let's say, just to be safe!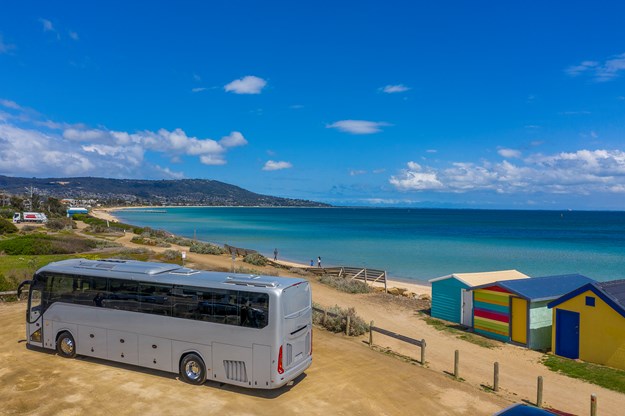 INSIDE THIS ISSUE
It's been a bumper month, indeed, and I can't believe the year has passed so fast. Yes, I'm sure we all say this every year even though scientifically it's going at the same pace yadda, yadda, but it just seems to be getting faster and faster. And many of us greyer and greyer.
Our cover story this issue focuses on a cool chassis and body project between Mercedes-Benz and Australia's BCI, whose collective efforts into their latest New Cruiser Model coach has seemingly paid dividends so far. Making its debut at the recent BusVic 2019 show, it certainly looked a treat and exuded some gorgeous Euro flair. Check it out on pages 36-41.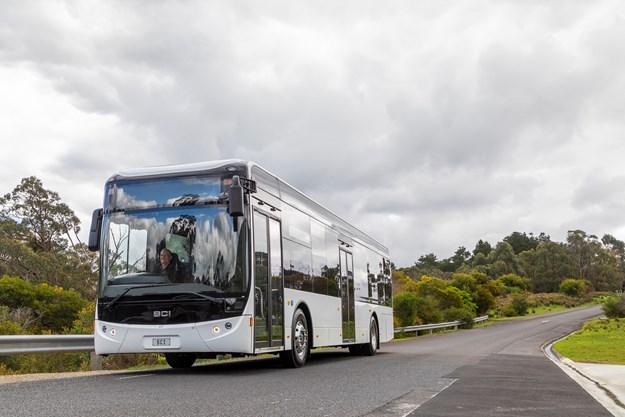 Speaking of BCI, we check out its latest Citirider E electric bus, which also made its debut at the show. Market-leading passenger and battery capacity, says BCI, will hold it in good stead here – but it will also be interesting to see if any rapport with Dutch bus maker Ebusco – whose 3.0 model won a coveted Busworld Innovation Label award recently – will have some joint spin-off effect. Interesting times.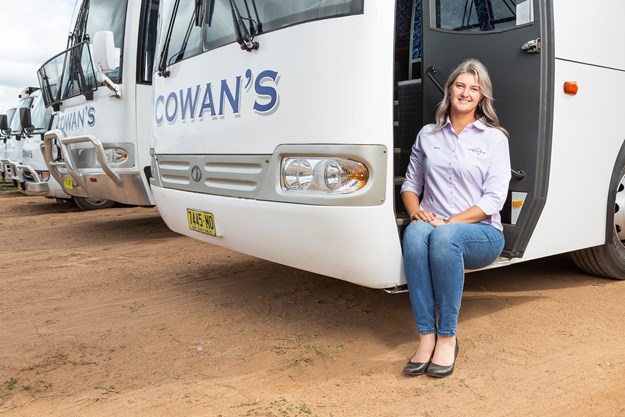 Also inside we visit operator Cowan's Bus Service in NSW, where young Katie Cowan is doing an awesome job in the family run business, while we also – finally – take a Hino Poncho for a quick test spin around the bustling streets of Melbourne. Right in the emerging on-demand space it certainly is an interesting bus product out on the local scene.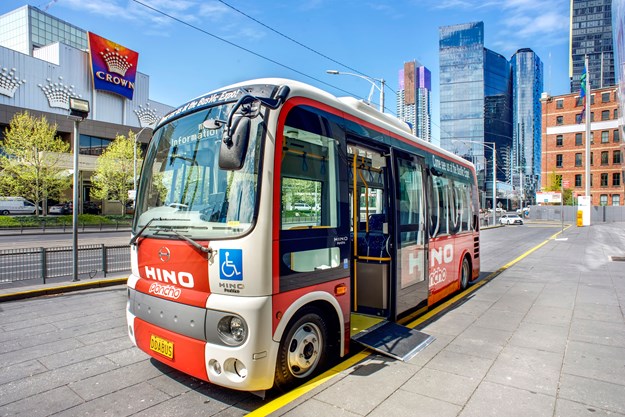 No events this issue, though, unfortunately. At the time of print I'm currently bailed up in a nondescript (but thankfully it's not Tarantino-scene vampires, blood and guns and stuff) Canberra hotel room bashing away at the keyboard at 4.39am trying to get this last bit out - but look forward to a full event wrap-up on the 2019 BIC National Conference soon. Next year's one is in Rotorua, New Zealand, I hear. So 'churrrr'! Noice one, bro!
We do, however, have some cool snappy-snaps from the Melbourne night functions at BusVic 2019 just to get you through the month. Hope you enjoy it and see you soon.
Until the next thrilling instalment…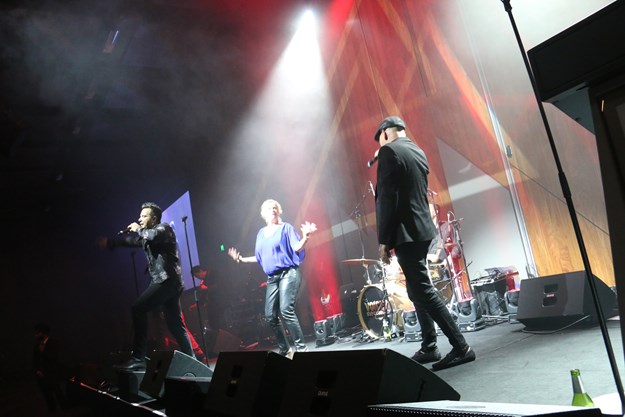 Subscribe to our newsletter
Sign up to receive the ABC e-newsletter, digital magazine and other offers we choose to share with you straight to your inbox
You can also follow our updates by liking us on Facebook.