IVECO 18-METRE ELECTRIC BUS DEBUTS AT BUSWORLD 2019
---
AN 18-METRE articulated e-bus - and a special touring-spec minibus - have spearheaded Iveco Bus's latest range unveiled at Busworld 2019, recently.
In response to the ever-emerging public transport fields of electro-mobility and on-demand bus transport, commercial vehicle manufacturer Iveco has launched the Iveco Bus E-Way – essentially the non-trolleybus version of the award-winning 18-metre Crealis – plus new minibus versions of its Daily van range lead by the Daily Tourys.
As per the E-Way, with the transport industry's energy transition accelerating, electro-mobility is entering a new phase as a high-volume market, explains Iveco. For this reason, the company is taking another important step to provide its customers with a complete and flexible electro-mobility offer and unveiled the brand-new E-Way electric bus, it states.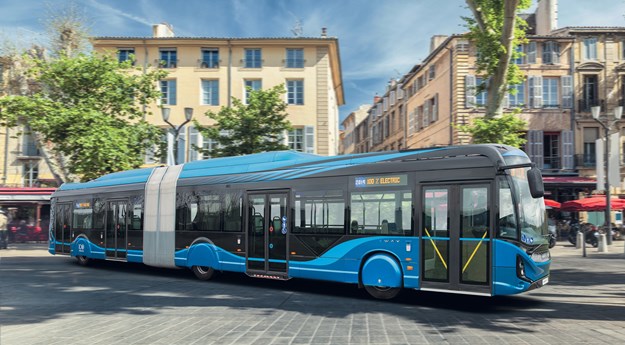 HEULIEZ AND ELECTRO-MOBILITY
The E-Way has been produced by Heuliez Bus, a French limited company formed in 1980 that's fully owned by CNH Industrial, of which Iveco Bus is a subsidiary.
As Iveco Bus explains, electro-mobility is in "Heuliez DNA" as it has a history of, "…leading the way with generations of trolleybuses and full-hybrid buses."
"Long ago – before the introduction of Euro 6 bus generations – it transformed its industrial footprint to incorporate alternative traction buses in full production," the company explained.
"Its focus on electro-mobility extends to its test track, which is equipped with different charging systems.
Designed to suit every need, the Iveco-Heuliez E-Way is available in three lengths – 9.5m, 12m and 18m - with a choice of overnight slow charging or fast charging using a pantograph.
Flexibility is pushed to its maximum with a choice of number of batteries, which means the vehicle can match exactly the customer's specific autonomy requirements and doesn't have to carry extra weight, losing passenger capacity, Iveco explains.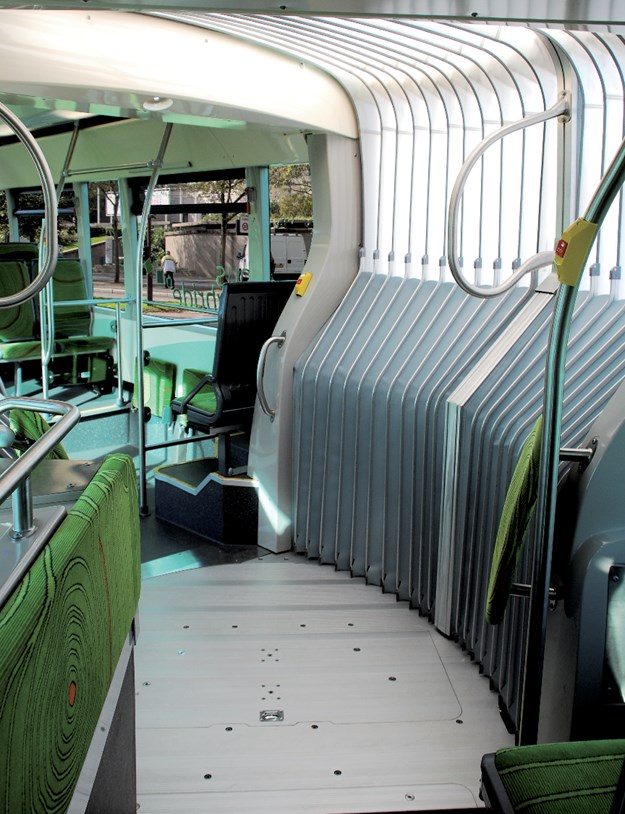 E-WAY 18-METRE
The E-Way offers a, "…supremely comfortable experience for both drivers and passengers with no vibrations and smooth acceleration and a spacious, well-designed interior," according to Iveco Bus.
Different levels of interior and exterior customisation are available, with a choice of materials and custom-made arrangements of the passenger compartment, it explains.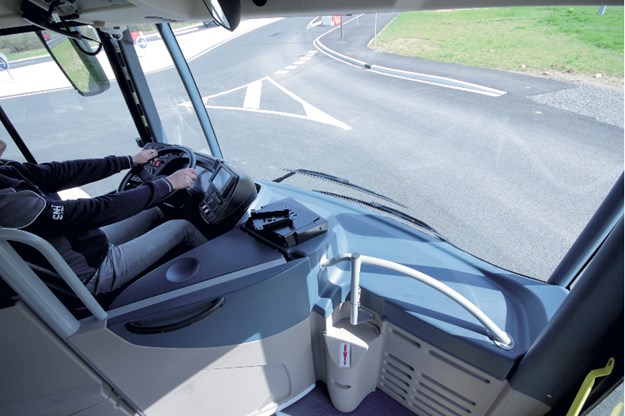 The E-Way, "…creates the conditions for well-being and conviviality of the users, contributing to a positive image of urban transport," it stated.
Ergonomics and excellent visibility enhances the driver's experience and reduces their fatigue, it says. In addition, connectivity features - such as the Driving Style Evaluation system – enhances their working day and safety.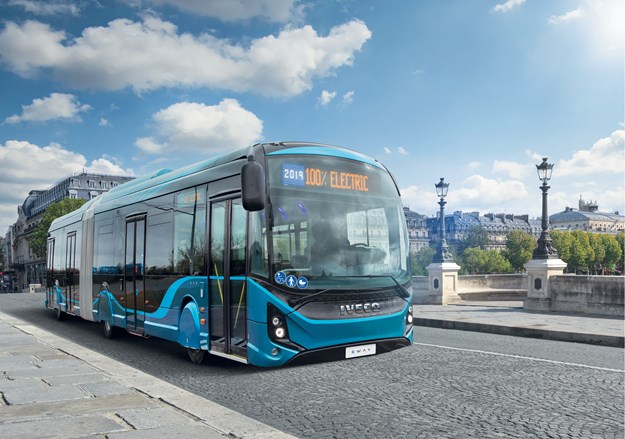 THE MAKE-UP
The E-Way 18m requires little maintenance due to the small number of mechanical components, and it is very easy to service, says Iveco.
It is also extremely durable, with the stainless-steel structure, chassis with reinforced protection, and body in composite materials, it explains.
It also comes with a range of consulting, financial and maintenance services to facilitate the work of transport operators, providing a complete transport solution, the company adds.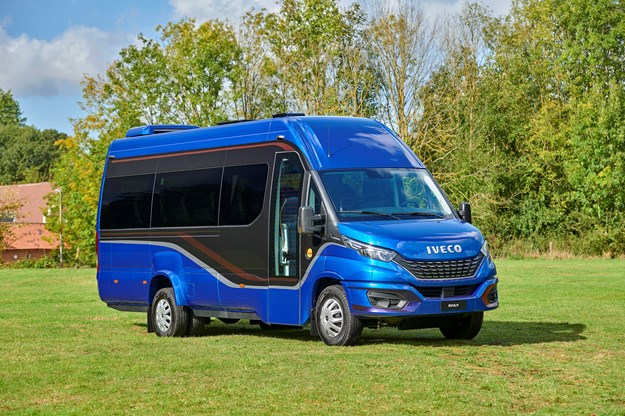 DAILY MINIBUSES
The latest versions of its successful Daily Minibus range were also on display: the Daily Pop, Daily Start, Daily Line and Daily Tourys.
Launched a few months ago, the newest generation of the Daily Minibus aims to meet all passenger transport needs: a school minibus to transport schoolchildren, an intercity bus with the largest passenger capacity in its category and a touring minibus for pleasant, comfortable travel, says Iveco.
At Busworld, 2019, Iveco Bus presented this renewed range, displaying a Daily Tourys on its stand and providing a Daily Line NP Hi-Matic for test drive. Visitors also got to discover the new Daily Start, running on natural gas, for the first time.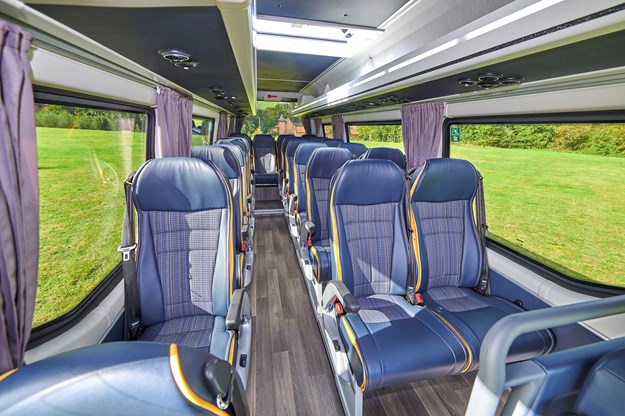 THE TOURYS
According to Iveco Bus, the Tourys is the, "…perfect touring minibus to travel with comfort and style."
Its "atmospheric LED lighting" improves the vehicle's interior and "passenger wellbeing". The 2.5m3 baggage compartment and the new interior racks make it the best in its class, in terms of total storage space, it says. It is fully compliant with the anti-rollover standard (R66.02).
Available in three lengths, it is equipped with pneumatic rear suspension, air conditioning, an audio-visual multimedia setup, USB plugs for each pair of seats, and the much-appreciated LDWS driving assistance system, which prevents the driver from being distracted or nodding off, it says.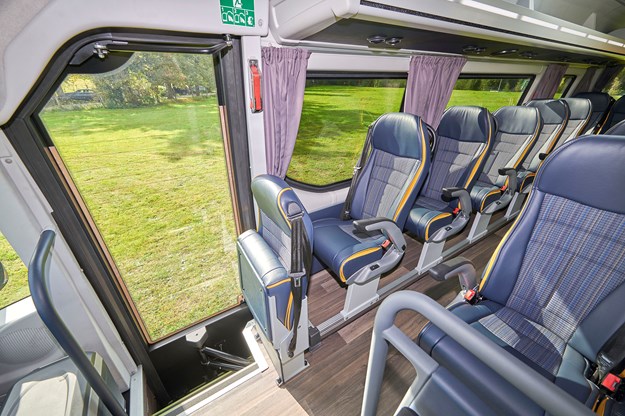 The exclusive eight-speed Hi-Matic transmission - now a standard feature - guarantees maximum performance with low operating costs and the utmost in driving pleasure, says Iveco.
Faster and more precise than the traditional six-speed manual, it offers changes without torque interruption in less than 200ms for high-level performance, it claims.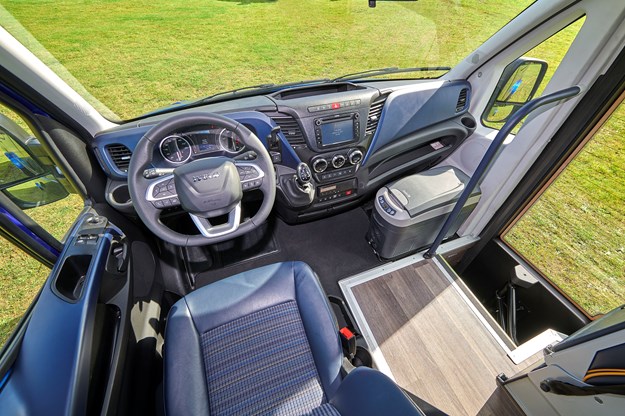 ABOUT IVECO BUS
Iveco Bus is a brand of CNH Industrial N.V., a global leader in capital goods listed on the New York Stock Exchange and on the Borsa Italiana in Milan, it states.
A major player in the field of public transport, and among the leading bus and coach manufacturers in Europe, Iveco Bus designs, manufactures and markets a broad range of vehicles that meets all the needs of public and private operators, it explains.
Subscribe to our newsletter
Sign up to receive the ABC e-newsletter, digital magazine and other offers we choose to share with you straight to your inbox
You can also follow our updates by liking us on Facebook.