FUSO SHOWCASES NEW BUSES AT 2019 TOKYO MOTOR SHOW
---
MITSUBISHI FUSO is making a strong statement presenting a comprehensive line-up of connected, automated, safe and electrified trucks and buses, at this year's 46th annual Tokyo Motor Show, Oct 24 – Nov 4, the company states.
In a move aimed to become the leading manufacturer in the Japanese market again, along with its first fuel cell concept truck - the 'Vision F-CELL' - on display at the show is the Good Design Award-winning new Aero Queen luxury coach and latest, safety-laden Rosa minibus.
The 2019 series production model Aero Queen features the BusConnect connectivity solution while its sister series Rosa light-duty tourist bus has new safety features, the company states.
Mitsubishi Fuso Truck and Bus Corporation (MFTBC) - under the umbrella of Daimler Trucks Asia (DTA) – showcased the Aero Queen large coach, Japan's first heavy-duty touring bus installed with Active Side Guard Assist, which is a safety feature monitoring the driver's left side blind spot.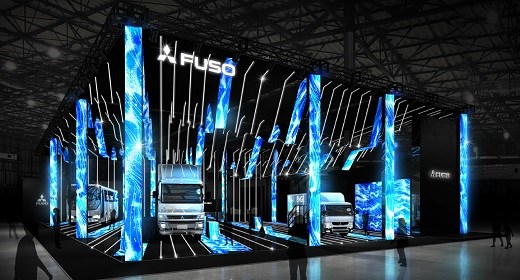 The Aero Queen also includes other safety features like EDSS, which allows passengers to press a button and bring the vehicle to a safe stop in case the driver loses consciousness, and Active Brake Assist 4 (ABA®4), which is an automatic braking system with slow-speed pedestrian detection function.
In addition, Fuso's connectivity solution BusConnect® provides fleet managers with real-time information (bus location/trajectory, safe driving, fuel consumption, etc.) of buses in operation, the company states. The system is equipped with a 24-hour monitoring function, such as an emergency response system, when the driver is in trouble and Active Brake Assist 4 (secondary braking) is activated.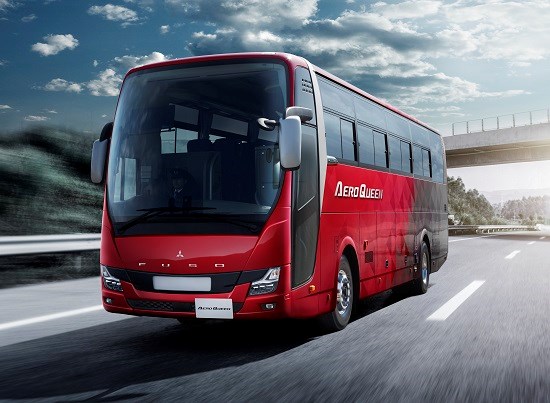 Aesthetically, the body design – said to follow the new Fuso Black Belt design identity - won the Good Design Award 2019, recently in Japan.
According to Fuso, in a "conscious move to modernise Japanese driving habits and increase safety and efficiency", all these new trucks and touring buses (inc. Aero Ace) are equipped with the new automatic mechanical transmission (AMT) as standard, a first time in Japan.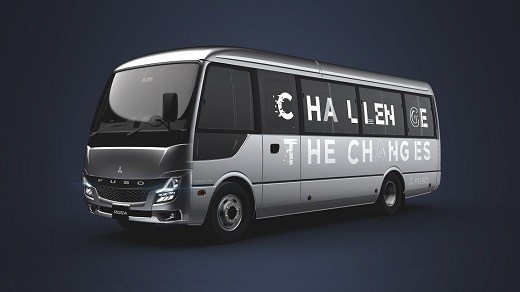 A ROSA BY ANY OTHER NAME
The latest Rosa light-duty tour bus has been upgraded with new safety features like AEBS (Advanced Emergency Braking System), ESP (Electronic Stability Program), and LDWS (Lane Departure Warning System), as well as EZGO and Hill Start Assist.
It is available as a luxury version, which reflects the growing demand for high-end transport of smaller tourist groups, according to Fuso.
The new Rosa is currently the only luxury small bus in Japan that, contrary to luxury vans, offers more luggage and passenger space than the standard model, the company states.
At the time of the launch of the new Fuso SuperGreat truck and new Aero Queen and Aero ace buses, president and CEO of MFTBC and head of Daimler Trucks Asia Marc Llistosella said: "With this double launch we [are] demonstrating Fuso's ability to get back to the leadership position in our home-market Japan."
"These flagship vehicles feature state-of-the-art technologies that enable best-in-class fuel efficiency, safety and comfort that will make them the first choice for customers and their drivers alike.
"At the same time, we invest heavily in our dealership facilities and the training of our sales and service staff to ensure that our customers get the best overall package to make them successful in their business.
"I am confident, that with this revolution at Fuso we will be able to gain significantly market share," he said.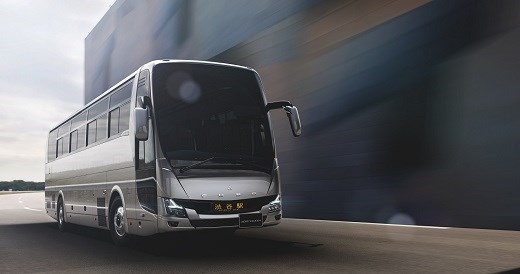 QUEEN OF HEARTS
According to Fuso, while the Aero Queen and Aero Ace heavy-duty touring buses, "…keep the elegant and well-designed exterior of their successor", the new versions were substantially redesigned and improved in terms of safety and comfort to, "…further extend the leading position of Fuso as a bus manufacturer in the market."
For the first time in Japan, the ShiftPilot eight-speed automatic mechanical transmission (AMT) is installed on all heavy-duty tour buses as standard, to provide a high level of safety, comfort and efficiency.
In terms of safety, ABA3 - an advanced version of the AMB brake for alleviation of collision damage - is installed.
Additionally, first time in Fuso buses are new technologies including the Active Attention Assist, which monitors driver attention through a driver-facing camera, developed as a further evolution of the MDAS-III, and Proximity Control Assist technology. This adds automatic stop and automatic start functions to auto cruise, and includes a function to maintain the proper distance between cars to help alleviate driver fatigue during traffic congestion, Fuso explains.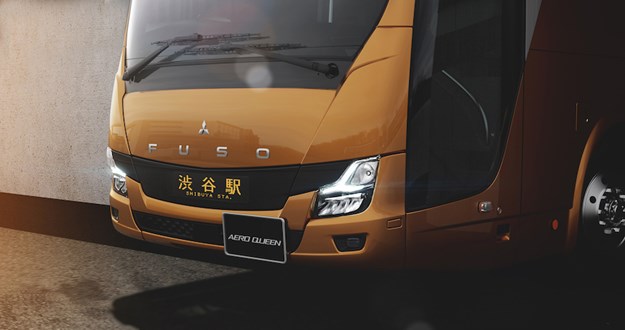 A new small-displacement engine (model 6S10, 7.7-litre) is installed to increase the number of passenger seats by decreasing weight. The Aero Ace now has larger trunk room to meet increasing demand for the transport of inbound tourists.
"The new Aero Queen and Aero Ace buses are the touring buses most used by travellers in Japan," said Hidekazu Kanno, head of Fuso Bus Marketing and Sales (Japan) and Mitsubishi Fuso Bus Manufacturing Co. Ltd. president.
"The new models maintain the same bus body appearance as those of the earlier models that were highly valued in the market, but have greater safety performance, allowing their passengers to enjoy a safer bus ride. "The vehicle control system and powertrain are shared with other bus brands of Daimler and, therefore, offer world-class standards.
"These buses are vehicles that have been manufactured with future automated driving in mind.
"We are convinced they represent the benchmark for safety and quality in the market," he explained.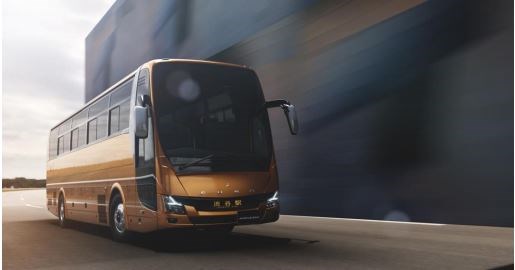 AWARD WINNER
The 2019 Fuso Aero Queen coach won the Good Design Award for a range of reasons – elegant design, "friendliness for pedestrians" (?), its cutting-edge silhouette – plus safety, comfort and economy thanks to various in-vehicle safety devices, says Fuso.
Besides these, its revamped exterior sports the new Fuso Black Belt design identity and new LED headlamps and foglamps, explains the company.
The Fuso Black Belt, a new brand design that highlights the Fuso logo, adheres to Fuso's traditional brand history, including the V-shaped emblem, it states.
With this award-winning bus as the start, the design will be applied to all Fuso vehicles launched in future, the company says.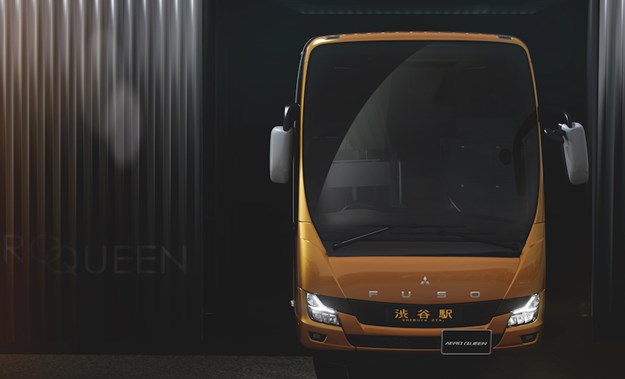 Specs
MAKE: Fuso
MODEL: Aero Queen MS06GP(QUBV)
ENGINE: 7.7-litre 6S10 (T2); Power (Max.) - 280kW@2,200rpm, Torque (max.) - 1,400N/m@1,200-1,600rpm
TRANSMISSION: Eight-speed ShiftPilot AMT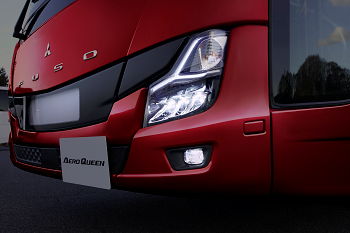 Specs
MAKE: Fuso
MODEL: Rosa BE740G
ENGINE: 2.998-litre 4P10(T6); Power (max.) - 129kW@2,860rpm-3,500rpm, Torque (max.) - 430Nm@1,600-2,860rpm
TRANSMISSION: Six-speed AMT
Subscribe to our newsletter
Sign up to receive the ABC e-newsletter, digital magazine and other offers we choose to share with you straight to your inbox
You can also follow our updates by liking us on Facebook.