FRENCH CITY TO RECEIVE REMAINING 24.5-METRE ELECTRIC BUSES SOON
---
VOLGREN ALLIANCE partner Hess AG will deliver its full fleet of 23 bi-articulated, 24.5-metre electric buses by November, 2019, for use on an innovative 'e-busway' BRT system in Nantes, France, reports Urban Transport Magazine, in Germany.
Based on an existing 7km right-of-way line, the electric bus rapid transit system e-busway had its first bi-articulated Hess e-bus start operating on it in August this year. The rest of the fleet comes soon to replace the existing fleet.
Nantes is France's sixth largest city and located in the Upper Brittany region in the country's west.
The buses are manufactured by Swiss company HESS AG, Volgren's Co-bolt technology alliance partner and re-charged with ABB technology. Hess is also one of three manufacturers vying for the Brisbane Metro contract. 
Nantes Métropole and operator Semitan / TAN say the fully electric fleet would increase transport capacity by 35 per cent on the line, achieving a ridership of 56,000 passengers per day in 2020.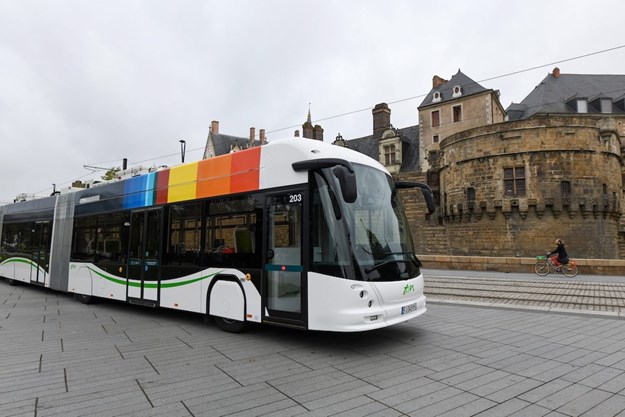 HESS LIGHTRAM 25
Hess' articulated lighTram consists of three sections and is capable of transporting 150 passengers, of which 40 can be seated and 108 are standees, the company states. The vehicles operate close-to-silently and feature large open passenger areas promoting quick passenger flow all along the vehicle, it adds.
The buses are equipped with ABB drivetrain technology, comprising traction and auxiliary converters, permanent magnet traction motors, roof-mounted battery units and energy transfer systems. As this equipment is integrated into the overall Hess energy management and monitoring system, best efficiency can be achieved, it's claimed.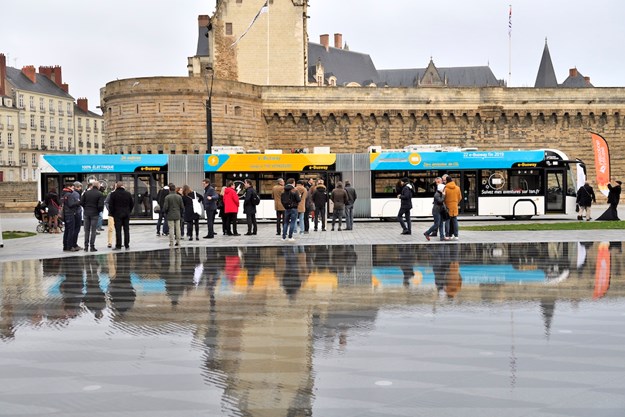 Thanks to two steered axles, the 24.5m-long vehicle has the same manoeuvrability as conventional articulated buses, the company explains. The aluminium bus body has a modular design and uses Hess' Co-bolt technology.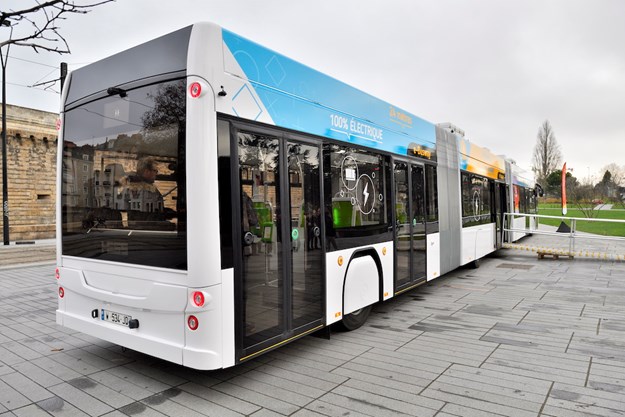 BUSWAY CONCEPT
Line 4 has been in service since 2006 and connects the city centre of Nantes (Foch Cathédrale) with Porte de Vertou in the south of the city. It operates with a high frequency of  2 – 3 minutes, similar to the city's tram network. The line operates 23 natural gas buses with an average speed of 21km/h. In 2017, the line transported 9.5 million passengers - roughly 40,000 passengers per day, it's claimed. With growing passenger numbers, Line 4 has been a victim of its own success, the company argues. The current 18-metre buses are thus insufficient.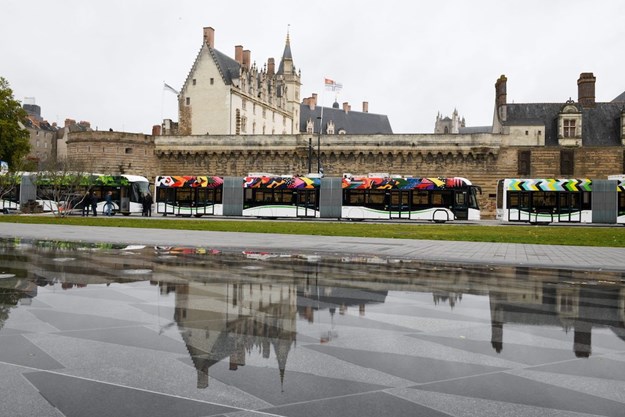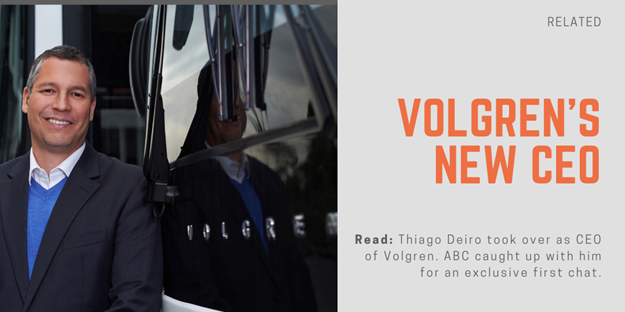 CONVERSION TO ELECTRIC 
In order to improve the capacity and quality issues and to reduce the emissions in the city of Nantes, Nantes Métropole and operator Semitan/ TAN decided in 2016 to convert the line into electric operation - making the 'busway' an 'e-busway'.
A tender was launched in July, 2016, which was won by the Swiss bus manufacturer Hess, which is working together with the Swedish-Swiss electrical system provider ABB.
The first so-called lighTram 25 was been presented in Nantes in December, 2018.
Since the end of August, the first new bi-articulated 24m Hess buses started operating on the line. In November 2019, the remainder will enter operation, it is expected. The Swiss-built buses offer 35 per cent more capacity than the previous 18m fleet.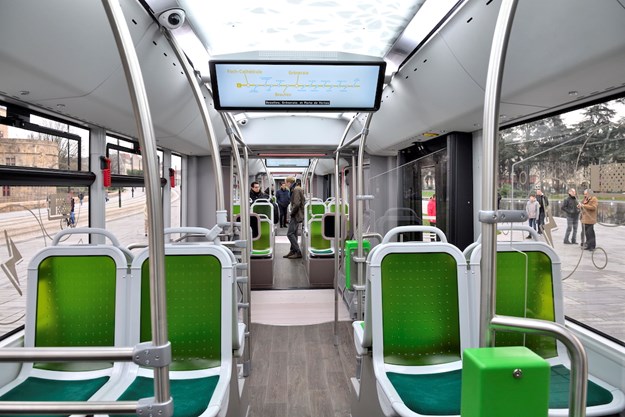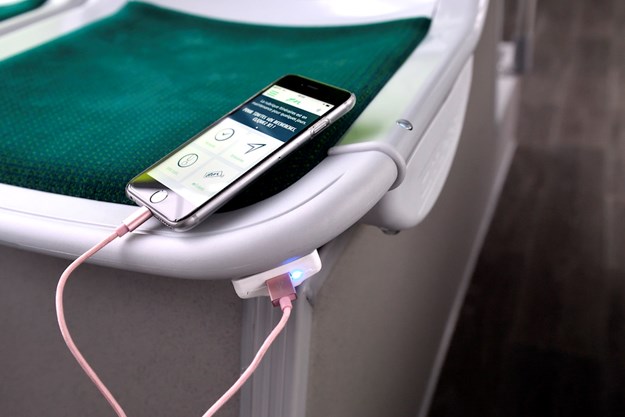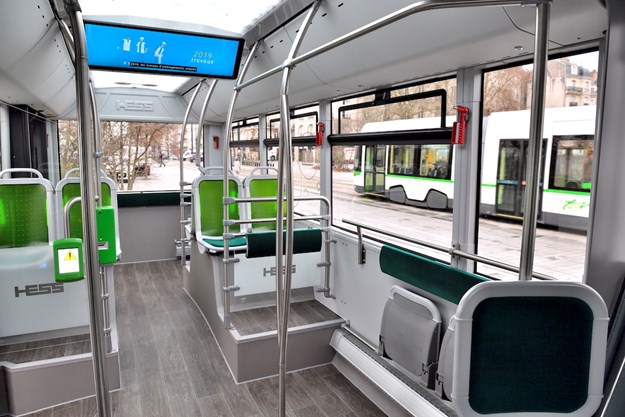 ABB FLASH-RECHARGING 
The re-charge takes place via flash-charging at both terminus and at two intermediate stations via an autonomous-acting pantograph, the company explains.
The batteries are charged in 20 seconds with a 600-kilowatt (0.6 Megawatt) boost of power while passengers are embarking and disembarking. It takes less than one second to connect the bus to the charging point, making it the world's fastest flash-charging connection technology, it's claimed.
A further 1 - 5 minutes charge at the terminus at the end of the line enables a full recharge of the batteries. The charging technology has been supplied by ABB, which is part of its TOSA (Trolleybus Optimisation Système Alimentation) solution, in operation in Geneva, Switzerland, since 2013.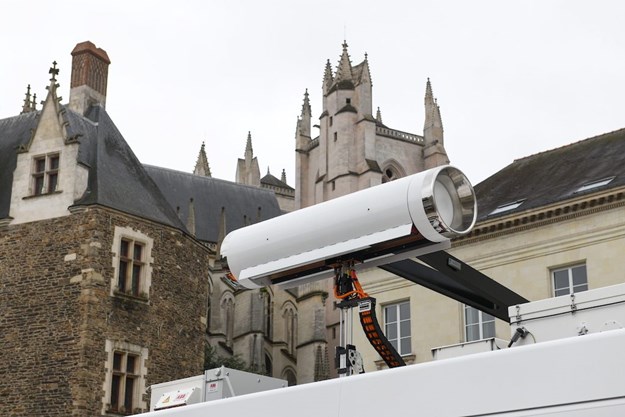 HESS AND VOLGREN
Hess and Volgren's partnership spans more than 40 years with the two leading manufacturers first coming together in 1977, Volgren explains.
The alliance delivered Volgren's ground-breaking Co-bolt technology and gives Volgren access to other world-leading technology.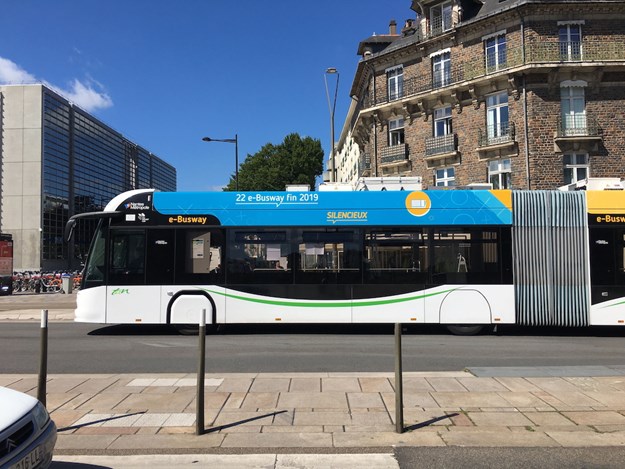 ABOUT HESS
Hess was founded in 1882 and began building vehicles around 100 years ago, it states. The company produced its first electric drive buses in1940 and today has a unique level of global know-how in this sector, developed from more than 80 years of e-bus-system experience, it explains.
The Hess group currently employs 550 people at its headquarters in Bellach, Switzerland. Hess produced the world's first electric low-floor bi-articulated vehicle in 2003, it says.
Subscribe to our newsletter
Sign up to receive the ABC e-newsletter, digital magazine and other offers we choose to share with you straight to your inbox
You can also follow our updates by liking us on Facebook.