PLATINUM SERVICE – BAYES COACHLINES
---
OPERATOR: Celebrating 40 years, Bayes Coachlines may be keeping its eyes on the horizon, but it also stays close to its founding ideal of excellent customer service. ABC magazine popped over the ditch to speak with Richard and John Bayes - the new generation in this family run business.
John and Richard Bayes grew up in a bus operator environment with their parents, David and Joan, owning and operating a bus fleet at Dairy Flat, about a 30-minute drive north of Auckland.
David and Joan purchased a small fleet of five buses and four school runs in 1979 when AECs, SB3 Bedfords and a handful of 0303 and 0305 Mercedes were the general order of the day.
The current Bayes Coachlines operation may be vastly different from the service David and Joan bought into in the '70s, but one thing hasn't changed and that is an overarching desire to provide the very best service possible.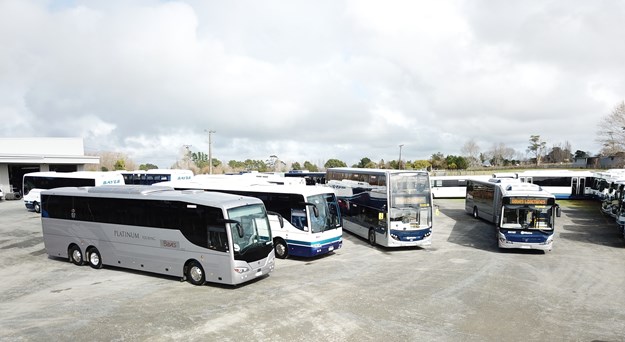 In 2019, David and Joan still play an active role in the business, with David even doing the odd school run now and again. The company is operated these days by John and Richard, leaving their parents a little more free time to do what they love doing: travelling.
While the new-generation management generally prefers to shy away from using business titles to describe the roles they play in the firm's operation, Richard tends to oversee things operational, while John, a qualified mechanic, oversees forward planning of the business and fleet, along with the workshop and operations.
"We just pitch in wherever we're needed," they quipped.
With numbers of buses and coaches in the fleet currently sitting at around the 80-mark, John says there's always a lot of servicing to be done in the workshop, with each vehicle being maintained with A, B and C service regimes during the course of the year, thus keeping the mechanics and technicians busy all year 'round.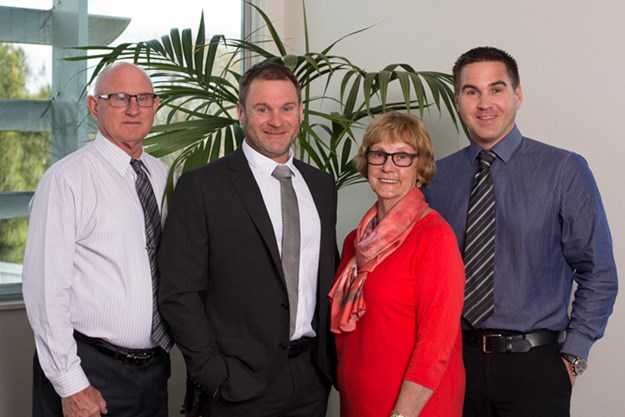 The Bayes workshop - which perhaps should be more appropriately termed a 'service centre' - is arguably equipped with some of the best spec'd servicing equipment you're likely to see in any workshop anywhere.
While a bus-sized four-poster hoist is used when gearbox removal and the like is on the job sheet, one entire bay of the Bayes workshop is taken up with two dual-ramp hoists, which are set in series, allowing the two hoists to be used separately to take one bus at a time, or used in tandem to accommodate articulated vehicles when required.
Incorporated in these two ramps are two sets of rolling jacks and a brake machine, all of which add up to one extremely versatile set-up.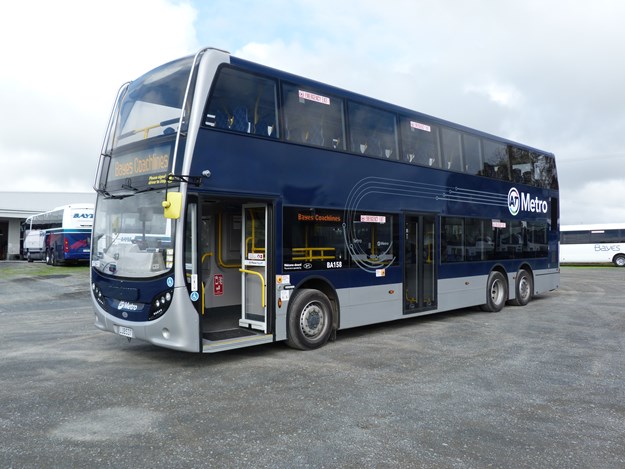 The brake machine is certified by the NZ Transport Authority (NZTA) and John says that it's been incorporated in the line to regularly monitor one of the most important aspects of passenger safety.
As every bus in the fleet makes an annual visit to a local vehicle testing station for its certificate of fitness test, the Bayes team can be certain they won't be given any nasty surprises when the bus goes over the testing station's brake rollers.
The majority of heavy transport operators in New Zealand, both truck and bus, are required to present their vehicles for inspection on a six-monthly turnaround. However, due to Bayes Coachlines' impeccable road safety records, NZTA has granted them a special dispensation for once-annually checks, rather than the normal six-monthly check-up requirement.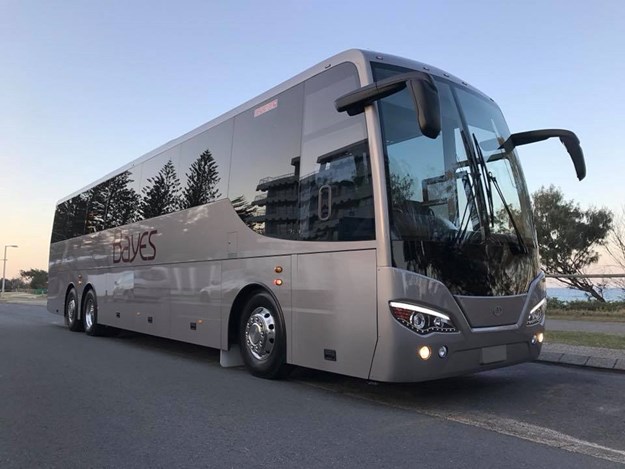 You've probably already done a calculation on the time-saving involved by only needing to test 80 buses once each year as opposed to doing the standard twice-yearly routine.
Obviously, in order to keep the exteriors of these 80 buses looking bright and shiny, the good old bucket, brush and suds method isn't going to cut it in a modern-day environment, so Bayes has installed an impressive automated washer, which is capable of handling both single and double-deck buses.
This automatic wash cuts wash times by 75 per cent, with the only manual input required being to physically wash the wheels.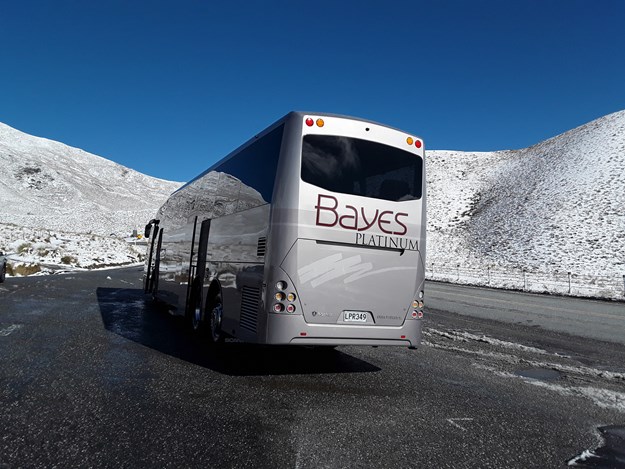 FLEET MAKEUP
The Bayes fleet comprises various chassis/engine brands in which Scania and Cummins play a major role, although the two double-deck buses painted in Auckland Transport Metro blue and silver livery are ADL (Alexander Dennis) models, with there being a smaller contingent of Japanese models making up the remainder of the fleet.
Bayes Coachlines operates 25 buses under the Auckland Transport (AT) branding, including the two previously mentioned double-deck 90-seat ADLs and six articulated buses. The rest of the fleet consists of vehicles with carrying capacities from 20–55 seat configurations, and amongst the coaches are two platinum-class Euro 6 Scanias – 13.5m coaches with just 32 seats.
While there are several body styles, manufactured by a variety of bodybuilding companies, in the Bayes fleet there is one company whose representation in the mix is too extensive not to mention – enter Queensland coach builder Coach Design Ltd.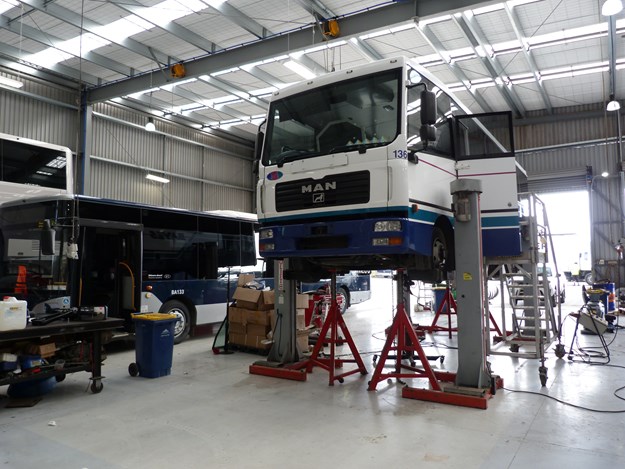 QUEENSLAND CLASS
Coach Design's operations manager Ashley Jamieson told ABC magazine that his company built its first coach for Bayes Coachlines on a Mercedes chassis in 2004, and with a current order of three 49-seat Scania coaches it's taken the number of builds for the New Zealand operator to 18.
The company has an impressive number of builds to its credit, as it recently notched-up its 1,000th coach build last year.
The fact a coach operator in New Zealand chooses to have a major portion of its fleet manufactured in Australia rather than have the coaches built in their home country exemplifies the trust it places in Coach Design's ability to consistently produce a quality product.
Richard recently made the trip across the Tasman to take bus number two of the current order on a local test run from Coach Design's facility in Archerfield, about 15 kilometres south of Brisbane.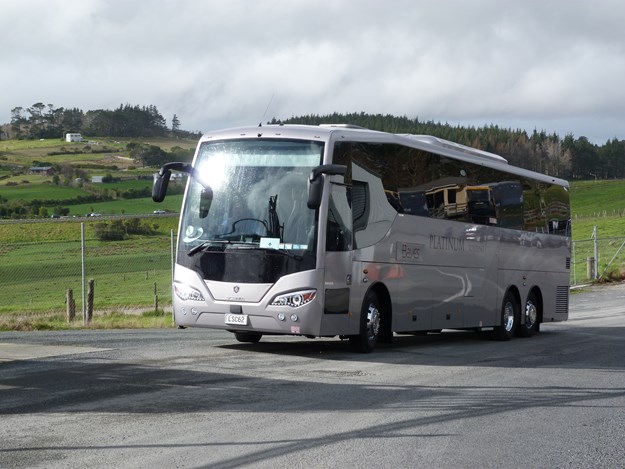 Richard reported that the coach performed well and that, as usual, he was pleased that they'd entrusted the build to Coach Design.
John and Richard say that aside from the quality of Coach Design's workmanship, they are always impressed with the 'can do' approach Ashley and the rest of his team have when making variations in any particular design specification.
As New Zealand operators have to work to an entirely different set of axle loadings from their Australian counterparts, Richard says that this difference can cause design engineers more than their fair share of recalculation and modification in order to make the vehicle legal for use on NZ roads.
However, he's always found the Coach Design guys are up to the challenge of making things work, not to mention always making them work on time.
There is one coach on the water to New Zealand as this article goes to print, with Richard's test drive vehicle to follow in the next few days.
Coach number three of this order is currently in the finishing stages and there are rumours of yet another order to be placed very soon.
Staying ahead of the game is a given in any enterprise, and the Bayes directors have adhered to the maxim by having several strings to their bow.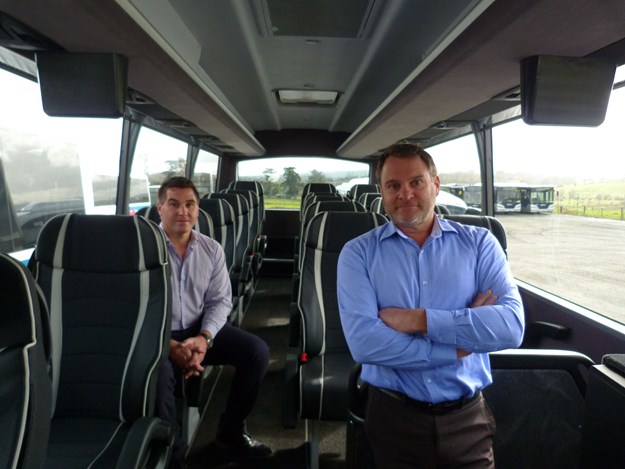 ALL BASES COVERED
With an operation that includes contract school runs – 20 of which operate for Kristin School, a private school on Auckland's North Shore – and with their coach fleet providing services to corporate, sports and seniors charter services from the world over, and groups for American, Dutch and Swedish touring companies - along with being a coach provider for Australia's Grand Pacific tours, plus with the 25-bus Auckland Transport contract - one could say Bayes has almost every base covered.
However, with an ethos of never being prepared to stand still, yet another new venture is currently underway at Bayes headquarters, a venture that will certainly propel the company far into the future.
Although many of the current buses in the Bayes fleet are Euro 6 compliant, running a combination of AdBlue and DPF to meet the Euro 6 standard, the directors are preparing to meet a government-led initiative to have no new diesel-powered buses entering the city services from 2025, a frightening six years away.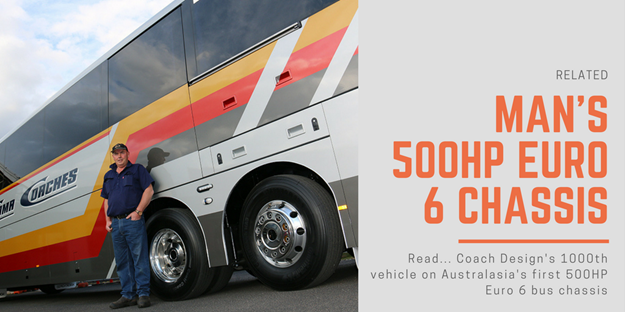 In accepting the inevitability of non-fossil fuel-powered city buses being the norm, Bayes directors have teamed up with designer Frank Reardon to build battery-powered city buses, with the first one being built at their Dairy Flat facility.
The bus will be 12.5 metres long and have a 100 per cent stainless steel frame, we are informed.
It is to be constructed in a no-step low-floor configuration, with modern light-weight panels that will allow the bus to carry up to 45 seated passengers yet still have a gross weight of only 16 tonnes.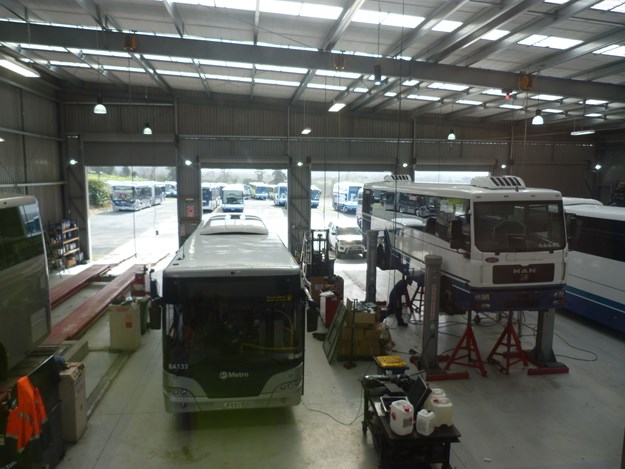 The vehicle is to be powered by a bank of batteries fitted in the roof with 'trunking' being routed through wider panels between the windows, so as to not interfere with the aesthetics of the bus.
Construction is currently underway, with initial road tests being scheduled for 2020, according to the company.
Bayes Coachlines says it is rightfully proud of its longevity in the bus and coach business and its absolute commitment to providing the best possible service to its customers by having a well-presented fleet, operated by the best people.
Long may it continue.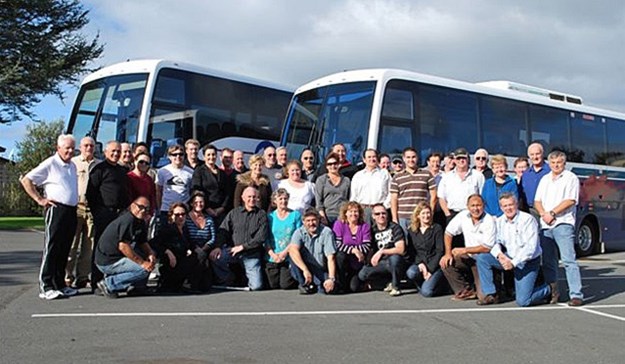 WE ARE FAMILY
When asked what the company as a whole had as its fundamental strength, Bayes was quick to respond wholeheartedly:
"Being a family business we truly value and appreciate how important it is to have amazing staff."
"We have been so lucky over the years to have a stable team, which are and have been a part of the family, with numerous staff members being with us for 10 years plus, 20 years plus, and up to 30 years…"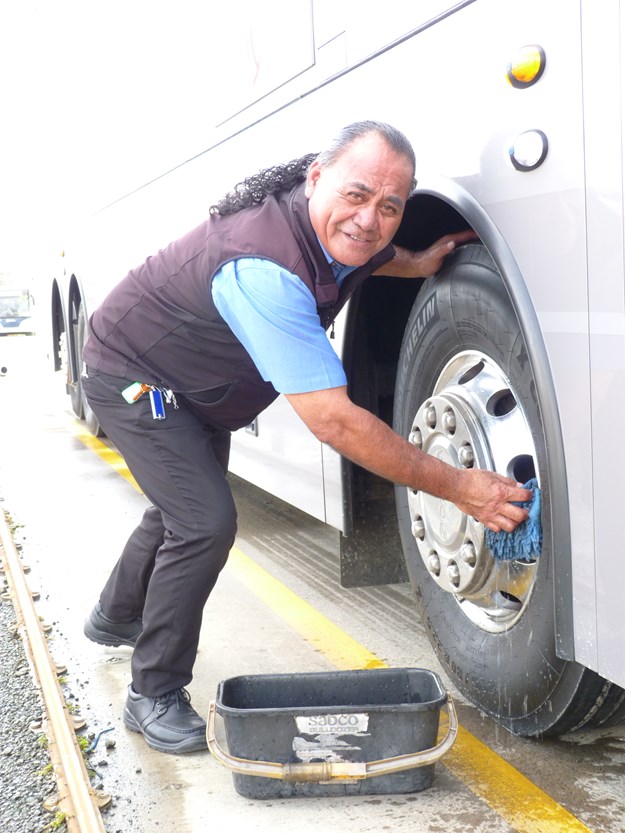 "One lady has just this past week retired after 29 years of service. She will be fare-welled at our 40th Anniversary in September.
"We know we – as a company – are nothing without great staff, hence being a family business they are part of 'our family'. Their celebrations, their times of sorrow – are all shared by the team.
"Our business grows and flourishes from the great job done by our staff in looking after our customers," the Bayes said.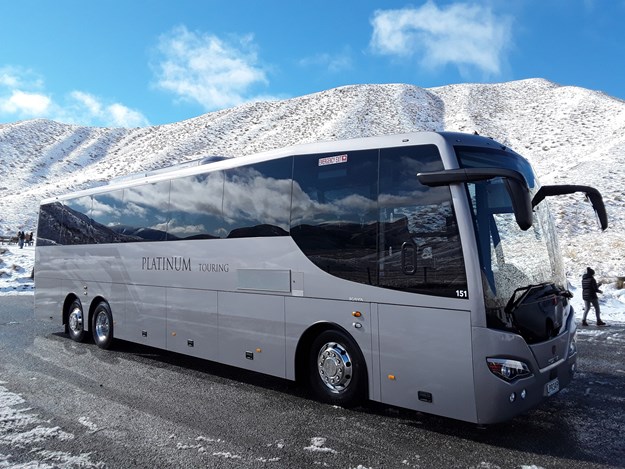 Subscribe to our newsletter
Sign up to receive the ABC e-newsletter, digital magazine and other offers we choose to share with you straight to your inbox
You can also follow our updates by liking us on Facebook.