ON-DEMAND SERVICE POTENTIAL AGED-CARE HEALTH, WELLBEING PANACEA
---
EXCLUSIVE: Spiralling elderly population health costs across cities worldwide have the potential to be significantly reduced via on-demand transit services, following early trials in southern Japan, a leading expert states.
Speaking at the recent 2019 Australian Transport Summit - themed Real Mobility: Connecting People, Places, Spaces – in Sydney, vice president at Toyota Daihatsu Engineering and Manufacturing and director at Toyota Mobility Foundation, Pras Ganesh, says trials of on-demand and tailored mobility services at undisclosed prefectures in Southern Japan had highlighted improvements in the health and wellbeing of its elderly citizens.
"So we are looking at multiple prefectures, we are looking at especially prefectures where the population is above 60 years old. In these kinds of cities what we've seen is, not only with on-demand but with mobility services that we are providing for the elderly, by moving them to community centres, creating hobbies, creating activities for the elderly population, they are able to actually improve their health because they are more active, their minds are more active and because of that the health care costs are dropping in these cities."
"And this is what we've actually seen, so we would like to encourage that kind of behaviour more in these smaller towns," Ganesh said.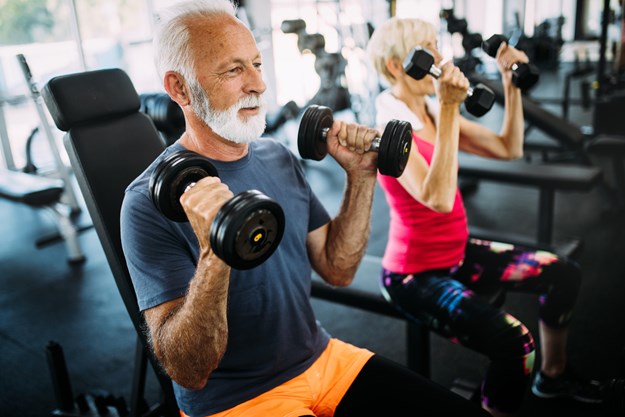 GLOBAL APPLICATION
Asked by Australasian Bus and Coach (ABC) magazine if such a trend could be mirrored not just in small towns in Japan, but if such application could work in other countries, Ganesh said: "Absolutely! I think this is the same situation whether it is in Australia or any country - especially towards under-served or towards elderly populations or disabled populations."
"I think by utilising some kind of mobility service - whether it is on demand or otherwise - you are able to create opportunity and you are able to keep people more occupied, and this should reduce [elderly health costs].
"On-demand is something that we think is, from a technology point of view and from a logic point of view, it is the right solution," he explained.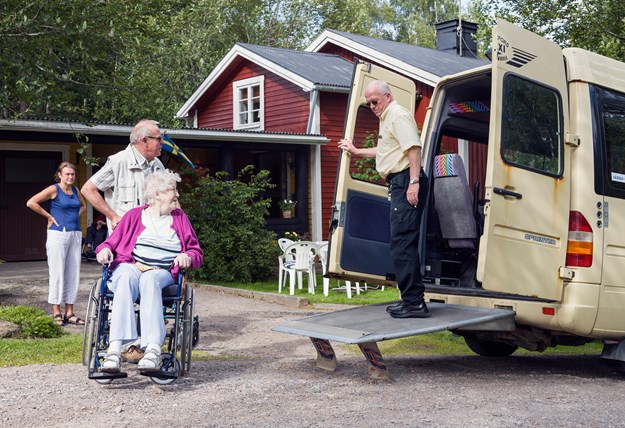 VEHICLES OF CHOICE
In terms of what type of vehicles are best used for such an initiative, Ganesh answered: "So we utilise a lot of … of course, our Toyota vehicles; we have what we call 'Well Cabs'."
"Well Cabs are vehicles which actually allow people to get onto the vehicle for people on wheelchairs, or even where wheelchair access is possible at the back of the vehicle.
"Or we have easy-accessible vehicles for elderly people who are not on wheelchairs, but it's very easy for them to get onto the vehicle."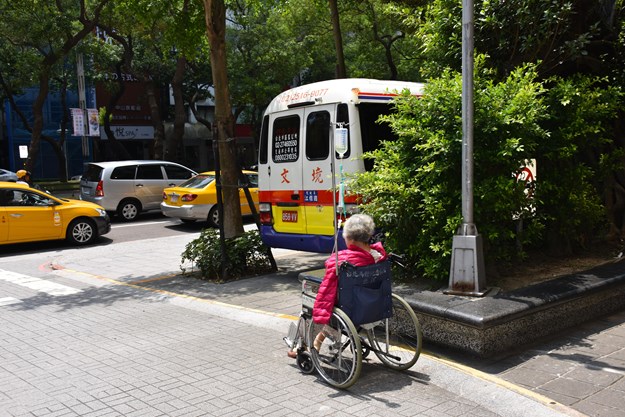 Asked if smaller vans, people-movers were ideal he answered: "Smaller vans, yes. About 10-15-seaters we think are the ideal size of the vehicles because it's kind of looking at the population and looking at the frequency of the movement. We think that this is something that's the right size."
"We believe that it is better than very large vehicles [full-sized buses] at the moment. We think that it is [about] micro-transit, some kind of vehicle with about 10-seats potentially with wheelchair access or foldable wheelchairs, [up to] two wheelchairs in the back is a possibility. That is something that could work, with normally a swivel seat that allows people to get into the vehicle as well for elderly populations."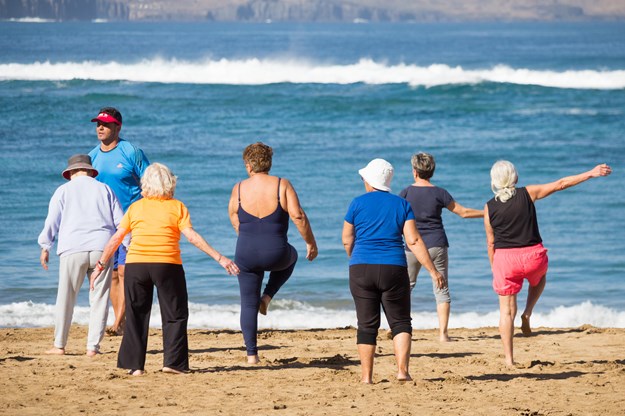 As for exactly where this was being trialled, Ganesh answered: "I can't give you the exact detail of where it was trialled, but it was in the southern part of Japan, so at the moment it is still being discussed; it is where we [Toyota] are trialling, but I'm sure other people are trialling it in other parts of the city."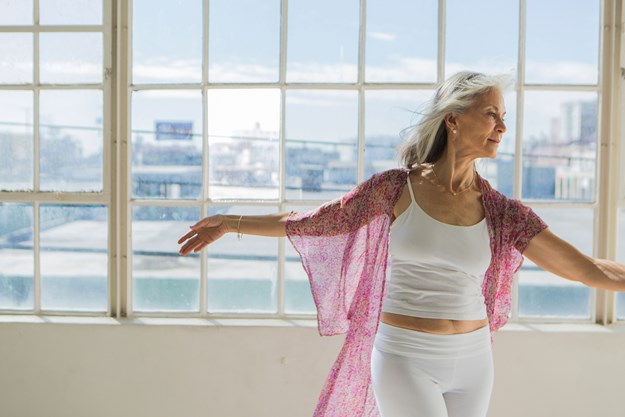 HEALTH AND AGING
According to the World Health Organisation (WHO), as of 5 February, 2018, in terms of worldwide aged care and health in sheer numbers, this is as things stand:
- Between 2015 and 2050, the proportion of the world's population over 60 years will nearly double from 12 per cent to 22 per cent;
- By 2020, the number of people aged 60 years and older will outnumber children younger than 5 years;
- In 2050, 80 per cent of older people will be living in low- and middle-income countries;
- The pace of population ageing is much faster than in the past;
- All countries face major challenges to ensure that their health and social systems are ready to make the most of this demographic shift, according to WHO.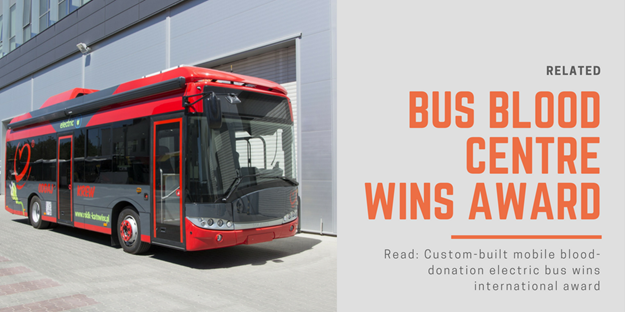 As for Australia, according to the Federal Government's Australian Institute of Health and Welfare (AIHW), older Australians are accounting for an increasing share of the population.
In 2013, 14 per cent of the population (3.3 million people) were aged 65 and over and 1.9 per cent were aged 85 and over (439,600 people).
By 2053 - based on Australian Bureau of Statistics (ABS) medium-level growth assumptions – 21 per cent of the population will be aged 65 and over (8.3 million people) and 4.2 per cent aged 85 and over (1.6 million people).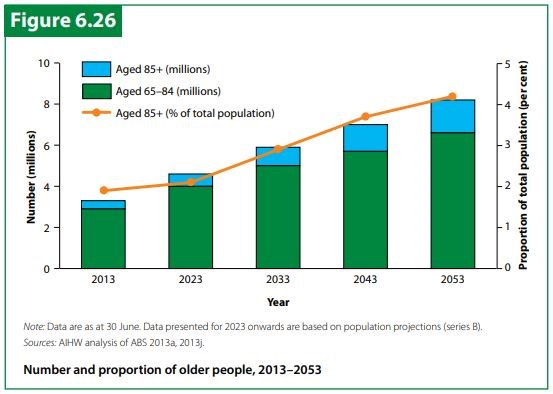 Recent information from AIHW, presumably and particularly from an all-encompassing categorisation of aged care, shows:
In 2017–18, governments spent around AUD$18 billion on aged care, with the majority — approximately 67 per cent of this — for residential aged care;
The expenditure on residential care ($12.4 billion) was 2.4 times the amount spent on home care and support ($5.1 billion);
Government spending on aged care services has increased each year since 2012–13, as indicated in the graph below.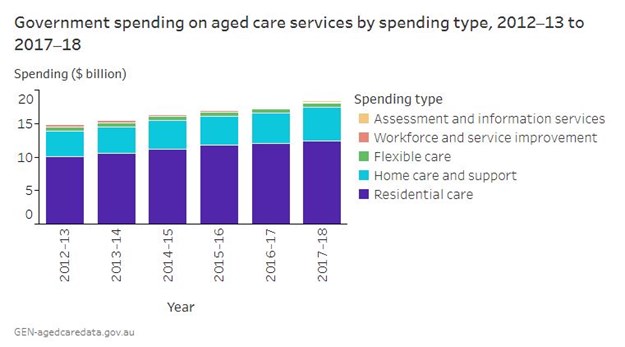 Earlier predictions from the Australian Department of Health to the year 2051 indicate, "the net effect of the ageing population is to increase real (i.e., inflation-adjusted) hospital costs by about $4 billion in the year 2051, mainly due to the increase in the number of people aged 65 years and over.
"Conversely, in relation to 1996 expenditure, about $1 billion less is projected to be spent on people less than 65 years of age. The situation is quite similar for the MBS and PBS components of the Australian health system. Relevant statistics are brought together in Table 2."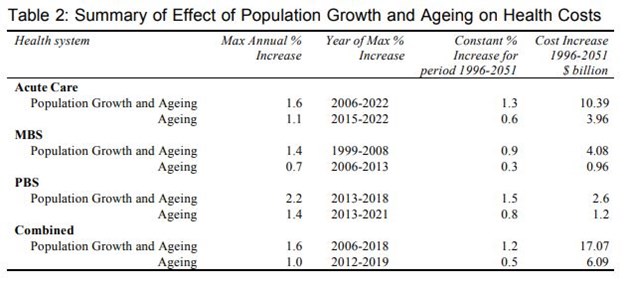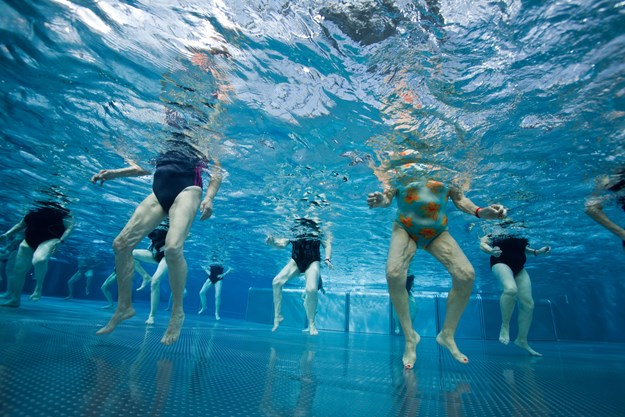 ABOUT THE SUMMIT
At the 2019 Australian Transport Summit attendees heard how innovative mobility services are transforming how people move and where they work and live from leading Australian and international experts and decision makers.
Subscribe to our newsletter
Sign up to receive the ABC e-newsletter, digital magazine and other offers we choose to share with you straight to your inbox
You can also follow our updates by liking us on Facebook.