IN SAFE HANDS – MEHMET KARAL
---
INTERVIEW: Having last year taken over as senior manager at Mercedes-Benz Buses, Mehmet Karal says there are still surprises up the company's sleeves. In an ABC magazine exclusive, he discusses setting the standard and building buses that will meet Australia's changing transport needs.
ABC: Hello, Mehmet. Nice meeting you. Firstly, congratulations on your new role at Mercedes-Benz Buses. How does it feel to be in such a key position?
MK: Hello Fabian, thank you for the opportunity. It has of course been almost 10 months since I have taken over this role. I definitely feel more confident and clear about what I want to achieve in Australia and the Pacific for Mercedes-Benz Buses now. I won't be shy about it: Mercedes-Benz keeps setting the standards for the bus industry, so it is thrilling to represent the three-pointed-star and taking the leadership of the best talent in the industry here in Australia.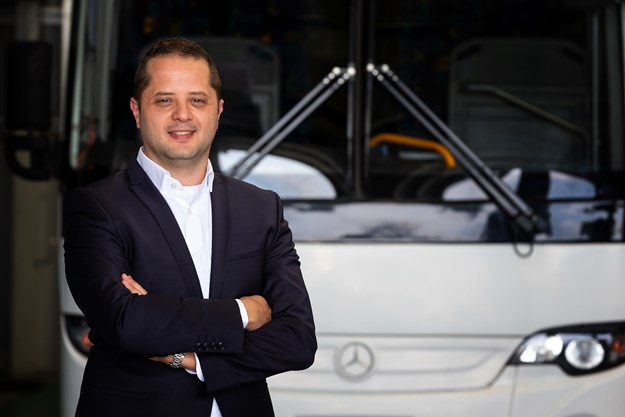 ABC: Can you give us a bit of the background behind your career to date? How did it all get started? How did you get to this stage? You are reporting directly to Mercedes-Benz Truck and Bus Australia-Pacific director Michael May, no doubt?
MK: Sure. I am originally from Turkey and I have been working for Daimler AG, the parent company of Mercedes-Benz, since 2002. I joined Mercedes-Benz Turk in 2002 through a management trainee programme. As part of the programme, I had the unique chance to work at multidisciplinary projects including all business units and brands we represented. Just to give you an idea, I was part of the three different project groups launching our Travego intercity coach, smart fortwo and Maybach brands in Turkey, and then accompanied a group of German engineers to the mountain ranges at the Turkish-Iranian boundary for metal fatigue testing on our Unimog military trucks. It was challenging, fun and gave me a lot exposure.
Following my first leadership role as the Passenger Car Workshop manager in our own retail outlet in Istanbul, I decided to take on an international assignment. In 2007, I moved to our regional office in Dubai as the After Sales Service manager for Daimler Buses, responsible for the Middle East, Africa and Iran. I had a Brazilian manager at the time. We basically created the after-sales function from scratch together, facilitated delivery of thousands of buses, set up training competence centres across the region and created lucrative after-sales business models both for our customers and Daimler. During my tenure in Dubai, my role changed - my region changed actually a number of times - and the team and business grew.
At the 10-year mark, in 2017, I looked back and felt proud of what I had achieved. A high performing after-sales team; a dedicated, bus-focused distributor network; and a potential successor I felt confident in handing over to. I had the feeling it was time to move on; my wife also supported my decision, and we have been in Melbourne since last October.
I work very closely with Michael as one of the senior managers in his team.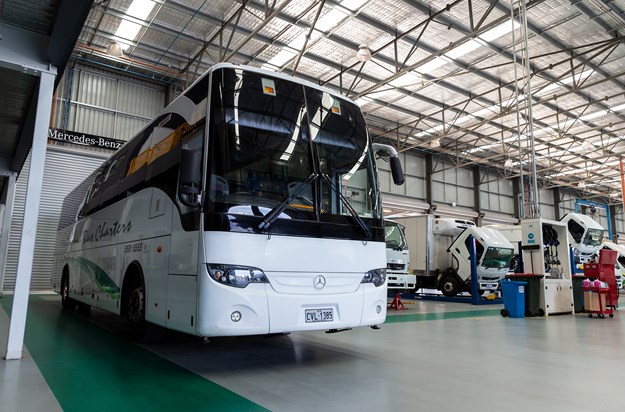 ABC: What is it that you love about buses? Was it something that, like many of us in the industry, you fell into, or – also like many others – was it just something you were basically born into?
MK: Fabian, I will tell you an anecdote from my former region, Kenya. We had recently delivered one school bus to a village. Before this delivery primary school children had to walk 20km every day to and from their school in the nearest town, through mud, rain and there were sometimes big cats. On the day of the delivery, the women and kids of the town danced for us; some were crying.
Daimler Truck AG Board have recently gone through an interesting exercise and looked for the one "purpose" statement for the Truck and Bus business; one purpose that unites us across the globe for all Daimler employees; one purpose, which makes us get up every morning and walk the extra mile for our customers. After a long debate, international collaboration, the purpose statement crystallised into one sentence:   "For all who keep the world moving."
I feel a strong association to our purpose statement, which perfectly aligns to what we do day-to-day: moving people from A to B so they can be wherever they have to be, to do whatever they have to do. This gives me a strong sense of fulfilment.
The other interesting thing about buses, which is quite different to trucks and cars, is that they are very much bespoke. It is also a lot about relationships and long-term partnerships for unusually long project timelines.
You usually end up knowing the names of the kids of your customers and watch them growing from primary school boys and girls into the next generation of business owners. I am a people person and I enjoy this very much.
And, of course, Turkey is a very big bus market - around 5,000 units when the economic outlook is positive - and a traditional bus-manufacturing hub in Europe. Daimler Buses has the most modern bus-manufacturing plant located at Hosdere, Istanbul. Ultimately, this is what you are born into when you decide to work for Mercedes-Benz in Turkey.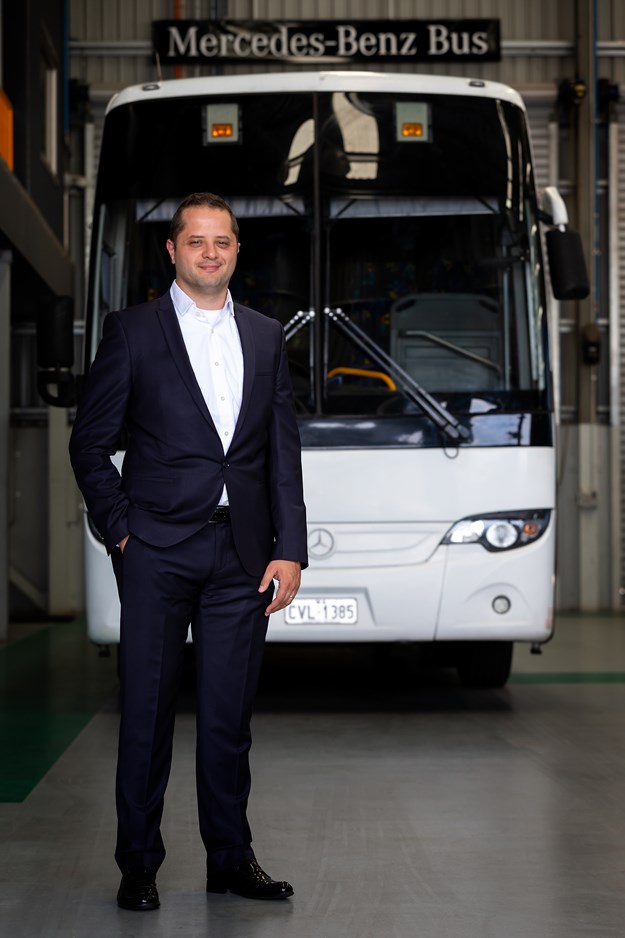 ABC: You've been in this role since October, 2018; what have you learned about Mercedes-Benz's position in the industry and what plans do you have – if they had changed at all from prior – for the brand in terms of bus business?
MK: A decade ago, Mercedes-Benz was the best-selling chassis OEM in Australia. We had a terrific rapport with councils, metro and regional operators, built on a strong partnership with quality bodybuilders. Apparently our competitors did certain things better than we did during this period and we slightly fell behind.
Mercedes-Benz Buses is a clear market leader over 8-tonne almost in every major contestable bus market around the globe. We are number one in Europe, in Brazil, in Argentina, in Mexico, In Egypt, in Saudi Arabia, in Nigeria...
We are where we are in those markets for a reason, we offer the best buses and service to our customers.
Mike and the Board really worked hard to devise a business strategy to bring Mercedes-Benz back to the position we should be long before I arrived. We heavily invested in after-sales and the network in the past couple of years.
After I started, we had a fresh look at this strategy and fine-tuned it together. My personal contribution was more about the international expertise I bring from the markets where we do extremely well and make the competition irrelevant.
We have now a clear business plan of how our team structure should look like; how we should be meeting and exceeding the expectations of the councils, metro and regional operators in Australia and New Zealand. We listened to our customers and have streamlined our product portfolio. We overhauled our marketing plan. We left no stone unturned to have a more efficient stock management, logistics and storage process. We have reinforced our bodybuilder partnerships. There is obviously still more to do, but we want to claim back what belonged to us in the first place.
Keep your ears open, Fabian, we have a couple of surprises up our sleeves.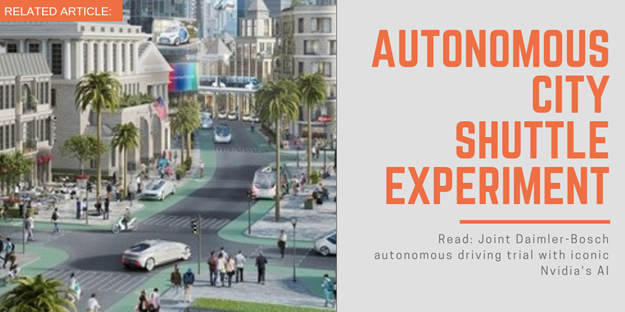 ABC: What do we as an industry need to do to improve, if at all? Where do we need to be? How are we going?
MK: I believe the right adjective describing the Australian bus industry is idiosyncratic. A proud and strong tradition, a shifting business landscape from small family owned businesses towards consolidation, unique ADRs, a local bodybuilding industry creating jobs and increasingly prominent foreign bodybuilders. All this in a very crowded and relatively small bus market. Look, I don't believe I am in a position to have strong opinion whether the industry needs a change and, if at all, in which direction after only 10 months being in Australia.
The million-dollar question is how to set up the ideal ecosystem, where tax payers get the value for what they pay for, local jobs are protected and operators still make a decent margin. That is easier said than done.
Having said that, the two issues I really see as being problematic are the emission standards and the vehicle replacement cycles.
For the former, we all talk about hybrid and electric buses but we are still supplying Euro 5 vehicles to the market. And for the latter, we are trying to keep exactly the same buses 25 years on the road. Imagine, a Euro 5 bus you deliver in Victoria today will be running along with electric and autonomous buses in 2040 on the same roads, or will it?
Let me ask you another question. In which scenario, would you be comfortable: putting your children on a 1997-model year school bus or a brand new OC500RF with all the safety systems on-board? I know these are policy questions and have various implications, but coming from overseas to a first-world country I found this to be the wrong policy.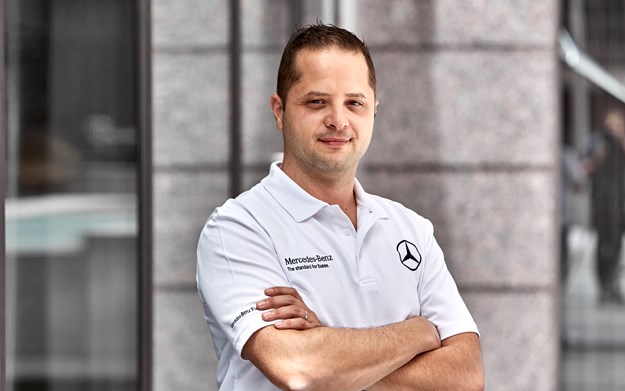 ABC: Does New Zealand also fall under your responsibilities in the Australasian region? What different challenges lay there than in Australia, if there are any?
MK: Yes, as Mercedes-Benz Truck and Bus Australia Pacific we are also responsible for the New Zealand market. We currently steer our operations there through Mercedes-Benz New Zealand and our strong dealer network.
ABC: What new products from Daimler/MB are on the cards in the near future? Is there anything you can mention at this stage or at least allude to? Will the Citaro – either in Euro6 diesel, hybrid, fully electric guise – ever make it here on mass, if width regulations change? Or just in select numbers?
MK: Our OC500 LE city and OC500 RF intercity chassis will still be the in the centre of our product strategy. We are especially proud of our Euro 6 engine range, which has best-in-class fuel efficiency and sets the industry benchmark. The performance and TCO [total cost of ownership] of Euro 6 Mercedes-Benz chassis, blows the minds of even those who are avid fans of other European or Australian bus builders.
We are going to complement this range with our brand new Brazilian chassis portfolio, the 2-axle O500 RS and 3-axle O500 RSD chassis. These chassis will have all the safety and comfort systems such as ABS [anti-lock braking system], EBS [electronic braking system], ESP [electronic stability program] and lane departure assist, as well as a brand new rear axle optimised for bus applications. And good news is they will also be priced competitively, targeting the school/charter segment.
Moreover, we are closely working with selected bodybuilders on exclusive product solutions. I cannot reveal the details at this stage, but you will probably know more after the Melbourne Bus Expo in October.
Regarding Citaro, as you know the product does not fulfil the width requirements of Australia and requires PBS [Performance Based Standards] approvals. We have trialled the bus successfully in Brisbane and planning a second trial now in Sydney.
Citaro is the bestselling city bus in Europe. We sold more than 50,000 Citaro buses to date around the world. It comes with enhanced safety systems, which are currently not offered by any other competitor in Australia, such as sideguard assist and preventative brake assist.
Most of the new technologies we develop for buses are initially introduced on our fully built integral products, before they are integrated into the chassis portfolio.
Electro-mobility also posed a new challenge to the bus industry: how to balance autonomy (range) vs load (passenger capacity/batteries) and comfort (HVAC) on an electric bus. You can only optimise all three parameters in a complete bus solution, where each component is designed to work together in a seamless way, with a chassis-body combination. I am not saying it is impossible, but this is much more difficult to realise.
Last, but not least, an integral bus gives us the flexibility on lead times thanks to our massive production capacity back in Germany.
Now back to your question, Daimler Buses offers the most extensive product portfolio in the industry. We will keep offering our extensive chassis portfolio to our customers. In the long run, we want to extend our offering in Australia and New Zealand also with Citaro Hybrid and eCitaro.
ABC: What are your views on alternative fuels? We still have diesel buses used in this country; How quickly should more operators be adopting Euro 6, or is there still time for them to not be here?
MK: We strongly recommend our customers to opt for our Euro 6 engine range when buying a Mercedes-Benz. They are not only good for the environment but also for the bottom lines of our customers.
I will be on the conservative side: you will probably break even the premium you have paid for a Euro 6 Mercedes-Benz chassis vis-à-vis a Euro 5 one, at the fourth or fifth year mark with the improved fuel efficiency and extended maintenance intervals.
We trialled and closely monitored our Euro 6 chassis almost everywhere in Australia under different operational conditions. TCO improvements were mind-blowing. Euro 6 makes sense today.
It is also important to note that Daimler AG has invested more than 20 billion Euros in the CASE (Connected, Autonomous, Shared & Services and Electric) strategy. The target is to electrify the complete portfolio; cars, vans, trucks and buses, by 2022. We strongly believe electric vehicles are the future. Specifically on the bus applications, we are also planning to use hydrogen as a range extender in order to electrify all bus routes in a typical city or intercity application.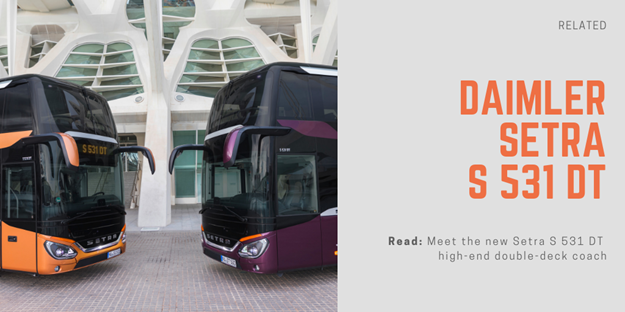 ABC: What trials of alternative fuelled buses is Mercedes-Benz/Daimler conducting around the world that are worth noting? Any trials happening in Australia/NZ? Has the only official Euro 6 Citaro in Australia entered into a trial?
MK: Fabian, we have recently launched the eCitaro in Europe as a serial product. Our order book has reached three figures already. We are not only selling a product with eCitaro but a complete solution and provide tailor-made consultancy to our customers through our e-mobility consultancy team. We are not looking into tests anymore; we are delivering a tested product. For the right-hand-drive version, start of production is currently planned for the second half of 2021.
Our Citaro Hybrid, Bus of the Year 2019 in Europe, has been delivered in the hundreds in every major European city. It is a low voltage solution, requiring little to no upgrade in your existing operational infrastructure. Customers love it.
Our Future Bus – the semi-automated city bus with CityPilot - has made its first public journey on part of Europe's longest BRT [Bus Rapid Transit] route in the Netherlands. This links Amsterdam's Schiphol airport with the town of Haarlem – a 20km-long route with bends, tunnels, junctions and traffic lights. The journey was a success – the bus approached bus stops, opened and closed doors, moved and communicated with traffic light systems, and the driver never touched the brake or accelerator pedal. The only official trial we will run in Australia is our Citaro Euro 6 bus. We plan to start it by the end of July in Sydney in cooperation with CDC NSW.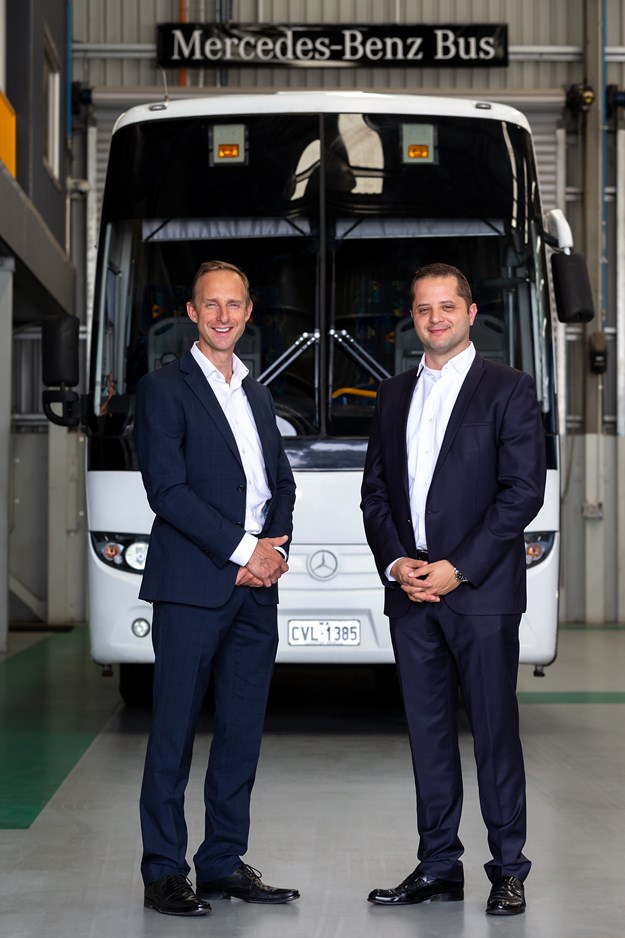 ABC: If width rules change, would Daimler's semi-autonomous Future Bus ever make it here – even if only for test runs somewhere? How far off are we to get the right infrastructure into place?
MK: Everything is within probability under the right business case and premises. I would say, why not? The Future Bus is, of course, not a series production vehicle at the moment, but is based on a Citaro, which already has some semi-automation features that can deliver efficiency advantages and also boost safety (for both passengers and pedestrians).
The Future Bus is a strong statement of what Daimler Buses has achieved under the CASE strategy. From an autonomy level perspective, it currently stands somewhere between Level 2 and 3.
I still believe width is not the real challenge here; an autonomous bus potentially will be released with a PBS approval anyhow. The Future Bus technology works on dedicated bus BRT bus lines. As far as I can see, Brisbane is the only city investing in new BRT corridors and projects. Of course, Adelaide is also still investing in the existing O-bahn lines, which were initially developed together with Mercedes-Benz in 1980s. Maybe one day, we might see the Future Bus in one of these two cities.
A true driverless strategy for buses is not easy. There are basic challenges. The bus is usually too big; it stops too often at bus stations and takes off again. In the foreseeable future, I see the autonomous buses in their own BRT lanes.
However, there are advantages of first stage automation (a driver is still behind the wheel) that will soon be available with Citaro models including safety and efficiency.
ABC: You are based in Melbourne. How often, if at all, do you get out and about to visit dealerships and operators? Is there any geographic area in focus for you in this initial stage? Any things that need to be addressed?
MK: I usually travel at least once or twice every month. We of course have dedicated people based in Sydney, Brisbane and Perth. My role is usually to support our team when needed. As our biggest markets, NSW and QLD are usually part of my typical monthly itinerary. Due to on-going tenders I have been often to Adelaide, Canberra and Perth.
ABC: What's your most popular seller/bus chassis/product even still today?
MK: The universal answer to this question is O405, which is the predecessor of today's OC500 series. You can still find them driven across Australia. They can also still be sold even after 20-plus years without a problem in the second-hand market.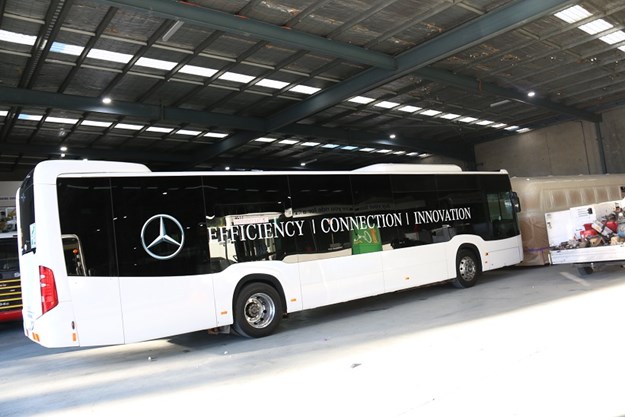 ABC:  So what is it that you, as a person, uniquely bring to this role? What is it that makes you different that will help enhance the role you have been appointed to?
MK: We have a very experienced bus team, who have a good rapport with customers and other industry stakeholders. The least I bring to this role is the international experience I gained over the years in Europe, Middle East and Africa. I believe this works pretty well. I am also enhancing the communication and cooperation between our headquarters and teams in Australia and New Zealand.
Of course, I am an ex-aftersales guy and this gives you the holistic understanding of a customer's journey. I can connect the dots and sometimes come up with solutions that require both sales and aftersales knowledge.
Lastly, I have the grit to succeed. Otherwise, I would have never come this far. 
ABC: Thanks for your time today, Mehmet. Is there anything else you'd like to add?
MK: There are some exciting times ahead for Mercedes-Benz and I look forward to sharing them with you and your readers in the future.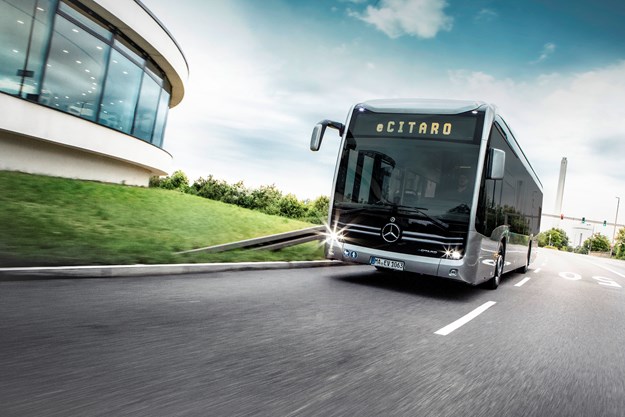 TRIVIAL PURSUIT
1. SONG STUCK IN YOUR HEAD RIGHT NOW...
Somebody Told Me by The Killers
2. LAST GREAT PLACE YOU VISITED...
Before I moved to Australia, I had a short vacation in Alaçatı, an amazing traditional town on the Western coast of Turkey. Great windsurfing, stone houses, narrow cobbled streets, amazing food and nightlife.
3. A FAVOURITE DISH...
Grilled red mullet.
4. A FAVOURITE DRINK...
A good single malt, maybe Lagavulin or Yamazaki.
5. IF YOU COULD CHANGE THE WORLD YOU WOULD...
Three things; I dream of a world where all children can go to school, everyone can make a living and love prevails.
6. YOU LEARNED ABOUT YOURSELF TODAY THAT...
How resilient I can be.
7. THE ONE THING YOU CAN'T LIVE WITHOUT IS...
Definitely not without my family, but if you meant a gadget probably my Kindle.
8. YOUR MOST EMBARRASING MOMENT IS...
When I cannot keep my word.
Subscribe to our newsletter
Sign up to receive the ABC e-newsletter, digital magazine and other offers we choose to share with you straight to your inbox
You can also follow our updates by liking us on Facebook.