BETTER LATE THAN NEVER – ROUNDABOUT TOURS
---
OPERATOR: Queensland-based Roundabout Tours owners Clive and Kathy Sandison are living proof that success has no age limit in the Australasian bus and coach game.
While many start thinking about retirement at the age of 60, Clive Sandison had thrown himself into the deep end taking over a bus company.
Fast forward 11 years and Sandison, 72, has grown the business into a popular coach and tour operation from one bus to a fleet of four, domestically and abroad.
Based in Gympie, Roundabout Tours does day and extended tours, including charter and school runs. It also offers international tours to people over the age of 50.
Sandison had spent 20 years driving for Polleys Coaches before the business opportunity came up.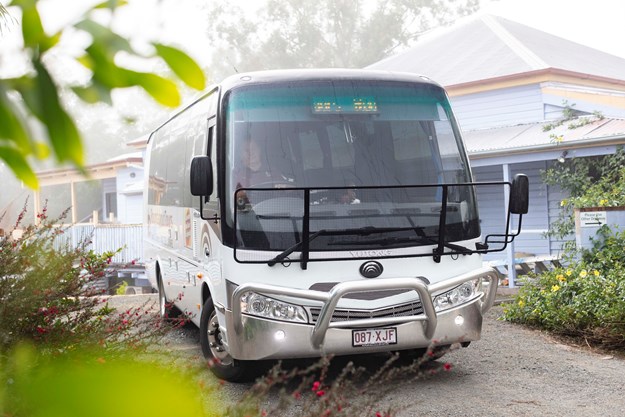 "I was a tour driver and a fill-in school bus driver for Polleys Coaches in Gympie when the previous owner was retiring," Sandison said.
"He said to me there was a company on the other side of river called Roundabout Tours that seems to be not operating.
"So I went over and had a look and they had a little six-cylinder Toyota coaster for sale and I bought it."
With three part-time drivers, the husband and wife duo do 10 long-distance tours each year, ranging up to 17 days long.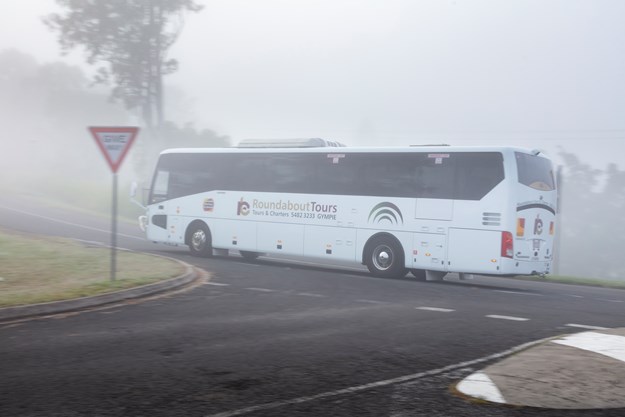 They also service seven primary and high schools, carrying some 250 students each month.
With 450 customers on their mailing list, the business has grown through word of mouth.
"It was either make it bigger or forget about it altogether," Sandison recalled.
"The decision was to make it bigger and I think we've certainly done that.
"The chap before us had it right down to two tours a year and he was going out backwards, so I think we've done very well," he added.
"We've made more than what it was worth."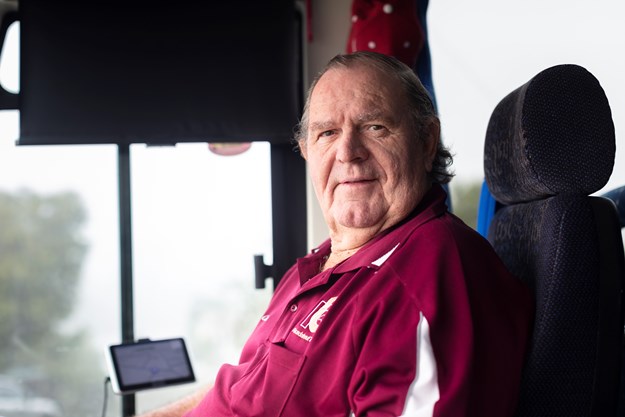 FAIR WORK
The Sandisons have refused to cut costs and have only grown through "sensible" work.
In an industry where cost cutting is the new norm, Sandison says the only way they've survived is by sticking by their beliefs.
"We didn't realise that some of the big companies tended to bully the hotel chains to get better prices, so we had to watch how we priced the big long tours," he said.
"There's a few things in the industry that are a bit crazy, but if you try to not get forced into doing something that you don't really want to do, I think you can survive.
"When you're doing our sort of work your vehicles are not subsidised like school buses are, your costs are far greater initially so you have to watch your cost very carefully."
With a passion for travel and driving, Sandison says his job doesn't feel like a chore.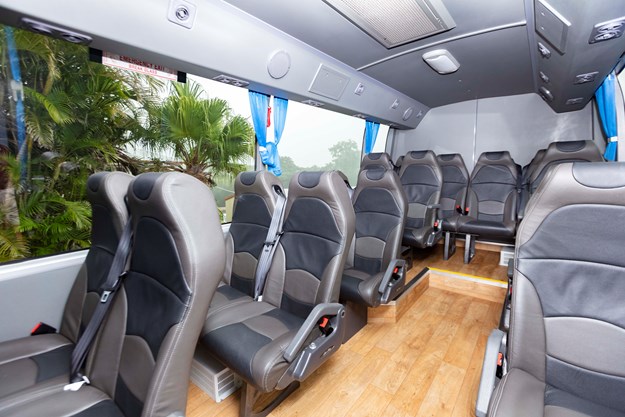 "I just love travel and I love to be able to take people to places that they otherwise wouldn't get to see," he explained.
"All our tours are for over 50s or beyond; we have a lot of passengers that are in their 80s and 90s and some of them have never travelled at all, so if we can show them a new state or a new town it brings great satisfaction."
Catering for an older crowd means that one has to consider their abilities, Sandison added.
"The challenge is to be sensible; don't make the days too long when you're on tour. We try to get them out of a hotel by 8.30am and be in the next hotel by 4.30pm at the latest, so they have a bit of rest before they get to dinner.
"As long as you give them three to four places to stop and see during the day and a reasonable place for lunch I think there's not much of a hassle.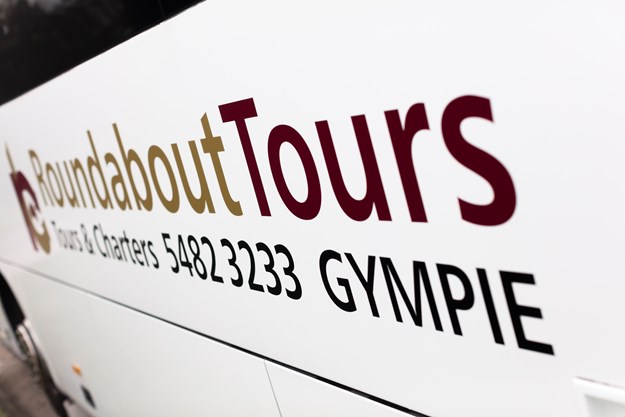 "Most of them are not hard to handle; some of them are set in their ways, but they're really quite flexible overall. They'll run with the show and they make friends easily."
The international tours are a hit amongst Australians – it takes the Sandisons up to a month to create an itinerary.
However, due to other companies' price cutting they've been faced with stiff competition.
"Some of the companies are cutting it to the bone and that's a bit of a problem; we do Norfolk Island every year and now there's a company doing Norfolk Island at about the same cost as what it costs us for the airline ticket so they must be hammering down the hotels and the tour operators on Norfolk to get a better price to keep it going," Sandison explained.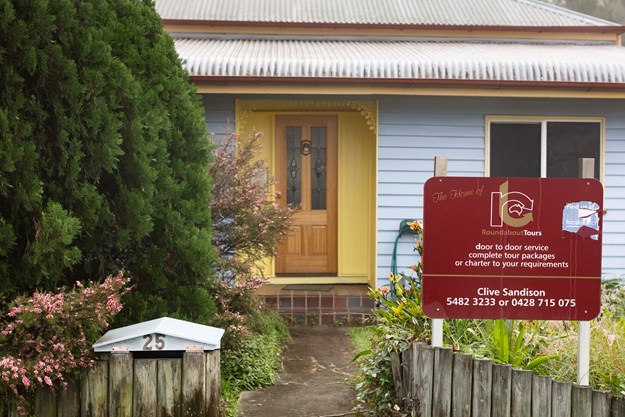 MOVING RIGHT ALONG
Domestically, the company has been struggling due to a lack of parking spots in major cities, with drivers forced to leave the location upon drop off.
"We like to have our drivers stay with the passengers all the time, but if you can't park outside the venue you obviously can't stay with the passengers, so you have to go away and come back when the show is over or wherever they're going," he said.
"I think it spoils the industry because when the driver and the hostess can stay with the people they're doing a far better service, so it's unfortunate."
Along with her office duties, Kathy also does three tours to major shopping centres on the coast.
The pair tries to cater its tours to those on a pension.
"If they're prepared to save a bit of money off their pension regularly then they can do it," Sandison said.
"The Federal Election did knock the stuffing out a little bit because a lot of them thought they would lose their super if Bill Shorten got in, but he didn't so they're alright."
TOURISM TRAPS
As encouraging it is to see more international visitors flock to regional destinations, Sandison believes very little of that is contributed towards the local economy.
He claims the bus industry is feeling the pinch as many tourists choose to use non-Australian companies for travel.
"We keep getting told that we're getting massive tourist numbers from China and Korea, but we're not making any money out of those because they fly in on a Chinese or Korean airline, they stay in Chinese or Korean hotels, they travel around the country in Chinese or Korean owned buses and they're only allowed to shop in Chinese or Korean owned shops," Sandison explained.
"We've got one instance here of a Korean company that actually charges their passengers to go for a walk on the beach saying you need to pay to go for a walk on the beach in Queensland.
"It's a real rip-off and the government thinks they're making money out of these people then the only money they're making out of them is the tax they pay at the airport when they come in, so I just don't understand."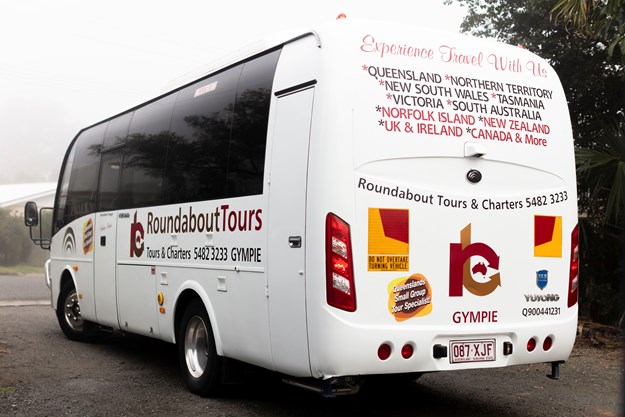 A GOOD INNINGS
While the business is at its peak, the Sandisons are quietly hoping that a young family might come by and buy the business from them.
Due to their age, the pair says they only have a few years left before they retire.
Sandison, who thought about starting up his own business some 45 years ago, says he wishes he had the confidence to do so then.
"I would have started a lot earlier and done things differently, but what we've done since we've been here is also pretty good," he said.
"Probably because I had a young family and I was a bit worried that I might fall flat and I'd be struggling to feed my family, I didn't have the confidence to pursue my dreams.
"Everything is a risk, though: life is a risk, crossing the road is a risk and stepping out of the bus is a risk as you might fall over, but you just have to weigh up those risks and accept them."
THE FLEET
The Roundabout Tours fleet is currently made up of four buses: three Yutongs and one four-cylinder Coaster.
The floor of a 16-seat Yutong bus has been lifted to make it better for passengers to see out of the windows, and includes a wooden floor and big luxury seats.
There is also a 20-seat coach fitted with lap seatbelts, a 39-seat luxury coach and a 51-seat coach.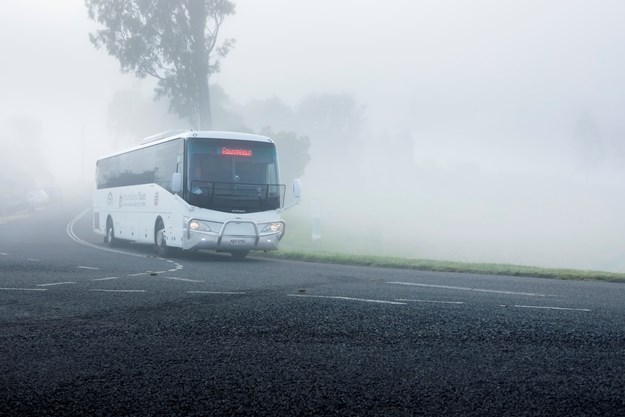 Subscribe to our newsletter
Sign up to receive the ABC e-newsletter, digital magazine and other offers we choose to share with you straight to your inbox
You can also follow our updates by liking us on Facebook.