VICTORIAN BIO-FUEL PLANT OPENS, BUS AND TRUCK SUPPLY TARGETED
---
BUS AND TRUCK fleets across Australia now have access to quality biofuel supply after Just Biodiesel - backed by Refuelling Solutions and Viva Energy - officially launched its re-opened refinery at north east Victoria's Barnawatha (just south of Albury, NSW), at an event in the town, recently.
With the company and its partners now seeking business from bus and truck fleets, the move signals the early stages of a possible renaissance for the low-carbon alternative fuel, which fell out of favour earlier in the decade due to falling conventional diesel prices, new federal governments excise of biofuels, and the hangover from reliability and quality issues among some suppliers.
Pitching its product as a "renewable, clean-burning diesel replacement that is reducing Australia's dependence on foreign petroleum, creating jobs and improving the environment", Just Biodiesel - in partnership with like-minded distributor and transporter Refuelling Solutions - is building on the foundations of an earlier enterprise and counts supporters in regional transport based in the area.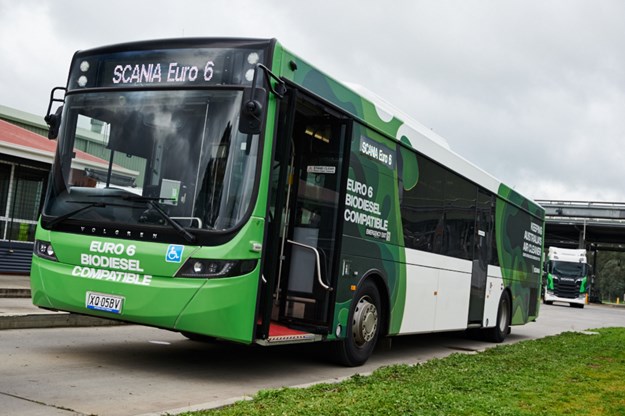 "A return of 11 former employees to the recommissioned facility is a testament to the leadership of the company and commitment of the locals who have successfully re-commissioned the plant in a four-month period," Just Biodiesel GM Greg Boyall said of the company that is chaired by tallow and rendering firm Oztek Holdings' MD, Terry McKenna.
"We are confident with the anticipated growth and support from many local suppliers, substantial economic benefits will be achieved for the region."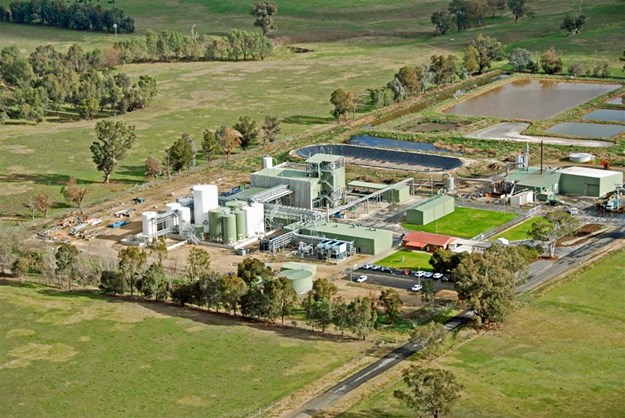 The company's formation was finalised last December following the purchase from receiver Korda Mentha the previous May of the plant formerly owned by Australian Renewable Fuels (ARF) and Biodiesel Producers (BPL).
Just Biodiesel director Peter Chomley explains McKenna was instrumental in attracting the initial investment in the plant site and was a driving force in resurrecting the operation.
The plant is now supplying B5 and B20 fuel through distribution partners Refuelling Solutions and Viva Energy.
It is also to begin B100 exports to California in August and is surmounting the audit phase before supplying European Union customers.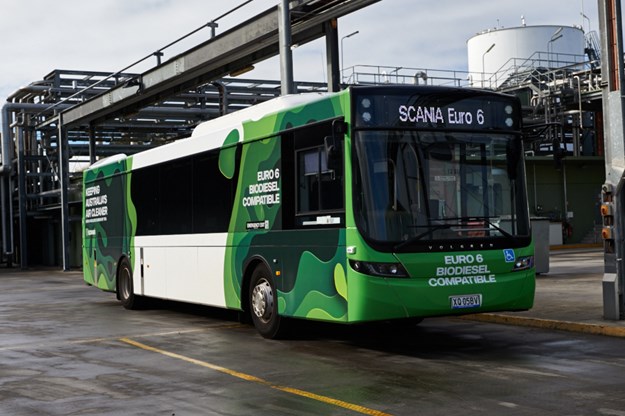 WHAT IS IT?
Feedstock is sourced from plentiful supplies of tallow and used cooking oil (UCO) in the region, both of which are said to be often exported to Asian countries for their own biodiesel feed stock needs.
"Refuelling Solutions has been actively supporting the biofuels industry for 15 years," its MD, Tony Hartin, said of his 30-year-old firm.
"The latest and most exciting chapter is today.
"About two years ago, I met with Terry McKenna and Peter Chomley and realised our shared vision on passion for biodiesel. And here we are today as a key partner of Just Biodiesel for the sales and distribution of this clean-burning renewable future fuel.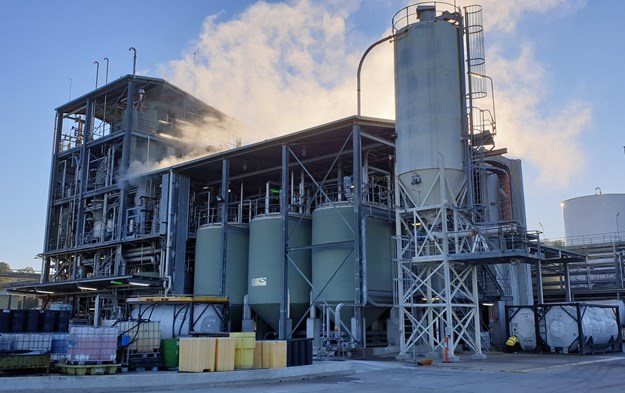 "The real star of today is the exceptional quality of the biodiesel that is produced at the Barnawatha plant and the environmental benefits it can deliver and the reemployment of almost all of the people who have operated [the original plant] and know the magic that that facility can produce," Refuelling Solutions MD Tony Hartin said.
"We, the Refuelling Solutions team, look forward to working with so many of the people here today to deliver our small part in using biodiesel in driving down emissions and choosing to make a positive contribution to our environment."
Chomley notes Hartin introduced the nascent business to Viva Energy 12 months ago, with original plant operations manager Boyall on hand to detail it.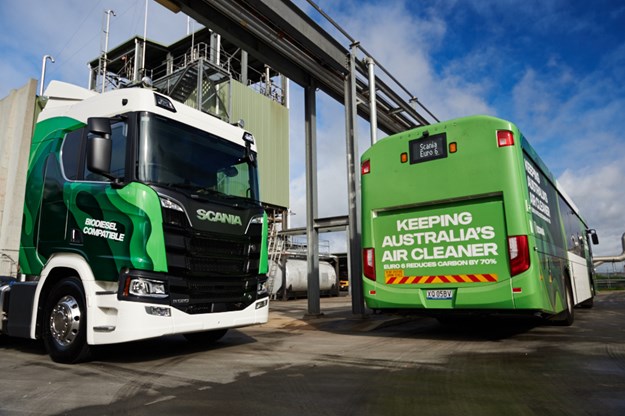 On the export initiative, Chomley said: "The reason for that is quite simple, the biodiesel industry is those two markets is well established and has been [backed] by many years of renewable energy support by governments in those countries.  
"If you take the example of California, biodiesel is 15 per cent of the diesel pool. That's quite a significant penetration, by anyone's terms. In Australia, it's basically zero."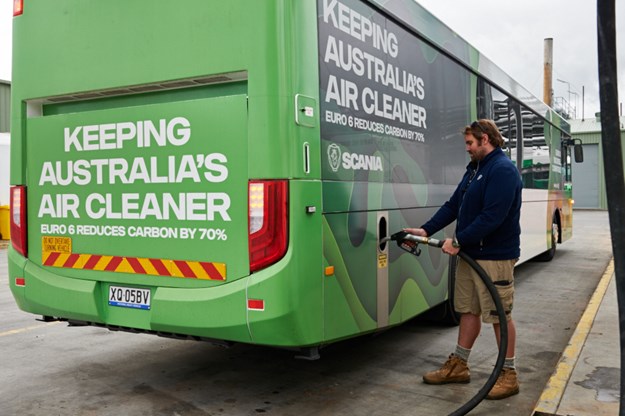 EXPORT POWER
Supporting its exports, B100 from the plant attracts an overseas premium of 5-10 cents per litre net of freight over the domestic diesel price, he said.
One keen participant in the opening event is Scania Australia sustainable solutions manager Anthony King, whose company is working to create a network of alternative fuel supply options for customers running engines suitable for such low-emission fuels.
Scania supplied a prime mover and a bus capable of running on biodiesel for the event that featured Bioenergy Australia chair Dr John Hewson and local Federal independent MP for Indi, Dr Helen Haines.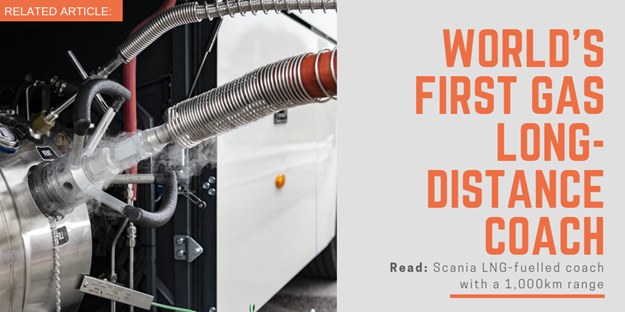 Hewson, who is critical of the Federal Government's stance on fuel security, sees the initiative as a national positive.
"If you look across regional Australia there are feedstocks spread everywhere, and we don't have a national fuel security strategy and we don't have a national waste management strategy," he said.
Just Biodiesel points out that its product emits 86 per cent less greenhouse gas, 47 per cent less particulate matter and 67 per cent less emissions.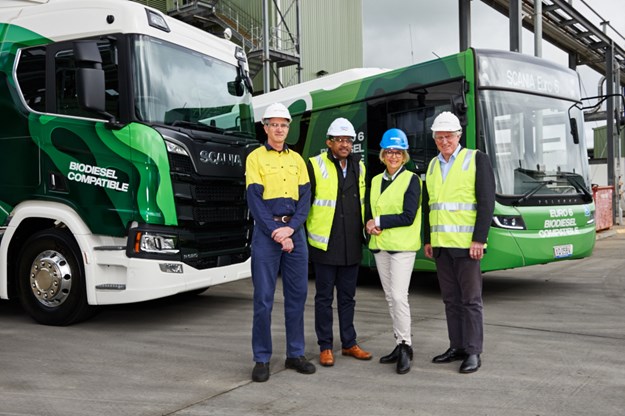 Subscribe to our newsletter
Sign up to receive the ABC e-newsletter, digital magazine and other offers we choose to share with you straight to your inbox
You can also follow our updates by liking us on Facebook.