STAR OF THE SHOW – ALLSTARR COACHES
---
OPERATOR: Guided by the principle of 'a fresh approach to coach travel', Sydney-based AllStarr Coaches has kept things cool, crisp and colourful in adding a brand new Scania Touring to its luxury fleet.
Downtown Sydney CBD. It's around midday. Any weekday. Hundreds and hundreds of busy city workers jostle for positions at each street corner eager for the green 'walk' sign to be seen – and heard – at each traffic light, as they make their daily pilgrimage to get lunch. Or just have a durry.
Here, amongst the pedestrian-controlling tick-tocking sound of the lights it's often a smorgasbord of delight for many a bus fan, whose senses are quickly accosted by an a array of modern luxury coaches that slowly snake their way along packed streets in virtual gridlock at times, their tourist passengers ogling Sydney's iconic landmarks every opportunity they can from inside.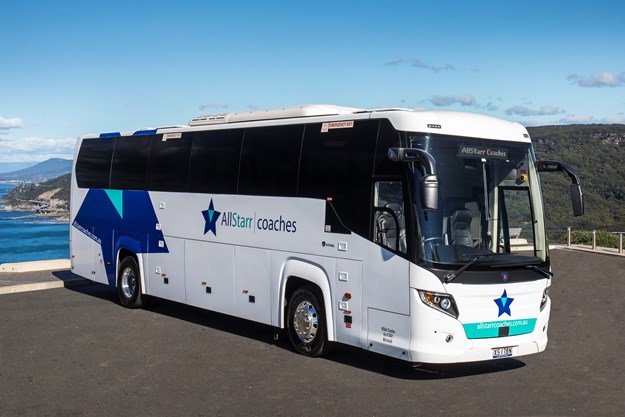 Some of the leading coach operators can be seen at these hours and, as unbiasedly as it should sound, such good-looking coaches decked out in distractive and attractive livery usually pretty much steal the onlookers' show.
One such operator that stands out for all the right reasons is AllStarr Coaches. Its striking two-blue star insignia looks stunning on a stark-white coach body, so much so that it supremely enhances it. And now on its latest fleet addition – a new Euro 6 Scania Touring with Opticruise – it certainly looks the part as it saunters down the city CBD's packed streets and crossroads.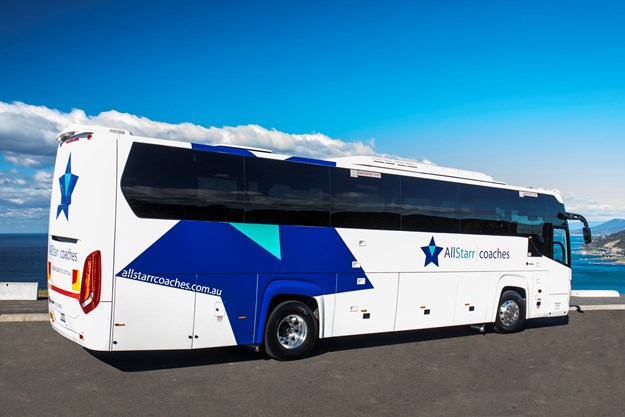 As the first non-demo Touring for full-fleet service in Sydney, it's certainly a great ambassador for the 'Emerald City'. A vehicle that's been eagerly awaited by AllStarr founder and owner Toby Starr for ages.
"It looks so good," he said. "I have been looking at them for more than two years and waiting for Scania to get them into the country. The price point is good and the flexibility Scania has shown in order to deliver to me the exact specification I wanted has been really impressive."
SIX-STAR EXPERIENCE
As Scania Australia is quick to explain, the first Scania Touring delivered to AllStarr has been fitted with 49 passenger and one guide seat, and an on-board toilet cubicle has been installed by builder Coachworks, in Queensland.
The seats are McConnell Voyager recliners with leather-look finish and three TV screens have been mounted along the ceiling for passenger viewing comfort, it says. The AllStarr Touring is powered by Scania's five-cylinder 360hp (268kW) Euro 6-compliant engine driving through the Opticruise automated gearbox.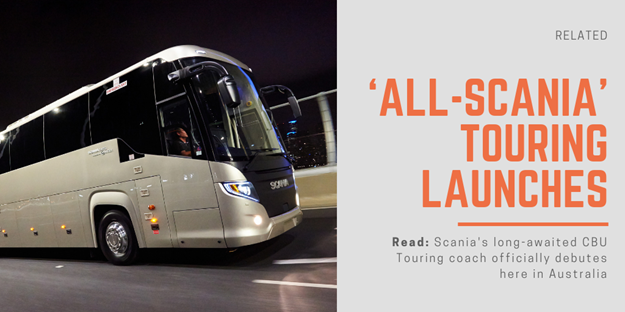 "One of the key advantages for me has been Scania's ownership of the total vehicle, so if I have any issues down the track there's just one point of contact. This will speed up resolution and provide good uptime for me," Starr said.
"Scania providing both the chassis and body has given me peace of mind. Furthermore Scania has been willing to provide not only a repair and maintenance contract for the chassis, but also a maintenance contract for the body. This is unusual, but for me a big advantage," he explained.
"We plan to keep the Touring for seven years – typical for our business – which currently has five luxury-specification coaches on the fleet.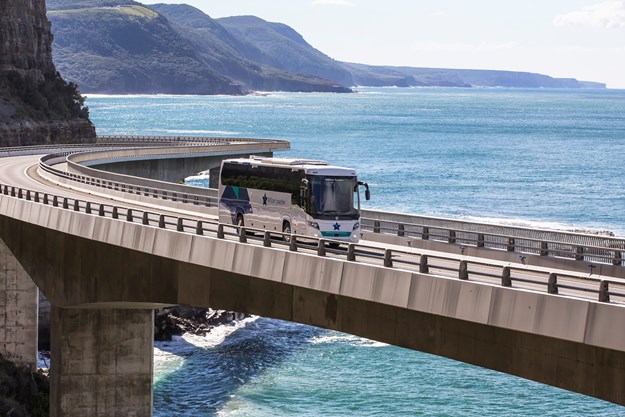 "We have been running a demonstrator Touring for a few months and it has been very successful, in terms of driver and passenger acceptance.
"We have been driving it in Sydney, where it has attracted a lot of attention and positive comments. We service cruise ships as well as private jet-borne inbound tourists who want a six-star experience – and that is what the Touring is delivering for us and for them.
"In addition to short distance transfers we're also going to use the Touring for longer excursions, up to seven-day touring for Australian seniors, and the extra luggage capacity will be a boon," Starr added.
"Scania's service so far has been phenomenal. Nothing has been too much trouble, and I can't believe any other OEM supplier would have been as helpful and supportive as Scania has been during the introduction of the Touring to our business," he explained.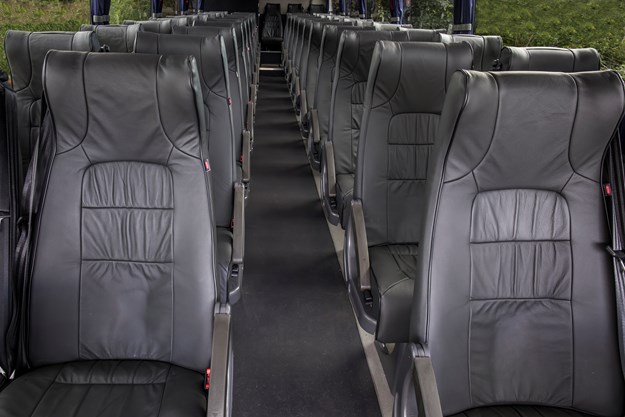 STARSTRUCK
According to Scania NSW Bus account manager Warren Young, the new Touring joining the AllStarr fleet will be hard to miss even in Sydney's cosmopolitan driving environment.
"The new AllStarr Scania Touring is eye-catchingly liveried, finished in white with the big blue star. It'll certainly get attention," he said.
"However, Toby's big focus was on acquiring a new cost-effective vehicle, with a low tare weight and plenty of luggage capacity both in volume and payload," Young added.
"Toby was adamant he wanted a bumper-to-bumper maintenance agreement for the vehicle, which we were able to accommodate in line with our position that we will tailor make solutions for each customer.
"We are confident that the AllStarr Touring will just be the first of many to ply the tourist routes around Sydney," Young explained.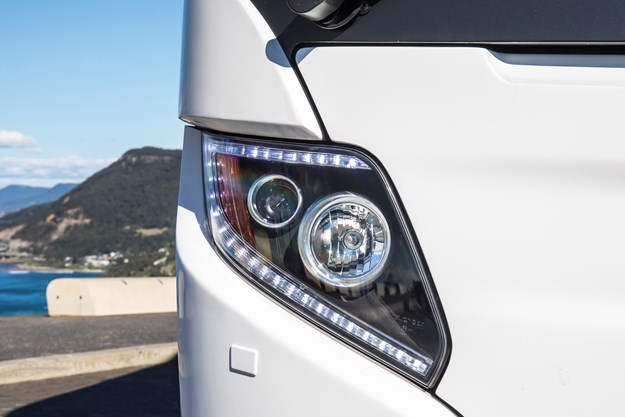 CHILDHOOD PASSION
While working as a teenager in the tourism industry, he saw them arrive and always marvelled at the great-looking machines. He told his friends he was going to own a coach company one day.
Starr still goes out with his childhood friends and they joke that he was the only person in year nine who knew exactly what he wanted to do – the school even spoke to his mother about his obsession with owning a coach company.
"Early in my working career I made sure I had experience in every facet of the business to learn everything I could about the industry," Starr said.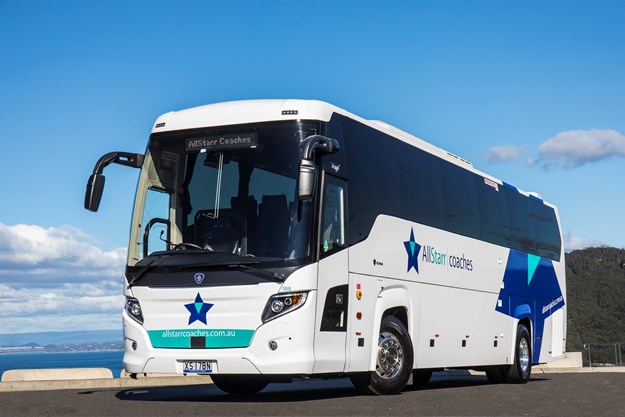 "I started working in day tours when I was only in year 10. I've worked in sales and operations; I drove Contiki tour buses through Europe for eight years and toured throughout Australia until I felt I had the experience and relationships within the industry to go out on my own.
"I like to do things a bit differently and so my very first coach was a brand new vehicle. I wanted to go straight to the top end of the market so I had to have the perfect vehicle to get me there.
"I worked so hard in those early days I was barely at home with my family. Those times were tough, but I needed to do the hard yards to get the company established."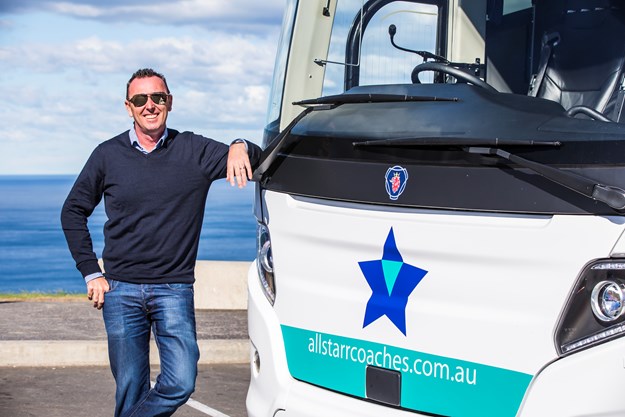 STARR PERFORMER
AllStarr Coaches – founded in 2008 and based in Alexandria, Sydney – is an Australian-owned and operated coach company that offers a "fresh approach to all aspects of coach travel, with a modern fleet of vehicles", it states.
AllStarr Coaches operates with accreditation from the Transport Roads and Maritime Services and the vehicles not only follow their guidelines, but provide an even higher standard, it explains.
Founder and owner Toby Starr brings 28 years of experience in the industry, having started in 1989 assisting with the growth of one of Australia's major coach companies at the time.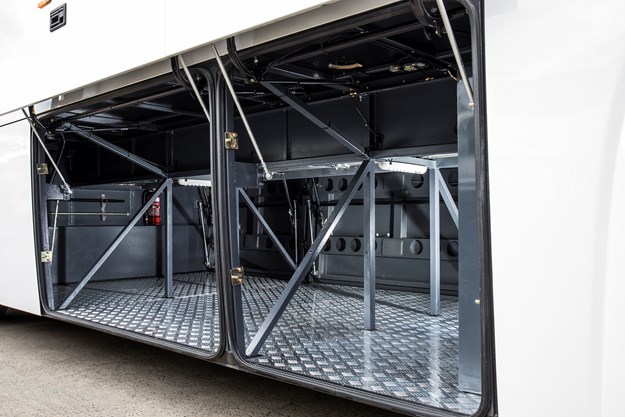 Throughout these 28 years, Starr gained a vast amount of knowledge and experience in all aspects of touring excellence, including operations management, strong client relationship focus, as well as detailed commentary and driving skills Australia-wide, the company says.
Add to that the wealth of expertise he acquired during his six years of international experience working with one of Europe's major touring coach companies, driving extensively throughout Eastern and Western Europe, Russia and Scandinavia.
With an impeccable driving record, Starr has also completed the European coach driver training course in the Netherlands and holds a current fully accredited New South Wales snow field's licence in Australia. He is also fully accredited by the Transport Roads and Maritime Services for long distance, tours and charter services.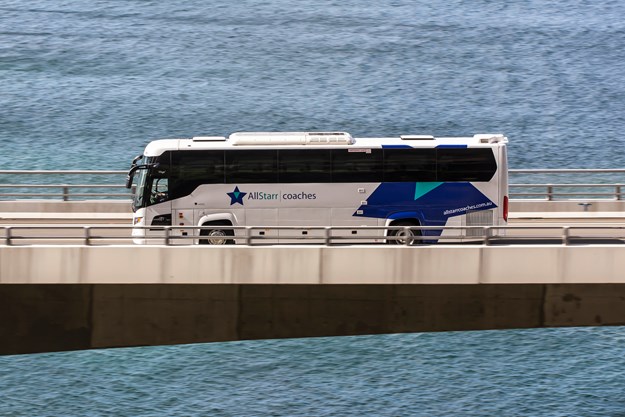 COMPLIANCE AND ACCREDITATION
Since returning to Sydney in 2000, Starr has been employed exclusively in the Australian travel industry working with a range of clients. Whether dealing with organisations, schools, corporations, educational trips, international in-bound operators, cruise lines, seniors tours and long distance rail replacement services and snow trips – Starr "…knows what is required to make the journey enjoyable."
AllStarr Coaches Pty Ltd is fully accredited by the Transport Roads and Maritime Services (Long distance, tours, and Charter accreditation). It is also fully accredited by the University of Sydney, College of Transport and Logistics, it states. Being accredited it is open to yearly reviews and has to comply with the Transport Roads and Maritime Services to keep records of all aspects of the day-to-day operations, including maintenance and ongoing training etc.
In terms of the name, AllStarr Coaches reflects both Toby Starr's family name and the five-star luxury and service the coaches provide, the company states.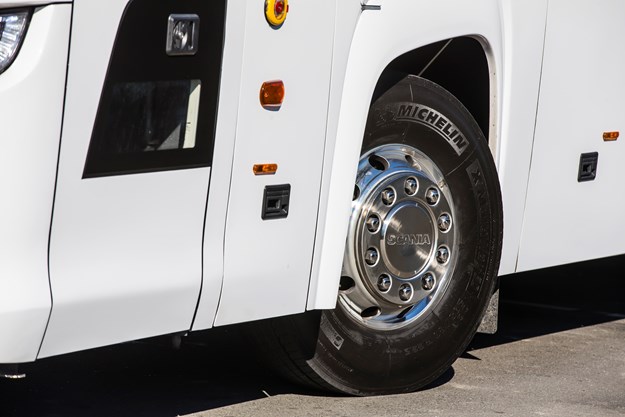 VEHICLES AND DRIVERS
AllStarr Coaches can provide 12- to 58-seat vehicles to accommodate any type of service and these cater for all areas of the market, at a five-star standard, it says.
These include: airport transfers; day trips; corporate/charter transfers; Australia-wide touring, from 2-30 days (with interesting and detailed commentary); seniors and Probus groups (special rates plus morning tea included every day); school trips and educational tours; snow tours/trips (all drivers are snow trained and licensed accordingly. The vehicles are equipped with the latest snow chains); cruise ship debark tours; transfers and shuttles.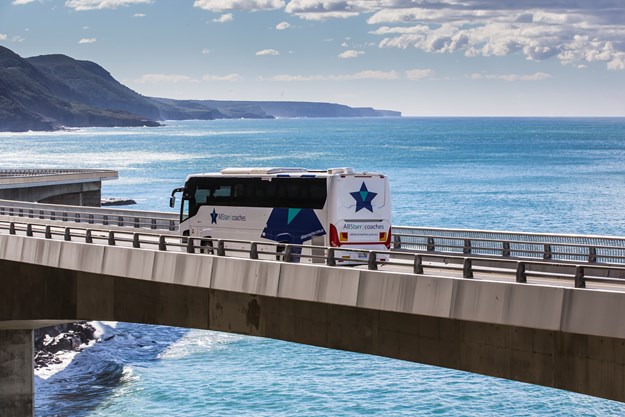 Its drivers comply with the Transport Roads and Maritime Services driver accreditation requirements (Driver Authority Accreditation) and the company updates these requirements annually.
All drivers who undertake trips to the NSW snow fields have completed the Bus and Coach Association (BCA) snow driving and training accreditation course.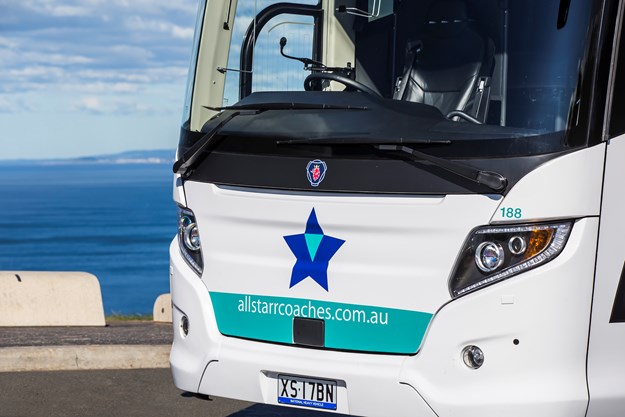 Specs
MAKE: Scania
MODEL: Touring
DIMENSIONS: 12.30m x 2.50m x 3.80m
ENGINE: Scania 9-litre, five-cylinder Euro 6 SCR
POWER: 360hp@1900rpm, 1700Nm@1000-1300rpm
TRANSMISSION: Eight-speed Scania Opticruise automated transmission with Economy, Standard and Power modes
BRAKES: ABS, EBS, ESP, traction control, hydraulic retarder, adaptive cruise control (Opticruise only)
SUSPENSION: Kneeling front airbag, four-spring rear, anti-roll bars all 'round
WHEELS: Alcoa DuraBrite aluminium rims Michelin 295/80R 22.5 tyres
BODY: Full 9m3 underfloor luggage storage; 38kW air-con separate driver climate control; Xenon headlights, LED tail-lights
INTERIOR: Seating – 49 + 1 (guide) + driver's, McConnell Voyager recliners with leather-look finish and USB ports, seatbelts and armrests; Scania Fleet Management, Scania Communicator, front electric blinds, electric driver's window; Coachworks-installed toilet
Subscribe to our newsletter
Sign up to receive the ABC e-newsletter, digital magazine and other offers we choose to share with you straight to your inbox
You can also follow our updates by liking us on Facebook.