ABC ISSUE 381 – OUT NOW!
---
It's been a whirlwind month with everything on the cards from a Federal election, state bus industry events, new bus technology and even some butter chicken. But first … a rail-replacement nightmare.
With only two hours' sleep I was up on a Saturday morning at 4am, packing bags and showered by 5am and at the local train station by 5.15. Luggage and camera gear in hand, the station lift was out of order. Not ideal, but not to worry. First World problems and all.
Schlepped it up the stairs not only to discover the lift going down was also stuffed, but that none of the train destos had info on them. That and the big yellow signs pointing to replacement buses down on the street were the giveaway it was train-replacement time. Dang! I must have missed the memo.
Not to worry, plenty of time to catch my 8.40am flight to Adelaide from Sydney for the 2019 BusSA Conference. Too easy. I'm never this early anyway. I'm usually only coming back from the city two hours later from now. Everything is under control.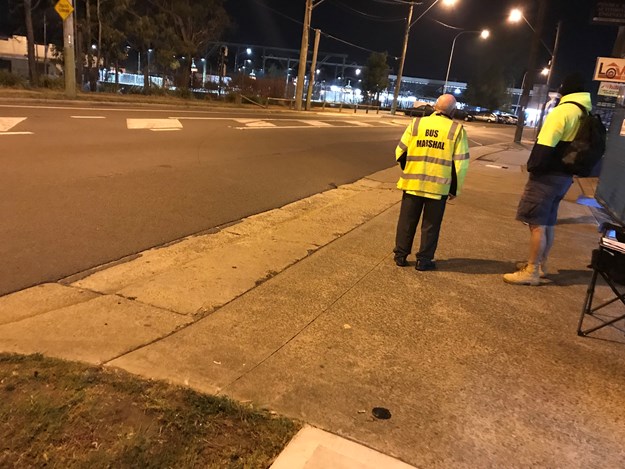 Down at the kerbside bus stop there stood one other tradie chap who'd just arrived also to ask the clipboard-carrying bus-replacement co-ordinator bloke the same question: When's the next bus?
It was a high-vis face-off even in the darkness of the early hours, so I slipped the old polarised imitation-rockstar sunnies on to correct the glare at hand.
"Should be here in five to six minutes," the bus marshal said, confident his notepad information was good as gold and with no two-way communication device on offer. And who was I to question it?
About 40 minutes later with now about 35 people, mostly forming a sea of high-vis, waiting in the icy cold with us, I'm pretty sure that bus wasn't coming. And so too was the marshal, shaking his head as he paced up and down the middle of the road between cars passing by. Not his fault.
A massive reassessment took place. My thought process was as follows:
1. "Oh crap! I've lost a lot of travel time. It's five train stops to where the trains are running then the usual journey of, say, 50 minutes to the domestic airport stop – that's without any further hiccups";
2. "If that bus is coming from, say, 10 stations away that means some bean counter has underestimated how many buses were really needed along the route";
3. "And finally, if there's so many people here waiting on a Saturday morning (granted, even I was surprised) and it's the same at other stations, are we all even going to fit by the time it eventually – maybe, possibly – gets here?"
Again, I put myself into the mindset of being a tourist in my own backyard and relying on public transport to get to where I needed to be with me having allowed plenty of time. And while, yes, rail track-work represented a worst-case scenario, it was more about flawed planning behind trying to accommodate such an event from authorities. Or at least someone that looked after calculating how many buses would actually be needed.
So where more buses running regularly would have saved the day and given people the right impression, an industry further gets shat on because some numpty couldn't do the math properly. And if they've used rail Opal card tap-on/tap-off data for previous Saturday mornings then there's some glitch in that system because there's way more assumedly regular high-vis-wearing workers rocking up at this ungodly hour and on a weekend. So perhaps send people out at such times weeks prior to see for themselves and factor that into the calculation?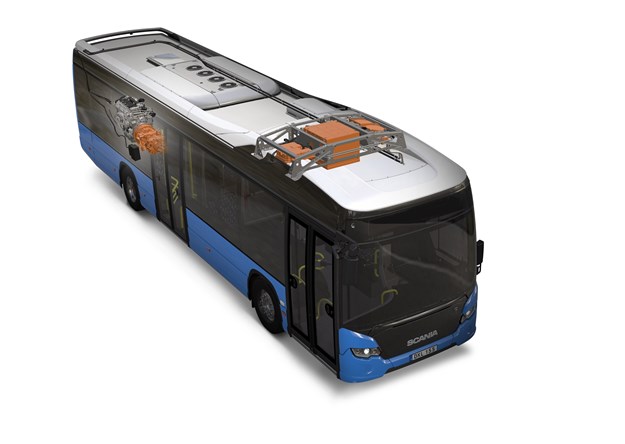 NEW TECH
Some interesting new tech – or new and refined enough – out this month that keeps the bus world interesting.
At the time of print, Scania had just announced an order for three of its Generation II hybrid city buses in right-hand-drive configuration – the first of their kind in the world (others LHD) – to be delivered to long-time customer McHarry's in Geelong, Victoria. Bodied by Express and with the first to be delivered later in October, it will be interesting to see how this interpretation of hybrid technology – said to be faster and longer-lasting than others – will perform in real-world conditions.
Also some cool tech is Bridgestone's 'gate' Tyre Pressure Monitoring System (TPMS), which basically picks up tyre temps and data via sensors on the bus while it drives past and 'thru' them. The idea is it gives bus operators real-time and daily tyre health info every time the bus leaves or enters the depot, thereby – in theory – reducing any potential downtime due to tyre wear or malfunction issues. Interesting stuff. Check out our news section (page 8) for more.
THE ELECTION
Well, there it is! Scott 'ScoMo' Morrison's Liberal-Nationals coalition government got up in the 2019 Federal election, much to the surprise of many who stupidly live their lives believing what all these polls say.
With Labor expected to clean up right until the last few hours, there was no cleaning to be had as things swung the other way, giving Morrison and his team the big win.
Policy is what people should vote on but historically there's always that bit of personality that gets some pollies over the line when really needed. And you can't eat a hotdog from the middle when beer in a yard glass can be skilfully and swiftly put away like a trooper in under 12 seconds or so. On that note, RIP former PM Bob Hawke. A true Aussie 1980s icon and arguably one of the better ones we've had.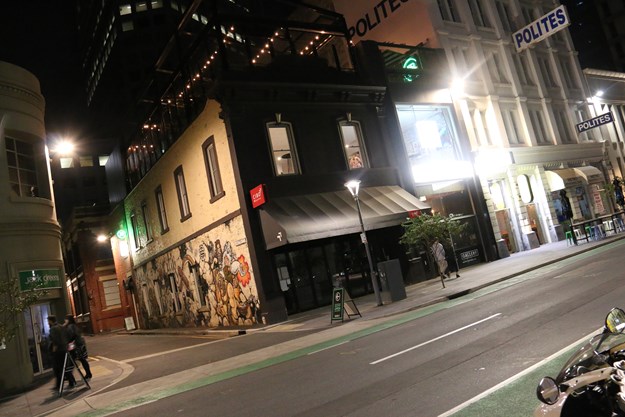 GET DOWN TO FUNKY TOWN
Inside this issue we have another cracker for you, kicking off with Gold Bus's latest V/Line duty coach which recently joined its fleet. A Coach Design body on a Scania chassis combination (page 26), it will be doing its bit to commute people between Ballarat and Melbs in comfort, safety and style. Love that livery on it, too.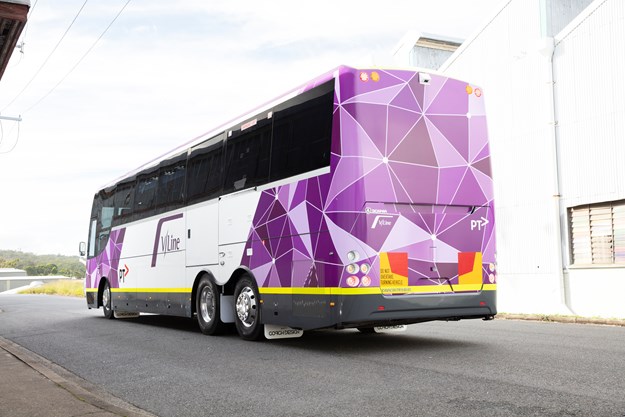 Also inside we head to the wonderful NSW South Coast to check out the good work operator Marshall's Bus and Coach is doing around there (page 34) while also heading into beautiful Victoria to visit Driver Bus Lines and checking out (page 42) its amazing Heritage Fleet collection. With awesome automotive kit on offer we were happy just to get into any of them, this time being a schmick-as Denning Denair Mono. Loved it!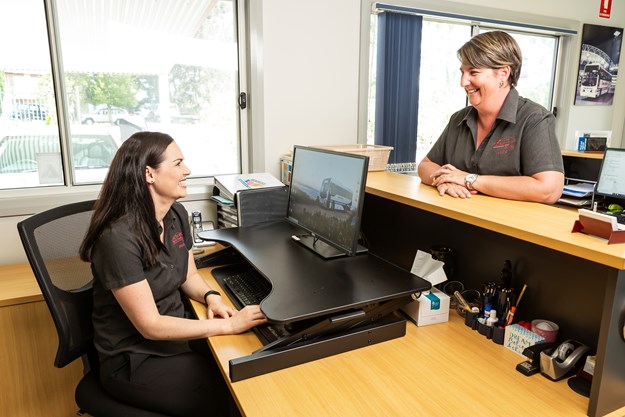 We look at a stunning Scania coach being used by leading French Rugby team Stade Toulousain (page 22) and check out the inaugural BusWorld South-east Asia show (page 63), which by all accounts was a huge success.
Also on the cards I had the pleasure – eventually (see above; ended up grabbing an Uber to the connecting train station at $22 then heading to the airport) – of attending the 2019 BusSA Conference (page 66) held at the Adelaide Convention Centre on May 18.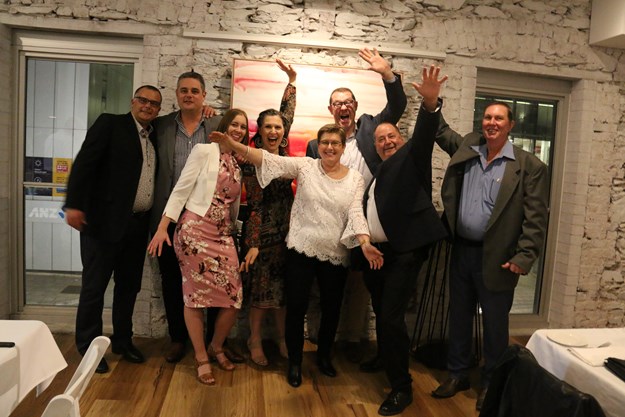 Got a really good insight into some great things going on, but also a clear snapshot of how bad things are from a regional bus support perspective. More government funds are needed to improve those services and smartphone ticketing technology throughout the system – so visiting tourists don't feel a bit too weird or inconvenienced when travelling through the beautiful city and lovely state of SA when coming from other parts of the country that have it.
And finally we check out a very cool Clipper bus gathering last Easter in Queensland (page 74), get chuffed at the industry given its thus far consistent bus delivery results (page 70), and then chow down in a funky-town art gallery come restaurant for the stylish BusSA Conference dinner event in this month's (page 78) pictorial.
Until the next thrilling instalment…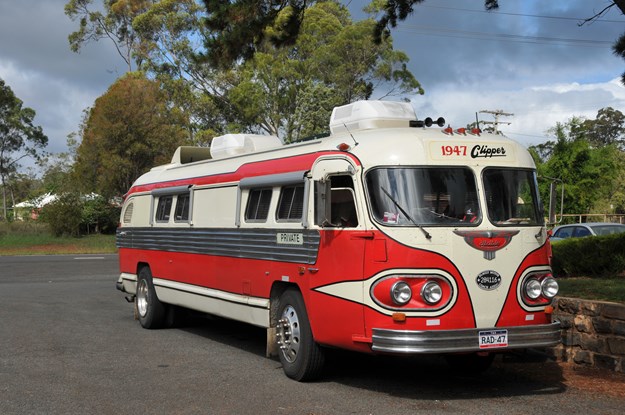 Subscribe to our newsletter
Sign up to receive the ABC e-newsletter, digital magazine and other offers we choose to share with you straight to your inbox
You can also follow our updates by liking us on Facebook.