ABC ISSUE 380 – OUT NOW!
---
Everyone's a critic. It's in our nature, our very DNA. It's the price we have to pay for seeing things differently to, you know … the muppets.
Puppets. Maybe they are just puppets whose strings are being pulled by their 'powers that be', doing as told and not up for bucking the system or entertaining rational thought. Not even that, I'd settle for common-sense, really. But I've gone with calling them muppets simply because the original Jim Henson TV show was awesome and it just, for some reason, sounds cooler.
What muppets am I speaking of? Well, I'm sure they are nice, 'normal' people at heart, but when it comes to public transport planning it just seems they come out of the woodwork. Trains that arrive/depart at a platform merely seconds apart and not really giving commuters the chance to change trains, or even those who put vending machines in the wrong spot so you have to walk the length of a platform for an overpriced chocolate bar. I mean really, who actually wants to do that? Kills the moment, I say.
Yet the real ones who get under the skin seem to be those that don't really listen to the public or bus operators in terms of what they need done to make the whole bus-journey–public-transport hop an enjoyable and reliable daily – or nightly (I'll get to that soon) event.
Nope, let's do this now...
If you've ever fallen asleep on a train coming home late at night and awoken five stops after your destination, you'll know what an issue it is to get home sometimes if there are no trains running at that time, in the other direction. Often it's okay because within the hour a lovely bus comes to save the day (night), such as the aptly named Nightride buses in Sydney. But that's if you can find the right one.
A friend of mine (no names needed) had such an experience. While we are all tucked away nice and cosy in bed getting a decent few hours' sleep so we can get up early and do housework, aerobics and plant a few new trees, this poor fellow ended up at Blacktown station circa 3.00am. As you do.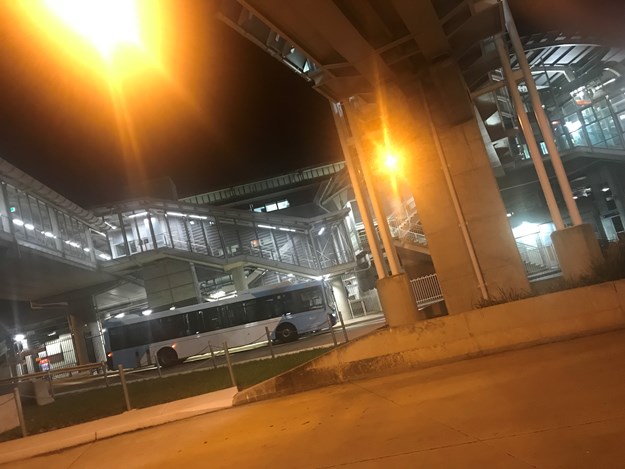 The beauty of it is it's not too bad a station, in terms of its integrated design of buses and trains. A true early model bus port, if you will. Yet with a near-dead smartphone and reliance on the tiny printed schedules at each stop - not great - you have to walk all the bloody way up and down the segregating fence system, when you'd rather just be able to stroll across over to each section to see which bus stop is yours. Or so they said.
Once at the stop, it's hard to read stuff … The print is too small… It's dark… My friend was probably hammered. I dunno, kids these days.
Anyway, I'm sure a trip planner government bureaucrat type could have anticipated this and had bigger printed timetable info or – get this, as it's 2019 – got some cheap touchscreens so people could enter a destination and it would tell you which bus you need and where to get it from. I appreciate these screens cost something, but come on! There's some bargains on Fleabay to be had – yet cost isn't really an issue if said station can afford TV SCREENS IN THE TOILETS!?!? Seriously, you can't make this stuff up.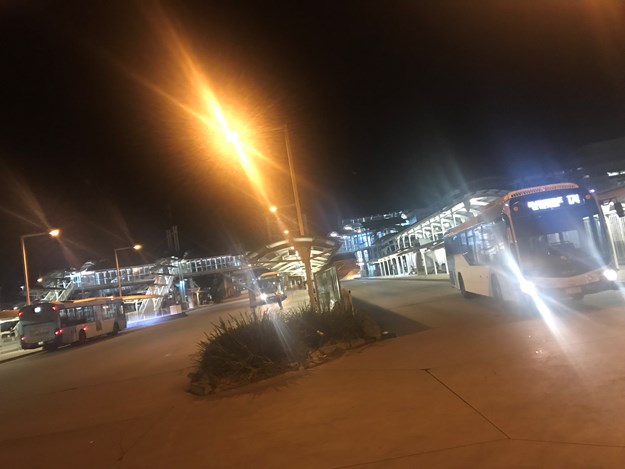 So my point is some muppet or muppets couldn't see the bigger picture – or chose not to – of how to make using public transport better. Taking a 'Number 2'? Obviously yes with the telly in there, but public transport? No chance!
Just me? Probably. I'm a bit weird like that. Or so I thought until I listened to another weirdo (said in a nice way) at a recent bus event that actually said ideal bus timetable and scheduling needed to take into account how long it took passengers to walk – per step, on average – from bus stops to train platforms, so we can calculate exactly when buses should arrive and leave. Whoah! That's mad. So it's not just me.
And the more you talk to bus people at events you realise there are more of us who feel like this. One chap at QBIC 2019 mentioned his company was fined for setting up a temporary tent for tourists to stop for shelter and a coffee or such, given that the route they legally had to take and the stops they had to make were not really near such facilities. And many passengers are elderly.
I often question if government department types are genuinely honest about really wanting more people to make use of public transport or not. And until then, they shall remain endearingly referred to as muppets.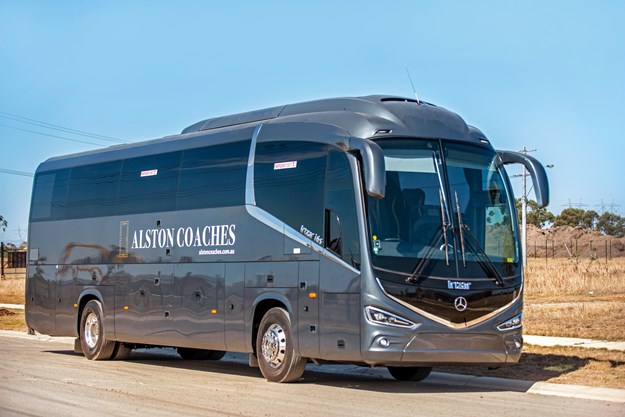 IT'S ALL HAPPENING
One for the Merc fans, on this issue's cover we have a sublime-looking and driving Irizar i6S 12.5m 3900 coach body on Mercedes-Benz two-axle OC 500RF chassis. It's just the latest in the Alston Buses and Coaches fleet additions, with a few more of this type of combo to come.
Next we head westwards to sunny Perth to visit bus builder and now fixer-upper-er Omnibus Services, which has some great specialist gear in the mining bus market, while it's also handling a lot of warranty work for other manufacturers.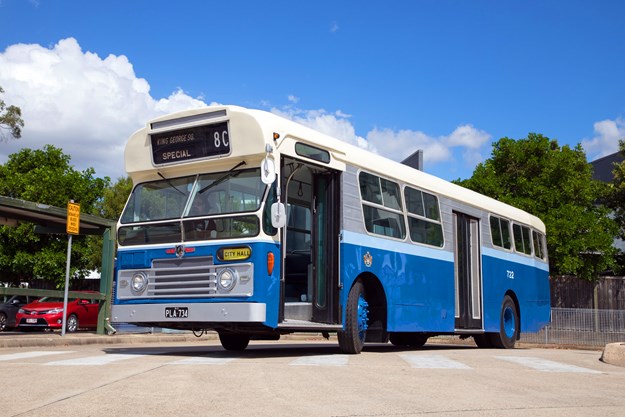 You retro bus fans will also love the lovingly restored 1969 Leyland Panther bus, which was recently unveiled in Brisbane to commemorate – I guess sadly, depending on how you see it – 50 years since the last Brisbane tram ran. Anyway, there's no hard feelings now, no WWE or cage fighting between bus and tram people, so good to see after all these years they've been able to settle their differences and hang out together in peace. Kidding... Sheesh! Check her out on page 42.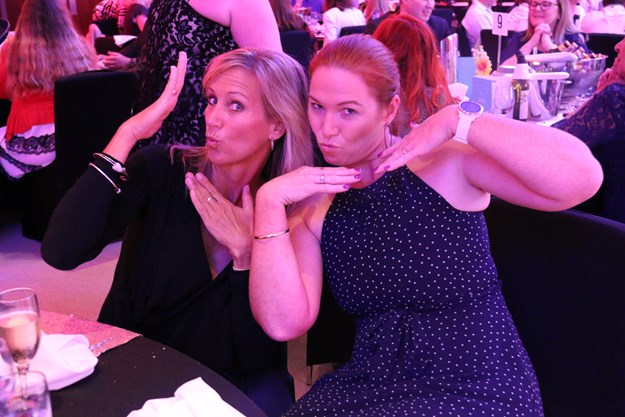 Events? You got it! QBIC 2019 rolled around this month so Team ABC (i.e., yours truly) headed up to sunny Townsville, Queensland, to partake in the conference and enjoy the odd tipple or three with fellow bus industry people. It's the start of the bus event season in Australia, so if you have ever thought about attending your state show or the national one then you'll be most welcomed into the fold. The QBIC report is on page 46.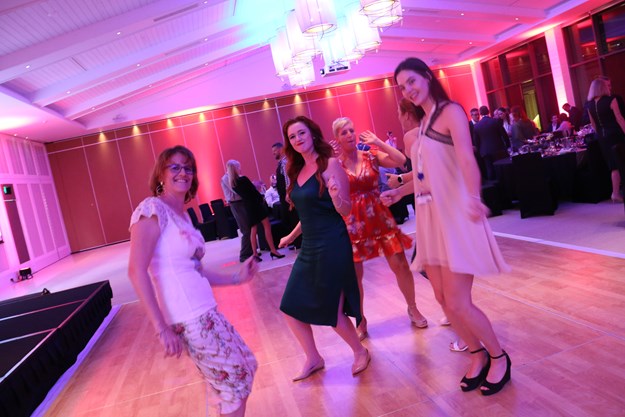 Our Guide this issue is on bus seating, so check it out and put your backsides at ease because we've you've got your bum comfort covered. We check out some industry leaders putting the best materials and cushioning under your raw hide each trip. That's on page 53.
And, of course, as per every issue of your favourite bus magazine, we have the latest bus delivery data (page 70) and massive pictorial section from QBIC (page 74) given popular demand. :)
Until the next thrilling instalment…
Subscribe to our newsletter
Sign up to receive the ABC e-newsletter, digital magazine and other offers we choose to share with you straight to your inbox
You can also follow our updates by liking us on Facebook.