SMOOTH OPERATOR - ALSTON COACHES
---
OPERATOR: Style and luxury is what Alston Coaches is all about and the Melbourne-based operator doesn't do things half-heartedly. A slew of brand new Irizar i6S soon with Mercedes-Benz chassis underneath will be icing on its cake.
The company may only be 12 years old, but its methodology for success is clear as day. Established by Fazlaan Farook, Alston Coaches specialises in the travel, school and corporate industry sector.
Having grown by more than 60 per cent over the past two years, the business has picked up new contracts and continues to attract attention for the right reasons.
Farook is simultaneously attempting to modernise the way Alston does business, having invested in five new Irizar i6S luxury coaches, which will arrive from Spain this year.
Quick to identify a niche in the market, Farook says customers are asking for more than just a plain, white bus.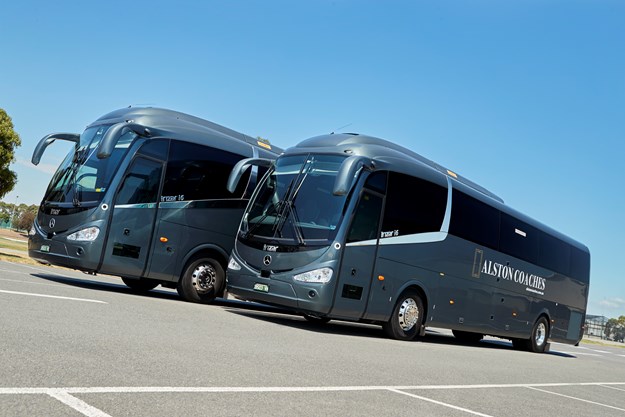 "We've seen growth as we're investing in these buses, we see a lot of potential out there," Farook said.
"Our main goal is we're looking for safe buses and we want to be different to others; we wanted luxury and innovation.
"There are not many luxury buses out there; people are looking for nice modern fleet and that's why we have leather seats to keep the buses clean and we have installed all buses with filters to keep people with allergies more comfortable."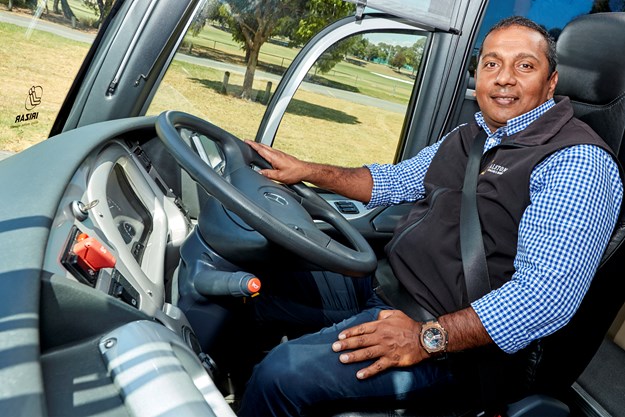 GAME CHANGER
Starting out with one 24-seater bus, Alston now has a fleet of 26 wearing the tri-pointed star Mercedes-Benz badge.
A company that prides itself on a five-star personalised service, Alston has just won two new school contracts set to change the course of its business.
"These schools are looking for safe buses; they wanted every bus to have seatbelts and cameras, of which our buses have," Farook said.
"My view has always been to look different to others; I didn't want to follow someone who's doing the same thing, I wanted to take a different approach to it."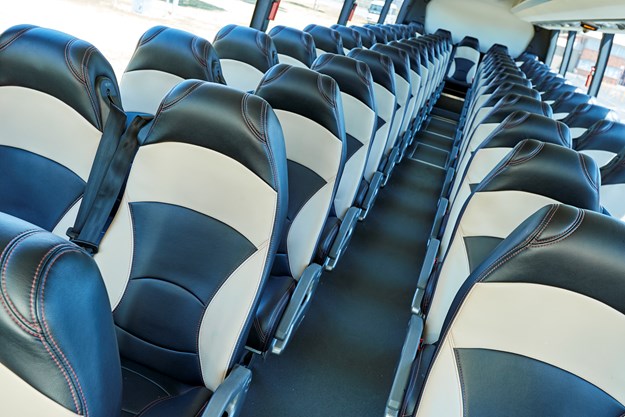 Alton Coaches services five schools, doing up to 500 runs a week. Taking over a school contract from a reputable bus company is proof that Farook and his young team are doing things right.
Despite having no industry knowledge prior to starting the company, Farook has learned the ropes doing things his own way.
"We've never had someone show us how to do things, it's all been self-taught," he said.
"We learn things every day and we take only good stuff, we try to get new ideas and implement those into the business and the modern fleet."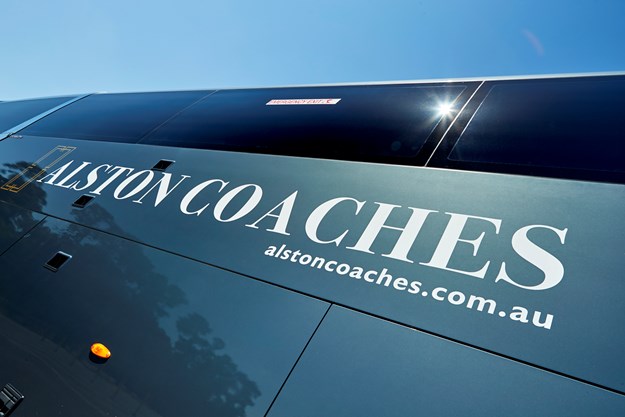 Motivation and passion for success is what drives him.
Farook, 44, is usually one of the few younger operators in the room when pitching for a job.
"Obviously we have to sell more of our product because we are younger; we tried to get a government contract a few months ago and all of the bus companies there had people in their 50s and 60s," he said.
"We're one of the youngest, so it changes the game; so far it's worked because they see we are doing things differently to others.
"Some of the market we don't do because we don't cut price. We provide a good service, luxury coaches and clean buses."
Being a small operator has its challenges, he added.
"It is hard because a lot of the big companies out there get government grants and incentives, whereas the small companies don't have any government grants, so we purely depend on our earnings.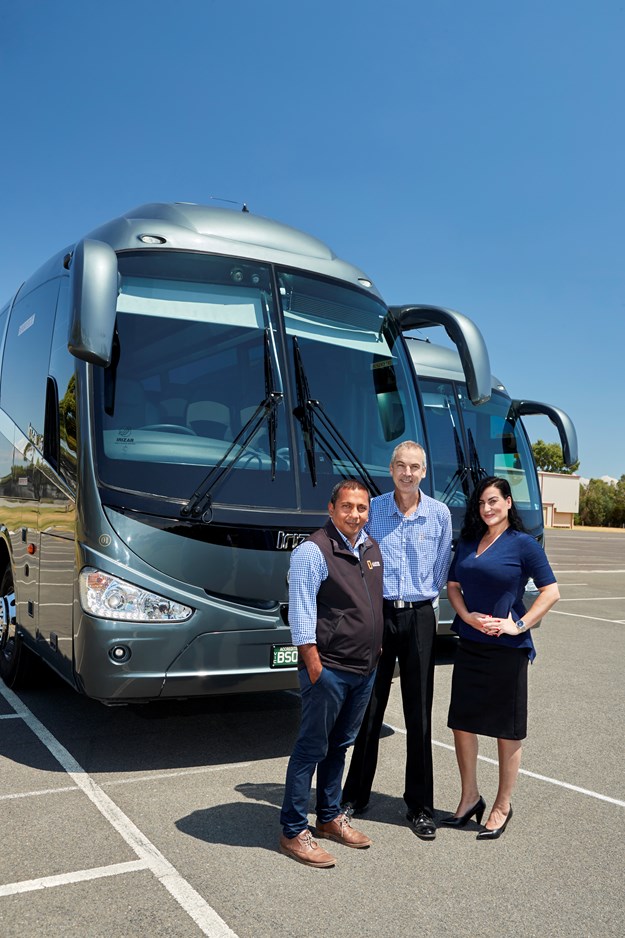 "We don't get any subsidies like the big companies out there who can keep their cost [lower]; we purely depend on our own money. Whatever we earn we pour it back into our own fleet."
Having migrated to Australia from Sri Lanka in 1994, Farook started the limousine company with one car – a Holden Caprice.
The fleet grew to six within three years, with the company still in operation.
"I always wanted to have my own business, I didn't want to work for someone else," he said.
The biggest hurdle he's encountered is competition.
"Being a new kid on the market, every time they see a new company approach they think we're not good enough, but once they use our services it's a matter of coming back to us – it's that initial stage of being a new company and people don't know who we are."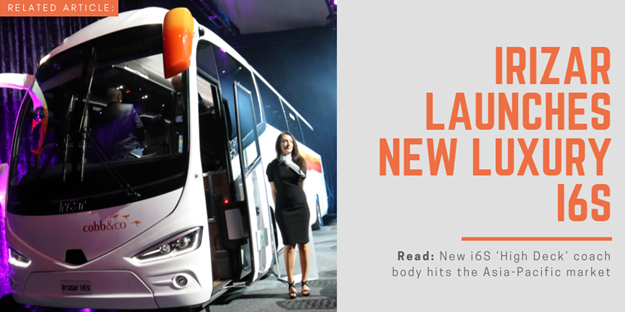 TALKING POINT
The past year has been a turning point for Alston; not only has it won some big contracts, but it's also attracted quality drivers.
"The whole culture has changed," Farook said.
"They all talk about us now; our competitors want to know how it is that we've been expanding so quickly.
"We hear that from our drivers – they ask how it is we can afford to buy these new buses, they talk about us, which is a compliment."
He's invested up to $400,000 into the new buses, saying one has to take a risk to succeed.
"If you take the right approach I think you can succeed in any business," Farook explained.
"There is a need for this industry as the population is growing, so you need transport and schools are getting bigger.
"Even tourism in Australia is on the increase. Our target is to have a business in a different approach – not just a normal bus company, but having new innovation and technology is the way forward."
With one mechanic on site, Alston says it upgrades the fleet every eight years.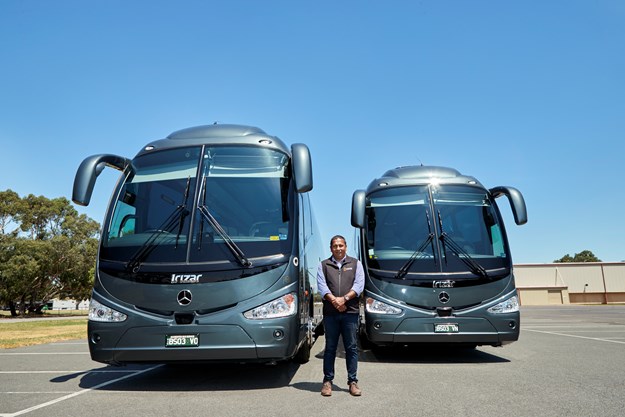 ABOUT ALSTON
Alston Coaches and Buses is a company experienced in delivering professional transportation to the travel, school and corporate industry in Melbourne. As a family owned company it prides itself on delivering personalised and reliable chauffer, charter coach services and tours. 
Alston says that its vision is to deliver five-star service, safety, comfort and friendly service at all times, with a focus on training its drivers to a high standard.
With customers ranging from large overseas inbound operators and business to sports/social clubs, hotels and private schools, Alston says that its management system is audited annually and considers risk areas such as: drug and alcohol policies; driver fatigue management; pre-trip vehicle safety checks; vehicle maintenance; driving safety practices. 
Alston's new Mercedes's Irizar Coaches have the highest innovative safety features technologies of any coach in the market, it says, and have been developed to assist the driver and avoid risky situations, and to minimise unlikely incidents. All buses are equipped with video surveillance; a five-camera CCTV with online streaming.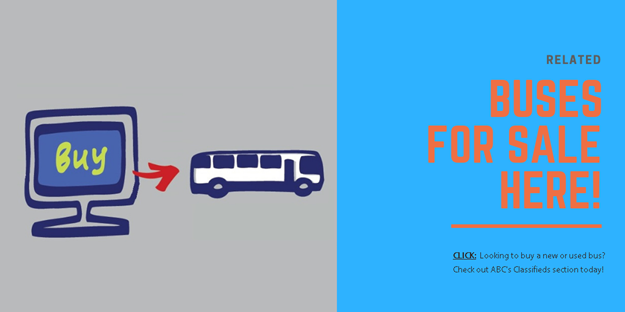 Subscribe to our newsletter
Sign up to receive the ABC e-newsletter, digital magazine and other offers we choose to share with you straight to your inbox
You can also follow our updates by liking us on Facebook.