NSW BUS SAFETY WEEK, 2019
---
Talking bus safety is serious business, so it's vital the message successfully gets across. 'Coffee with a Cop' brought a welcomed different spin on things to help it all sink in.
Key transport industry associates visited one of Busways' largest bus depots recently for the special networking event 'Coffee with a Cop', launching Bus Safety Week (February 18–24) as part of the NSW Police's Heavy Vehicle Safety initiative.
Talking bus safety at Busways' Penrith depot, senior Busways staff members hosted senior police officers and representatives from government and industry including Transport for NSW, RMS, Penrith Council, and the Transport Workers Union.
The key topic of conversation was local bus and heavy vehicle safety priorities on Penrith's roads.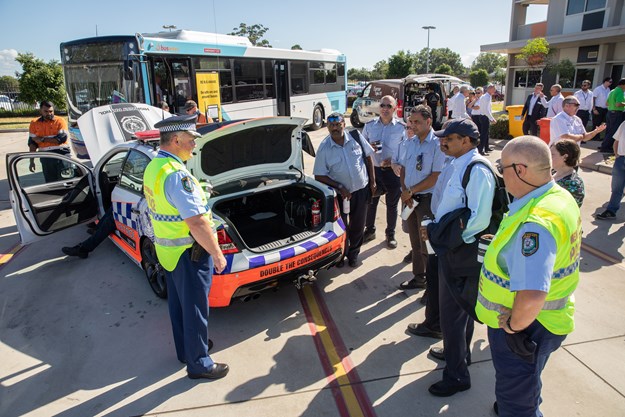 Coffee with a Cop is an initiative held every year to bring police and their local communities closer together. 
Busways' head of Operations David Collins said as an industry leader Busways embraced the opportunity to host this year's event to continue the important conversation around bus safety.
"Busways has a very close working relationship with the local police command as safety on buses encompasses everything from managing anti-social behaviour, safe driving practices, and fleet road-worthiness.
"The event provides police officers, guests and Busways' frontline staff with a forum to share thoughts on heavy vehicle road safety in the Penrith LGA and work towards a common goal of ensuring bus safety at all times on our roads," Collins said.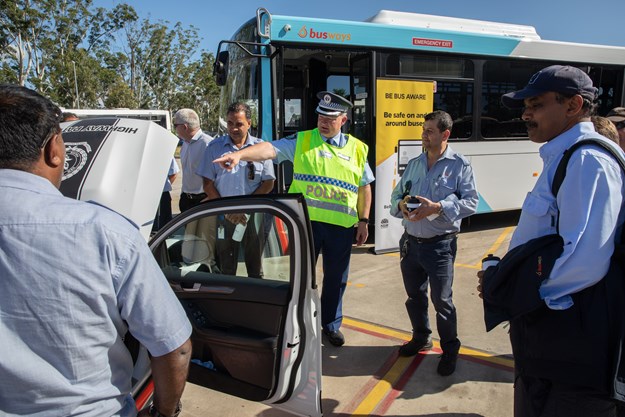 ENSURING SAFE TRAVEL
Chief Inspector Phillip Brooks, from the Traffic and Highway Patrol Command, said he appreciated having the opportunity to say thank you to local Penrith transport operator Busways.
"Coffee with a Cop is primarily about engaging with community members, but in this case it's our way of engaging with our local transport operator Busways. In many ways, this event is a way of saying thank you for the important work they do," he said. 
"It's an opportunity to let Busways staff know that we appreciate them keeping passengers safe on our roads.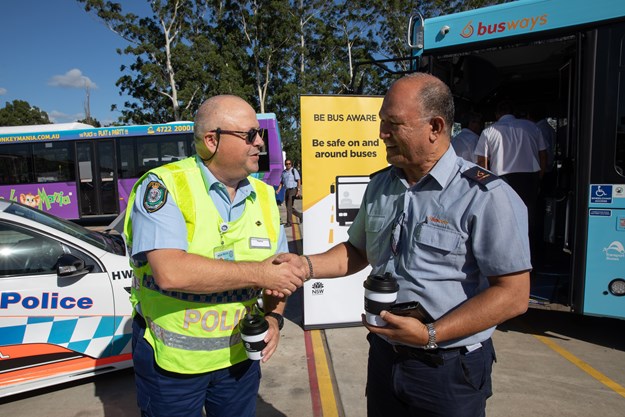 "Safety is about leadership and we want people to be safe on NSW roads, whether they're driving cars, trucks or buses – we want people to be safe out there and it's an enormous feat for us to get that message across."
"There's a big focus on ensuring the public are aware of heavy vehicles such as buses and that they're safe in and around them, so we hope this event helps in getting that message across.
"Busways is the first bus company that has approached us to hold a Coffee with a Cop event. It's a great opportunity for us as police officers to say thank you for all the hard work you do in ensuring the safe travel of members of our public."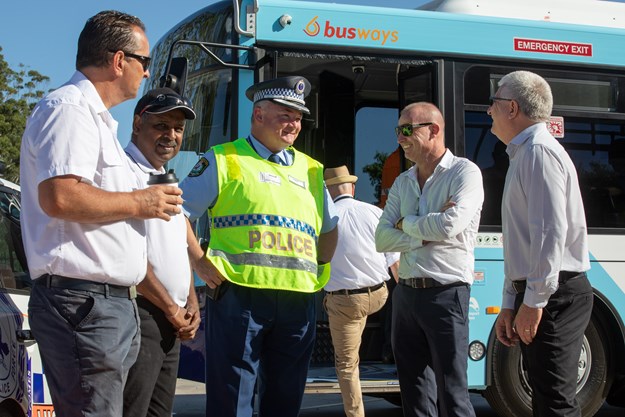 PREVENTING ACCIDENTS
Jason Breton, Busways' director Client Outcomes, said: "The police and bus operators, such as Busways, are the pointy end of public transport safety for the NSW public – not only the people we carry each day, but the people that interact with our services at any moment.
"Busways is happy to be a contributor to bus safety and events such as Coffee with a Cop really help us in getting our message of bus safety across to people.
"Working with the police day in and day out to prevent accidents occurring on our roads is very important to us as a public transport operator.
"We're thankful that our relationship with the police is a strong one so we can work together to enforce the safety rules and regulations around buses to ensure everyone recognises how imperative bus safety is."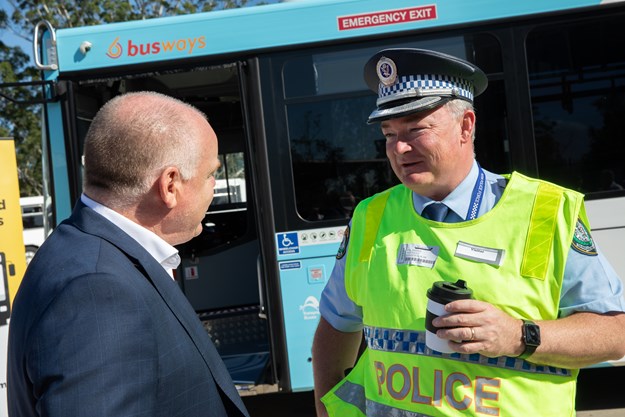 VEHICLE SPECIFICATIONS
Chris Wolf, Busways' Asset manager added: "The bus industry has changed drastically over the last 20 years or so. At that time the key focus was just to keep the buses on our roads. That caused more incidents than what you see today.
"Asset management of the fleet has changed for the better. We have more processes, procedures and measures in place to deal with the maintenance of the fleet than ever before.
"These are preventative measures to ensure we don't encounter any incidents. Our main focus is working with entities such as Transport for NSW and BusNSW to improve vehicle specifications around safety.
"We're on a good path to having one of the best fleets in the state – we're well-respected as a safe public transport operator.
"It's great that events such as Coffee with a Cop can bring key personnel together to get the message out there about the importance of bus safety," he said.
MORE INFO
For more information on bus safety or to learn about Transport for NSW's "Be Bus Aware" campaign, visit: https://roadsafety.transport.nsw.gov.au/campaigns/be-bus-aware/index.html
Subscribe to our newsletter
Sign up to receive the ABC e-newsletter, digital magazine and other offers we choose to share with you straight to your inbox
You can also follow our updates by liking us on Facebook.