BUS FIRE REPORT SHINES SPOTLIGHT ON BRAKES, WHEEL WELLS
---
FIFTY SIX PER CENT of bus fire and thermal incidents originated in the wheel wells, while bus drivers were the first to either "see or smell smoke or see flames" on 74 per cent of all documented cases, according to a 2018 bus safety report released recently.
Also of note in the sixth annual NSW Office of Transport Safety Investigations (OTSI) Bus Safety Report is the first documenting of a fire or thermal incident on an electric / battery bus in that state, with again the driver's role key in them noticing, "…it was lacking in performance and said that it also had a drive-line system alarm on the dash."
The reason was determined to be that one of the main three-phase power cables to the traction motors had a high resistance connection and burnt the cable terminal and cable insulation, thus losing power supply to one phase of the traction motors, the report states.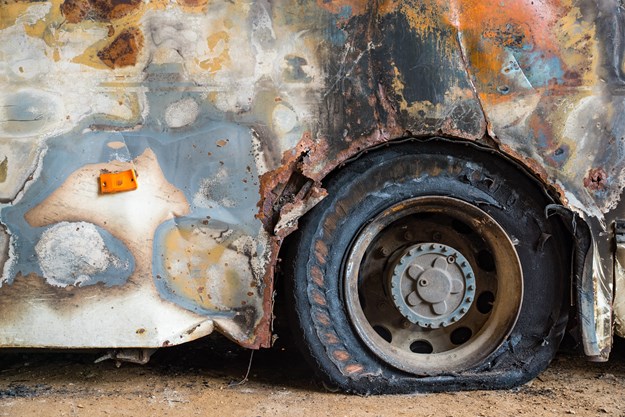 KEY HIGHLIGHTS
There were 101 bus fire and thermal incidents reported to OTSI in 2018, which represented a 12 per cent increase from 2017.
The report notes there was a significant decrease of 33 per cent in fire incidents, from 21 fire incidents in 2017 to 14 fire incidents in 2018. There was a decrease in severity of damage to vehicles, with three vehicles destroyed in 2018 compared to five in 2017.
Despite the increase in reported incidents, there were no injuries reported.
It stated: "There is a continuing increase in the number of brake-related thermal incidents. While it is likely a result of increased reporting, these incidents should not be ignored as 4 per cent of these wheel well incidents led to actual fires."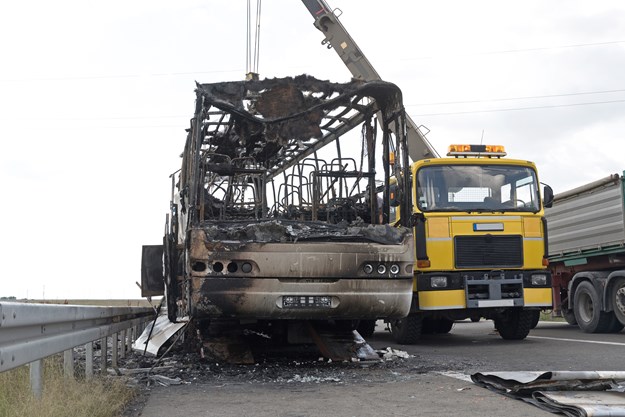 In terms of the cause of the wheel-well incidents, 97 per cent were a result of brake issues, which were separated into the following categories: faulty brake calliper (34), faulty brake booster (10), dragging drum brake (4), leaking oil onto brakes (2) and miscellaneous (7).
The engine bay had 33 per cent and the body had 11 per cent of reported incidents.
"All NSW buses under TfNSW contract are now fitted with engine bay fire suppression systems.
"All future buses supplied under these contracts will be delivered with engine bay bus fire suppression systems.
"TfNSW, in consultation with all major stakeholders, have initiated a wide range of actions to reduce bus fire risk."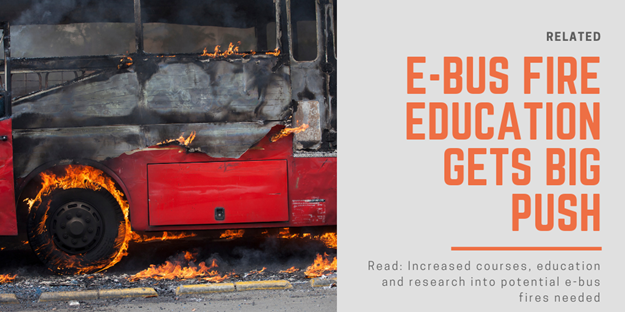 EXTINGUISHER LOCATIONS FLAWED?
In 2018, there were two investigations by OTSI where buses were destroyed by fire. During the course of the investigations it was discovered that the on-board fire extinguishers had been stowed in the engine bay, as per the original vehicle design.
In both instances the extinguishers were not removed from their mounting bracket and were destroyed due to the fires commencing within the engine bay. The drivers determined it to be unsafe to attempt to open the engine hatch and gain access to the extinguishers.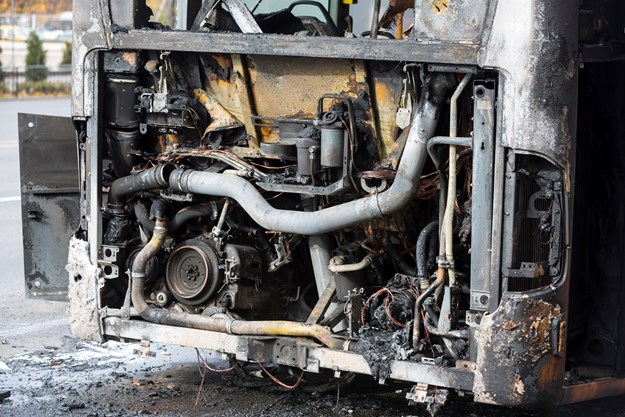 The OTSI report recommends consideration should be given for bus body manufacturers to locate the extinguishers in a readily accessible location in compliance with applicable standards, but not within the confines of the engine bay area.
During another investigation into a coach destroyed by fire, it was noticed that the company operator had – smartly by their own volition - installed portals in the exterior doors of the engine bay to allow fire extinguishers to be discharged into the engine bay area without the need to open the hatch. This allowed the extinguisher material to be, "…forced into the seat of the fire without allowing additional oxygen to feed the fire."
"This feature should also be given consideration to be included in the build specification for buses and coaches utilised within NSW."
AGE OF BUSES
The ages of the buses involved ranged from almost new to 25 years old. The majority of incidents involved buses between 5 and 11 years old. An analysis of bus fleets in previous years showed that this age range makes up the majority of fleets. Ten different makes of bus were involved and no make or model trends were identified.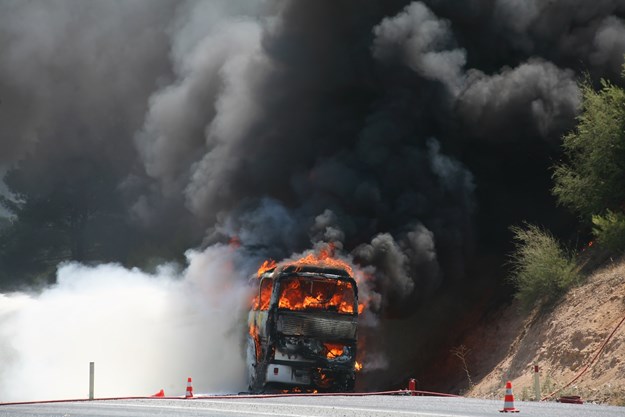 ENGINE BAY FIRE SUPPRESSION (EBFS)
In 2018, of the 101 incidents reported to OTSI, a total of 92 buses had an EBFS system fitted. An activation of the EBFS system was recorded for seven incidents. Of the three buses destroyed in 2018, only one was fitted with EBFS. Of the remaining, one sustained major damage and three sustained minor damage.
In December 2018, OTSI requested operators provide information about the success of the EBFS. Out of 19 operators contacted, 13 provided a response regarding the number of systems installed and the number of activations. The 13 operators reported having a total of 3442 buses fitted with EBFS. They reported a total of 15 activations, which is 27 less than the previous year. Eight of the activations occurred due to system faults and the remaining seven were attributed to thermal – fire incidences.
TYRE MONITORING SYSTEMS (TMS)
As the report states, many bus operators now have tyre monitoring systems fitted . A large number were fitted as part of the EBFS system installation and are now fitted as standard equipment on all TfNSW contract buses.
These systems continuously monitor tyre pressure and temperature data, which is transmitted from wireless, valve-stem mounted tyre sensors. A dash-mounted screen provides a visual and audible alert for rapid deflation, under inflation, high pressure and excessive heat conditions.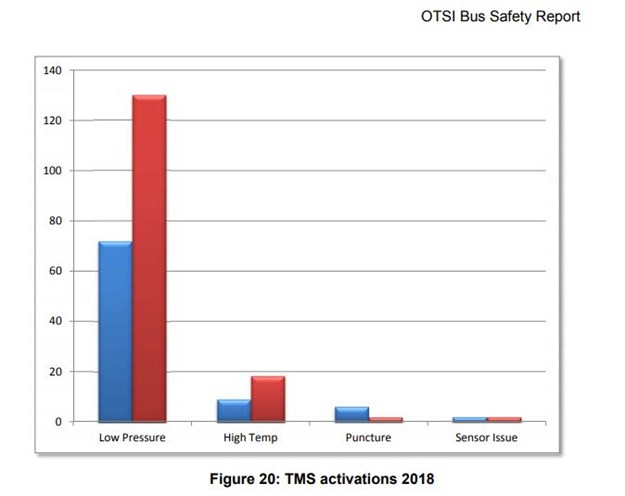 OTSI requested operators to provide information about the success of the tyre pressure monitoring systems. Out of 19 operators contacted, 13 provided a response regarding the number of systems installed and the number of activations.
The 19 operators reported having a total of 1211 buses fitted with TMS. The numbers of the activations are illustrated in the graph shown. It should be noted that this number does not reflect all activations, as many operators did not keep records of activation numbers, the report confirms. It is hoped that improved record keeping by operators will make the data more comprehensive in future years, it states.
ABOUT OTSI
The Office of Transport Safety Investigations (OTSI) is an independent NSW agency whose purpose is to improve transport safety through the investigation of incidents and accidents in the rail, bus and ferry industries.
OTSI investigations are independent of regulatory, operator or other external entities. Established on 1 January 2004 by the Transport Administration Act 1988 (NSW), and confirmed by amending legislation as an independent statutory office on 1 July 2005, OTSI is responsible for determining the contributing factors of accidents and to make recommendations for the implementation of remedial safety action to prevent recurrence.
Importantly, however, OTSI does not confine itself to the consideration of just those matters that contributed to a particular accident; it also seeks to identify any transport safety matters which, if left unaddressed, might contribute to other accidents, it states.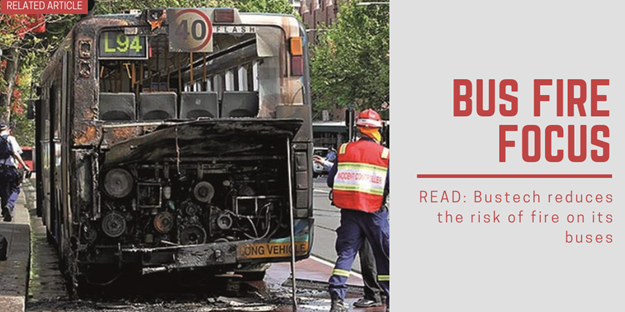 Subscribe to our newsletter
Sign up to receive the ABC e-newsletter, digital magazine and other offers we choose to share with you straight to your inbox
You can also follow our updates by liking us on Facebook.