TAKING CARE OF BUSINESS - CUSTOM
---
PROFILE: IF YOU THOUGHT the phoenix rising from the ashes was impressive, Custom (Bus) coming back from the dead yet again makes it one tough budgerigar, for sure. ABC magazine headed out to its new location in Sydney's west to hear more about the fairy tale – and sus out the feathers.
Well, few would have picked this one. But, then again, in the Australasian bus world it's quite fair to say that crazy, unforeseen things can and often do happen. And, truth be told, that's probably a large part of the beauty of it.
With the Dunn Group – of Telfords Bus & Coach fame – buying Custom (nee: Custom Coaches, nee: Custom Bus) from administrator Worrell's earlier this year, its place as an iconic, historic and 'much loved by many' local body builder is pretty much the bus manufacturing industry feel-good story of the year. Or quite possibly of the decade.
Too much of a stretch? Perhaps – but it all depends on where you sit. If you are an outside observer just happy to see the brand name still exist? Maybe it's a big stretch. One of the workers who was out of a job as a consequence of it going into administration a second time? Well, it'd be a 'big frothy bubble bath with an ice-cool lager and a packet of Tim Tams to the side'-type feel-good story, for sure.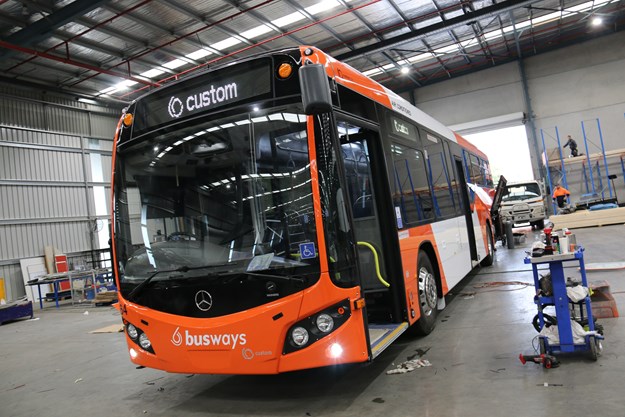 We headed out to its new location in St Mary's (18-30 Vallance Street, St Marys, NSW, to be exact) to sus it all out and came away mightily impressed. New streamlined processes, a faster bus-building turnaround time, ambitious apprenticeship scheme to come, plus a keen interest to tender for the lucrative Brisbane Metro Project – a AUD$944 million project using high-capacity, high-frequency articulated 'vehicles' – means it's still Custom indeed – but not as many would know it.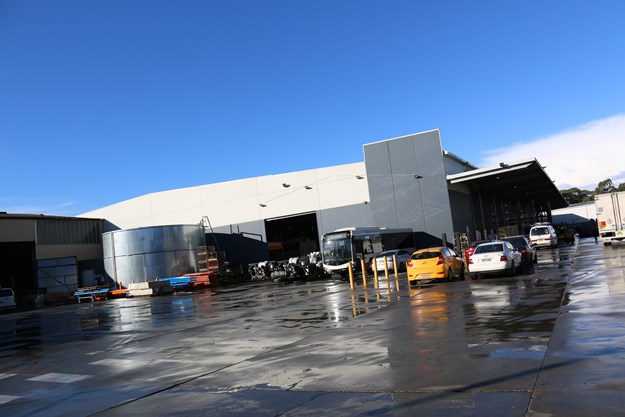 NEW HOME SWEET HOME
The new-look Custom's western Sydney location was specifically chosen to ensure the success of an impending apprenticeship scheme, with 20 due to start their trades education within the next few months, says Custom Bus CEO Scott Dunn.
In what will be a boon for not just the local economy but the greater Sydney region and Australian manufacturing, the ambitious apprenticeship scheme intends to mirror a past pattern of Custom employee retention, future job security and or apprentice 'return' – as has occurred since The Dunn Group bought the remnants of the previous Custom iteration.
"I purchased the business…We had three weeks to move off site and find a new one. So we purchased the business, found a site, moved the business within three weeks … Whatever we left [at Villawood] after three weeks we lost," explained Dunn to ABC magazine, exclusively at the time.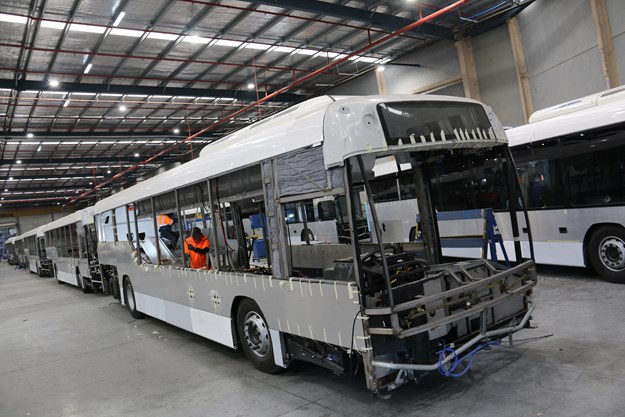 "I started with nothing, so I was going to make sure I grabbed everything," he explained, cheekily, at a time when there was no new site to move things to.
"I had been looking around for one, but I didn't have one at the time. I [knew I] wanted to move it west Sydney, so we can attract the labour – it's better so we can start apprenticeships.
"The idea is, in the next few months, we'll have 20 new apprentices start with the business and bring them up through Custom. And that's really important for the future of this business," Dunn said.
"So, for example, our head of operations, who runs all the production, started as a young apprentice many years ago at Custom. And he's in his late 30s now, but 20 years ago he was an apprentice. And that's the future now. We've got a lot of good people in here that started like that. And worked at Custom for a long time.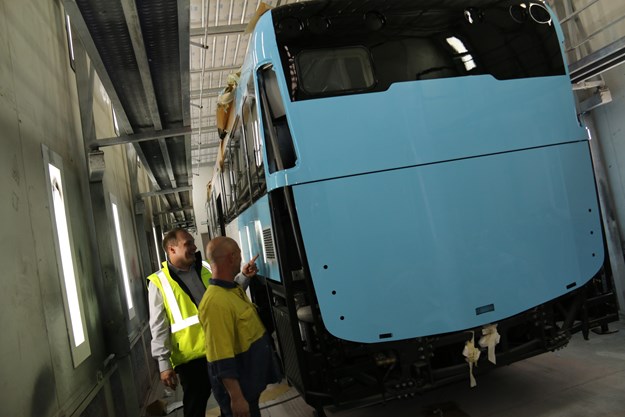 He added: "A lot of Australian operators are really pleased that we are still building buses in Sydney. We've got to make sure that we stay competitive, that we give a good service, and do a better job than anyone else can do."
Currently, about 120 people are working at the new Custom Bus entity. Its trading name is Custom Bus, but company name is now Custom Bus Group Pty Ltd, with a new ABN.
Dunn says he bought all the IP and the trading names and all the assets from the administrators [Worrells].

DOING IT RIGHT
"Once we get the apprentices in we'll have some young workers here. We have none presently, but I want to get the system going, get it all organised, and then we will have a big influx, he said.
"We'll start with having 20 this year, but we don't want to set them on until we have everything arranged. We have to set them up right. We have to have the right processes and do things for them properly," explained Dunn, who was himself an apprentice mechanic in the UK when aged 16.
"This year really is about getting things back going, which we've achieved. We are delivering vehicles.
"The next year is to really redefine Custom, and I mean that by new products, a new image, good support, and addressing … bad parts before - such as [not] delivering vehicles on time, and support was poor.
"So it's about re-positioning our business in the next 12 months, really. Get in some new products, make them lighter, more cost efficient to build, [use] quicker build processes, and new machinery which is going to help us streamline a lot of it…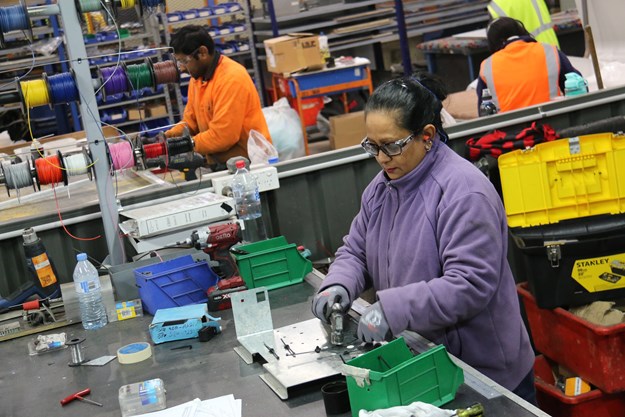 "The business can definitely expand at this physical premises. We could build 500 units a year out of this factory. Quite easily. We're a certainty for three lines. We are only really running one line at the moment properly."
"We are creating and keeping people's jobs, giving needed skills to apprentices – and this is a good part of Sydney to do that," he explained.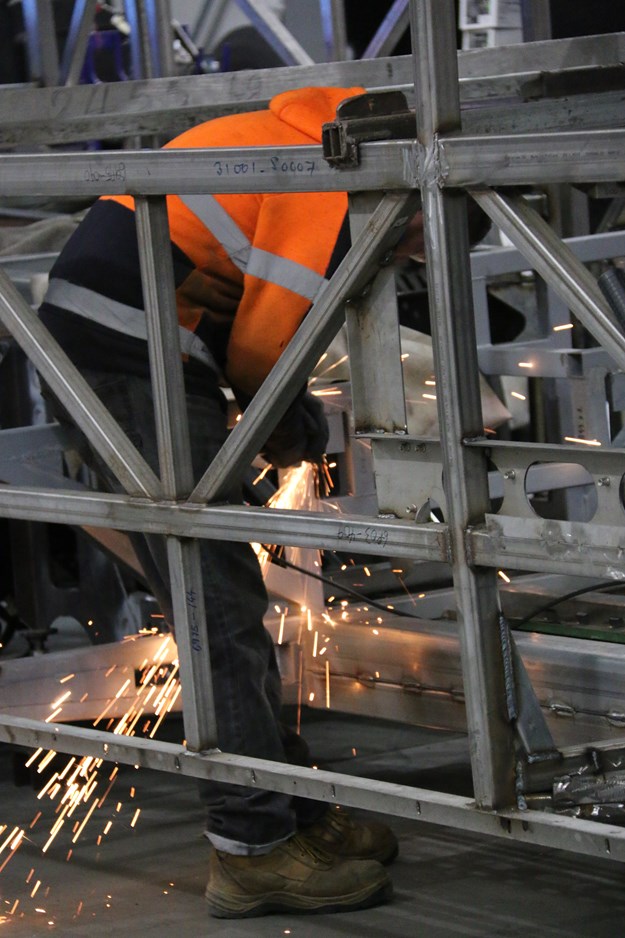 A CASE IN POINT
Robert Lanteri – who was at Scania and is now NSW sales manager – started his apprenticeship at Custom.
"I started in 1997. I was a bit surprised to hear Custom had been bought again because, like everyone, I thought it was done and dusted. It's good to see it come back up and rise again.
"It is an industry which I think we can still play well in in Australia. It is a required industry, with all the public transport," Lanteri said.
"It's good to see it all up and running again. I believe in our product, I believe the quality is really good. So back to the big three, if you like: Volgren, Bustech and Custom. It is a healthy battleground. It's exciting times ahead.
"We want to keep a manufacturer in Sydney, in Western Sydney, so there's jobs for Sydney – and Custom is part of the bus history [here], so to be able to continue is great. And the exciting thing for me is that it has gone back into a family business, so that has lots of advantages for the bus industry with it going back into family hands.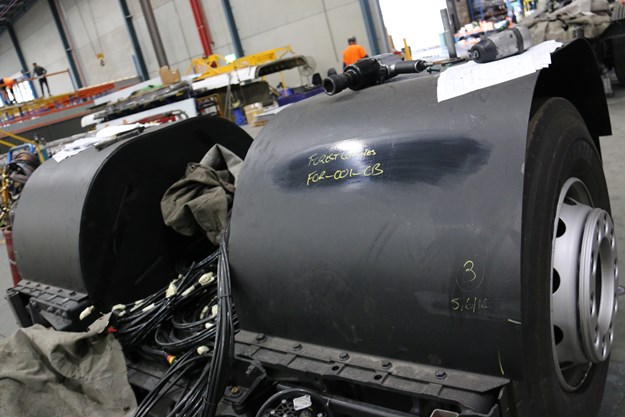 "Scania was a great place to work at, but this was just something that I couldn't say no to. To come back to your grassroots is really special.
"Yesterday, I asked a few of the boys here what's it like and they said 'yeah, look – the vibe and the culture here is just fantastic'.
"I mean, here's Eduardo Recchi; we started out as apprentices on the production line years ago [at Custom] and here we are working together just a partition away from each other.
"Billy May was also at Custom when I was there. I'm starting to feel my age, mate. I say 'gee, they've been here for a long time, but then I've got to point the finger back at me," he laughed.
And another, Chris Park also worked at Custom for almost 20 years and is now head of engineering, says Dunn.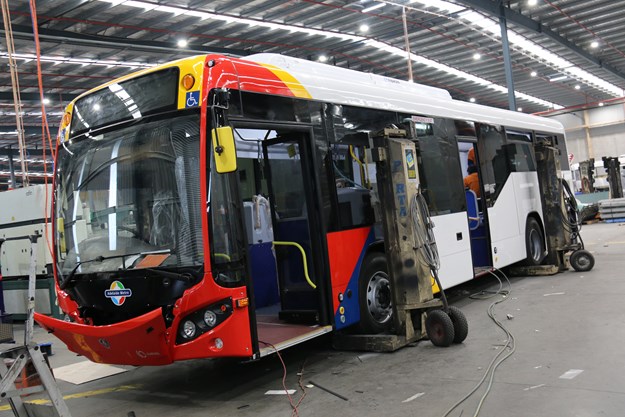 THE BIG MOVE
"So we moved all the warehouse in, that was the first job. We moved all the materials in, which was a big job on its own. It was all vacant, so there was nothing on site – not a piece of racking shelf, no crane, no booths, nothing. It was an empty timber shed. But it was a good site to move to," Dunn explained.
"We brought the big crane. We got engineers in, made the posts. Could you imagine this site had no electrics, no air (pressurised), nothing? All the electric three-face, all the gas welding – it's all had to be done in the last 11 weeks. And now we are building buses in Sydney. I think it's amazing.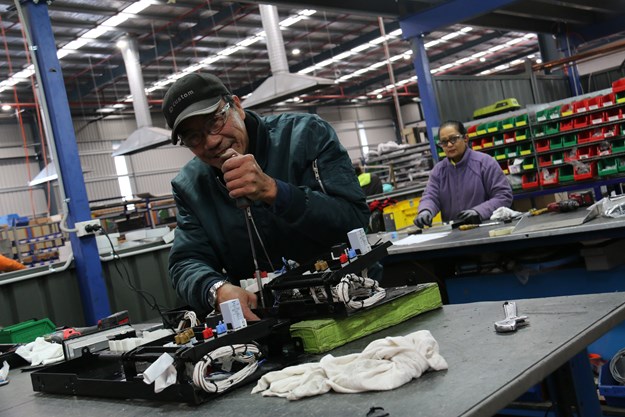 "It's gone from timber to steel. So we moved $8 million worth of parts and materials for the production line in that first three weeks. We moved 23 part-built vehicles and we moved all the equipment and assets.
"Seventy-five per cent of the original people came over.
Some resigned from their jobs before, so we brought some new people in.
"And look, everyone's busy because they know exactly what to do. And they look happy because they have jobs. If I hadn't have done this these guys, they'd all be out of work and this brand would have died," Dunn said.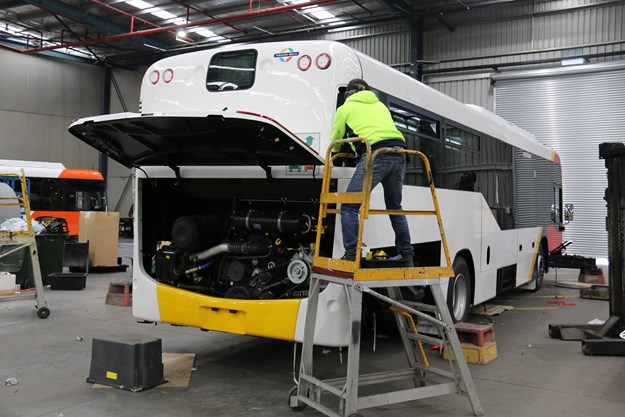 STREAMLINED PROCESSES
"Basically, the chassis comes in, we split the chassis, then build the frame for the chassis.
"On the right-hand side [of the factory] here we build the roof frames and the roofs and we put them together on here.
"And then we lift it on with a crane [a massive unit brought from Villawood] to create what you see there [a full bus frame and body].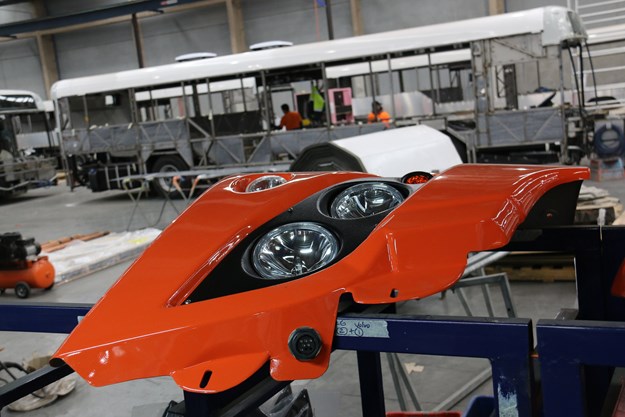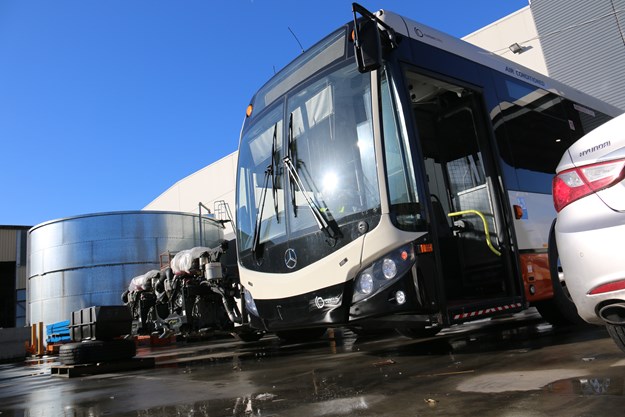 "So each stage takes two days, 10 stages and that's 20 days to build a bus – and that's what we are down to now. And this is the new mentality of Custom," Dunn said, proudly.
"Before it was a lot longer, like two or three months…
"They needed this change, it's a drastic change now. A change of mentality, a change of leadership. It needs it, it needs it … it needs it," Dunn said, passionately.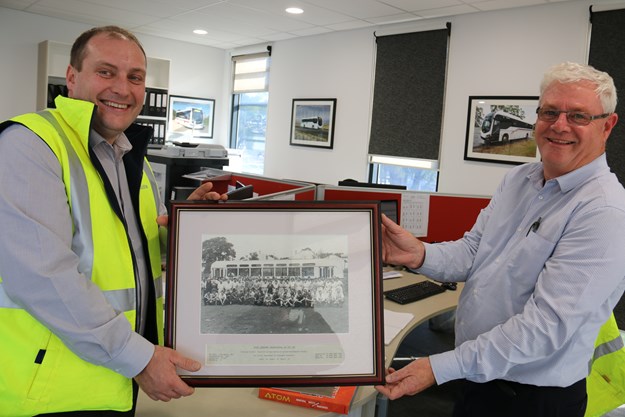 NOT DUNN YET
UK-origin The Dunn Group is the owner of Telfords Bus & Coach in Australia – a leading bus and coach charter company supplying transportation since 1978.
According to the Telfords website, in 2009 Scott Dunn founded The Dunn Group and started operating under the brand of yourbus in Nottingham, England.
The operation started with seven second-hand buses, but the focus was always on differentiation of services through delivering high-quality bus services, it states.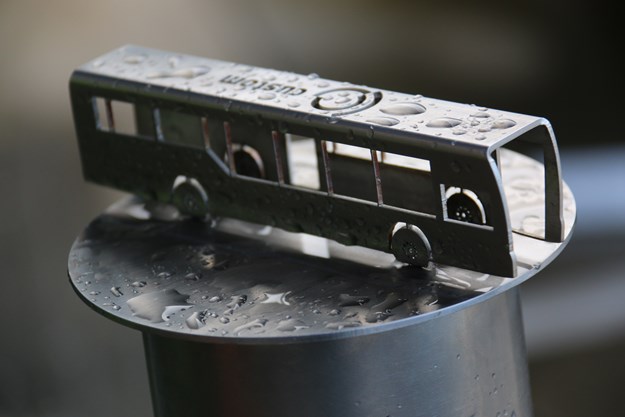 The UK operation grew to more than 140 buses by 2013 operating on a mixture of local bus routes throughout Derbyshire and Nottinghamshire and Express coach services all over the UK.
On 14 May, 2014, The Dunn Group expanded into the Australian school and charter market with the acquisition of Telford Bus & Coach.
Since the acquisition, the fleet has grown from 67 to 98 buses and various new contracts have been obtained, the company states.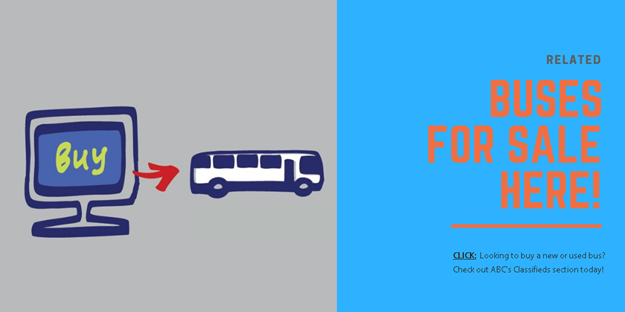 Subscribe to our newsletter
Sign up to receive the ABC e-newsletter, digital magazine and other offers we choose to share with you straight to your inbox
You can also follow our updates by liking us on Facebook.