ABC ISSUE 376 – OUT NOW!
---
What if the getting more people to use buses and trains is only partly reliant on cool new product and tech? What if it's the way actual travel information is delivered that's at fault?
I was so excited. Out of all the work-related shows and events I get to go to around the place, for once I had one in my own backyard – and that meant public transport was on offer. Giddy up!
BusNSW was kind enough to invite me to their end-of-year Christmas drinks function of sorts, where they would also be announcing the 2018 Bus Driver of Year awards. The beauty of it was it was being held at the BusNSW headquarters in Parramatta, so that was merely a hop, skip and half a jump away for me.
Why not drive? Safety first, of course, but for me my excuse was slightly more pragmatic yet equally as responsible – the old V8 Audi A6 was just out of rego and thus having a well-earned kip in the garage at home. Indeed, it was a perfect storm that put public transport into the limelight. Not too far; how bad could it be?
YOU'RE KIDDING ME, AREN'T YOU?
As is often the case, I was on deadline for something or other that day, so with a 3.00pm start at BusNSW I left my joint merely 5.6km away in the old money, or just three stops away in train speak. Beautiful.
I can't over-emphasise enough just how short three stops is, regardless of how long it is between trains to arrive during that part of the afternoon. The 14.26 train got me to Parra (yeah … I'm an Eels supporter :( ) at 14.34, according to a transport app thingy  – plenty of time for my little chicken legs to get me to 27 Villiers St, (North-ish) Parramatta, particularly if I'm in proper Forrest Gump mode.
But wait, there's more! I recalled, using my masterful Dr Spock-like brain, that Parramatta had a free city shuttle bus service especially for such occasions, one would assume. As I had never used it – nor was sure if it still ran – I was up for the challenge. For once public transport would be my saviour for this simple task. Or so I'd hoped.
The train? On time! A marvellous start, a lovely Bradman-esque square cut to the boundary, if I may say so myself. Waddling off down the Parramatta Station platform escalators, Opal card swiped to exit, what was next? Where's this bus?
INSPECTOR GADGET
With time ticking I was keen to find this free shuttle bus. I could see on my phone's map that all the stops along the route are north of the station, with a bit of a schlep needed to get to the closest one. This wasn't great as once I'm schlepping, I may as well schlep all the way.
No, this was not right. I'm at Parramatta Railway Station. This is technically the second oldest city in Australia, founded the same year as Sydney in 1788. There is massive redevelopment happening through this expanding city and population is exploding. Surely it would make sense to have a shuttle stop near or at the main train station that would go north, or even head to the smaller, albeit equally important, south part as well?
Amongst the madding crowd, I looked everywhere for an information booth or sign. The experiment was flawed if I asked someone for help – at this stage – because surely the way we communicate travel information to tourists or even uninitiated locals in a hurry is the key to how a public transport system needs to function.
And apps and phones aside, I believe it needs to planned to function equally effectively without those aids, as fast and as clearly as possible.
Yeah, right. It took me ages to find the information board tucked away to the side and out of sight near the ticket turnstiles. And I only found it having walked out of the station, spoken to some bus drivers at street level, raced across a busy road to the other bus stops as they thought the free shuttle stop was there with the other buses  – it's not their job to know – then realising no good, I headed back into the station. Face-palm!
My point is this. Supreme public transport planning needs to function around one very important principle:  the 'dopey principle'.
Dopey people such as myself need clearly visible signs and directions at transport hubs and stops, so that we have the best chance of working out our connecting buses, trains, flights, ferries, spaceships – whatever! And you can't assume people have oodles of time to go look for such information. Make a foolproof system non-reliant on phones first then mimic that mindset electronically via app development.
Our cities are constantly changing and growing and attracting more tourists and travellers – and how we disseminate our public transport information at ground level needs to adapt to that, too.
Ultimately, and disappointingly, I ended up walking to the BusNSW function, arriving about 10 minutes late. Guys, my apologies. P.S. Great food, by the way!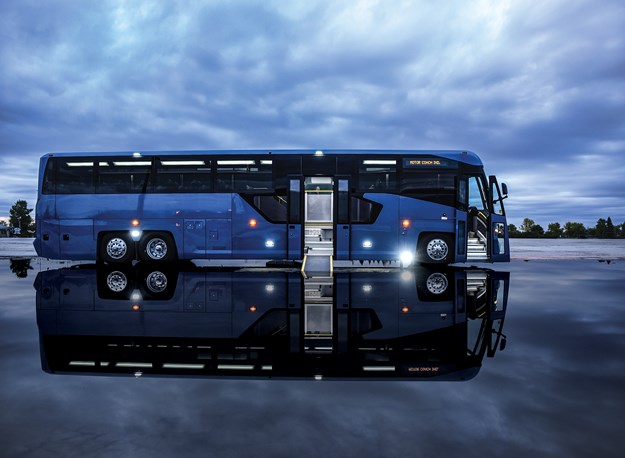 BRING ON 2019!
This is our last issue for the year and we are excited by how 2019 is shaping up on the bus calendar. All the state events promise to be amazing from what I've heard and, of course, the big one is BusVic's gig on October 1-2.
As for the magazine, we have some pretty cool things coming up I can't mention right now, but at this point I do want to thank all of our ABC readers of our printed magazine and our online site www.busnews.com.au for making this a very successful year. Without your feedback and positive support we couldn't do it without you.
Inside this issue we do things a little differently yet again. We rarely do anything North American, but the unique design of the MCI D45 CRT LE saw it thoroughly deserve our cover spot. Check out the amazing mid-entry vestibule area for greater mobility-device access!
We sent our video review people out to test a very special bus this month – a very cool retro Volvo-Volgren B58 articulated bus that's running around The Shire of NSW. She looks as gorgeous now as she did back in the '80s.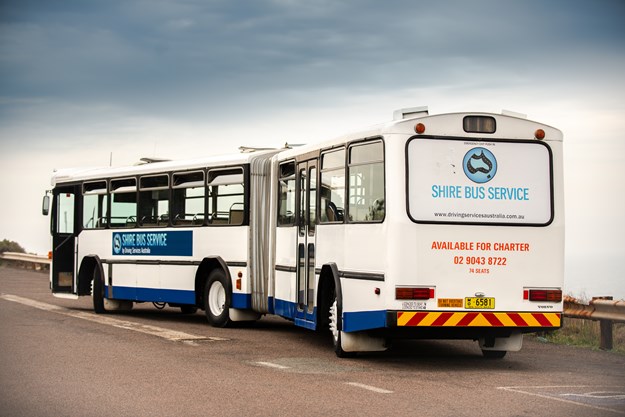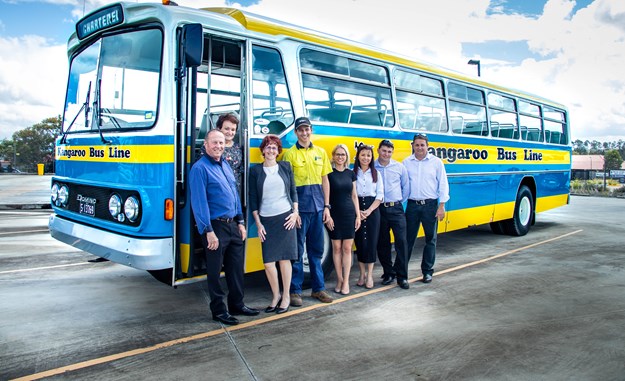 Also inside we visit Kangaroo Bus Lines in Queensland (Cyclone Owen permitting, long story), which celebrated 40 years in business in 2018 and has picked up some major awards along the way.
Plus we look a bit more in depth at the BusNSW Best Bus Driver of the Year results and its Young Leaders initiative, thanks to Volvo.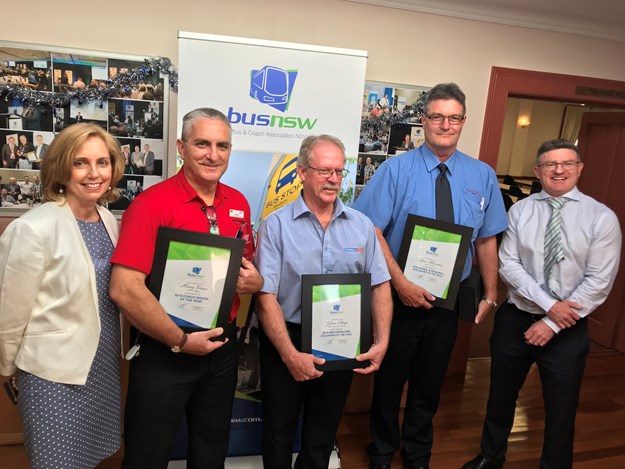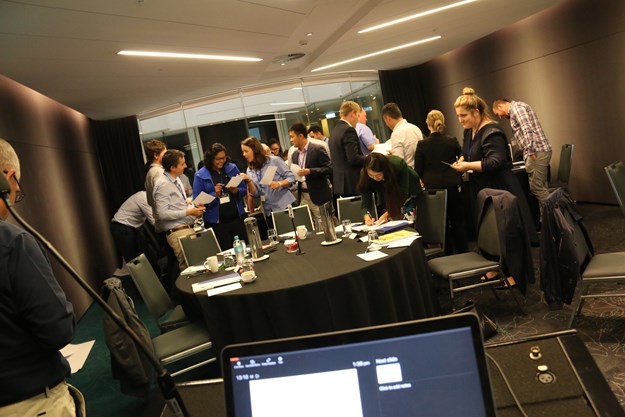 Along with our regular monthly deliveries section, we – as promised and as you requested – bring you all the pictorial action from the amazingly fun sponsored gatherings during the recent 2018 BIC/BCA NZ National Conference in Cairns.
It probably doesn't capture all the fun and excitement to be had at such shindigs, but for those that didn't make it, it might be the best we can do.
We'll hopefully see ya'll around for the next ones. Thanks to Lawrence Lee and Jim Scott for the Scania pics.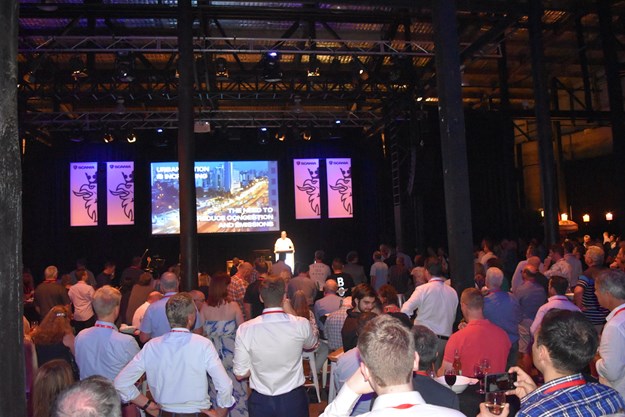 On that note, on behalf of ABC magazine and all at Bauer Media, may I extend to you and all of your family and friends the warmest Christmas wishes and a safe and peaceful Happy New Year. Enjoy the holiday season responsibly (famous last words) and the ABC team and I will see ya'll on the flipside.
Until the next thrilling instalment…
Subscribe to our newsletter
Sign up to receive the ABC e-newsletter, digital magazine and other offers we choose to share with you straight to your inbox
You can also follow our updates by liking us on Facebook.