STATION LINK BUSES PASS 1 MILLION PASSENGER MARK
---
SYDNEY METRO PROJECT's distinctive 'pink faced' Station Link buses – used to replace train services between Chatswood and Epping during the current rail upgrade – have "clocked up" more than 1 million 'customer' journeys since the service started, according to a Transport for NSW (TfNSW) spokesperson recently.
TfNSW coordinator-general Marg Prendergast said the milestone earns, "…a big congratulations to Transport for NSW and our joint-venture partner (Transdev NSW and CDC Australia) staff who have helped ensure that Station Link operates smoothly and kept customers moving around the Macquarie Park precinct."
"We knew it was going to be a big challenge to temporarily close three busy train stations for Sydney Metro upgrades and it's great to have the community working with us while we build this important project," she said.
"I can't wait to see what other milestones we'll hit next," she enthused.
From 30 September, 2018, Station Link bus services started replacing train services between Epping and Chatswood because the line needs to be converted to Metro standards ahead of Sydney Metro Northwest, which opens in the second quarter of 2019, says TfNSW.
The upgrades will allow for a greater frequency of trains when Sydney Metro Northwest services begin, with trains expected to run every four minutes during peak times, it states.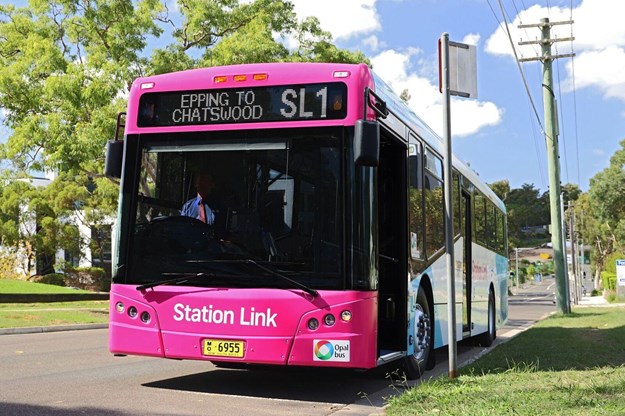 KEY FEATURES
According to the NSW government department, Station Link is providing the following:
- High-frequency, turn-up-and-go services to stations between Epping and Chatswood at least every six minutes during the peak;
- More than 110 services per hour in the busiest parts of the day and over a thousand extra services a day;
- Direct services running in and out of the Macquarie Park precinct from St Leonards, Beecroft and Eastwood during peak periods. This is in addition to services travelling from Epping or Chatswood;
- A service running at least every 10 minutes outside of the peak and during weekends;
- A dedicated, high-frequency service to Macquarie University Campus from Epping Station during university semesters;
- Station Link services also available on the Trip Planner;
- Station Link services also available on real-time apps during operation.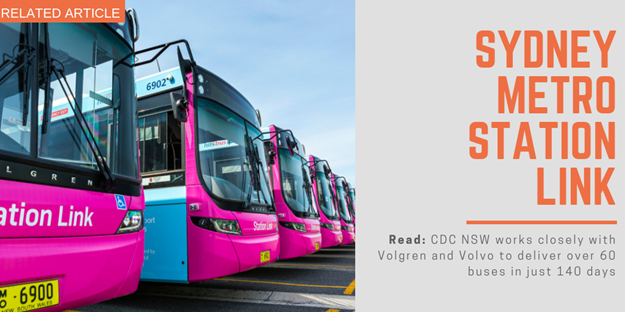 A BIG INVESTMENT
The Station Link fleet is made up of [more] than 120 new fully accessible and air-conditioned buses, with distinctive pink decals, says TfNSW.
Prior to launch, official statements during the year said customers travelling between Epping and Chatswood will get more than 110 bus services an hour during the busiest parts of the day from 30 September.
Minister for Transport and Infrastructure Andrew Constance said the Station Link programme cost [AUD]$49 million.
 "The new, high-frequency Station Link service will run on a turn-up-and-go basis on seven additional routes, ensuring those who live and work on the Epping to Chatswood corridor have regular and reliable transport options," he said.
"To support the bus plan, there will be extended turning lanes and 580 metres of dedicated bus lanes to boost capacity and reliability."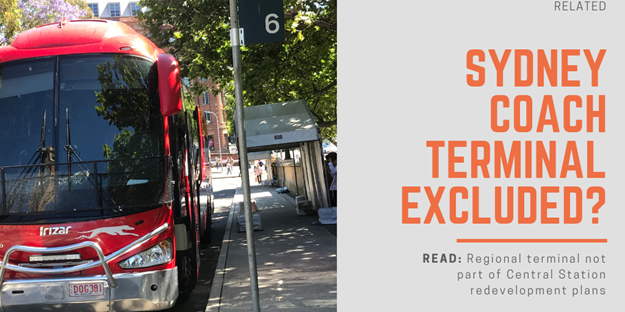 Ryde MP Victor Dominello said the investment in Station Link and road improvements for capacity and bus priority are the result of almost four years of working with stakeholders and engaging with the community.
"A brand new fleet of fully accessible, air-conditioned Station Link buses will connect stations between Epping and Chatswood at least every six minutes in the peak, with more than 110 services per hour running during the busiest parts of the day," Dominello said.
"For university students and staff, we'll be running a dedicated Station Link service direct to campus from Epping Station during semesters, on top of the many other services that will stop at Macquarie University Station."
At the time, Prendergast said: "These proven strategies have been key factors in managing congestion in the Sydney CBD where, since 2015, inbound vehicles reduced by 11 per cent and public transport trips increased by 9.4 per cent in the morning peak period."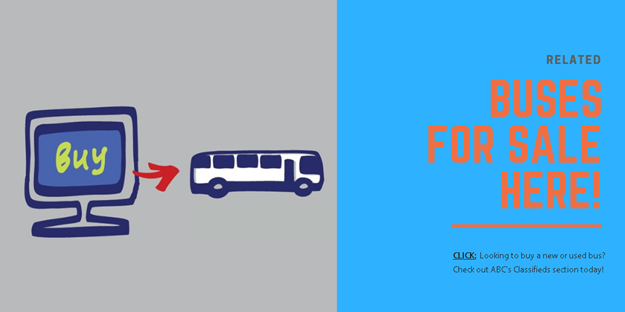 Subscribe to our newsletter
Sign up to receive the ABC e-newsletter, digital magazine and other offers we choose to share with you straight to your inbox
You can also follow our updates by liking us on Facebook.