THE BOLD & THE BEAUTIFUL – 2018 BUS BODY GUIDE
---
SPONSORED CONTENT: If OEM bus and coach chassis are the 'legs of Fred Flintstone' then someone's got to be making the vehicle body he 'ran in'. In the bus world there's a range of quality builders across Australasia turning out all kinds of lengths and styles of bus bodies to meet discerning customer demands. Let's take a quick look at some body-related specialists…
It's arguably been a rollercoaster ride for many bus body builders in the Australasian market over the past 50 years or so, with many success stories underwritten by the absorption of bloodlines or ending of others.
The nature of the public transport game, coupled with changing technology, bus-making processes, and route and contract wins and losses have affected the fortunes of many such companies.
In that context, the bus and coach building companies that still do business today – and good business by all accounts – are largely truly amazing organisations, making quality bus product featuring stylish designs and the latest enduring materials.
Even better, the best ones are open to feedback from current and potential customers, thereby mutually evolving the product.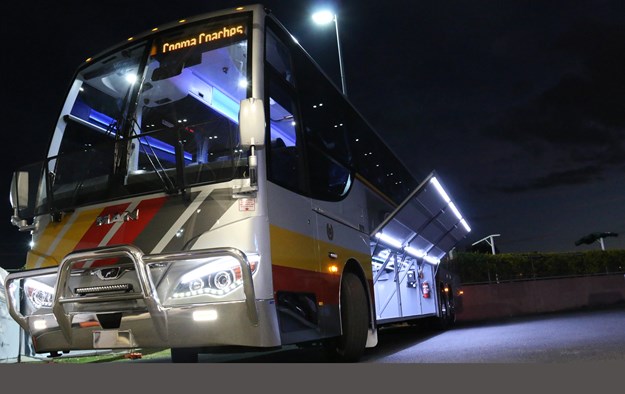 Ultimately, operators are spoilt for choice, not just in terms of who they can choose to build the body they want for their newly purchased chassis, but also in terms of the bespoke nature that select builders offer on each specific bus build, tailored uniquely to satisfy exactly what an operator wants for their fleet.
Most, if not all, also have extensive and excellent repair and maintenance skills and techniques under their warranties, or can work wonders on restoration, repair and/or upgrading of older vehicles.
Here, we merely commemorate just a few of the leading bus body-making and ancillary organisations that are doing great work in the Australasian bus industry today.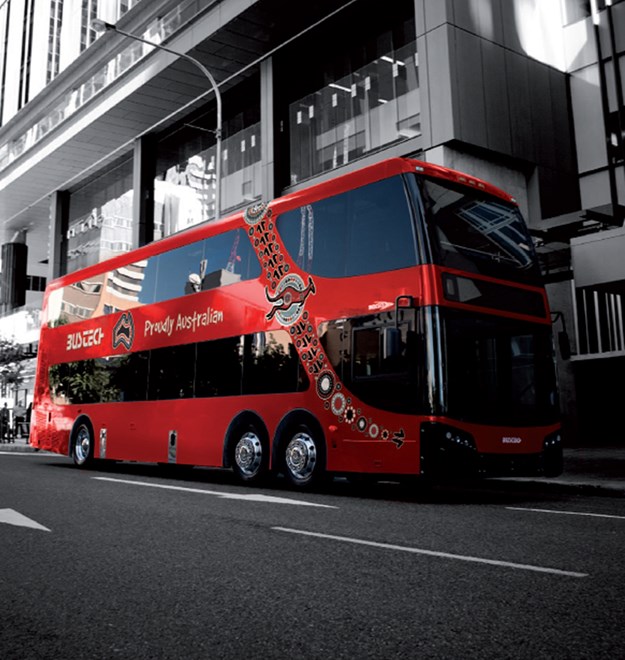 BUSTECH
Probably now best known in modern times for its landmark CDI 12.5-metre double-decker bus, the award-winning Bustech – the manufacturing arm of Transit Australia Group (recently announced as being up for sale, excluding Bustech) – has done some amazing things in terms of design and innovation in the Australian bus market.
As the company explains, Bustech was founded in 1995 by the directors of Gold Coast bus operator Surfside Buslines. Frustrated by a lack of innovation and limited body-building options available at the time, Bustech decided to design and build its own fleet of quality buses.
From its very first bus, the ground-breaking VST model with its light weight, low floor and greater seating capacity, right through to today's highly advanced models like the MDI and XDI, Bustech has continued to raise the bar, it states.
In January 2018, Anthony Roder was appointed as CEO – timing well for him to steer the company through two major deals it had acquired: in 2017 it secured a AUD$45 million contract to supply Metro Tasmania with 100 low-emission buses, partnering with Tasmanian company Elphinstone to utilise local capabilities while providing a boost to local manufacturing.
And then in a similar alliance with South Australian company Precision Components it secured a AUD$2 million state government grant to build environmentally friendly buses – including operational electric urban buses – for trial across Adelaide's public transport network. The partnership, Precision Buses, is now producing buses for inter-state clients.
WEBSITE: www.bustech.net.au
COACH CONCEPTS
Coach Concepts was established in 2004 to fill a niche market for discerning coach operators, it says. It prides itself on producing an excellent product built to suit Australian conditions and its reliability and the company's can-do attitude to delivery is what sets it apart, it adds. Its main priority is to provide sophisticated vehicles for its valued customers.
The company has grown to be one of Australia's leading bus and coach builders. It says it loves what it does, but more than that it enjoys "the relationships that we have created with our longstanding customers".
Its bus designs are manufactured to comply with all Australian school bus contracts, and as it's made in Australia it's and suited to local conditions, with its buses available on leading chassis brands.
Highlights include a galvanised steel frame and long-lasting exterior finishes, it states. 
WEBSITE:www.coachconcepts.com.au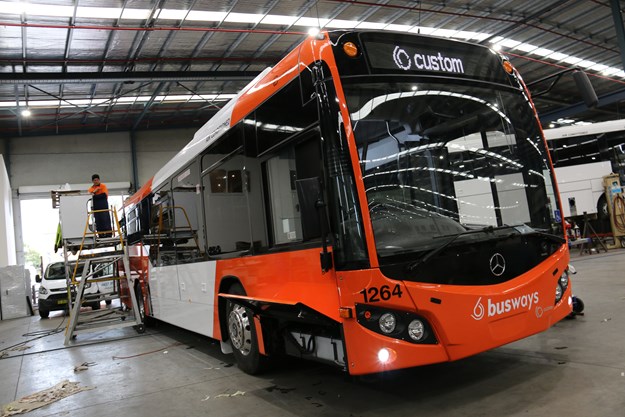 CUSTOM BUS GROUP
It shares an endearing connection through name association to the original Custom Coaches fame, but the new Custom Bus Group – owned by the Dunn Group, of Telford's buses fame – has had a whirlwind re-invention over the past few months since ABC magazine broke the story of its salvation from its Worrells administrators.
Only recently did ABC magazine reveal exclusively that it had delivered its first city buses to western Sydney operator Busabout, in September.
When Scott Dunn purchased the business on March 16, 2018, he immediately started to call all bus operators with the announcement that he had purchased Custom Bus Group, namely to capture as much work as possible – because it had none.
All the machinery and equipment from the plant at Villawood was quickly uprooted to its new location in St Marys.
Custom is said to now boast improved efficiencies and quality measures, and line-specific builds, producing the highest of quality buses on time and in larger volumes. 
WEBSITE: www.custombus.com.au
COACH DESIGN
With over 20 years design and construction experience, Coach Design is the industry leader in Australia's highly competitive bus, coach and 4x4 motorhome building market.
Located in Archerfield Queensland, it achieved an outstanding record of six Sydney Bus & Coach show awards, family-owned Coach Design has indeed stamped its name on the bus and coach industry.
Coach Design has pieced together an assortment of new ideas from all areas of automotive design around the world to launch the all-new 2009 'Alpine' coach, it says. New features include a smooth-line grill, European style rear end, a new modern dash with appealing ergonomics for the driver, complete moulded fiberglass toilet module and aircraft-style moulded ceiling.
Coach Design recently celebrated producing its 1,000th bus body: an Alpine model which was built on an MAN chassis and delivered to operator Cooma Coaches, in NSW.  
WEBSITE: www.coachdesign.com.au
VOLGREN
Now a Marcopolo company in the modern era, in 1979 Volgren began making bus bodies because as an operator it wanted to "build a more reliable, more comfortable, longer lasting vehicle with lower operating costs than the ones available at the time".
Earlier in 1945, George Grenda changed his 20-year milk-carrying business into a bus-operating one. A success, in 1977 Volvo asked it to be its chassis distributor – and this agreement led to the 'Volgren' name and manufacture of bus bodies using extruded aluminium.
More than 40 years later, Volgren has arguably redefined bus manufacture, design and safety in Australia.
Key to its product line-up is the Optimus city bus body design, its Endura charter/school bus design and – given its acquisition by massive Brazilian bus maker Marco Polo – its versatile charter bus or luxury coach called the Audace. 
WEBSITE: www.volgren.com.au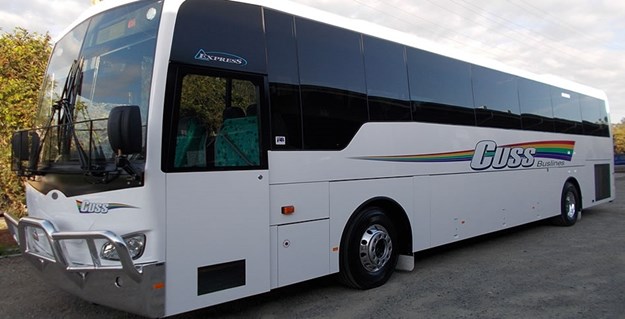 EXPRESS COACH
Express Coach Builders says it's proud to be an all-Australian manufacturer, building quality coaches, buses and speciality vehicles that meet and exceed customer expectations. 
Since 1995, Express Coach Builders has hand built made-to-order Australian buses, coaches and speciality type vehicles for Australian customers. Starting with a small team of six employees producing 20 buses per year in its production line, today it has grown to 75 employees producing up to 75 vehicles each year in its recently opened production premises in the Macksville Industrial Estate, located on the mid-North coast of NSW. 
The company builds coaches, hybrid low-floor buses, low-floor buses, and school buses. It can customise a bus specifically to suit customers' unique needs, it says, with its experienced team supplying support and advice to guide customers through the entire build process.
WEBSITE: www.expresscoachbuilders.com.au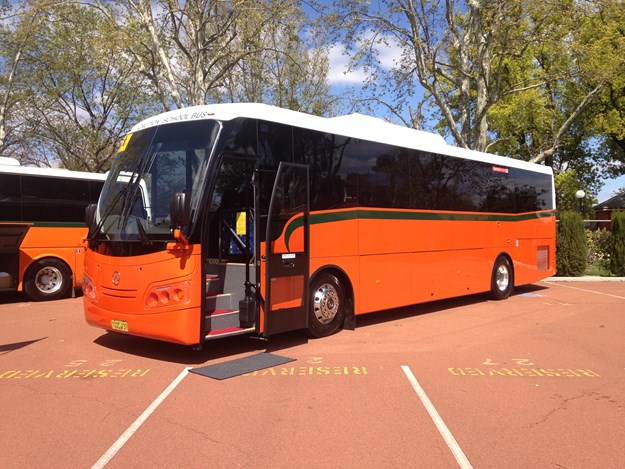 OMNIBUS SERVICES
The Pryor Family Group of Companies is a wholly owned and operated family business that has operated in the West Australian bus industry since 1956. It is one of the largest bus and coach businesses in the state with multifaceted expertise in bus design, manufacture, conversion and repairs, as well as operating a fleet of 150 buses in Perth, Laverton, Mandurah, Karratha, Kojonup, Mt Barker and surrounding areas.
Today, the company continues to build new buses which rivals national and international competition, as well as refurbishment work including: structural modifications; seat and seatbelt retrofitting; school bus conversions; wheelchair-accessible vehicle modifications; accident repairs and spray painting; 4x4 purpose-built truck pod and integrated truck and body buses; purpose-built sandwich panel body with full kitchen and  other amenities can be included.
Omnibus Services says when purchasing a TOST/Omnibus body that repairs, parts and warranty issues which may arise will be dealt with directly by the manufacturer in Western Australia.
TOST bodies are manufactured to suit all types of chassis including Volvo, Mercedes-Benz, MAN, Scania, Iveco and Hino, ranging from 35 to 59 seats.
WEBSITE: www.omnibusservices.com.au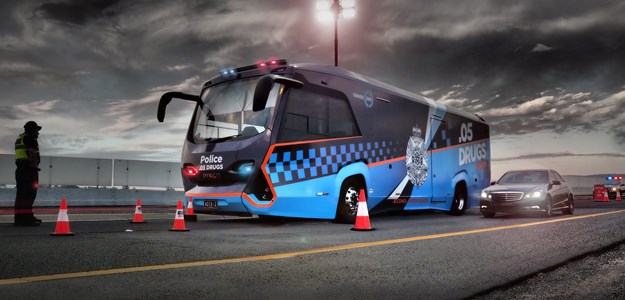 BRIMARCO BYRON WADE
Brimarco Byron-Wade (BBW) has a proven track record in manufacturing both specialised and production vehicles, vehicle bodies, and trailers for defence, government, and commercial customers. Its proven approach to providing innovative but practical solutions to its customers and its willingness and ability to engage other stakeholders throughout the manufacturing process consistently delivers the best possible results for the end-customer, it states.
BBW is a joint venture between BCVT Pty Ltd (trading as Brimarco) and Byron Wade Pty Ltd, created initially to provide the most optimal solution to Victoria Police for the design and build of its third-generation Alcohol and Drug Testing (ADT) fleet. The JV utilised the combined expertise of the two businesses: Brimarco's skills in vehicle body building and project management and Byron-Wade's skills in interior fit-out and technology.
ABC magazine exclusively featured the JV's latest police 'booze bus' for the VicPol ADT fleet on its Issue 370 cover.
WEBSITE: www.bbwcustomvehicles.com.au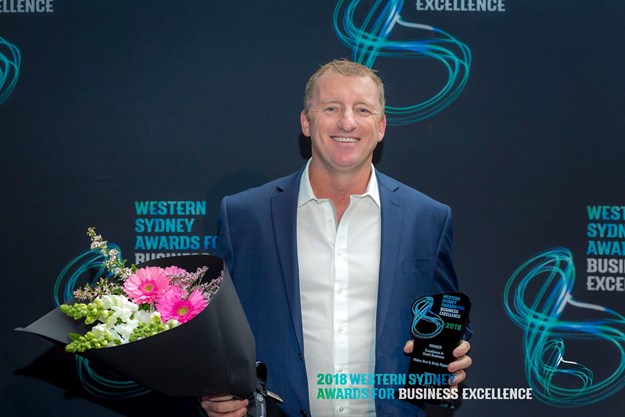 WALES BUS REPAIRS
Wales Bus Repairs has been servicing the industry for more than five years and built a solid reputation as one of the most professional, quality-driven companies in the bus business with a focus on efficiency and getting their clients' vehicles back on the road faster than anyone, it says.
Three years ago, Wales moved into a dedicated, purpose-built bus repair facility in Smithfield to service the New South Wales bus industry. The new facility houses three state-of-the-art drive-through spray baking ovens, Josam pulling systems, touch-screen computer stations around the workshop and a parts division – all on a 20,000m2 site. It has been recognised as the largest, most up-to-date bus repair operation in Australia, it states.
Highlights include: a national recovery service & administration support team; fast and accurate digital quotation system; in-house specialists in all mechanical repairs, body re-building (minor dents to major collision damage); chassis re-alignment/modifications; body refurbishment; high-quality, fleet specific PPG paint refinishing and sign writing; in-house reassembly, quality control and road testing; genuine after-repair customer service; environmental policy to reduce the carbon footprint of repairs; and a lifetime warranty.
Wales is a member of the M.T.A and founding member of the A.H.V.R.A, plus it recently won the prestigious Western Sydney 'Excellence in Small Business' award.
WEBSITE: www.walesbusrepairs.com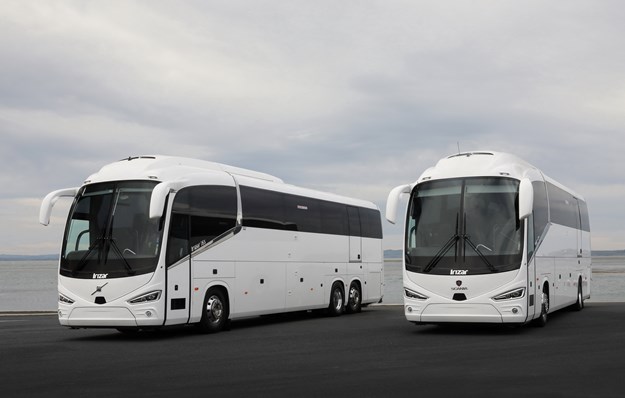 IRIZAR ASIA PACIFIC
Seven years after the first Century model coach landed in Australia (2008) in the hands of its former distributor, Irizar is officially implanted in Australia under the name of Irizar Asia Pacific.
From these headquarters Irizar will meet the needs of customers throughout the area, especially Australia and New Zealand.
The first coach model that broke into Australia and New Zealand in 2008 was the iconic Irizar Century. The Irizar i6 model followed, and only recently in Australia did it launch its new i6S coach body onto the local market in 2018, which was featured exclusively on ABC's Issue 371 cover.
WEBSITE: www.irizar.com/en/irizar-asia-pacific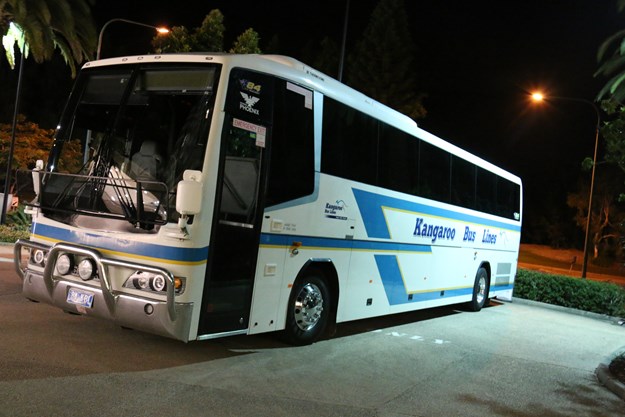 DENNING MANUFACTURING
Denning Manufacturing was established in 2003. The company was set up by a group of dynamic and highly successful businessmen using the now defunct AB Denning premises, it states.
Since its establishment the company has been organically financed and grown with a vast investment into research and development, staffing, quality control, technology and tools.
The company has invested heavily in the successful implementation of a new and powerful software package to manage production and assist with purchasing and warehouse management. As a result of this, its productivity has increased and it has been able to reduce its overheads, which has resulted in Denning passing the cost savings on to its customers, it says.
Denning Manufacturing has a new range of unique products that it has created to fill a gap in the Australian coach and bus industry, it says. The market demand for these products and services is very strong with a year-on-year growth, it adds.
WEBSITE: www.denning.com.au
P&D COACHWORKS
P&D Coachworks is an Australian-owned bus and coach manufacturer, located in the North-Eastern NSW town of Murwillumbah.
Designing and manufacturing bus, coach and ultra-low-floor metropolitan bodies since 1990, P&D strives to provide the highest quality product to suit the tough Australian conditions, it states.
P&D Coachworks says it realises that individual needs are different so it will build to suit customers' specifications, on the chassis of the customer's choice.
P&D Coachworks offers four main body styles: up to 45-seat mid-sized school/charter vehicles; up to 75-seat school/charter vehicles; ultra-low-floor metropolitan vehicles; and coaches.
P&D Coachworks can also build other custom specialty vehicles, it says.
WEBSITE: www.pdcoachworks.com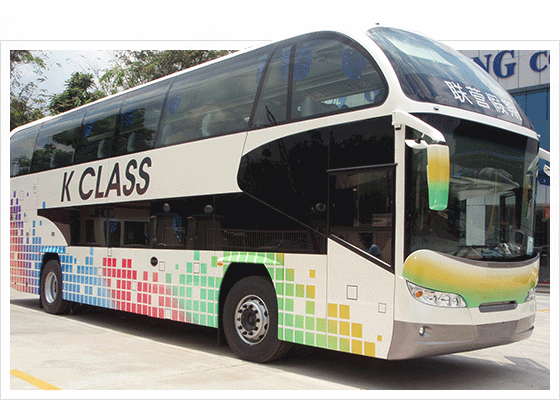 GEMILANG COACHWORKS
Gemilang International Limited designs and manufactures bus bodies and assembles buses. With more than 25 years of experience, the Group is one of the leading bus body manufacturers and bus assemblers in Malaysia and Singapore, it says.
The Group designs and manufactures a range of aluminium and steel bus bodies (SKDs and CKDs) and assembles buses (CBUs). The Group's products have been sold to over 10 markets.
The Group's buses serve public and private bus transportation operators mainly in: Singapore, Malaysia, Australia, Hong Kong, China and India.
The Group is dedicated to becoming one of the leading bus and bus body suppliers in Asia, it says.
WEBSITE: www.gml.com.my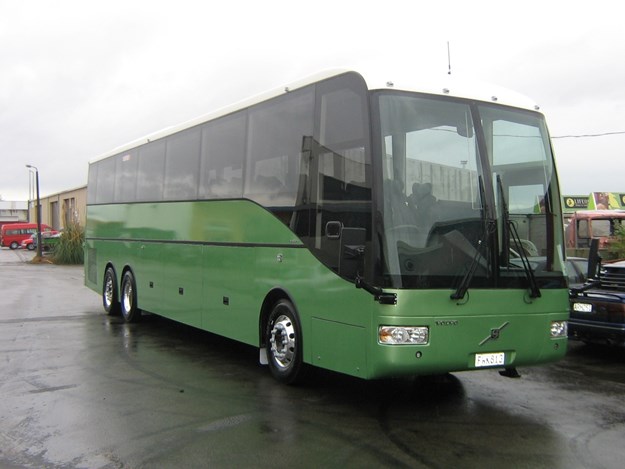 COACH WORK CENTRAL
Coach Work Central says it is New Zealand's boutique coach builder and specialist in the following fields: manufacture of buses and coaches; truck bodies; light engineering; spray painting; crash repairs; and motor trimming.
WEBSITE: www.coachworkcentral.co.nz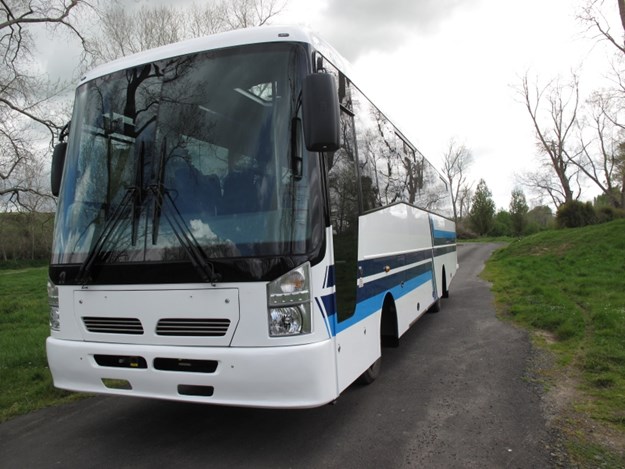 KIWI BUS
Kiwi Bus produces all types of buses ranging in scale from single runs to entire fleets. Each one is uniquely designed to withstand the journey required and fitted with any options customers desire, the company says.
It's located in Tauranga, in Bay of Plenty on the North Island of New Zealand.
Kiwi Bus's Wellington facility in Seaview, Lower Hutt, can handle a variety of repair jobs on coaches, buses, trucks, and campervans/motorhomes. This includes glass replacement, panel repair or replacement, body mechanical repairs, floor repairs, and rebuilding and refurbishment of interior layouts. 
WEBSITE: www.kiwibus.co.nz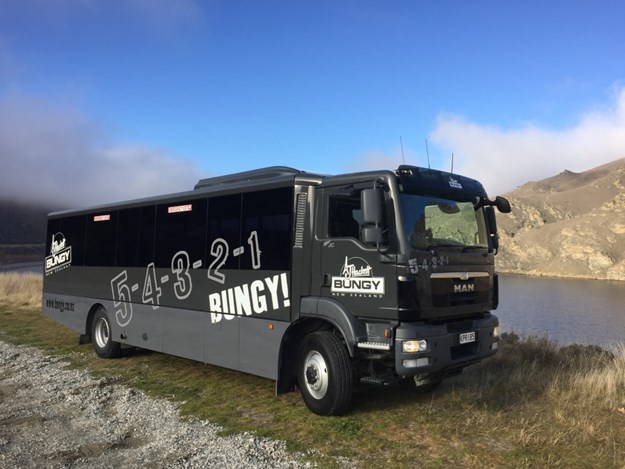 BT COACH BUILDERS
BT Coachbuilders is located in Ashburton – amongst the expansive and picturesque South Canterbury plains of New Zealand's South Island, it says.
Established in 2015 by Brendon Thomson – who has more than 30 years' design and build experience, and over 80 years combined experience within his staff – BT Coachbuilders places a strong focus on customers' needs and individualist requirements, it says.
BT Coachbuilders was established to provide high-quality; cost-efficient, bespoke made-to-order buses, coaches and specialty vehicles.
The company specialises in: the manufacture of buses and coaches and specialist vehicles; refurbishment; truck bodies; light engineering; spray painting; accident repairs; and motor trimming.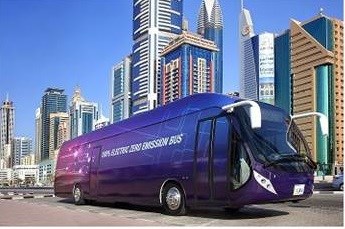 GLOBAL BUS VENTURES
Superior technology and constant innovation continue to ensure Global Bus Ventures (NZ) Ltd remains at the forefront of bus and coach manufacturing, it says.
Its industrial and manufacturing technology is driven by a desire to reduce its impact on "our beautiful country and on our planet".
It strives to: enhance bus travel by building style and comfort into every vehicle; deliver premium quality and reliability for total operator confidence; minimise the impact on the planet in both our construction processes and the daily operation of its products, it states.
WEBSITE: www.globalbusventures.co.nz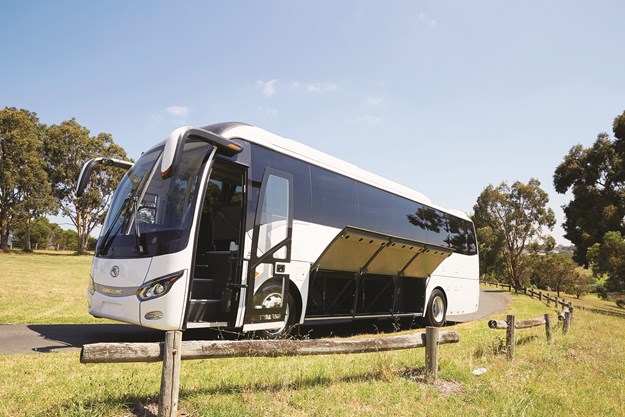 SPONSORED CONTENT: KING LONG
SINCE THE LAUNCH of the first King Long bus in Australia in 2008, we have seen increasing numbers of King Long buses entering the market, creating a growing awareness of quality buses at excellent value. There are more than 400 King Long buses on Australian roads.
Within the global bus and coach industry, Australia has among the highest safety and quality standards, with some very unique operating conditions and regulatory requirements. King Long is committed to providing the right vehicles for the Australian market and as such, all models are designed by Australian Engineers with assistance from King Long's extensive engineering resources. All vehicles are tested, with each model undergoing rollover testing, meeting ADR (carrying dangerous goods) regulations and selective FEA (finite element analysis) testing to validate the design lifecycle of 25 years.
King Long vehicles are specifically designed around specific market segments and those customer's needs. King Long proudly provides vehicles that deliver years of reliable service, backed by their spare parts and superior aftermarket support. King long combines the best of Australian bus design, coupling with world class manufacturing input, they produce buses and coaches that are not only well specified but also highly cost competitive.
 Design target specific performance outcomes:
• Safety
• Quality
• Performance
• Regulatory compliance.
Within King Long's design philosophy, they focus on key market requirements, design regulations and heavily lean towards using the latest materials, manufacturing methods and technologies available.
 Design market requirements cover:
• 25-year design life
• Robust frame design with computer simulation to optimise frame strength
• Style designed to meet modern trends
• Comfort for both driver and passengers
• Utilisation of space, axle configurations, etc. to maximise passenger carrying and luggage capacity
• Innovations in latest materials, methods, and technologies.
King Long vehicles are designed with their customer in mind. They are constantly striving to deliver the best balance of quality build, economical servicing and running costs. With a proven track record that is testament of the pride they take in the full process, from the drawing board to delivery and the ongoing support to the operators. King long have an extensive model range of buses and coaches, including the 6102AY 45-seater bus and a 39-seater model, that is built to do the job – now, tomorrow and for many years into the future.
WEBSITE: www.kinglong.com.au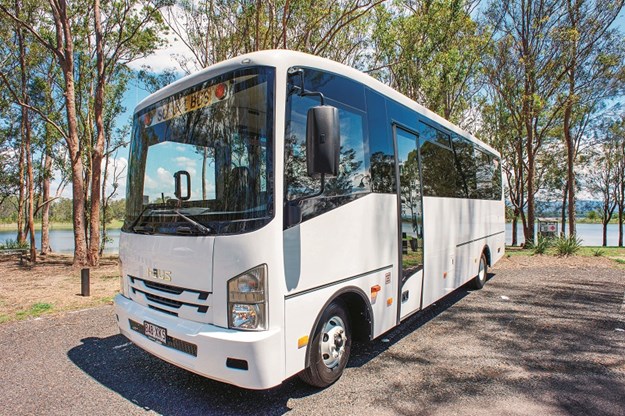 SPONSORED CONTENT: I-BUS
I-BUS AUSTRALIA PTY LTD builds buses based on the Isuzu truck drivetrain and chassis. Isuzu Trucks has been a leader in the Australian truck market for 29 years and today about one in every four new trucks sold in Australia carries the Isuzu name, the company says.
In terms of buses, the I-Bus is a relatively new bus body concept to the Australian market. Uniquely, it is built on the Isuzu truck drivetrain and chassis, making it a very strong bus.
"I-Bus is basically Brisbane Isuzu, a franchise of Isuzu Trucks; there more than 60 Isuzu dealers around the country that are individually owned and operated. The I-Bus side of the business only began about two years ago and the company just keeps growing, we are currently building and expanding a new showroom here at Burpengary to meet the growth," explained I-Bus sales consultant Craig Marshall.
"We have three branches across Brisbane. All of the buses are sold out of this branch, but servicing is done at any of our branches," he said.
QUALITY BUILD
All I-Bus vehicles are manufactured under ADR specifications with high-quality seating and quality air-conditioning systems (currently by Thermo King), the company says. I-Buses currently come with lap-sash seatbelts, fire-extinguishers, first-aid kits and TV monitors as standard.
The I-Bus range comprises front-engine buses, available in both 4x2 and 4x4 options, from 17 seats to 75 seats. The buses are suited for both rural and metro uses, offering customers great versatility, it states.
"Everybody knows Isuzu trucks and how good they are. With the front-mounted engines, they run cooler. For rural operators, a major advantage is the distribution of more weight over the front wheels, eliminating operational issues that commonly happen with rear-engine vehicles in difficult conditions," Craig Marshall said.
There are eight different models in the I-Bus range. They are generally used for school bus runs and predominately in country areas because the front-mounted engines make them perfect for dirt roads and hilly terrains.
"We have four-wheel drive models that are being used to drive on beaches, do school bus runs out in the rough country, and they also do charter work," Marshall said. "These 4WD models range from 20-40 seats the larger model is an Isuzu FTS800, which is a 14-tonne GVM.
"These larger models use the same chassis as the rural fire trucks so they are very, very strong as they sometimes need to be able to go where vehicles normally wouldn't go."
CUSTOM FEATURES
The I-Bus range can be customised to suit various seating capacities and built with various chassis and suspension options, as required.
All I-Buses can be fitted out in either school, coach or mine specifications. The company says its full coach bodies configure space smartly to place the driver and passengers 'in the same space'.
Driver comfort is maintained with all standard Isuzu equipment used within the cabin. I-Bus also can deliver all vehicles in a motorhome specification, offering a walk-through interior and a range of features from cutting-edge fitouts to slide-outs to make travel comfortable, it says. Customers may then install their own custom fitout.
I-Bus also stocks – or can source – bus body parts and accessories that customers may require. The company warrants all body parts and workmanship and is your first point of contact, it confirms.
WEBSITE: www.i-bus.com.au
SPONSORED CONTENT: CAMIRA FABRICS
GLOBAL TEXTILE manufacturer Camira has focused on design, comfort and performance with its range of fabrics for bus and coach interiors, specifically its wool products.
Concepts sculpted from aircraft, office and home are blended into our 'moquette' ranges to keep them current and complimentary whilst remaining timeless. Camira can personalise your interior with the assistance of CAD imagery and visual tools.
Wool is perfect for use on seats in bus and coach interiors, being long-lasting, wear resistant and able to maintaining its appearance. A hard wearing wool/nylon blend provides an interior solution built to last with a longer product lifecycle and less requirement for replacements or additional material use. 
Designing for safer interiors is fundamental, specifically in relation to flammability performance. Wool or wool/nylon fabrics have a naturally high level of flame resistance and act to form a strong char to prevent spread of flame. Wool moquette have the capability of meeting demanding fire 'retardancy' required for passenger rail, and these properties of fire, smoke and toxicity have recently become enquired for Bus & Coach application. With extensive involvement in the passenger rail industry, Camira have the knowledge and expertise to assist the industry to meet ever increasing levels of passenger safety.
CUSTOM CAPABILITIES
With an in-house design team, Camira understands textile capabilities for transport interiors, the importance of design and aesthetic appeal whether this is through colour, design and pattern or the weaving construction to create distinctive surface effects. Fabrics define the overall design and presentation of a vehicle interior, and also need to maintain durability and performance which is why these are considered at the design stage. 
WEBSITE: www.camirafabrics.com
* Includes sponsored content.
Subscribe to our newsletter
Sign up to receive the ABC e-newsletter, digital magazine and other offers we choose to share with you straight to your inbox
You can also follow our updates by liking us on Facebook.