GENERATION NEXT - Kastoria Buslines
---
OPERATOR: Nine years since taking over Kastoria Buslines – as managing director, BusVic president, and Victorian Industry Contribution Award winner – Dominic Sita has been busy acquiring bus services and has no plans of slowing down.
Dominic Sita found himself at a crossroads in 2009. Aged 45, he had split from his family business Sita Group in western Melbourne in July before branching out on his own a month later.
Having overseen 200 buses, the pace had somewhat changed at Kastoria with a fleet of 30.
Yet it wasn't long until Sita found a way to grow – and when opportunities come along it's "foolish" to turn them down, he says.
A year since taking over Kastoria, Sita took over Seymour Buslines followed by Broadmeadows Buslines in 2011. That same year he had also moved to his new headquarters in Westmeadows. Even his accountant had banned him from buying anything else for at least a year.
Having learnt the most valuable lesson from his father, George, Sita was not afraid of taking on debt to grow business.
"I'm happy to take risks and I'm not scared of debt," Sita said. "When I went out on my own I knew I had to then prove myself to make sure it worked to get away from what my father had built; you have to make your own decisions."
With a fleet of 160 vehicles operating across three bus services, Sita now oversees 16 bus routes.
"I was used to the big operations with 50 charter buses and the phones constantly ringing at Sita," he said. "At Sita Group we had then won the Avalon Airport contract, so the phone was ringing every 10 seconds.
"I was sitting in the Kastoria office after three weeks and would get three calls an hour; I said 'what have I done?'
"In January 2010 Seymour Buslines was on the market, but I had never heard of them. I kept thinking to myself as long as it's not overpriced I'll have a look at it."
He purchased the company and its 55 buses in August that year, saying it was the start of something big.
"My dad's saying was 'something expensive today is cheap tomorrow' and that's a very good saying," Sita said. "It was an expensive purchase, but in the long run it's always worth it."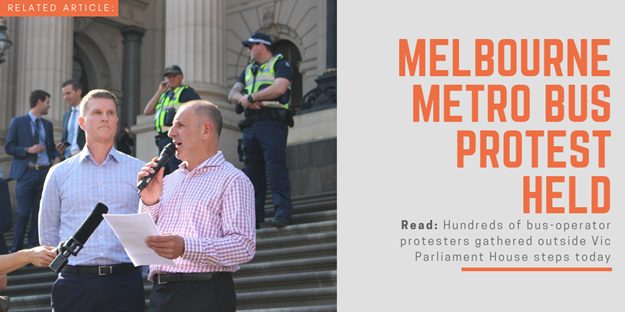 HUMBLE BEGININGS
Leaving school aged 17, Sita's first job was painting bumper bars and polishing bus floors at his father's business. Six months later he made his way into the office.
Sita Group was formed by George Sita in 1959 from very modest beginnings. The former factory worker was only 18 years old when he migrated from Italy in the 1950s.
Starting out at an explosives factory in Deer Park – 17km west of Melbourne's Central Business District, within the City of Brimbank – he then became a bus driver before buying Keilor Bus Lines in the 1960s together with his brother-in-law, Frank Bono.
He had started the business with one bus doing general charter work before slowly taking over surrounding bus companies in Melbourne's west, acquiring Hampton Buslines in 1964 on his own before taking over route 472 in 1971, which saw the start of his success. In 1994 he bought Sunshine Buslines, which grew his business when bus services reached the newly built suburb of Melton.
"I remember he purchased East Melbourne Buslines route 402 paying $1.2 million for it, including 30 buses," Sita said. "He was working out how the hell he was going to pay it off. 'What have I done' I remember him saying, but he worked out how many buses he'd need with the current fleet he had and he then worked out he could afford to sell half of the 40 fleet and still operate the service, so he ended up collecting $600,000 for those buses and paying the bank back," he explained.
"He was completely computer illiterate but smart. You'd say something to him and he wouldn't give you an answer – he was a thinker, he had the eye for things and you can't teach that."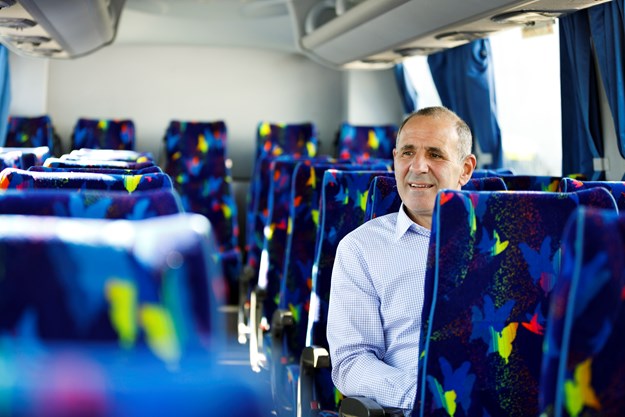 What Sita has learnt from his father is to be present in the moment and make sure staff are looked after. Friends are also on top of the list. Being in partnership is not easy, according to Sita, leaving his three brothers at the family business because he found himself at a different stage in life.
"Everyone has got different ways of operating and I'd tell people not to go into partnership," he confessed. "People are at different stages of their lives; some don't want to work as hard and some want to take it easy, and some need extra money because of kids and school.
"If you're not at the same age and you don't have kids, it's so hard. Whereas if I do something wrong it's my fault, I can't blame anyone else."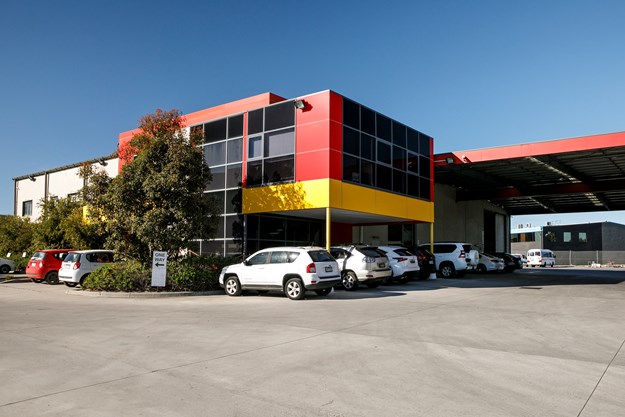 NOTHING BUT HARD WORK
To succeed, one has to put in the hard yarns.
A week on from the buyout of Kastoria Buslines, Sita had relocated Broadmeadow's vehicles to the Western Avenue Westmeadows depot – a stone's throw from Melbourne airport. His rapid expansion along Melbourne's northern corridor effectively cuts a bus operations path from Moonee Ponds to Broadmeadows, with an outpost at Seymour.
His combined business interests cover route, charter and school contract work, with the Broadmeadows acquisitions increasing his Department of Education and Early Childhood Development-contracted school runs.
"I love working, I love buses and I love growing," he explained. "I found this property through some advertising in the mail; it went for expression of interest in September 2010 and I put a bid for it ... but nothing came about. They kept it and then changed the sign to lease it.
"I spoke to the agent – there were seven owners who could not come to an agreement," he added. "He said, 'just write me a cheque of $400,000 as a deposit and I'll photocopy it and say here's a guy that's prepared to put a deposit straight away'. They all agreed and I bought it in January."
Under Northern Transit Holdings, Sita controls Kastoria Buslines, Nationwide Tours, Seymour Passenger Service and Broadmeadows Bus Service, with 200 bus drivers. Most of the fleet was Mercedes-Benz when he purchased Kastoria Buslines, but he's slowly been changing them to Volvos.
"I'm a Volvo man, I prefer the Volvos," he said, recently attending the Volvo Hybrid launch in the La Trobe Valley. "The service, the back-up; this is going back from the Sita days where we had been purchasing Volvos since 1981, so I know the product pretty well. The back-up service is first class and my fleet now is roughly 50 per cent Volvo."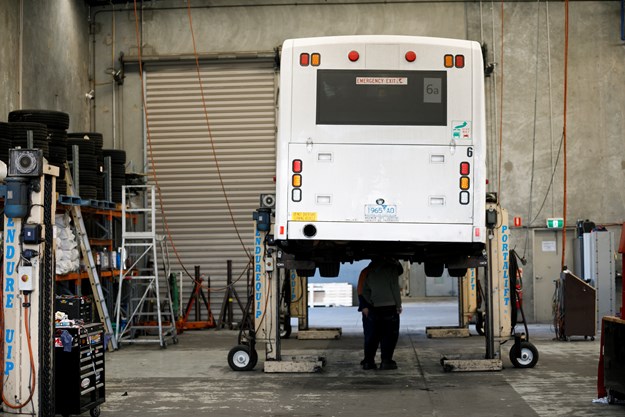 UNITED WE STAND
The 54-year-old father of two knows the balance of work and family life means always trying to be home for dinner by 6.30pm.
Footy plays an integral part of his life, playing Super Rules and being involved in his son's club.
The Bus Association Victoria Inc. president – who took up the role in April and recently won the State's Industry Contribution Award (no doubt his vocal support during the Melbourne Metro contracts struggle was warmly welcomed by the BusVic membership) – says it's an honour to represent his peers.
"I took up the role because I always thought you have to give something back," he added. "If you give back to your industry – everyone should do that because the Bus Association has given us a lot since its inception in early 1950s; it's given us a voice.
"Together as a group we know each other and we help each other out. What I'm hoping to change is to bring everyone together as a group. If you've got that you've got something as an association, instead of being diverse and everyone being separate.
"The current state of the industry is not as strong as I'd like it to be and that's my biggest worry," he conceded. "We are all competitors in different ways and charters, with route services. Inner country people have got school runs, so you're not really in competition – besides, in charters and with route services you've got your areas, so you are competitors but you're not.
"I think the country operators stick strong; people are at different parts of their lives and it's hard to be 100 per cent united, but as a group if you can you've got a voice."
A TOUCH TOO MUCH?
Victoria's controversial public transport ticketing system Myki – which reads a card at existing ticket barriers and operates via card readers across trains, trams and buses – is still a hassle for bus operators, Sita says.
"We have to re-check our balances two to three times every week," Sita explained. "We also double-check it at the end of the month to make sure each day's balance [that] they're saying we're supposed to collect is true.
"It creates a lot more work, which should be alright. When they've [the Victorian State Government] spent $2.5 million on it, we have a lot of problems with kids who have got yearly tickets and most probably think they don't need to touch on because they've bought a yearly ticket, but they should be touching on."
He says the Association is meeting with Public Transport Victoria to come up with a plan.
"My thing is: put five cents a litre on fuel extra and make that for transport and make it all free; you could make it up that way collecting fare revenue and then make it all for free. That way you wouldn't have to spend that money on the Myki system," Sita says.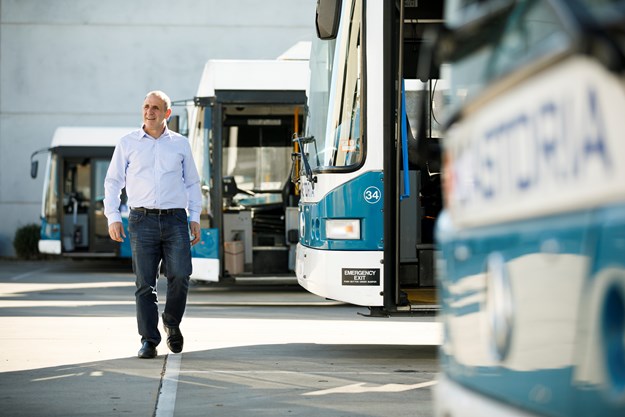 HIS OWN STORY
When Sita left his family business he knew he needed to prove to his father that he could stand on his own. George, who passed away in March 2015, was never too far away, always there to offer advice, Sita says.
"I remember he was leaning on the car in the canopy at Kastoria's site and he goes 'you can't go wrong here, if you can afford it, buy it'.
"What I've learnt from him is that you have to be at work every day and if someone needs help you help them."
Sita remains successful by sticking to his area and price, saying charter is a hard, competitive game.
"If you don't go with the right price there's no point in doing it. I'm not as big as I was back in certain days; I've only got 10 charter buses, but I strongly work with train replacements," he said. "You've got your minimum price and you can't just undercut it. You look at the inbound market now and it's decreased and all run by Chinese operators – you don't want to compete with that.
"At the end of the day it's not all about business, it's about friendships. You walk down the street and no-one knows who you are; just because you run 160 buses, they don't know that."
Subscribe to our newsletter
Sign up to receive the ABC e-newsletter, digital magazine and other offers we choose to share with you straight to your inbox
You can also follow our updates by liking us on Facebook.