CRUCIAL WA BUS SERVICE LAUNCHED TO "SUPERCHARGE" SWAN VALLEY TOURISM
---
BREAKING: A LONG-OVERDUE SHUTTLE BUS SERVICE to "supercharge" tourism and the Swan Valley economy – the second oldest wine region in Australia, generating AUD$421 million in 2016 for Western Australia – was launched this morning by leading private bus operator Adams Perth, it's reported recently.
Essentially more than three years in the making and with seemingly unanimous support from Swan Valley businesses, tourism organisations, the WA State Government and local members, the service will see regular buses running from the outer Perth train station of Guildford (approximately 12.5km from Swan's centre) and along various routes in the Swan Valley, catering to thousands of domestic and international tourists alike.
Key to the interactive experience of each journey is a new locally produced passenger information system called Eyevert. This – in addition to screens on the buses - allows travellers to scan QR codes on the back of the bus seats so their smart phones are updated with the latest travel information.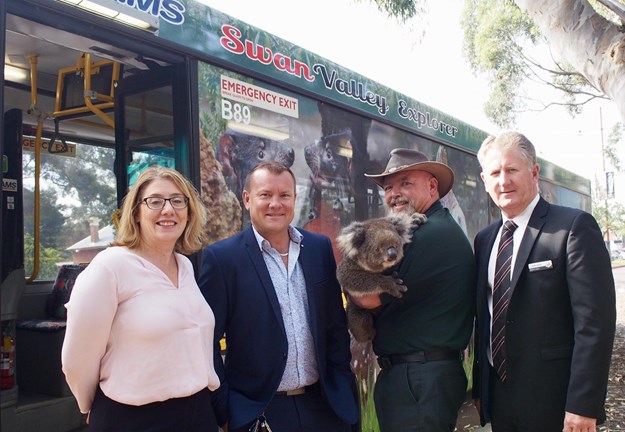 The Swan Valley Explorer Hop On/Hop Off Bus Service was launched at an official ceremony at the Swan Valley Visitors Centre, attended by managing director of Adams Perth Adam Barnard; WA Minister for Transport The Hon Rita Saffioti MLA; Minister for Tourism The Hon Paul Papalia CSC MLA; Deputy Mayor City of Swan Cr Kevin Bailey; and chairman of the Swan Valley Tourism Alliance John Rex.
In terms of vehicles used, the new Swan Valley service will run bespoke ex-PTA Mercedes-Benz 0405NH chassis and Volgren CR225-bodied buses.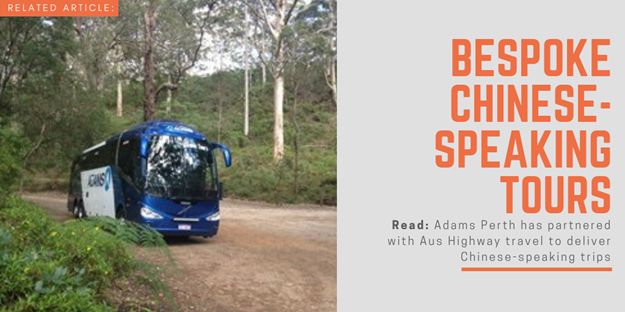 GOVT BACKING
Speaking at the launch, Tourism Minister Paul Papalia said: "The Swan Valley is one of Western Australia's premier visitor destinations. It is world renowned for its gourmet food and beverages, as well as its nature-based attractions and experiences.
"The introduction of the Swan Valley Explorer will play a key role in attracting interstate and international visitors to the region.
"Visitor attraction remains the State Government's number one tourism priority - everything we are doing is about growing numbers to create jobs, develop business opportunities and diversify the economy.
"I congratulate the City of Swan, Adams Perth and the local business providers for getting behind this new initiative which will help unlock the Swan Valley's tourism potential."
Transport Minister Rita Saffioti, said: "This is essentially a CAT-bus style of service for the Swan Valley tourism region that will connect it with the rest of Perth's public transport network."
"This is yet another reason to visit the Swan Valley - an amazing region which is deceptively close to Perth, increasingly connected to public transport and accessible for cyclists with Principal Shared Paths.
"Attracting more visitors to this region is a high priority for the State Government and it is promising to see innovative businesses get on board with plans to leverage the Swan Valley's tourism potential. 
"Additionally, the State Government is working on a revised planning framework that will help protect the Swan Valley as a crucial viticulture and tourism region into the future."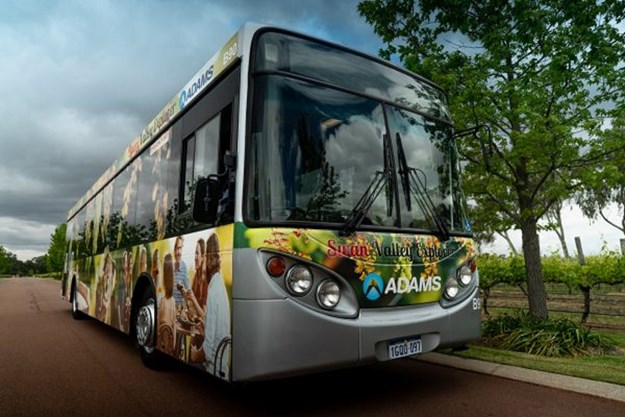 THE CAUSE
In line with the City of Swan's Tourism Development Strategy 2015 – 2020, Adams' aim was to further develop the tourism industry in the Swan Valley by providing a transport link between Guildford train station and the Swan Valley's many outstanding tourist attractions, the company states.
An efficient and professional 'seven days a week Hop On, Hop Off bus service' was advocated, with its potential to develop into a high-frequency service being vital to allow the region to reach its full potential, it's claimed.
Particularly, this service will cater directly to international and interstate tourists without transport, according to Adams Perth MD, Barnard, to provide, "…the final vital link to supercharge tourism in the Swan Valley seven days per week."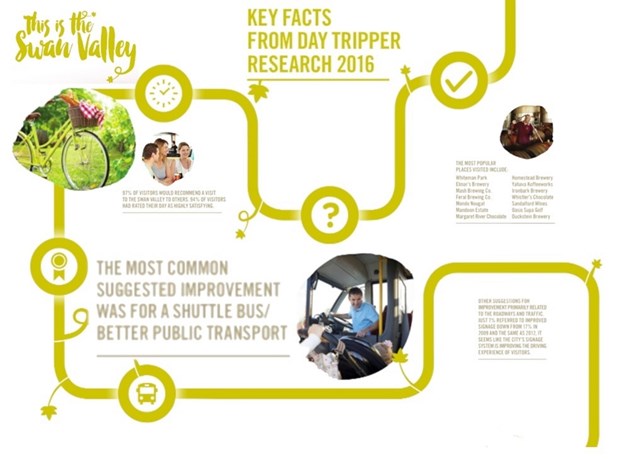 THE EFFECT
The aim of the service is to operate a seven day a week timetabled hop-on, hop-off bus service departing Guildford train station travelling on a designated route around the Swan Valley at an affordable price for international visitors, says Adams.
These services will be operated using low-floor, air-conditioned, wheelchair-accessible vehicles with free on-board Wi-Fi available to all users.
Initially, the service will operate every 30 minutes Wednesday to Sunday, with a reduced frequency on Monday and Tuesday. As demand from business and patronage increases the frequency of service will increase, with the flexibility to alter the route to ensure the needs of as many stakeholders as possible are meet, says Adams.
The first service is to depart Guildford train station at 10:10am seven days a week, with the last service departing at 5:10pm. From Wednesday to Sunday there will be 30-minute frequency between buses, meaning 15 trips around the Swan Valley each day, based on three buses operating the service. If four buses are utilised then there will be 20 round trips, explains Adams.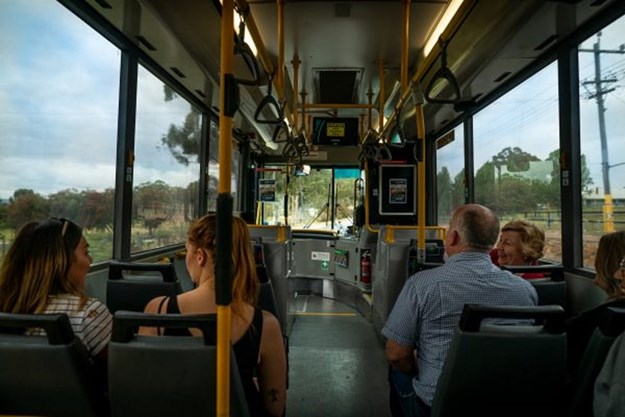 THE ROUTE
The proposed route essentially travels along the main access corridors of West Swan Road and Great Northern Highway, explains Adams.
Since the inception of the Swan Valley Explorer service, Adams has been approached by a number of local businesses requesting the route be modified to service their business, the company says.
These 'spurs', or deviations, are currently being evaluated and discussed with the local business owners, as these requests increase the distance and duration of the service, which in turn increase Adams financial commitment and risk, it says.
Barnard explained: "We will also be working with a number of local businesses that have requested a service deviation past their businesses."
"These deviation requests will be reviewed and negotiated on an individual basis with the business owner due to the increase in operational costs inclusive of additional roadside infrastructure."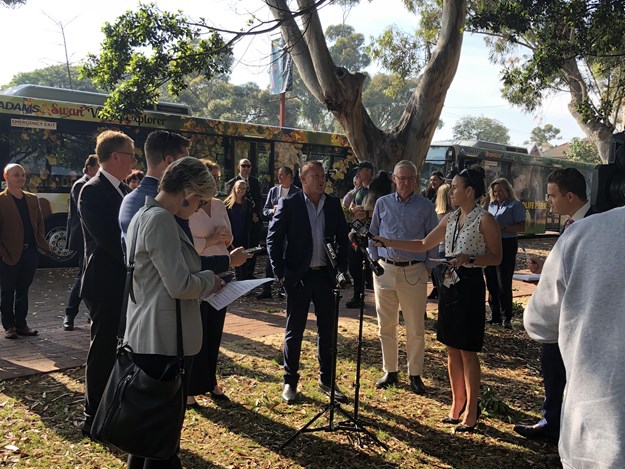 COST AND PAYMENT
The Swan Valley Explorer will be a user pays system, Adams explains. It is proposed a ticket that provides an all-day pass for the hop-on, hop-off service will cost:
• Adult - AUD$20.00
• Concession / Children (under the age of 15 years) - AUD$15.00
• Family (Two Adults and up to three children younger than 15 years of age) - AUD$50.00.
As Barnard explains, the idea behind the ticketing structure is to encourage family 'boardings'. Tickets will be able to be purchased either online or on-board.
All buses will be fitted with an electronic ticketing system with EFTPOS/credit card facilities providing a cashless system.
Adams will also offer an 'annual pass' available only to local Swan Valley residents at the discount price of $60.00 through the Swan Valley Visitor's Centre (commissionable), it states.
In response to local industry needs, Adams says it will also make the annual pass available to businesses that make a yearly contribution, for the purpose of assisting their younger employees travelling to and from work.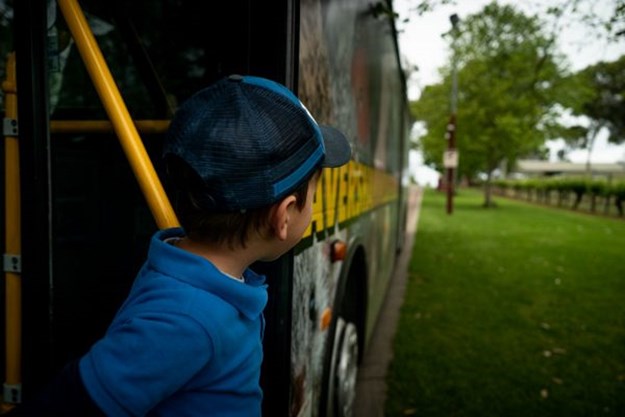 PERTH TO SWAN LINK
To further engender the success of this service Adams will also be launching a 'seven days a week' morning tour from Perth itself to Caversham Wildlife Park, in the Swan region.
As the company explains, this will be a one-way service with ticketing, allowing for transfer onto the new Swan Valley Explorer buses.
"In structuring tours this way it provides people - who otherwise may not have planned it - an opportunity to spend the day [in] the Swan Valley exploring the delights and attractions … before returning to Perth from Guildford [station]," he said.
Details of this new tour can be viewed at www.goadams.com.au he says.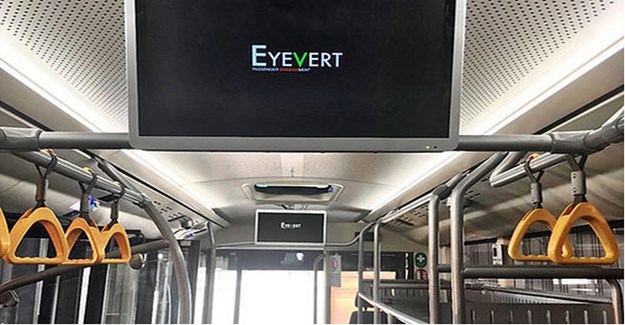 EYEVERT EXPLAINED
Eyevert is from a Perth-based technology company with local ownership, which developed a "first-of-its-kind" passenger information system for public transport services, says Adams.
Eyevert promotes the use of online technologies for providing passengers with service and route information plus timetables and service changes, it says.
The system endeavours to use West Australian software development and support services, says Adams. Local bus service operators have supported the technology development by providing opportunities for field testing, while Eyevert has active systems operating in Perth, Sydney, Malaysia and Singapore, it states.
According to Adams, the Swan Valley Explorer is one of the first service types in the world to install this "ground-breaking technology". The Swan Valley Explorer will provide a unique and connected experience for passengers to be well informed about the service, local businesses and events, it says. The technology platform connects individually with passengers via their smartphone, with each bus seat back containing a scannable code to seamlessly connect to the on-board information system and special offers from local businesses.
The ADAMS and Eyevert partnership is leading the bus transport experience for passengers, it says. The system provides an opportunity for multi-lingual information to be displayed and even a 'virtual tour guide' in multiple languages.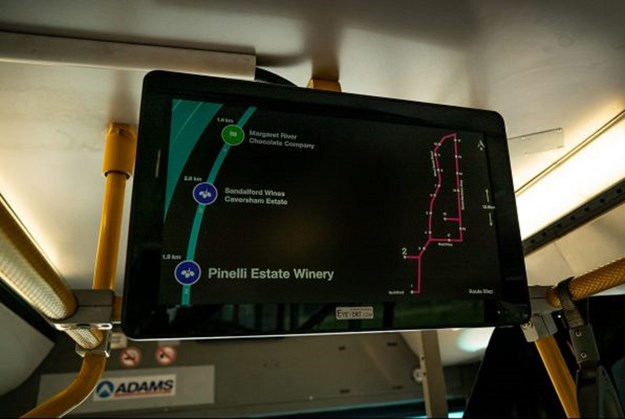 The buses multiple LCD displays are connected 24 hours a day to Eyevert central located in Perth, Western Australia. Information is displayed using geo-triggers; therefore, the information is always accurate, it explains.
Adams adds that local businesses benefit by having a dedicated bus service delivering customers to their front door that are well informed with that business's goods and services. Local businesses have the opportunity to promote their products and services to a captive audience in a cost-effective way, it says.
"The partnership of Adams and Eyevert keeps the bus service operator ahead of the curve, changing the way we think about using a bus," said Barnard.
"Ride share has encouraged us to demand more technology for transport; Eyevert and ADAMS are delivering it to Western Australia," he said.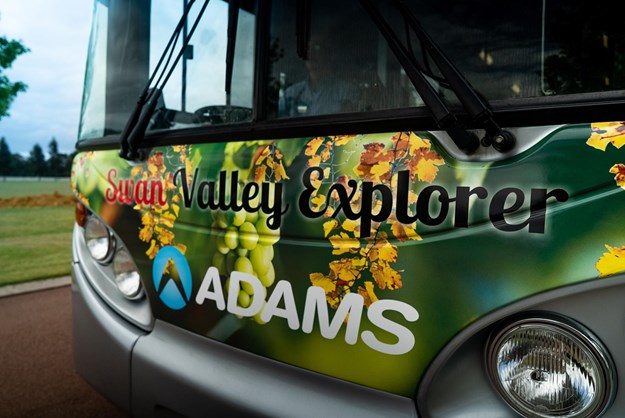 ABOUT ADAMS
Adams Group, based in Malaga, is Western Australia's largest privately owned tourism transport company, it states. It's a multi-faceted organisation delivering charter and coach tours across WA and timetabled bus and train services on Rottnest Island.
It includes the business branches Pinnacle Tours (www.ADAMSpinnacletours.com.au) and Go Adams (www.goadams.com.au).
Effective marketing of the Swan Valley Explorer will be a major factor in determining the success of the service, it says.
The company adds it has, "an unsurpassed international tourism distribution and agent network for its day-tour products covering Europe, North America and principally North and SE Asia through traditional retail and online media." 
Adams has preferential access to the leading Australian powerhouses such as Flight Centre and the AOT group, and is also the leading supplier of WA tourism products to the main Online Travel Agents such as English language sites Expedia, VIATOR and Get Your Guide, the leading Japanese site VELTRA and Chinese language sites Ctrip and Klook, it says.   
Adam Barnard is also on the national board of directors for the Australian Tourism Export Council (ATEC), giving "unprecedented access to national and state tourism industry leaders," it states.
Subscribe to our newsletter
Sign up to receive the ABC e-newsletter, digital magazine and other offers we choose to share with you straight to your inbox
You can also follow our updates by liking us on Facebook.