BUSTECH NOT PART OF TRANSIT AUSTRALIA GROUP SALE – YET!
---
BREAKING: BUSTECH – the bus manufacturing arm of Queensland-based Transit Australia Group (TAG) – is not part of the proposed sale of the massive transport entity, according to Bustech CEO Anthony Roder.
Speaking to exclusively to Australasian Bus & Coach magazine, which contacted Bustech to confirm certain details of any proposed sale, Roder said: "The operational side of the [TAG] business is for sale."
Yet when asked if rumours Bustech itself was not part of the sale, Roder answered, "That is correct. Bustech at this point is not part of the sale."
"It is exciting times for the industry over the next 3-4 months," he added.
Asked if Bustech would be for sale, he replied, "Anything can happen. If someone came and offered someone $10 million for their house, sure it could happen…"
WHO IS TAG?
As it describes itself, TAG is, "one of the world's leading vertically integrated group of mobility companies."
"Bustech is Australia's only advanced bus OEM (original equipment manufacturer) with chassis designed, engineered and made in-house.
"Bustech is at the forefront of bus design and development including producing the iconic urban double-decker (CDi model) and Australia's first electric bus (ZDi model)," it states – a version of which is currently on trial in Dubai.
Industry rumours over the past few weeks of such a sale were confirmed recently by a report in The Australian newspaper online yesterday, saying the TAG sale – with an expected price of AUD$200 million minimum - will be of great interest to potential foreign buyers, following a trend over recent years of key Australasian bus operations seen as ideal investments and solid, consistent revenue streams. As reported in ABC magazine only recently, iconic Sydney bus operator Forest Coachlines was effectively sold to CDC for a reported AUD$110 million.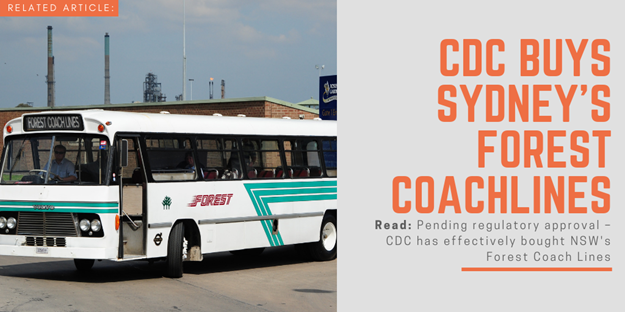 The report states: "Buslines are increasingly on the radar of private equity and financial investors who find the asset's steady income stream and long-term contracts, especially with local councils, as particularly attractive."
"DataRoom [a category of The Australian newspaper] has been told that TAG has appointed UBS [a global financial advice and expertise specialist firm] to try to find a buyer and it seems that the bank could have no shortage of interested parties."
KEY TAG ELEMENTS
The Transit Australia Group comprises a range of leading transport and manufacturing companies. These include:
Surfside Buslines – operating in the Gold Coast and Tweed Shire regions;
Sunbus – operating public transport services for Translink on the Sunshine Coast, Rockhampton, Townsville, Magnetic Island and Cairns;
Precision Buses - a South Australian advanced manufacturing joint venture between Bustech and Adelaide manufacturer Precision Components Australia;
TMS - a special and mega events joint venture delivering entire transport solutions for major international events;
Tag Mobility - an innovative bike-share social enterprise; and,
Gulftech - an international operation focused on working with governments and transport authorities in the Middle East to deliver mass transit and mobility solutions.
HOW IT BEGAN
Bustech was founded in 1995 by the directors of Gold Coast bus operator Surfside Buslines, Joe and Tony Calabro, who had bought that bus operation in 1989.
Said to be, "born out of a frustration with the lack of innovation and limited body building options available at the time," Bustech decided to design and build its own fleet of quality buses, the company states.
Latest reports put the TAG umbrella operation as now employing approximately 1400 staff and operating a fleet of 700 buses minimum.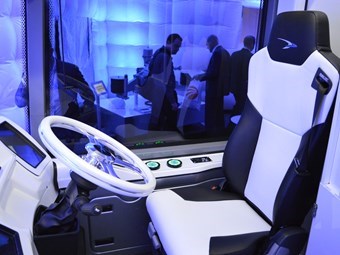 THE STATE OF PLAY
Further according to The Australian newspaper article: "The likely buyers of Surfside have been identified as EQI, the-London-based private equity and infrastructure investor 3i, along with Transdev, Singaporean group CDC and Keolis Downer."
In terms of future potential buyers of Bustech itself, key industry sources whom requested not to be named suggested there was strong interest from major local bus industry players.
"For God's sake, surely someone's got to keep some of all this in this country, right?" they said.
ABC magazine will keep readers updated as further information is announced.
Subscribe to our newsletter
Sign up to receive the ABC e-newsletter, digital magazine and other offers we choose to share with you straight to your inbox
You can also follow our updates by liking us on Facebook.