'ALL-SCANIA' TOURING COACH LAUNCHES ONTO AUSTRALIAN BUS MARKET
---
BREAKING: SCANIA'S long-awaited Completely Built Unit (CBU) Touring coach officially debuted onto the Australian luxury bus market at an exclusive dinner event last night in Port Douglas, Queensland, offering operators a truly "bumper-to-bumper" all-Scania experience, the company says.
As a result of the change in the permissible GVM for two-axle coaches in Australia, Scania has been able to construct a business case for offering the Touring as an 18-tonne GVM 57-seater at a compliant width of 2.5m and 3.8m in height, it's believed.
The launch model featured a six-cylinder 360hp engine, with the vehicle driven from Melbourne, Victoria to Port Douglas, Queensland. Scania reports that it used less than 20 litres per 100 km/h. "Although it was empty [luggage, passengers], it is a brand new engine not run in yet, making it a pretty good result," the company said.
According to the company, a Scania chassis, powertrain and Scania designed all-steel body, plus access to the latest generation active safety systems, a 57-seat capacity and 9m3 of luggage space, give the new Touring the edge in the school and charter/long-distance market.
The new Scania Touring 57-seater bus is a Scania "from bumper-to-bumper" - a point repeatedly highlighted to the assembled bus operators and key industry personnel during the Hawaiian-shirt themed night.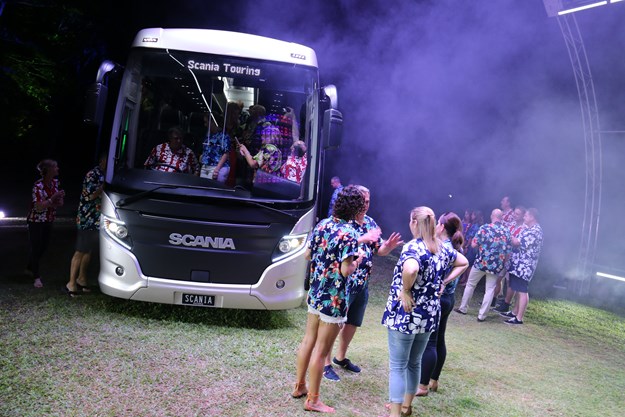 "The Scania Touring has been proven [itself] in service around the world as a very durable and satisfying product and our customers enjoy bumper-to-bumper Scania quality and reliability," said Julian Gurney, newly promoted to the status of national sales director for Scania Australia Bus and Coach.
"The Scania Touring is highly cost-effective to run, and supplies will be readily available. It can be also optioned with the latest safety features and can be tailored to meet operators' specific requirements.
"Consistent with our strategy of driving the shift towards a sustainable transport future, we are offering a 360hp five-cylinder engine version in Euro 6 compliance mated to a ZF six-speed automatic transmission, or eight-speed Opticruise automated gearbox.
"Customers requiring greater torque from a larger capacity engine can option the 360hp, Euro 5, 13-litre, six-cylinder engine mated to an eight-speed Scania Opticruise automated gearbox, or for the pinnacle of power there is a 410hp, Euro 6, 13-litre six-cylinder engine with 2150Nm of torque mated to the eight-speed Scania Opticruise," Gurney said.
"We have taken driver comfort very seriously so there is a separate factory-fitted air conditioning system for the driver's station, as well as one for the saloon, while the fully adjustable driving position, low dashboard and ergonomically laid-out controls help to reduce fatigue on long runs.
"We anticipate the first stock will be arriving within weeks, so operators who order immediately could see their new Touring delivered in time for the Christmas touring season, depending on the specification they order," he said.
"And by taking advantage of our long-standing Scania Driver Training and our Scania Communicator vehicle and driver monitoring systems, we can ensure operators benefit from the best possible efficiency and performance from their investment in the Scania Touring," he explained.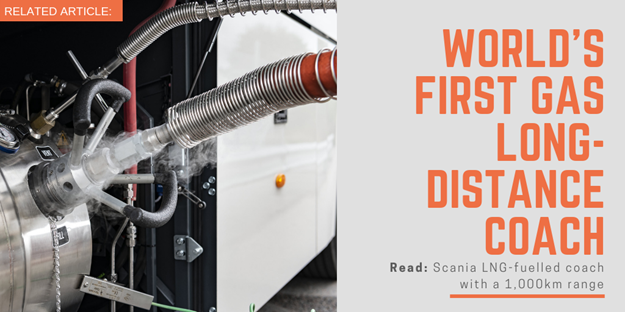 THE TOTAL PACKAGE?
As Scania spokespeople underlined on the night, the Touring has been engineered to meet the needs of the company's Australian customers for a ready-built vehicle with a single point-of-contact for all aspects of servicing and maintenance over the lifecycle.
The Scania Touring has an all-steel 12.3-metre body and it exceeds all the requirements of the European rollover test, it's claimed.
Scania Touring comes standard with ABS, EBS and electronic stability control. It may be also be equipped optionally with a raft of the latest active safety features, such as advanced emergency braking, adaptive cruise control (Opticruise only) and lane departure warning, it's stated.
The Scania Touring comes to Australia in two-axle configuration. The standard powertrain is Scania's renowned Euro 6, 9-litre five-cylinder engine, driving through the Scania Opticruise automated gear change transmission, complete with Scania Retarder, or via a ZF six-speed push-button hydraulic transmission.
Options for Euro 5 and Euro 6, 13-litre six-cylinder engines that drive through the Scania Opticruise automated gear change transmission will be available to customer specific orders, says Scania.
The coach is assembled in a dedicated Scania facility in China, giving Scania full control of manufacturing and quality, it states.
The "bigger and better" Touring shares many of the advantages of the Scania-Higer A30, sold in Australia over the past decade: exceptional build quality, rugged construction capable of taking on Australia conditions, and the many advantages of the Scania chassis and powertrain, the company says.
Luggage capacity is "a full 9 cubic metres" thanks to "deep bins" under the floor, accessed by pantograph doors each side that make it "a true touring vehicle, in addition to its daily role as a school and charter bus," it adds.
GLOBAL BACKGROUND
The Touring has been offered in global markets for some time and has, says Scania, been especially successful in Europe, Africa and Asia, as well as the UK. That's because it is, "robust, reliable and has very predictable running costs," the company states.
Scania Touring is built at a "bespoke and dedicated production facility" at Suzhou, near Shanghai, China, close to the Scania-Higher A30 assembly hall. The Swedish bus maker has been working with Higer since 2004, and the partnership, "provides Scania with a route to satisfy the needs of new, emerging and existing markets around the world," it explains.
Scania adds that build quality, fit and finish, as well as reliability and durability in severe endurance tests exceeded Scania's expectations and benchmarks during the development phase and experience in service has been just as positive, apparently.
PIECED TOGETHER
The Scania rolling chassis arrives in China from Sweden and is fitted with the body, built under "the watchful eye" of Scania quality controllers, it states.
As with the Scania-Higer A30, the Scania Touring can be fitted with 49-, 53-, or 57 seats (plus driver) on arrival in Australia, to the operator's specification.
Scania aims to keep stock on the ground so as to enable very fast order-to-delivery times, as has been the case with the successful Scania-Higer A30 programme, the company explains.
Key benefits for operators, says Scania, are: the single point of contact for sales, service and replacement parts; routine maintenance and repairs; and it all is available via Scania's nationwide network of wholly owned branches and 46 service independent authorised service dealers.
The Scania Touring is offered with a five-year structure and paint warranty, 12 months' factory warranty on the chassis, and a two-year factory warranty on the driveline. Every vehicle is also supplied with a Scania driver training session and four years of complimentary vehicle monitoring, the company explains.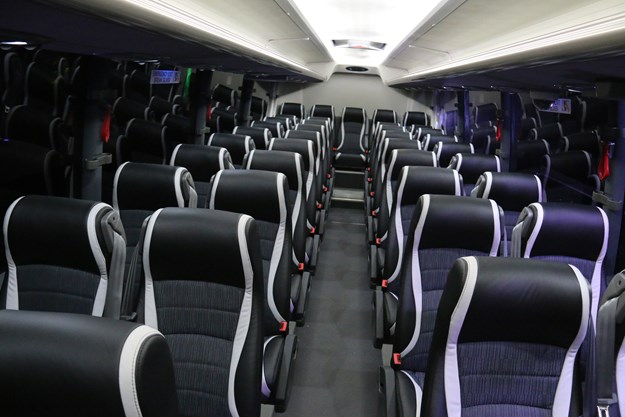 THE CHINA SYNDROME
At the time of the Touring's Queensland's launch, Australasian Bus & Coach magazine spoke exclusively with Jesper Eriksson, general manager Scania Group, China.
When asked to explain what sort of quality is behind the Chinese element of the build, he said: "The Scania Touring is a Scania from 'bumper-to-bumper' - not just the components, but the quality of the build, as well. We have a highly dedicated team of Scania employees working with continuous improvements of the products and ensuring that every product that leaves the line meet Scania's high-quality standards through in-process inspections, as well as final quality sign off."
"The purpose-built production facility in China is exclusive to Scania and Scania-Higer products. All stages of manufacturing are under Scania's oversight.
"To date, Scania and Higer [have] built over 3000 buses, either all-Scania units or Scania-Higer units since 2009. We use mass production techniques and tolerances in accordance with Scania standards, and we provide quality assurance that is the equal of any other Scania plant in Europe," he explained.
"Scania Touring production quality is an immensely important part of what we do in China. The continuous quality improvements made is a very big contributor to the positive volume growth and the success of the Scania Touring worldwide," he continued.
"The Scania production philosophy is unchanged irrespective of the location of the production facility," he said adamantly.
"The Scania Touring is a truly global product, which today is supplied to 40-plus markets. I have to meet targets in the same way that my colleagues in Sweden, France of the Netherlands do.
"A Scania is a Scania built to the same high global standards in every factory."
"When you buy a Scania Touring you are getting Scania's best product and best quality, proven over many years and many thousands of vehicles already produced. It is a refined, proven and reliable product," Eriksson concluded.
THE LOCAL IMPACT
The Scania Touring went on sale from 6 October with deliveries available before the end of 2018. A Scania insider revealed to ABC magazine that approximately 10 of the first coaches "have been spoken for".
"The first batch of 10 … we are reasonably confident they are all spoken for. But they'll be coming in on a regular basis because the idea is to have stock 'on the ground', so that we can have seats ready as well," said Alexander Corne, Scania Australia PR manager.
"So, for example, if a customer comes in and says 'I want one now', we can put the seats in and off they go.
"We won't have the seats [already] 'in the bus' because there's obviously so many different locally manufactured seats, but if you want McConnells or Stylerides or whatever, we can just have them put in [as desired]."
With many operators on the night of the launch visibly impressed with what they saw of the Touring – prior to the next day's group drive experience to transfer launch attendees back to Cairns for the 2018 Australasia BIC/BCANZ inaugural annual conference – there was one common question they wanted answered: price?
With a non-seats rough starting amount of AUD$306K mentioned by Scania event representatives when pressed bluntly by some operators, a more accurate full amount was yet to be disclosed, given so many bespoke variables per customer needing to be factored in.
However, as explained to ABC magazine: "As that bus stands there, with 13-litre engine and McConnell seats? 'Mid-threes', on the road.
"So that's seats, electronic desto, video/DVD screens and 13-litre engine – mid-300s."
Asked what impact a CBU Scania unit could or would have on the local bus body building industry, they responded:
"We already take up a full 50 per cent of all local body builders' capacity. If we wanted another slot, we'd have to wait until 2020 [to get a slot], and for some builders like Coach Design, Coach Concepts and Coach Express … we put a lot of coach chassis through them – so from an impact perspective this won't have any impact on them at all.
"Volumes for this [Touring] are going to be modest to start with … and they [local body builders] don't have capacity, so I don't think that's going to be an issue…"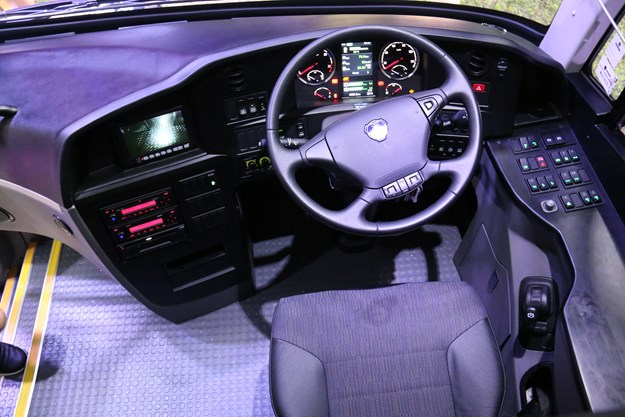 HIGER'S OWN
So will Higer itself be able to bring out the same or similar vehicle, in its own right?
"That is a Scania design; it's been on sale since 2009. It's a global product… You can't build a partnership on that basis. But that's basically a special bus [for us] because we convinced our factory to make it at 2.5m for the Australian market, whereas in other markets it is 2.55m, so they were very helpful with that," they said.
"The 18-tonne GVM was the issue [in Australia]; once they signed off on that locally, we [Scania] were able to get that [Touring] built."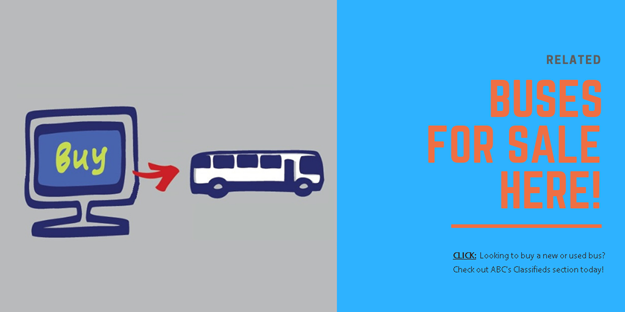 Subscribe to our newsletter
Sign up to receive the ABC e-newsletter, digital magazine and other offers we choose to share with you straight to your inbox
You can also follow our updates by liking us on Facebook.