THE NEED TO KNOW - 2018 PASSENGER INFORMATION SYSTEMS GUIDE
---
SPONSORED CONTENT: Commuter information via sundry apps and smartphone technology might be second nature to Millennials and age-defying Gen-Xers these days, but nothing beats a quick glance at a big screen or a clear, concise audio message about your public transport journey.
It may well be a 'sign of the times' that bus, rail, ferry and whatever else mode of travel connected to any city's public transport system relies on accurate arrival and departure information - and customers often get such from their phones. Or at least the downloaded travel apps on them.
Yet those apps need to get that information from a source … and that source – in modern times – cannot just dictate where transport modes should or could be along routes. Real-time data shared rapidly between the vehicle or transport mode to the 'base point', which in turn compares it against timetable requirements and shares the outcome back and or to a source that disseminates it to apps for people to plan their travel against, is where we are now at. It's the currency we've all bought into. That's just the way it is.
Arguably, for as simple as it sounds to just get your phone out and touch screens and scroll to a point that tells you where your bus is or what it's doing, that's ideal when you are no-where near earshot of the transport system, or a node like a bus stop.
Once you are, it is the convenient clarity (readability and 'aurality' – font colour, style and size of text; pitch, tone, cadence of audio etc) and accuracy of it that puts special importance on the quality of any good passenger information system.
From its front-end interaction with the commuter to its back-end communication via internet and satellite trilateration (as opposed to triangulation), so that everyone knows pretty much exactly where buses and coaches are at any point of time, the passenger information system is key.
You want to encourage and 'psychologically welcome' travellers with a great system and make them feel 'relaxed, safe, connected – and in control' of their journey. And in this way it helps prioritise catching public transport over personal car use.
Things like air-conditioning control, illuminated and automated destination signs, and high-definition CCTV camera systems are usually all part of the packages offered by top companies specialising in such systems. As well as bus web-based monitoring, route data management, vehicle travel statistics, and vehicle tracking and telemetry.
There is so much cool stuff and multiple combinations of things available out there that if this were a fast-food joint you'd probably starve to death in the queue by the time your brain and tummy finally co-operated on an order together.
A quick Google search reveals literally hundreds of businesses around the world dabbling in this field to certain levels and capabilities, but here in ABC magazine we check out a locally established few.
Enjoy…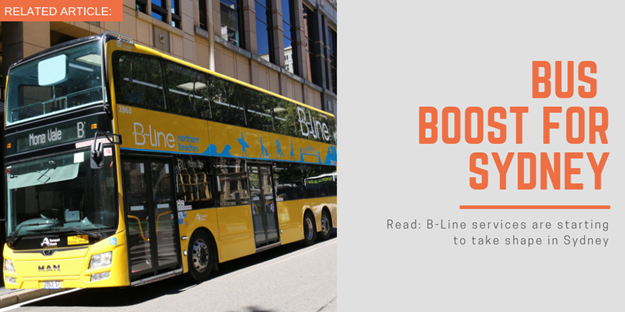 MOBITEC SYSTEMS
Since being implemented in November 2017, the Mobitec/Consat MX4 computer system on Sydney's Northern Beaches strikingly bright-yellow MAN double-deck B-line bus system arguably showcases the world-leading passenger information technology to the domestic market, says managing director Bob Barwick.
Mobitec successfully secured a contracted Service Level Agreement (SLA) with Transport for NSW to implement and manage its passenger information system on this route.
"The system has operated without a hitch for the past six months, on both the buses and the bus stops. The MX4 computer technology is state-of-the-art and is underpinned by this solid performance. As well as implementing the on-board and off-board systems, we provided Transport for NSW the back-office system to manage and monitor buses and bus stops. We also integrated into their real-time open data hub. The system provides them reports on anything they want; for example, they can actually see what the bus stops were displaying at a particular time or when a bus pulled up."
With a 30-year relationship between Mobitec and Consat, they are confident this success will pave the way for a lot more business in the future.
"Transport for NSW will soon be introducing 'Headway' in the next phase of the B-Line and the system we have just implemented has this capability already built-in. As the driver is an integral part of the passenger experience, they can take advantage of this technology to plan in real-time. This information can also be used by the central control room, and even displayed in real-time to the passengers on the bus or at the next bus stop. 
"The system also has a tool for driver behaviour. Unlike other systems which are hybrid and only give a basic solution, Mobitec/Consat consider the bus chassis and specific route information to give a more realistic experience. Determining the difference between chassis on fuel consumption is valuable for the business, while real-time push notifications are important to inform passengers of events such as Service Disruptions.
"Other requirements by Transport for NSW included static LED displays for passengers who are vision-impaired.
"One of our IT specialists, Kurt Hennessy, is himself vision-impaired and his input into this area of development has been paramount to its success.
"Installing static LEDs eliminates the common flickering that occurs with a traditional multiplex sign. These small flickers are most often not seen by anyone except those who are vision-impaired, making it hard for them to read important route information. The inclusion of the static LED signs has been a real game-changer for this group of commuters.
"Plus, we've added the text-to-speech buttons at the B-Line stops, which repeats what's on the PID sign in a digitised voice; it can also be configured to use a voice actor if desired." 
A full range
Mobitec's expertise spans the entire transport system from bus-stops, driver and route information, all the way to depot and business reporting systems, according to the company.
"We're really proud of our 55-inch screens that function like a help centre for passengers", said Barwick. "Having real-time push notifications displayed gives passengers the ultimate confidence in the transport system."
"Another innovation is our solar-powered timetable screens that can go anywhere. These are popular in Germany, where their use has improved their passengers' experience and the integration with the back office has provided valuable information to show where timetable efficiencies can be improved.
"Couple this with reporting on driver performance and fuel consumption and it's no wonder our system is attracting so much interest."
Drivers themselves are also well-catered for with one point of log-in and hands-free communication. This text-to-speech technology is a safety feature that eliminates the need for a handheld radio unit and there is a ticket machine process already in development for release in the near future, according to Mobitec.
The company has some very smart products that have elevated levels of adjustability and functionality.
"The MX4 system is ahead of its time," said Barwick. "This system is helping to future-proof Transport for NSW and setting the standard for the rest of the Australian states.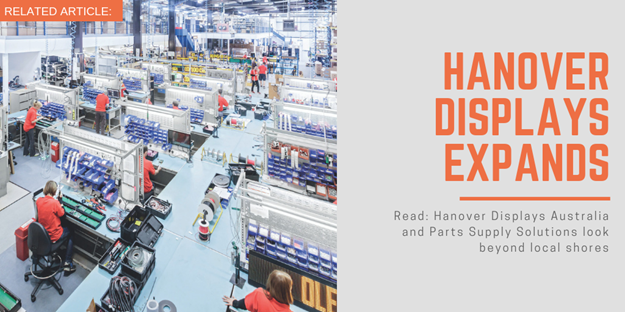 HANOVER DISPLAYS
More than 30 years after it started as a one-man operation at a single location, Hanover displays is now a successful global organisation. It now has more than 250 employees worldwide and customers in more than 75 countries.
Its passenger information systems solutions are designed and manufactured exclusively in-house without the need for external sub-contractors, it states. It has the capacity to build and supply up to 75,000 units annually, with the potential to scale up further in the future.
Hanover says it's never relied on external investors and continues to be an entirely independent business. It has always been committed to delivering reliable, made-to-measure solutions and exceptional support, it says. And it has always been dedicated to ongoing innovation and superb quality, it states.
Hanover Displays says it is a one-stop shop for all on-bus passenger information system hardware – from destination displays, next-stop signs and audio systems, to on-board computers and multi-media TFT panels. Hanover also meets back-office software needs, including destination databases, media content creation and editing solutions, remote system updates, geo-location, real-time tracking and bus fleet management programs. 
The state of play
Trends in Australasia?
"White LED signs, and curved signs to fit curved windscreens. We have more requests for these than anywhere else. At times they are amazed in the UK about our fixation with White LEDs. We are also seeing increasing demand for voice announcements of the next stop information. Especially on the longer country routes (and short city routes, for that matter), giving people time to be prepared to depart the vehicle rather than just pulling up at a stop and it's 'quick I've got to get off'," said Fiona Watson, director of Hanover displays Pty Ltd - the Australian subsidiary of the parent company. 
Where's the name from?
"Hanover originates from a little town near Brighton in the UK, which is where we first started. Manufacturing now is located a few miles away from the original office in the chalk hills of Lewes." 
What are Hanover's top three strengths?
"When you consider the fact we source our LEDs from the same supplier as our main competitor, albeit with a different bin grading for colour, how do you position your product as the better choice? Well, there is more to passenger information systems than the LEDs," she replied.
"Hanover equipment itself is designed to be reliable, more efficient in terms of power consumption (around 30 per cent on average) and very simplistic to program when compared to that of our competitors. While they promote what they call static LEDs (surface mounted LEDs) - we can also offer these - we have continued to produce displays using radial LEDs due to the demand for lower power consumption.
Managing director Grant Watson added: "We are innovative and offering Text To Speech solutions to complement the displayed messages for passengers with vision impairments. We can provide the whole package: destination signs, screens, next-stop voice announcements and more. Simply hop on to any Melbourne tram and you will see all our gear in action.
"We also provide exceptional customer service, having won several awards for this in the past. We always try our best to look after our customers. Very often we receive positive feedback from our customers on our service levels; it is amazing how many thank-you cards and Tatts tickets appear in the mail from customers," Watson said. 
How big is the ANZ team?
"In Australia we consist of a team of four full-time employees all based in Melbourne. We have an agent in NZ, Gordon McKendry from Geemac Trading, and agents in Hong Kong and Singapore. Our numbers are also bolstered by two additional international sales staff and technical support team members, who work from our UK office and travel as required." 
And the Hanover Task Force?
"Each of our subsidiaries has input in this process and Grant is the active representative for Australia. As a business we are very proactive in mapping the future directions of the company and its products," Fiona Watson said.
"The Task Force is watching global trends and identifying new or emerging technologies that will benefit our customers. Staff are kept informed globally of our roadmap via internal email updates.
"We have some exciting new game-changing products on the way. But we need to keep these under wraps until the official launch at Euro Bus Expo,  Birmingham later this year," she added.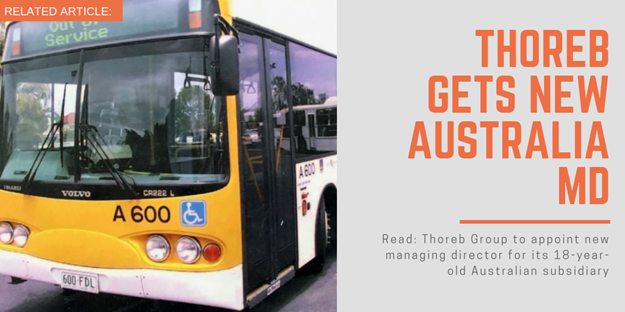 THOREB AUSTRALIA
Thoreb Australia is one of 10 subsidiaries of AB Thoreb Sweden, founded in 1978 by Ph. Dr. Thore Brynielsson. Celebrating its 40th anniversary in 2018, AB Thoreb proudly remains a family business, running manufacturing operations within its homeland of Sweden and various other locations throughout Europe.
Thoreb Australia celebrates its 19th anniversary this year. It's a wholly owned subsidiary of the Swedish parent company with 12 staff across three locations, including a head office in southern Sydney.
Thoreb prides itself on its forward-thinking approach to technology, including its 'Multiplexing' technology, which aids in fleet management, vehicle control and passenger experience throughout automation and data collection. The first bus ever manufactured in Australia using this technology was a joint project between Volgren and Brisbane City Council late in 1999.
Built on a Volvo B10L chassis this bus was years ahead of its time boasting the C90+ Konfram on-board computer some 18 years ago, showing the innovation and commitment Volgren and Volvo have made to the Australian market, cementing them both as current market leaders. 
In more recent times, Thoreb continued its innovation at both B2B and B2C levels, unveiling real-time web tracking, telematics, fleet management, passenger counting systems and, most recently, top-quality white LED destination sign equipment made in Europe – newly added to Thoreb Australia's product portfolio. 
Latest highlights
Thoreb sells to bus manufacturers, body builders, public transport operators and private fleet managers worldwide, with exciting growth in the Australian market fuelled by the following projects: 
•  Yarra Trams (Melbourne) - Passenger Information Systems (Next Stop Information) – 50 per cent of Yarra Trams rolling stock are now using Thoreb Next Stop Information System. A number of these trams are also using our Passenger Infotainment system - Thoreb Media Cloud;
•  Ventura Buses – a four-year project involving decommissioning the old CCTV system, the supply of and installation of 480 new Thoreb CCTVs, as well as to supply and install the infrastructure Wi-Fi system in several depots;
•  TfNSW – Interline Connect On Demand public transport for Edmondson Park, NSW – MaaS Pilot Trial running now for more than six months on Interline Buses, where Thoreb has developed the entire system and the web application locally in Sydney with the kind assistance of Interline Bus Services and also Transport for NSW.
As well as the above projects, Thoreb Australia also has a list of exciting new product releases inbound for the Australian market. These inlude:
•  C28b on-board computer - The spindle of its Multiplex system, in conjunction with the C10d screen with driver interface and navigation, which can handle dynamic tour, i.e. the trip can be changed up to one minute before the trip has started, maintaining the headway route frequency, with other features to be revealed closer to its local launch;
•  CC1 - Digitised and fully customisable instrument cluster (our dashboard); and
•  D29m - Its latest information display (29-inch monitor) ideal for public transport vehicles for Passenger Infotainment systems with internet access point incorporated into the display hardware - among some other smart features.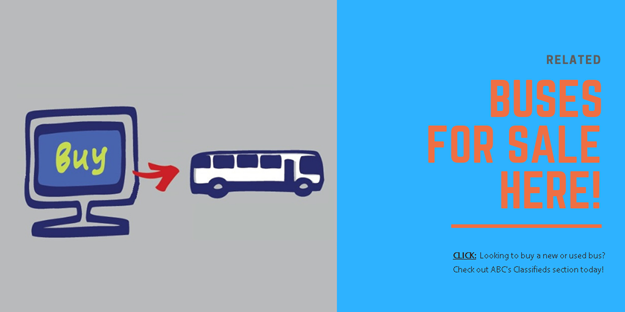 Subscribe to our newsletter
Sign up to receive the ABC e-newsletter, digital magazine and other offers we choose to share with you straight to your inbox
You can also follow our updates by liking us on Facebook.