NEWLY FORMED TRATON AG AND HINO DEEPEN TIES VIA E-MOBILITY, PROCUREMENT JV
---
BREAKING: RE-NAMED VW TRANSPORT GROUP Traton AG and Hino Motors Ltd have further solidified their recently announced strategic partnership by "joining forces" in e-mobility and plan to establish a procurement joint venture, it was announced earlier this morning.
TRATON (pronounced 'Tray-ton') – Germany's newly branded Volkswagen Truck and Bus entity, which also includes Scania and MAN commercial vehicles – together with Japan's Hino originally entered into a strategic partnership on April 12, 2018, to benefit "customers, society, and both partners," they stated.
Since this agreement, both companies have established working-level committees and explored cooperation opportunities in existing and new technologies, as well as in procurement, the companies report.
The strategic initiatives announced today are a result of these evaluations, they say.
Yoshio Shimo, president and CEO of Hino Motors, Ltd. said: "The last couple of months have confirmed what we sensed when we announced our partnership in spring 2018: Hino and Traton share the same motivation of providing [the] highest value for our customers. I am delighted that we made good progress in the field of e-mobility and procurement. With every new meeting, I gain confidence that we are moving in the right direction to strengthen our relationship of trust and to pursue further possibilities."
Andreas Renschler, CEO of Traton AG and member of the Management Board of Volkswagen AG, said: "The partnership between Traton and Hino will be a source of strength for both of us. Our sector is changing. Together, we will be able to shape the ongoing transformation of transportation. Our partnership is taking concrete shape and we are continuously identifying new opportunities. The cooperation in e-mobility and the establishment of a procurement joint venture is just the beginning."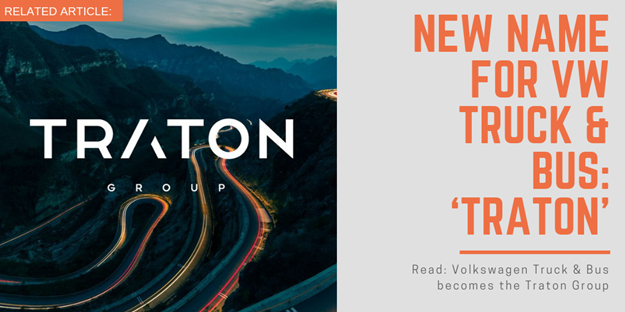 MOVING FASTER
In e-mobility, Traton and Hino plan to share their development efforts and market products in shorter time, they say. Hino has a history of more than 25 years in electrified vehicles and the largest running fleet of hybrid commercial vehicles in the world, it's stated. Also, Hino will start sales of the world's first heavy-duty hybrid truck (Hino PROFIA Hybrid) with its AI-based hill anticipation hybrid control system in Japan next year. The partners have complementary approaches: Traton is focused on heavy-duty applications; Hino focuses on light- and medium-duty trucks. Joining forces will strengthen the innovation power of the partners, it's claimed.
According to the companies, "The future procurement joint venture - with balanced rights - is planned as a small but powerful entity between both parties, leveraging synergies in purchasing. The planned joint venture aims at realising synergies in global procurement for existing parts, as well as parts for new technologies."
More details of the planned joint venture will be outlined in the upcoming months.
A corresponding framework agreement has already been signed; filing for antitrust clearance is the next step in the process aiming to establish the joint venture company in latter half of 2019, it's stated.
IN OVERVIEW
• The companies are to deepen their strategic partnership further to "leverage synergies";
• Cooperation in e-mobility [is] to advance sustainable powertrains and speed up product development; 
• They signed [a] framework agreement for a future joint venture aiming at "realising synergies in global procurement"; 
• Yoshio Shimo: "Hino and Traton share the same motivation of providing 'highest value' for our customers. Today's announcement is our important first step," he said.
• Andreas Renschler: "Our partnership is taking concrete shape and we are continuously identifying new opportunities," he added.
Subscribe to our newsletter
Sign up to receive the ABC e-newsletter, digital magazine and other offers we choose to share with you straight to your inbox
You can also follow our updates by liking us on Facebook.