EXPORT LARGER - COACH DESIGN NZ ALPINE 'WIDE BODY'
---
A LOT OF PEOPLE get up in arms when bus product is imported into Australia. So when Coach Design sends product back out, isn't it time to celebrate a bit?
The destination might not be too far away and it's not like it's the first time it's happened – and that's a good thing – but Queensland-based Aussie body builder Coach Design prepping and shipping out a beautiful luxury coach to New Zealand (one of two, recently) is definitely something to be happy about.
In fact, in those parts and many others around the country you could expect Coach Design fans to be making like they were appearing the in the Pharrell Williams video for the song Happy and be dancing in the streets, in workplaces, at tenpin bowling alleys and even on top of closed-lid 'dunnies' in their bathrooms maybe (Disclaimer: that last one could be dangerous; don't try that at home, kids!).
Yet while this is nothing less than the 83rd vehicle that Coach Design has exported to New Zealand – with the company's exports starting in 2000 – and it being the 15th coach for operator Bayes, this one differs from the previous pack. How so? Well, depending on how you see it and say it, "she's a bit fetter/fatter" than most. By about 50mm, to be exact. Just the thickness of a couple of pieces of chewy either side puts this 'wide-bodied' Alpine at 2.55m – a standard not blinked at in many parts of the world, but kind of taboo here in Australia. Shhhh....
Yet the beauty of this build is that it's not staying here, so as that famous old Latin saying goes: "Winner, winner, chicken dinner."
Ultimately, it's a great-looking unit and building it wasn't without some hurdles to hop over in the process, but Coach Design was more than happy to meet those head-on and confide with ABC magazine exclusively about what those are exactly. While we were there and saw it in build last month or so, we decided to sneak around the workshop and have a sticky beak (on a weekend, safety instructions followed) and then come back and ask a few questions about how this all came about. As you do…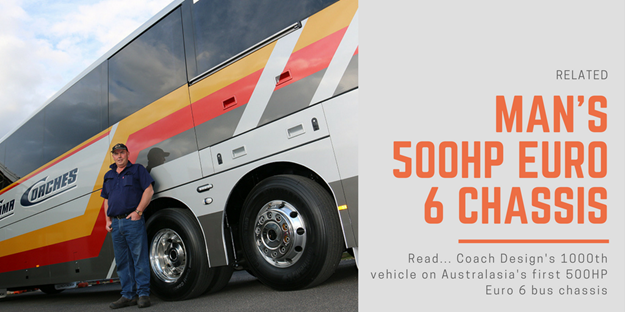 EXPORT SUCCESS
With Ashley Jamieson under the pump at the time of our questioning while he was filling in for a finish-line foreman on holidays – Coach Design director Chryss Jamieson was only too happy to give ABC magazine the lowdown on what's what.
"The last two vehicles that we built for Bayes will take our total NZ exports up to 83 coaches – which started back in 2000," Jamieson confirmed.
"Including the coach about to be sent to the wharf, this will be the 15th Bayes coach. All the coaches we build for NZ are of a very high spec and similar to what is in Europe."
"NZ will accept Australian vehicles that are fitted with an Australian compliance plate, but NZ have a total vehicle weight penalty system, where the heavier the vehicle the more road fuel tax they have to pay. So the coaches are built to the NZ roll-over standards, which means a lighter frame construction.
"As every vehicle is built we send drawings and all information to a NZ engineering firm based in Auckland to get the compliance wheel turning and, when the coaches are finished, we supply a weigh bridge certificate so the registration paperwork can be completed. By the time the coach reaches NZ all the paperwork is in place and there are no hold-ups," he said.
So with crucial things like weights and compliance to be dealt with at the best of times, surely Coach Design had to overcome other issues for this first wide-body Alpine?
"This coach was a challenge for us because it was our first ever 2.550mm-wide vehicle and, as the numbers of these vehicles to be built was not going to be very many, we had to minimise our tooling costs," Jamieson said. "Surprisingly, though, the amount of work to make the wider vehicle was nowhere near what we had originally thought," he explained elatedly.
So how long did it take? "A standard-width vehicle is about a 12-week build and this one was only another week's work."
FUSSY CLIENTS – IN A NICE WAY
According to Jamieson, the Bayes family are extremely fussy buyers and had done a lot of their own research on some of the components for this coach, particularly in chassis selection: a Scania K450 EB6x2, effectively purchased directly from Sweden.
"It is so much fun to work with companies like that [Bayes] because the end result is outstanding," he said.
"The Brusa seats – another thing the client wanted – came from Turkey and they were so good looking with many features; however, the calf supports had to be removed as there was just not enough space for them. NZ seat compliance is also much less than Australian standards and they cannot be used here," Jamieson was quick to point out.
In fact, ABC hears from industry sources this is a big issue in terms of seat selection in this country in that ADRs allow seats constructed in other countries into Australia if they are already on a bus or coach as a Completely Built Up unit (CBU), and thus do not need to meet the test and safety standards that local seat producers do.
But again, this stunning coach is not for Australian road use.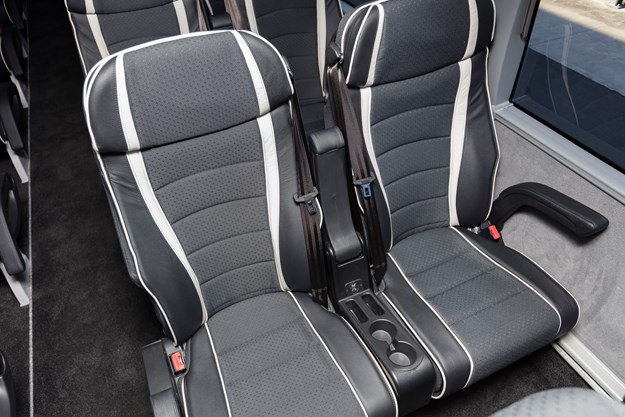 A PEAK INSIDE
The cabin is a comfy and inspiring place to be.
As Jamieson explains, other features included new reading light/vent modules; shadow lighting under every window sill and step entry mouldings; centre-mounted fibreglass modular toilet; Waeco refrigerator on top of the centre toilet; huge seat spacing; and both centre and front entries were finished off in a dark wood-grained vinyl.
"Another two new features for Coach Design was the one-piece screen and the Japanese plug-door control system from Taihei Denki," he said.
"There were two of these specialised vehicles for Bayes and one is already on the NZ roads working. The second one [pictured] is also complete and just waiting for shipping.
"Coach Design builds for five other NZ-based companies and all the coaches are of similar spec and all the customers are just as fussy," he laughed, cheekily.
CD's Kiwi clients include: Clarks, Greenline, Musson's, Leisure Time Tours, THL Group and Bayes, with a few more on the radar.
"They are all North Island-based companies, but most of the tour work is in the South Island. They ferry them down in September and bring them back in April when the summer session is finished.
"We have another Scania K124 for Leisure Time Tours about to go to the paint shop and they want it ASAP because the season is about to kick off," Jamieson said.
TRANS-TASMAN DIFFERENCES
You'd be correct in thinking Australian ADRs and bus-building standards are some of the toughest in the world, so it often freaks out a few people to hear there seems to be a bit more scope for what can run on the roads of a neighbour so close.
As Jamieson explained, "NZ is more flexible with international standards than Australia. NZ allowed rear tag-axle steer years before Australia allowed it, although all the Aussie body builders are hoping Australia does not allow the 2.550mm because it will open the gates to a lot more European imports. It has only been in the past 12 months that NZ allowed the 2.550mm [limit]."
GETTING IT LANDED
With such experience in building for the NZ market, Coach Design is a master in helping get these projects imported and landed in their destinations. How's it work?
"The client usually arranges the shipping, but we also have to play a role in all that. You have to be licenced to take vehicles to the international shipping wharf followed by a stack of paperwork. I think that shipping and insurance costs are around $7,000," he said.
"In the case of the Scania buyers, in NZ they order the chassis from a company called Cable Price, which is the Scania dealer in Auckland. Once the orders are ready to be shipped they come to Brisbane directly from Sweden.
"It is probably a process we all take for granted now, but it all just happens."
THE TEST DRIVE
While ABC is always keen to get behind the wheel of anything we can, alas export-bound models are a trickier issue here. That said, our test reviewer Paul Aldridge did sample a similar Scania chassis for our roads that's now owned by Queensland's Palmer's Coaches. The 'Son of a Gun'-grey Pure Class gem was our cover story for ABC Issue 366. You can check the video review online at: www.busnews.com.au/bus-reviews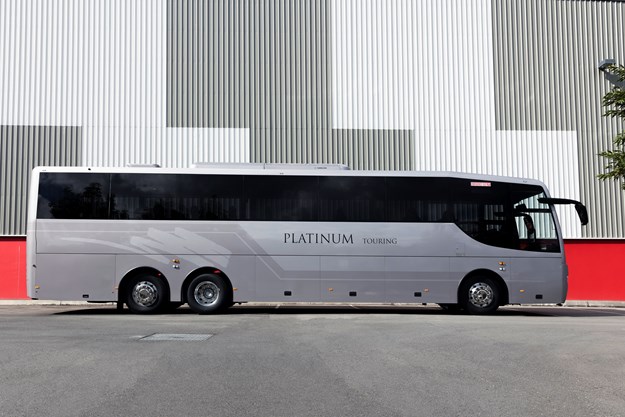 Specs
BODY: Coach Design Alpine NZ Wide-body
CHASSIS: Scania K 450 EB6x2
ENGINE: Euro 6 DC 13 147/450, 13-litre in-line six-cylinder
POWER: 450hp/331kW @ 1,900rpm; TORQUE: 2,350Nm
EXHAUST: Scania selective catalytic reduction (SCR)
TRANSMISSION: Scania 12-speed Opticruise GRS895R 
DRIVETRAIN: Steerable axle tag
TELEMETRY: Scania Communicator telematics
Subscribe to our newsletter
Sign up to receive the ABC e-newsletter, digital magazine and other offers we choose to share with you straight to your inbox
You can also follow our updates by liking us on Facebook.