ELECTRIC-BUS FIRE SAFETY EDUCATION GETS BIG PUSH IN EUROPE
---
THE EMERGENCE AND SEEMING inevitability of more electric and hybrid buses on global roads in various public transport systems is seeing increased courses, education and research into dealing with potential fires involving such vehicles, experts state.
As with any precautionary safety knowledge for any type of unforeseen bus accident and or fire situation, both Solaris of Poland and Sweden's innovation agency Vinnova – Strategic vehicle research and innovation (FFI) - have highlighted recent initiatives to better deal with fires involving buses with such new technology.
According to some experts, a growing number of electric and hybrid vehicles are driving on our roads and knowledge on the risks associated with these vehicles with new energy carriers is limited.
A vehicle fire is often extremely intense and can have significant safety and environmental consequences, plus the risk of vehicle fires - when considering the prevalence of road tunnels and underground garages - means that questions concerning rescue operations and societal costs are becoming increasingly important, they say.
One such company based in Sweden, Dafo Vehicle Fire Protection, is therefore contributing to a new research project funded by Sweden's Vinnova (FFI), where risks posed by lithium-ion vehicle batteries will be addressed and investigated.
The RISE Research Institutes of Sweden initiated this project in May, 2018, focusing on how fire risks posed by lithium-ion batteries in vehicles should be managed.
"With this new project – in which RISE, Scania, the Swedish Association of Vehicle Workshops (SFVF), NEVS and Fogmaker are also participating – we will map the fire risks associated with lithium-ion batteries and mitigating the consequences of fires in electric and hybrid vehicles. The big increase in electric vehicles and the transition to renewable fuels means that this is a very important and exciting project," said Johan Balstad, Business Area manager of Dafo Vehicle Fire Protection AB.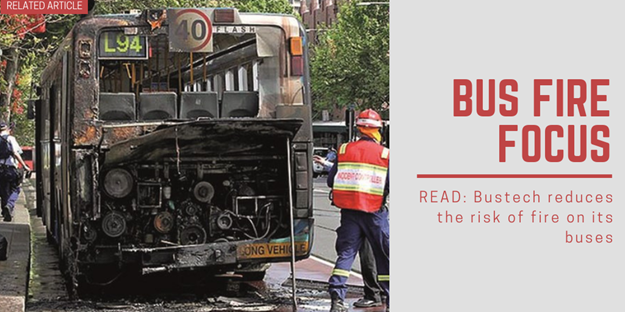 Balstad continued, "Fire risks related to battery spaces, including specific risks when charging and procedures for handling electric vehicles and batteries after a crash - bearing in mind the risk of fire at a later stage - will be studied. This work will lead to future safety solutions, including system design and battery placement.
"Our focus of this project will be to investigate the extent to which fixed/integrated fire suppression systems, that are widely used to protect engine compartments on heavy vehicles, can be applied to vehicles powered by li-ion batteries, as well as how the systems should be designed. We hope that it will be possible to leverage existing resources to reduce the fire risks. As an example, 94 per cent of all public transport buses in Sweden already have fixed fire suppression systems installed," he explained.
FIRE AND RESCUE
In a similar light, Polish bus manufacturer Solaris – maker of the 12-metre electric Solaris Urbino low-floor city bus - crowned 2017's (European) Bus of the Year – has been co-operating with its local State Fire Service to ensure such future bus safety on its roads, it's stated.
Nearly 800 firefighters, 20 experts and 25 inspectors of the Road Transport Inspection (ITD) have attended a training workshop on the construction of modern city buses, the company reports recently.
Run by experts of Solaris, the training programme is, among others, supposed to teach how to safely disconnect bus batteries, how to handle high voltage in an electric bus and how to safely evacuate the driver and passengers of a bus during traffic incidents involving a bus.
Solaris Bus & Coach S.A. has been putting a lot of effort into programmes to improve the safety of road users for many years, it states. Since 2005, the company has been implementing its programme Safe Driver, thanks to which more than 1000 drivers have completed training sessions on safe driving techniques on a special test track near  Poznań.
Training provided since 2013 by the Department for Technical Trainings of Solaris to employees of emergency and road services have had an equally big impact on road safety, it's claimed.
It was in 2013 that Solaris started cooperating with the Fire Service Warrant Officers School in Poznań (SAPSP). In the same year all pupils of that school were trained on the construction of a city bus.
As part of the training curriculum firefighters were taught about vehicle construction, starting with the design and ending with the product itself.
"The participants get acquainted not only with the design of the bus, but they also learn about how to react in emergency situations such as fires or traffic incidents in an urban area. Strict rules apply to rescue operations; our trainings make a perfect supplement to theoretical know-how provided in school. One of the things we teach is the safe disconnecting of bus batteries and handling high voltage installations in electric vehicles. We also provide guidance on how to evacuate the driver and passengers depending on the bus configuration.
"We pay particular attention to emergency exits, talk about various event scenarios," explained Błażej Pacholsk, Trainings leader for Alternative Drivelines at Solaris. He and Ireneusz Pachliński - who previously held the position of senior specialist for Technical Trainings - started the co-operation with the State Fire Service and he has since carried on with the programme.
Training [sessions] have been extremely popular and in light of the increasing need for these workshops, Solaris decided to cooperate with the Training Centre at the Regional Headquarters of the State Fire Service in Poznań and the Regional Headquarters of the State Fire Service in Katowice, it states. The firm also co-operates closely with the fire brigade in Jaworzno, on account of the municipality owning a fleet of 23 Solaris-made electric buses that operate in this city.
ELECTRIC - A BIG PART
"Electric buses constitute a separate aspect with regard to trainings. The first workshops for the whole Silesian fire service were held in 2015 and 2017 in connection with the delivery of Urbino electric buses to PKM Jaworzno. The delivery of buses with alternative drivelines entails trainings in the city, where such vehicles will be in use. Fine examples of this rule include: Jaworzno, Chodzież, Hannover, Nuremberg, Katowice and Ostrów Wielkopolski," explained Błażej Pacholski.
"Our Technical Training Department also participates in training cycles for captains of specialist technical rescue units as part of the workshops conducted for SAPSP in Poznań; together with the Regional Headquarters of the State Fire Service for the Greater Poland province we run trainings for representatives of various fire service units of this region.
"This year we will hold two more training cycles dedicated to 'Rescue operations regarding incidents involving vehicles with electric or hybrid drives' and to 'Rescue operations regarding incidents involving vehicles powered with gaseous fuels'. Thanks to those trainings, employees of emergency services will gain valuable guidance on how to safely manage rescue operations in the case of road accidents which involve vehicles with alternative fuel drives which, after all, appear increasingly on roads," Pacholski added.
Firefighters have given Solaris access to their school test field where, in safe conditions, the instructors did the controlled burning of traction batteries installed in electric Urbino buses. What is more, soon warrant officers of the SAPSP school in Poznań will do a series of first aid training workshops for employees of Solaris, it's claimed.
ABOUT FFI
FFI is a partnership programme run jointly by the Swedish state and the Swedish automotive industry (Scania and Volvo are involved) that funds research, innovation and development with an emphasis on climate, the environment and safety. The initiative involves research and development funding totalling around SEK 1 billion annually, half of which is public funds.
FFI's overarching objectives are:
To reduce the environmental impact of road transports;
To reduce the number of people injured and killed in traffic accidents;
To strengthen international competitiveness.
Subscribe to our newsletter
Sign up to receive the ABC e-newsletter, digital magazine and other offers we choose to share with you straight to your inbox
You can also follow our updates by liking us on Facebook.