AUSTRALIA'S FIRST 'SMART' ZF TRANSMISSION DELIVERED VIA BCI BUS MURRAYS ORDER
---
EXCLUSIVE: THE FIRST 12-SPEED ZF Traxon bus transmission installed in Australia has been delivered to east coast luxury coach operator Murrays, fitted to a premium BCI 13.2m vehicle constructed with a framework using narrower stainless steel for lighter weight and increased aisle width, it's reported recently.
Nearly halfway through the full order of 31 new 'MC50' (aka BCI Cruiser 13) coaches for selective operator Murrays – which are to be used on a Sydney-to-Canberra-return hourly run express service - the 12-speed ZF Traxon is said to have incredible features for fuel saving, driver comfort, and noise reduction, making the transmission, "one of the smartest that ZF has built to date," said Bus and Coach International (BCI) CEO Desmond Armstrong.
"The first 10 BCIs delivered [of this Murrays order] are also pretty clever 12-speeds, but this is an upgrade from the AS Tronic," Armstrong explained.
"The ZF Traxon also neutralises when it doesn't require any power and then it will just throw back into gear again when you accelerate, all for fuel saving," he said.
With all these new MC50 coaches featuring an ISL 400 Cummins Euro 5 engine, ZF axles and steering, the vehicle will be, "… far more efficient than its predecessors as well, so we are already seeing around 6 litres per 100km difference in fuel consumption," explained Murrays National Fleet manager, Justin Cannon.
"So if you are doing 600km per day that's roughly 35-40L per day less fuel with one of these on a return trip," Cannon added.
Underwriting this efficiency was a Murrays edict to make these coaches as light as possible. As Cannon explained: "We wanted to build this vehicle as light as we could and we set a goal of 13 tonnes tare weight with fuel, for BCI."
"This bus uses stainless steel that is narrower than the traditional galvanised steel, which allowed us to get the extra width in the vehicles, as well. So we gained about another 50mm to give us extra aisle width," he said.
Murrays' coach fleet numbers about 230 vehicles – of which about 160 are BCI models - and the company employs around 250-300 drivers, says Cannon.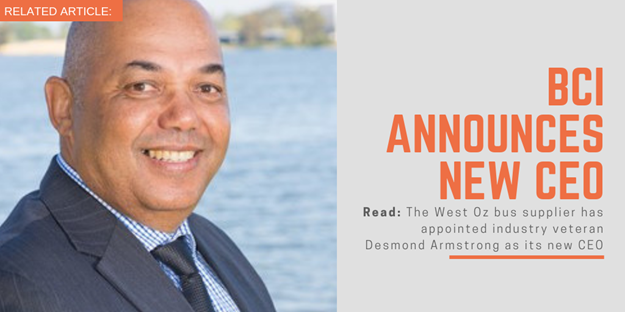 PASSENGER COMFORT
As Cannon explains, when Murrays started spec'ing this vehicle out, the brief to BCI was the operator had achieved all it could in running gear and exterior design of the vehicle already. The emphasis on this vehicle thus was going to be on passenger comfort – and key to this was the seats.
"Whether you travel on a coach or a plane or a train, it's about the seats. We asked BCI to find the best, most comfortable seat you could. They found Sege Seats [from Turkey] and they did all of the ADR compliance and certification," said Cannon. "And so the seat is what we built the vehicle around."
"It's a wider-than-traditional seat; we've got more legroom, we've got a custom tray table with phone holder slot and it doesn't break if forced downwards; plus the seat is high so your head's actually got some support. There are footrests, and the USB ports are in the back."
Armstrong explained: "They are the 4050 VIP Sege seats, which we had to have Australian complied doing extensive work to meet that. To bring them to market we had to modify the seats because they were built for the European standards. The ADR standard is 20G; however, the seats would overcome 30G at testing."
In terms of seating trim and colour, all 31 buses are going to feature the gorgeous beige and brown colour scheme for the seating and flooring, according to Murrays.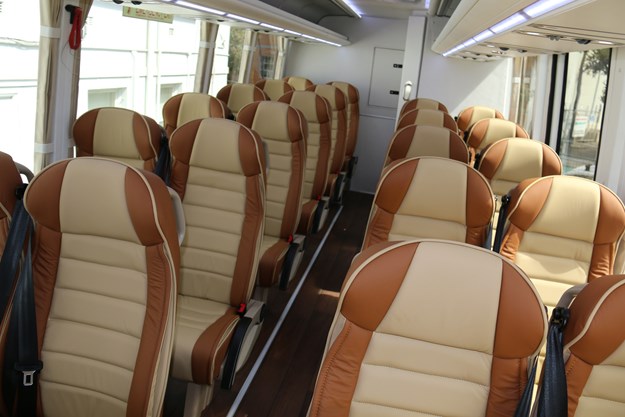 "If you look at our existing vehicles in the current fleet they are mostly darker grey seats and so we decided we wanted to make the cabin look more like business class of an airline. So we actually went and checked out a range of airlines to see the colours they were using and we came up with these ones," Cannon said.
"We introduced extra insulation into the vehicle to make it quieter from a passenger-comfort perspective. We also redesigned the toilet to make it bigger because 'Aussies are bigger' and we went to a vacuum system, as well [flushing], similar to what you get on an airline.
"We've introduced Wi-Fi into all these vehicles, and within the MCC climate control system we've also introduced a diesel pre-heater. That's because down in Canberra, where a lot of these vehicles operate at times in -8 to -7 degrees C, we wanted it so by the time the vehicle gets to the terminal to pick people up, the cabin temperature is nice and warm.
"Focussing on passenger comfort we made sure the seat was as comfortable as we could make it, the climate control was as good as we could make it, and the vehicle was as quiet as possible as well - so people could rest and feel relaxed," he explained.
SAFETY IS KEY
According to both BCI and Murrays, safety was a key aspect of this run of vehicles, so they are suitably fit out with some of the latest features to minimise any possible damages, personal injury and reduce driver fatigue.
As Armstrong explained: "In particular with this vehicle here, one of the things for safety is your EBS III and ESC capability. We also have the ability for adaptive cruise control. On this coach we have added the Wabco 'Tail guard' system, which is a driver assist for reversing, so it stops before hitting any object. That's a very important feature added to this vehicle again."
"It works using a warning light and buzzer [for the driver] and then it brings the brakes on automatically. If a driver over-rides it then it actually 'creeps', so it won't just take off. And then it will beep and stop again. And at that time someone should wake up to the fact there must be a problem [behind]," he said.
Additionally, the new automated manual gearbox is for driver comfort and anti-fatigue while the driver has their own air conditioner as well, supplied my Mobile Climate Control (MCC).
IT FEELS GOOD
According to Murrays, the coaches thus far have received very positive feedback from passengers and drivers alike.
"Our drivers love driving it because it's such a comfortable vehicle to drive on the road. They track very well, they ride very well, they are smooth, they are quiet, drivers in direct sun can crank up their air-conditioner – it's a fatigue and comfort thing," said Cannon.
Armstrong added: "Ergonomically, all the controls are within reach. The driver's seat is very comfortable with the arm rests, as well. There's also 'air steering' – and air-assisted adjustment for the steering, so no leaning down like before. The dash is laid out with all the instruments properly positioned, so you can read everything clearly. So a lot of care has been taken for the design of the whole dash. "
Cannon said, "Drivers don't feel as fatigued as in other buses. We've increased the lighting capability, as well - we've added front foglights to the vehicle and an LED 'lightbar' to give peripheral light coverage.
"Down around Canberra are a lot of Kangaroos, so the idea of a lightbar was to light up the peripheral vision [for the driver], so they can if there are any out there lurking.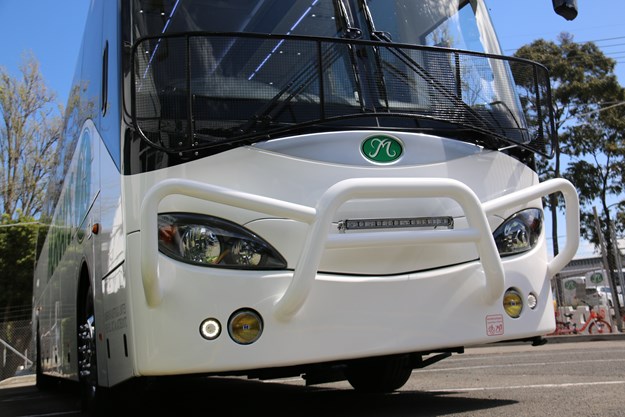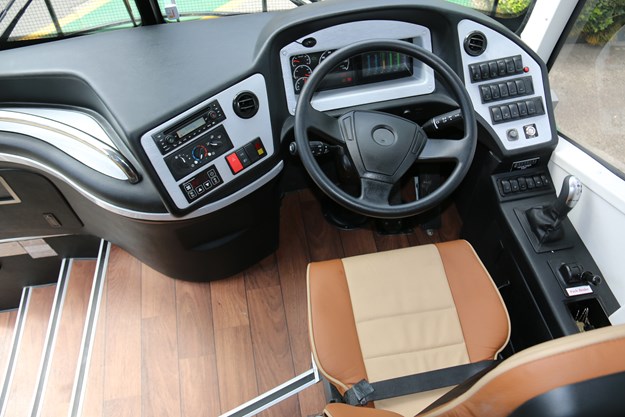 AESTHETIC DETAILS
Both companies worked together to fine-tune the result of what became the Murrays MC50 coach. Canon said, "A stone guard and bullbar has functionality, but for us you've got to make it look aesthetically good as well. We worked with BCI to design something that followed the contours of the vehicle and we also decided to colour code it white, so it looks part of the vehicle.
"And with the stone guard arched and following the front contours you can actually see the Murrays badge on the front," added Armstrong.
EXTRA HIGHLIGHTS
Other vehicle highlights include: electronic 'smart' dash for displaying air pressure, volts, inside temperature, axle and total weights, A/C compressor pressure; wheelchair lift; more than 13m2 luggage capacity with access on both sides; plus Mix Telematics.
In terms of tyres, Cannon says Murrays' mainstream tyre is Goodyear, but in this case it wasn't available at the factory, so Michelins were used, which were fine.
"We went to 315s. So traditionally every vehicle has 295s and, of course with the new 18-tonne limit you get seven tonnes over your steer axle, but on 295s you actually can't carry it. We went for a bigger tyre size, so this vehicle has 9-inch rims on 315s all the way around – that's for carrying capacity and safety as well," Cannon said.
"This run of 31 [buses] is specifically for the Sydney-Canberra route and, depending on the feedback we get on the vehicles and as we look at our fleet replacement programme, our intention is to order more in future."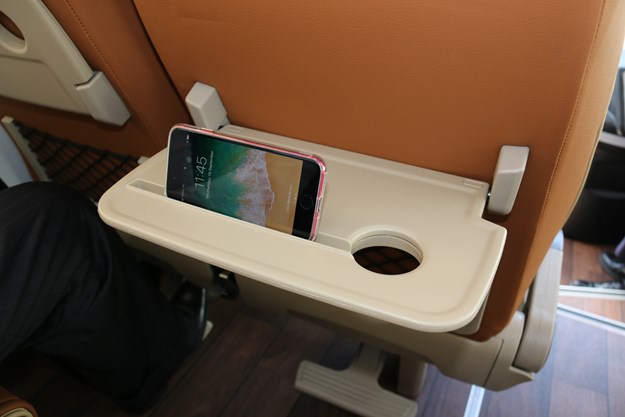 MADE TO ORDER
Explaining how the Murrays relationship with BCI came about, Cannon says it happened around 2008 when the company was, "looking to replace our existing fleet of mostly PMC Scanias."
"We wanted to build something that suited our application, the type of work we did. We went to market; we probably went to six different manufacturers. So the proposals we got from all the manufacturers went through an evaluation and BCI came up as the best one.
"We sat down with BCI then and went through the specifics of the build, the specifics of what we wanted to do that were a little bit different."
"The things that stood out to us were BCI's flexibility to do the things that we wanted to do - so obviously they had quality build, they could build the volume that we were looking for, and they had the engineering expertise. 
"But mostly with BCI it's their flexibility, their willingness to come listen to the customer, to understand what the customer wants and then go out there and deliver it.
"And their openness to transparency was also important. The fact they were prepared to have one of my staff go and work at the factory [in Xiamen, China] while the build was on and supervise on behalf of the owner … to us that meant they had nothing to hide as well, which we thought was very important," Cannon explained.
ABOUT MURRAYS
Since 1966 Murrays Coaches has grown into one of the country's largest coach companies and it says its objective is to provide the best possible transport it can, so it puts an emphasis on quality and safety. Today, Murrays employs more than 400 staff.
"We pitch ourselves at the top end of the market, so we always want to deliver quality. We have express operations and we have charter operations. Sydney-Canberra is a big feature of our express operations, as well as Canberra to [the] NSW South Coast … Wollongong … we do the snow," said Cannon.
In Queensland it operates Brisbane, Toowoomba, to Chinchilla Miles where it has an express service. Plus there's a charter operation with depots in Chinchilla, Toowoomba, Brisbane, the Gold Coast, Sydney, Western Sydney, Canberra, Melbourne.
Started by Ron Murray – originally a travel agent – the company diversified through the '80s and '90s with a variety of tourism businesses including: day-tour operations, a pub, sheep stations, cruise companies, as well as buses and coaches. In 2005 Ron Murray was recognised for his services to the tourism and transport industry by being awarded an Order of Australia, it's stated.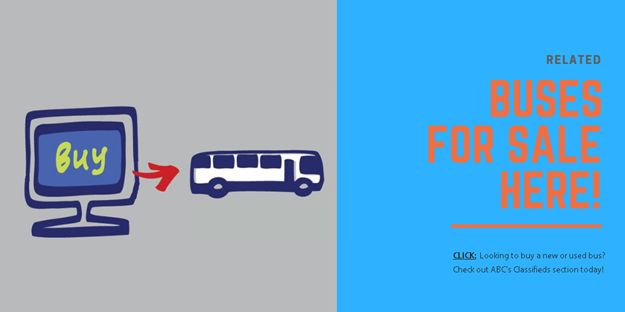 Subscribe to our newsletter
Sign up to receive the ABC e-newsletter, digital magazine and other offers we choose to share with you straight to your inbox
You can also follow our updates by liking us on Facebook.