TRANSDEV AND CDC BUS UNION MEMBERS UNITE FOR MASS VICTORIAN STRIKE: 16 AUGUST
---
FOLLOWING A BREAK-DOWN in negotiations late Friday, 10 August, in excess of 1000 Victorian bus union members – made up of CDC Victoria and now Transdev Victoria staff – will strike all day Thursday, 16 August, 2018, for pay and superannuation increases, it was reported recently.
In what has been described by some in the industry as 'bringing the CBD to a standstill', the proposed 24-hour industrial action will disrupt many commuters' travel plans state-wide, forcing them to re-think their journeys.
Late yesterday, the Transport Workers Union (Vic/Tas branch) issued the following emoji-punctuated social media statement: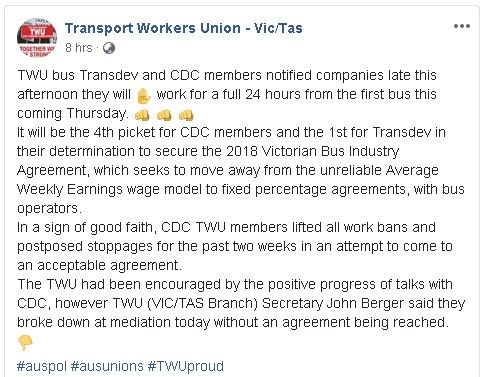 ALTERNATIVE TRAVEL ARRANGEMENTS
In response, CDC Victoria issued the following:
"CDC Victoria has received formal notification from Transport Workers Union (TWU) that the industrial action will continue … with a twenty-four-hour work stoppage.
This planned action will continue to create significant disruptions on all CDC Victoria services, including school bus services across Melbourne's east and west, as well as Ballarat and Geelong. CDC Victoria operates 17 per cent of Victoria's bus services with 25 route services in Ballarat and Geelong, and 49 route services in Melbourne.
"We are disappointed that despite good progress in mediation over the last three weeks, the TWU have walked away from constructive discussions in favour of industrial action that is designed to significantly disrupt the public and school children who rely on school services to get them to and from school," said CEO of CDC Victoria, Nicholas Yap.
Parents and school children relying on CDC's services as part of their journey should seek alternative travel arrangements during the work stoppages.
"We apologise to all our passengers for the disruption to their routines and we continue to appeal to the TWU and our drivers to do the right thing by the community."
During the work stoppages, CDC Victoria strongly encourages passengers to plan their journey before travelling as their normal bus may not be operating or make alternative travel arrangements.
"Passengers are advised to keep checking CDC's website www.cdcvictoria.com.au for more detail or follow CDC on Twitter @cdcvictoria. CDC will provide further updates if some services are able to run."
GRIDLOCK
According to Australian Associated Press (AAP) and as reported in The Australian newspaper, "One hundred and twenty routes across Melbourne to Geelong and Ballarat will be impacted on Thursday.
"That will bring the CBD to a standstill. It will be gridlock," Rick Smith, who has been driving for eight years, told AAP.
Drivers want a four per cent pay and one per cent superannuation increase as part of their new enterprise bargaining agreement, it's stated.
Transport Workers Union national vice-president John Berger said members had postponed work bans and stoppages for the past two weeks while negotiations took place.
But discussions stalled on Friday and an agreement could not be reached.
"The matter had come close to a resolution and we remain available to speak with all parties," Mr Berger said on Friday.
"However while our members do not take any joy in inconveniencing the community they serve, they also need to look after themselves and their own families."
It comes after a run of strikes by CDC Victoria employed drivers in July but it is the first time the Transdev drivers have taken part in the action.
Transdev general manager operations and customer experience George Konstantopoulos said the strike would hurt customers, especially on routes with limited or no alternative public transport option.
"We will continue to work with the TWU to resolve this dispute and urge the union to reconsider the decision to stop work because of the significant disruption and distress it will cause passengers and the broader community," he said in a statement on Friday.
Drivers are due to form picket lines at their respective depots during the strike.
The union says it has told all Victorian bus operators - through Bus Industry Victoria - for more than three years it wanted fixed increases and stated what the proposed increases would be.
BUS ROUTES AFFECTED BY DRIVER STRIKE
* Melbourne: 150, 151, 153, 160, 161, 166, 167, 170, 180, 181, 190, 192, 200, 207, 215, 216, 219, 220, 223, 232, 234, 235, 236, 237, 246, 250, 251, 270, 271, 273, 279, 280, 281, 282, 284, 285, 293, 295, 302, 303, 304, 305, 309, 318, 350, 364, 370, 380, 400, 406-412, 414, 415, 417-419, 421, 423-425, 426, 439, 441, 443, 461, 494- 498, 600, 601, 605, 606, 612, 623-626, 630, 900, 901, 902, 903, 905, 906, 907, 908, 922, 923
* Geelong: 1, 10, 11, 12, 20, 22, 23, 24, 25, 43
* All bus routes in Ballarat
Subscribe to our newsletter
Sign up to receive the ABC e-newsletter, digital magazine and other offers we choose to share with you straight to your inbox
You can also follow our updates by liking us on Facebook.