'FREQUENT, RELIABLE AND FAST' BUSES NEEDED FOR MELBOURNE'S WEST
---
MELBOURNE REGIONAL ADVOCACY GROUP LeadWest has welcomed the Andrews Labor Government's Melbourne Rail Loop announcement, but has called for investment in more urgent, unmet transport needs of Melbourne's West – namely buses, it's reported.
Ahead of the Victorian November state election, LeadWest - a non-partisan and not-for-profit, membership-based organisation, it states - is seeking commitment to a frequent, reliable and fast regional bus network for the West, which would help to address the lack of cross-city connections much sooner, and at a far smaller cost, it states.
"Today's announcement sets a bold vision for the long-term future of transport in Melbourne, but what the West really needs is better transport infrastructure that will help us here and now," said Councillor Jonathon Marsden, chair of the Western Transport Alliance.
"At present, only three per cent of people working in the West use public transport to get to work, and a quarter of the West's population have no walking-distance access to public transport at all.
"Investment in a high-quality bus network for the West, including better coordination of existing services, would help to address these challenges within five years, rather than waiting 30 years for a public transport option to get around our region," Marsden said.
LeadWest is also calling for several more urgent rail projects to be prioritised ahead of the new Rail Loop, including the Metro 2 tunnel linking Melbourne's East with Newport and Werribee; electrification of the Ballarat line to Melton and Regional Rail Link line to Wyndham Vale; and better transport links into the Defence site in Maribyrnong.
"The West needs timely investment, both for the one in six Melburnians who already live here, as well as to prepare for the extra 1 million residents we will take on in the next 30 years.
"Without immediate investment in projects that have been on the books for years, our region's lack of transport will become a significant burden for both the State and the Nation."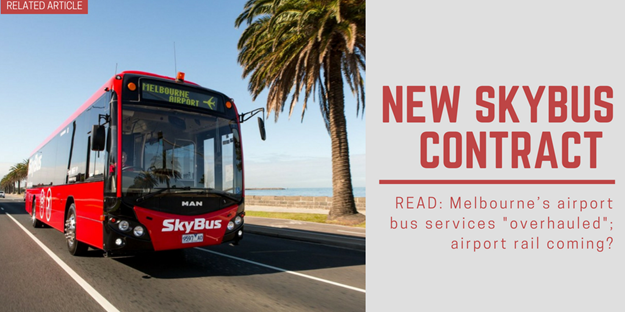 WHY WEST?
According to LeadWest, more than 800,000 people already call Melbourne's West home and its population is set to more than double over the next 30 years to 1.8 million.
Yet while it says it is a great place to live, it lacks the transport services it needs. "It takes too long to get to work, and there often aren't any alternatives if our normal route is disrupted".
Services don't connect well enough to local schools, shops and community centres, and they are too disjointed, confusing, and infrequent to rely on, it states. Lots of destinations are within cycling distance, but the routes don't feel safe and easy to ride.
"This is holding us back. It means we have less time with our families; people struggle to take advantage of job opportunities; and too often there's no option but to drive in congested traffic," the group stated.
BUSES PART OF THE PLAN
Melbourne's West is already larger than many of Australia's small cities yet its public transport system is dominated by services that run to and from the CBD, rather than effectively connecting it to key destinations within the region, it's states.
To address this issue, a new network of bus routes that run between our major centres should be developed, it says.
This new network would: run at high frequency; run for extended hours, not just nine to five;  be easy to use and understand, with clear signage, consistent timetables and logical routes; get you to your destination faster, with fewer stops than normal bus routes; and  connect efficiently with other transport, including local bus routes, trains and trams.
As part of the development of a high-frequency network, all major roads should be upgraded to include priority bus infrastructure like raised platforms, new shelters, bus lanes and bus signals at busy intersections, it says.
These improvements will make it much easier for: people who already live and work in the West to travel to work via public transport; for businesses to start and grow in the west; and for CBD commuters to consider moving to a job that's close to home.
To ensure that this new regional bus network is accessible to everyone in the region, LeadWest says it needs a region-wide review of all levels bus services, including neighbourhood buses, community transport services. For bus and active transport networks to work effectively, they must provide strong links into local shopping, service and community centres - and seamless connections to higher density transport, particularly train lines.
To ensure that every resident in the west has this level of access, "we need better neighbourhood bus services that are responsive to different users' needs…" among other aspects, it states.
Subscribe to our newsletter
Sign up to receive the ABC e-newsletter, digital magazine and other offers we choose to share with you straight to your inbox
You can also follow our updates by liking us on Facebook.