DAIMLER BUS SUBSIDIARY CELEBRATES 25 YEARS OF SAFETY
---
AVOIDING MINOR BUT ANNOYING and expensive impact damage has played an equally important part of its bus driver safety training, says Omniplus – a brand of Daimler's largest European subsidiary EvoBus – which celebrated its silver jubilee of comprehensive safety education, it's reported recently.
Since 1993 drivers have been trained in how to recognise and avoid hazards and accidents, the organisation states. Twelve drivers took part in the first driver training in spring 1993; to date around 18,000 drivers have completed it, organisers say. Experts are certain that this training has already prevented accidents, according to the company.
The bus is accepted to be the safest means of road transport in Germany; only 1.4 per cent of all road accidents with injuries and fatalities involve buses. Trained bus drivers make a major contribution to this low proportion, it says.
BUSES IN EXTREME SITUATIONS
Fast lane-changing at high speed; emergency braking; driving in circles on a skidpan; wet downhill gradient with a water obstacle; reversing around a 180-degree bend; a competitive test of skills – those taking part in Omniplus safety training experience a great deal, it's stated. Many drivers discover how buses behave in hazardous situations for the first time. The over-riding objectives are: recognising hazards, avoiding hazards – and reacting correctly in extreme cases.
In 1993 Omniplus was the first provider to create a safety training course for bus drivers, it's claimed. Since then, the service brand has trained an average of over 700 drivers each year in Germany, and last year the figure was as high as 780 drivers. One of the highlights was the safety training for 1400 drivers of the transport operator Hamburg-Holstein in 2004/2005, it states.
Since the start, Omniplus has constantly expanded its safety training and is divided into three practical courses: 'BasicPlus for touring coaches', 'BasicPlus for city buses', and the two-day 'Premium safety training for touring coaches'. Omniplus even offers mobile safety training courses, and special training for school bus drivers, it says.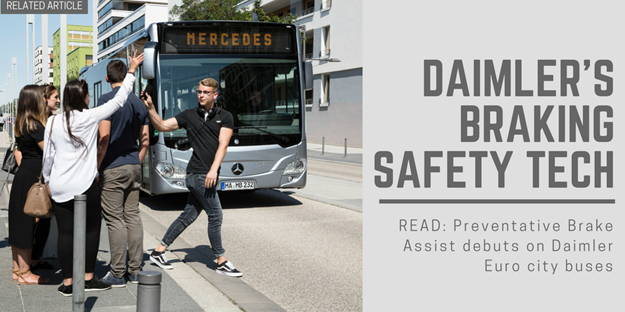 PRACTICAL DRIVING EXERCISES
The focus of the safety training is on day-to-day practice and is based on what actually happens in accidents, which is why the emphasis is not only on dynamic driving exercises, but also on avoiding minor but annoying and expensive impact damage.
The specific contents of the safety training courses depend on the training locations and their facilities. The high level of practical content is always a special feature of Omniplus driver training: theoretical content is integrated into the practical driving exercises, therefore participants spend a high proportion behind the wheel, Omniplus says.
COMPREHENSIVE CONTENTS
According to the company, Omniplus now offers a full range of driver training courses. These include: Expert Handling Training - perfects the bus handling skills of drivers in their own bus; Regulations and Digital Control Instruments - covers the complex regulations for driving and resting times; and Communication Training - teaches confident handling of conflict situations with passengers.
The training course Handling Passengers With Restricted Mobility covers sensitivity in dealing with passengers in this group, plus EcoTraining is to reduce fuel consumption and wear.
Emergency Training teaches competence in extreme situations while the Fitness, Nutrition and First-aid course heightens the driver's own body awareness and refreshes first-aid knowledge.
All the training courses are recognised as further education under German legislation covering the qualifications of professional drivers.
Subscribe to our newsletter
Sign up to receive the ABC e-newsletter, digital magazine and other offers we choose to share with you straight to your inbox
You can also follow our updates by liking us on Facebook.