CLIMATE CONTROL
---
SPONSORED CONTENT: You can have the most beautiful bus with comfiest interior seats and latest tech appointments, but if it's stinking hot in summer, or bone-chillingly cold in winter, then you need decent air conditioning installed or fixed. Fast.
We've all been there, back in the day. Or at least many of us have. Australian heat (think Outback), New Zealand cold (think Alps) – and anywhere totally inverted or in between those temperatures these days. Fluctuating temps and extremes at either end of the range can mar your customer's bus or coach journey, no matter how short the distance of the trip.
In fact, you want it to be so comfortable, in terms of ideal temperature inside, that getting aboard a vehicle or such actually becomes a place of sanctuary for them. You can't beat nice, chill temps in the middle of a scorching summer, or cuddly warmth on a bus in the middle of a wet and icy windy winter.
In this, our 2018 Air-conditioning Guide, we have a quick look at key products or a company or two that could improve your bus or coach's temperature world – especially with technological advances and new refrigerants coming out early 2019.
Let's have a look…
THERMO KING – ON THE THRONE
ELECTRIC HYBRID air-con units, double-deck units, lightweight units, new gas and fuel-saving technologies are just some of the landmark new trials and advances that Thermo King Bus Australia is working on, says national sales manager Jamie Dunlop.
Thermo King Bus Australia was formed in 2013, although Queensland Thermo King (QTK)  – the parent company – had the bus-selling master dealership for Australia for a number of years before the rebranding, Thermo King Bus Australia identifies Thermo King as its, "national bus and coach air-conditioning specialist. Thermo King Bus Australia now has a national sales, service and parts presence in Australia with over 40 staff including technicians, sales, parts and administration dedicated to bus air-conditioning," said Dunlop.
The company not only services and maintains its own products, but all makes and models throughout Australia. There are dealerships in Brisbane, Sydney, Melbourne and Perth, with sub dealerships in Adelaide and NT to cover the whole country, too.
A 24/7 road-side assist number is also on offer to customers.
"We [also] have an approved, experienced and trusted partner on the Gold Coast giving the customer, bodybuilder and chassis supplier peace of mind that the work being carried out on the Thermo King unit is by trained, experienced Thermo King installers," Dunlop said. "We have formed strong relationships with import manufacturers from China and Malaysia and all Thermo King units coming into the country are pre-delivery inspected by our team once they arrive here."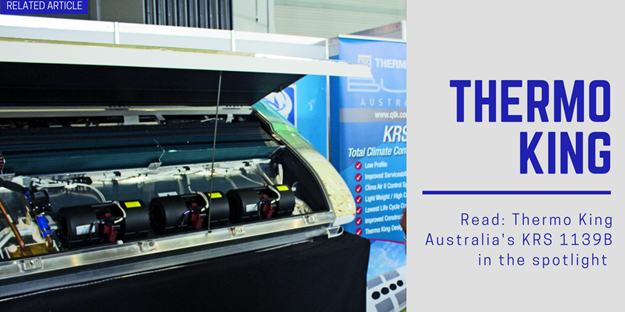 TKBA is at the forefront of electric hybrid units, where it has approximately 15 full electric units currently in operation in Australia. Double-deck units, lightweight units, new gas and fuel-saving technologies are also being trialled and will soon be rolled out in Australia.
"The company has invested heavily back into itself with a new dedicated bus facility in Truganina, Victoria – it has easy access for six buses undercover, a drivers' waiting room, spare parts facility, training rooms - and a new purpose-built facility as an extension to its existing home in Darra, Queensland, in future. All to give customers peace of mind that their vehicles are being looked after by dedicated Thermo King Bus people," Dunlop says.
HISPACOLD – TOTAL EFFICIENCY
IF THE NAME Hispacold sounds familiar to you it might be it strong 40-odd year connection to a leading Spanish brand of commercial vehicles, but you'll be pleased to know its air-conditioning products are suitable to a full range of other bus and coach brands in the Australasian marketplace.
With more than 50 countries around the world having experienced the efficiency of Hispacold's systems and its adaptability to the most extreme atmospheric conditions, the obligations it has acquired due to the high volume of export of products means Hispacold is obliged to extend its service guarantee to the same degree, the company states.
Hispacold maintains direct contact with every one of the points which make up its worldwide service network, it says. Through technical training courses, specific manuals and a precise understanding of each client's needs, Hispacold guarantees the total efficiency of any of its technical assistance service points.
The company also ensures that each client has the most conveniently located service point, wherever they are on the planet, it's claimed. Its actual extended service network in more than 100 countries assures our customers the best after-sales service, says Hispacold.
ELECTRIC HVAC UNITS
Some of the main points to consider are:
- It supplies electric HVAC units and has been supplying these for several bodybuilders in Europe since 2010;
- Hispacold also develops and supplies Battery Thermal Management Systems units (BTMS);
- It has developed different configurations, so it can easily supply air-con product for most bus sizes and configurations: rigid, articulated, and double articulated.
Notably, Hispacold has supplied units for projects in several countries in several major cities, such as Spain (Madrid, Barcelona, Valencia), France (Marseille, Metz), UK (London), Italy (Parma), and Luxembourg, proving it has a great record with electric projects, it states.
With some of these cities, mainly in the south of Europe, having hot summers, Hispacold says it has developed more powerful units with double cooling circuits.
Conversely, for colder countries it has developed heat pump systems, with additional heating systems for very low temperatures. If there is water available from the chassis to be used for the heating, Hispacold can use it. If there is no water available, it has configurations so that the HVAC systems can still do the job, the company says.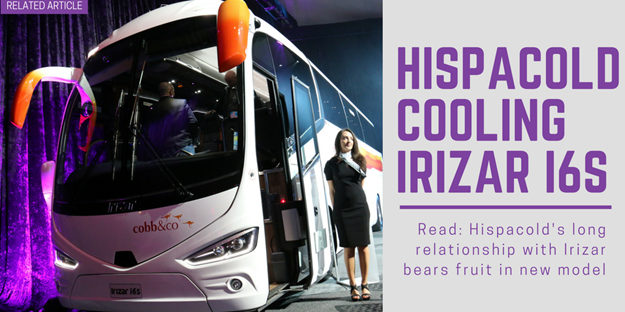 INTERNAL KNOW-HOW
It is interesting to note that electronics and software used on Hispacold air-conditioning applications are developed in-house
The reason for this, says the company, is to give Hispacold the flexibility it needs for complying with the requirements of every end user. Some of its clients want the HVAC unit to manage the temperature like a conventional unit. Some others prefer to work with a delta against outside temperature. Either way, Hispacold says it can adapt the performance of its units to any of these requirements, including communication with the powertrain for optimising battery state of charge.
NEW RANGE OF ROOFTOP UNITS
These include a new range of rooftop units for conventional (diesel, CNG) buses, which is to be launched during the first half of 2019.
Highlights of these include: lowest weight in its class; lowest refrigerant charge in its class; and suitable for 'transition refrigerants'.
In terms of the latter, it should be noted that environmental regulations are encouraging the industry to move to lower Global Warming Potential (GWP) refrigerants. That is, R134a is the most commonly used gas for HVAC units. Availability of this gas is being reduced. This is the current situation in Europe, although most of the countries have similar regulations.
It is expectable that in some years it will be difficult to get sources of R134a. Although maybe today this is not an important issue yet, considering the usual lifespan of the city buses in Australia, most of the fleets will have to face this situation in some years, says Hispacold.
Now while there is uncertainty in the industry about future alternatives for refrigerant gases, one possible transition refrigerant is R513A. Hispacold says it is developing its product range for being able to use this gas in future with minor changes in the units.
VALEO/SPHEROS – HVAC PROWESS
Valeo Thermal Bus Systems – which acquired the well-known bus industry brand of Spheros – has a long tradition of heating, venting and air-conditioning (HVAC) prowess.
As a leading developer and manufacturer of heating and air-conditioning systems, roof hatches and intelligent control systems, Valeo is partner to the international bus industry. Global expert teams develop and manufacture advanced technology in order to actively shape the future of sustainable mobility, the company states.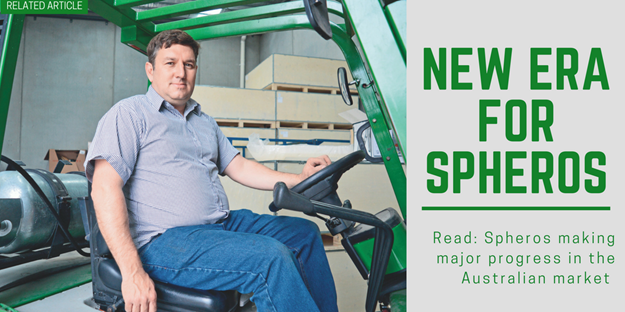 The demands placed on HVAC systems are more complex and differentiated than ever, and present a new challenge to manufacturers. Rather than limiting itself to the development of individual components, Valeo place "emphasis on the integration and interplay of innovative air-conditioning components, including newly developed control software, including for the strongly growing market for electronic drives", Valeo says.
The company calls it 'Entelligence', currently the best solution for the modern ebus climate, it states.
TEST CENTRE
According to the company, each innovation is put through its paces at the development and test centre in Gilching, Germany, where a large climatic chamber for overall system tests and numerous component test facilities – together with values obtained from the company's two test buses – provide information on the function and reliability of the air-conditioning systems.
Whereas air-conditioning systems are tested at Gilching and the Spheros plant at Caxias do Sul, Brazil, there are further test centres for heaters, pumps and components in Neubrandenburg, Germany, and for hatch systems in Turku, Finland.
Responsible use of energy and raw materials are also core issues for Valeo's customers, it says. Aspects such as energy efficiency, fuel consumption and system weight are increasingly crucial for gaining customer orders. Ecological and simultaneously economic thinking are a basis for long-term partnerships.
Examples of the company's commitment hitherto to new, resource-saving and efficient solutions include: reduction of weight (e.g. operation with aluminium components); use of recyclable material; reduction in fuel consumption; operation with alternative fuels or drive concepts; lower emissions (noise, exhaust); alternative energy generation, e.g. solar electricity for fans; and vehicle energy economy.
Then there's the Valeo Thermal Bus Service network, which offers best access to attractive and high-quality services and products, it says.
Extensive technical literature is available and informs customers in a fast and reliable way.
As a global supplier to the bus industry, Valeo Thermal Bus operates a network of own subsidiaries with development, production and sales facilities on five continents.
The company – with its headquarters in Gilching/Munich – has a workforce of more than 1000 people with ideas, know-how and commitment for future technologies, it states.
Subscribe to our newsletter
Sign up to receive the ABC e-newsletter, digital magazine and other offers we choose to share with you straight to your inbox
You can also follow our updates by liking us on Facebook.