BUS AND TRUCK DRIVER SAFETY FORUM TO REFORM HEAVY VEHICLE FATIGUE LAWS
---
BREAKING: FATIGUE LAWS AND heavy vehicle driver safety will be under the spotlight at a forthcoming National Heavy Vehicle Regulator (NHVR) forum in Sydney on October 2-3, as part of a process of regulations reform, the organisation stated recently.
The NHVR will host 30 industry members as part of the process during The Fatigue Safety Forum.
NHVR CEO Sal Petroccitto says the NHVR Fatigue Safety Forum would allow the NHVR to better understand many of the current initiatives being used by operators and drivers to manage fatigue.
"Many of our current heavy vehicle fatigue laws are almost two decades old and in that time the heavy vehicle industry has made strong gains in reducing driver fatigue incidents," Petroccitto said.
"Better education, technology and new procedures are regularly emerging and it's important that future fatigue regulation continues to encourage these initiatives.
"We'll be asking those attending the forum to provide the essential elements for a new draft fatigue management regulatory framework, before undertaking wider industry consultation."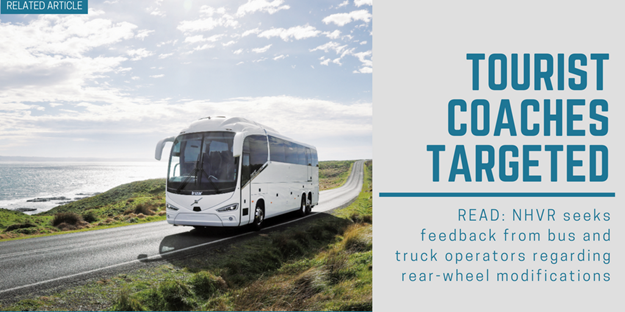 NEW LAW CONSIDERATION
The outcomes of the forum will be made available ahead of a proposed wider review of the Heavy Vehicle National Law to be considered by 'responsible ministers' later this year, the organisation states.
The NHVR will seek industry input into driver fatigue and drowsiness detection, reducing regulation for fatigue safety, and productivity through more flexible work arrangements, it states.
Petroccitto said information on improving understanding, monitoring and reporting of driver fatigue risks would also be sought.
"I support a comprehensive review of the fatigue laws and I believe most people in the industry feel the same way based on the wide ranging discussions we had with all sectors of the industry," he said.
ABOUT THE NHVR
The National Heavy Vehicle Regulator is Australia's independent regulator for all heavy vehicles.
It was established in 2013 as an independent statutory authority pursuant to the Heavy Vehicle National Law.
According to the organisation, its vision is to have: "a safe, efficient and productive heavy vehicle industry serving the needs of Australia."
It aims to do this by: "minimising the compliance burden; reducing duplication of and inconsistencies in heavy vehicle regulation across state and territory borders; and providing leadership and driving sustainable improvement to safety, productivity and efficiency outcomes.
The NHVR is headquartered in Brisbane and currently employ 260 people across Adelaide, Brisbane, Canberra and Melbourne.
It is said to have a direct regulatory relationship with more than: 40,000 road freight businesses; 900,000 vehicles; 500 road managers; and 1,000 authorised officers.
Subscribe to our newsletter
Sign up to receive the ABC e-newsletter, digital magazine and other offers we choose to share with you straight to your inbox
You can also follow our updates by liking us on Facebook.