2019 BUSWORLD CHINA SHOW TO RELAUNCH IN SHANGHAI
---
A FOCUS ON global futuristic public transport and clean energy will hallmark a re-invented Busworld Asia show – seven years after the last one – now rebranded as Busworld China and to be held in Shanghai, March 11-13, 2019, it's reported.
Busworld Kortrijk (Europe) started in 1971 and was held every two years in Belgium. With more than 40 years' experience, it is the oldest, biggest and most famous bus and coach exhibition, it states. In 2001, Busworld went worldwide and it now has five sister exhibitions: Turkey; India (29-31 August, 2018); Russia; South East Asia; Latin America – and soon China in 2019.
Only a few months ago did the latest Bloomberg New Energy Finance (BNEF) Electric Vehicle Outlook 2018 state that a massive 84 per cent of all municipal bus sales globally will be electric by 2030, with China leading the market "in spectacular style" by accounting for 99 per cent of the world total in 2017.
The new China event – a collaboration between Busworld International (Europe) and VNU Exhibitions Asia Ltd – will be located in the heart of the developed eastern Chinese coast with its vast transportation network interlinking it with cities both domestic and overseas by airplane and high-speed train. Hosted in the Shanghai World Expo Exhibition & Convention Center (SWEECC), the three-day exhibition "fits perfectly in Busworld's worldwide exhibition schedule" it's stated.
According to organisers, as bus and coach buyers globally are recognising the benefit of clean-energy vehicles, Busworld China will meet this trend by "solidifying the domestic trade as well as introducing overseas buyers with clear procurement demand, thus contributing its part on supporting the exchange of knowledge and technologies."
Didier Ramoudt, president of Busworld International commented: "China has undoubtedly become the world's biggest manufacturing base of bus and coach. We've received intense interest shown [in] … the Chinese market from our Busworld community and we're glad to play a sound part in facilitating the industry for the bus and coach sector. This couldn't be a better timing for Busworld to return to the Chinese market with VNU Exhibitions Asia."
David Zhong, president of VNU Exhibitions Asia Ltd, shares the same vision for the show, stating: "VNU Exhibitions Asia has been serving the Chinese market across various industries since 2001 and has accumulated abundant experiences working with overseas co-partners to progress forward together. The bus and coach market has been a different place since the first cooperation. The clean energy technology is already at mass production level and VNU Exhibitions Asia will surely adapt into the market trend to better bridge the supply and demand. We're confident Busworld China will be a must-be stop for the industry."
IT'S ALL ACADEMIC
Also returning is an independent platform for technology and policy discussion, named 'Busworld Academy'. Busworld Academy China will be running at the event with James Wang, a scholar from Chongqing Jiaotong University, appointed as ambassador. Busworld Academy China will learn the local market and study topics such as safety, comfort, regulation and cutting-edge technology.
It will also examine technologies regarding ride-sharing, autonomous driving and fuel cells with experts sourced locally and internationally to speak about such issues.
Another aspect of the event will be industry awards acknowledging enterprises' outstanding annual contribution in various sectors such as energy consumption, passenger information system, comfort and design etc.
Busworld International and VNU Exhibitions Asia spent last March visiting major bus and coach manufacturers for market research and industry discussion, including: Yutong, King Long Motor Group (King Long, Golden Dragon, Higer), BYD, Foton AUV, CRRC, Sunlong, Sunwin, Skywell.
Two main associations in the industry - China Urban Public Transport Association (CUPTA) and CPTA Branch of China Public Transportation Association (CRTA) - have also been consulted for industry insights, organisers state.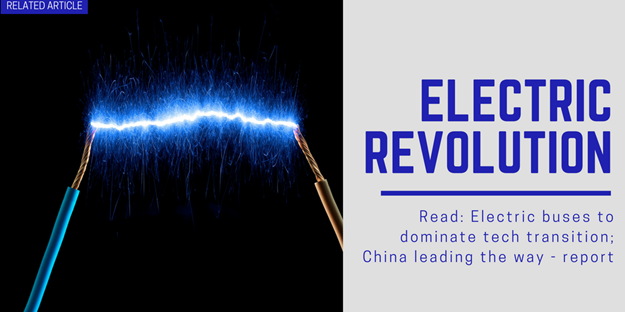 'JIANGSHAN' JUSTIFICATION
"China will lead the transition from internal combustion engines to electric cars, with EV sales accounting for almost 50 per cent of the global market from now until 2025 and 39 per cent in 2030," the BNEF 2018 Outlook states.
"China is also leading the charge on e-buses with several major Chinese cities on track to fully electrify their e-bus fleets by 2020 – and even some sooner. China's push is as much about industrial policy as it is about environmental or energy security concerns. China is building national champions and an e-mobility ecosystem for what it sees as a major strategic industry over the coming decades."
Of particular interest is news that Chinese national subsidies are being, "phased out by 2020, but beginning in 2019 automakers will be forced into EVs through the 'New Energy Vehicle' credit system."
Here, in a programme similar to what's happening in California, USA, says the BNEF Outlook, the system is effectively an EV quota, meaning automakers need to generate "credits" through the sale of EVs. Those that do not sell enough EVs are, "forced to buy credits from competitors."
This is described as, "…the single most important piece of EV policy globally and is shaping automakers' electrification plans." That quota is expected to increase so that China hits its 2025 target of EVs, representing 20 per cent of vehicle sales in the country.
Cities themselves are also expected to add their own restrictions on buying and using Internal Combustion Engine (ICE) vehicles in coming years.
BUSWORLD EUROPE
Though Busworld Europe started in 1971 and was held every two years in Kortrijk, Belgium, in 2019 this exhibition will move to Brussels, due to a shortage of exhibition space, officials state.
Busworld exhibitions are exclusively bus and coach, no other commercial vehicles or other public transport is present. Team members network all year through and are called 'bus people'; bus and coach is their only focus, it's claimed.
Subscribe to our newsletter
Sign up to receive the ABC e-newsletter, digital magazine and other offers we choose to share with you straight to your inbox
You can also follow our updates by liking us on Facebook.