STRIKE ACTION RAMPS UP! WORK STOPPAGES ACROSS CDC VICTORIA BUS NETWORK ALL WEEK
---
FREE TRAVEL AND NO CDC UNIFORMS WORN are all part of the ammunition in the Transport Workers Union (Vic/Tas Branch)'s arsenal as it rolls out further protest action against CDC Victoria this week, with staggered stoppages starting from 6.00am, Tuesday 24, July 2018, it's reported recently
The union formally notified CDC Victoria that industrial action will continue this week in the form of work stoppages across the CDC bus network, commencing 24 July at the CDC Sunshine depot between 6.00am and 10.00am and Ballarat depot between 7.00am and 11.00am.
Stoppages will also occur at other depots on a staggered basis during the week with a 24-hour work stoppage at the CDC Oakleigh depot on Thursday, 26 July, 2018.
This will be followed by a 24-hour work stoppage at the CDC Wyndham depot on Friday, 27 July, 2018 and a four-hour work stoppage at the CDC Sunshine depot between 3.00pm to 7.00pm, also on Friday, 27 July, 2018.
CDC Geelong depot and the local school bus services will not be affected in this round of action.
Major disruptions will be expected on all CDC Victoria services operating from the affected depots during these work stoppages, including school bus services.
"It is disappointing that the TWU have chosen to escalate their action, which will continue to impact the communities we proudly serve. Unfortunately, this time school students in Ballarat and Melbourne's east and west will be affected," said CEO of CDC Victoria, Nicholas Yap.
CDC encourages parents to contact the relevant CDC depots directly for an update, as the priority will be to ensure all school bus services are operated.
Parents and school children relying on CDC's services as part of their journey should seek alternative travel arrangements during the work stoppages.
"The Transport Workers Union (TWU) have chosen industrial action designed to impact the public and more importantly over 6,000 school children that depend on our network," said Yap.
"While we respect the right of our employees to conduct protected industrial action, we are surprised and disappointed with their decision. We continue to be open to constructive discussions with the TWU to find an acceptable solution to this dispute.
"We apologise to all our passengers for the disruption to their routines and we continue to appeal to the TWU and our drivers to do the right thing by the community."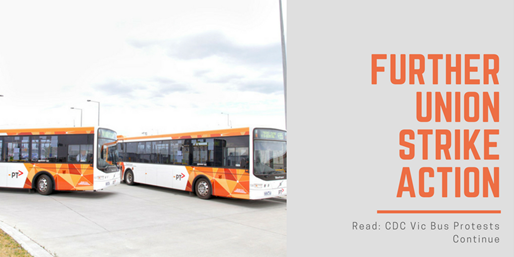 WHY THE STOPPAGES?
According to the TWU, the stoppages are part of an ongoing pay dispute to #sharethefare with the Singapore-based multinational and follow two four-hour and one 24-hour work stoppages since 10 July.
"There is no doubt CDC members are holding the line and getting stronger and more determined and unified … and a long way from forgetting CDC's insulting and sub-standard wage offer," it states.
"This is one reason we continue to welcome new members from CDC. They want to dig in with their colleagues to make sure the rich multinational gets the message that Australian workers will not be ripped-off."
CDC TWU members also began indefinite protected action on 21 July in refusing to collect fares, activate 'touch on' ticketing devices, or wear CDC uniforms.
The 'fare strike' will be taken by all 600 TWU members at CDC's Wyndham, Geelong, Ballarat, Oakleigh and Sunshine depots. The vast majority of CDC bus drivers are TWU members.
TWU (VIC/TAS Branch) Secretary John Berger said CDC drivers had decided to take the direct action of refusing to sell tickets or activate Myki readers from a suite of options available to them.
A protected work stoppage scheduled for last Friday was called off.
FARE'S FAIR
"We have stopped the buses three times now and have the option to do that again next [this] week, so that is certainly not off the table. We will simply continue to campaign – and consider using any and all tools available to us – until a fair agreement acceptable to our members is reached," Berger said.
"The TWU and its members are available anytime to continue negotiations and if CDC wants to table a sensible offer then we may start to see the end of this dispute."
The union states Victorian bus driver pay rises are currently determined – and have been for at least the past 15 years – by the Annual Wage Growth system.
The current CDC wage offer is actually less than at least the last 15 average annual wage increases the drivers have received, it's believed.
This week's actions continue after Fair Work Commission (FWC) mediation held last Friday failed to progress discussions.
CDC itself applied to the FWC for mediation, but not only failed to improve its current offer, it used the mediation session to re-table a previously rejected offer.
That offer had been put to the TWU by CDC CEO Nicholas Yap in a meeting on Monday 9 July and was rejected by the TWU during that same meeting on Monday 9 July, it's stated. Negotiations between the parties have been underway for over four months.
POINTS TO NOTE
TWU members have requested that CDC bus 137 be exempt from the action as it performs a function for special needs school children.
During the work stoppages, CDC Victoria strongly encourages passengers to plan their journey before travelling as their normal bus may not be operating, or make alternative travel arrangements.
Passengers are advised to keep checking CDC's website www.cdcvictoria.com.au for more detail or follow CDC on Twitter @cdcvictoria. CDC will provide further updates if some services are able to run.
WHERE/WHEN:
Full stoppages will take place at:
• CDC Sunshine depot, Tuesday 24 July, from 6.00am to 10.00am.
• CDC Ballarat depot, Tuesday 24 July, from 7.00am to 11.00am.
• CDC Sunshine depot Friday 27 July, from 3.00pm to 7.00pm.
• CDC Oakleigh depot for 24 hours from first bus on Thursday 26 July.
• CDC Wyndham depot for 24 hours from first bus on Friday 27 July.
* Picket lines will be in place at each depot during the protected actions.
Subscribe to our newsletter
Sign up to receive the ABC e-newsletter, digital magazine and other offers we choose to share with you straight to your inbox
You can also follow our updates by liking us on Facebook.