NEW BUS BRAND OFFICIALLY ENTERS AUSTRALIASIAN MARKET: IWARRIOR
---
EXCLUSIVE: AN AUSTRALIAN BUS OPERATOR has branched out as an official bus seller and distributor as well, offering imported coach applications catering to all aspects of the market, the company states.
Challenger Bus & Coach (CBC) – as started by Far North Queensland Bus Lines (FNQ), based in Mossman and Cooktown, Queensland – is importing a, "a new coach specifically designed and built for the Australian bus and coach industry and our particular conditions".
Known here as the Challenger Coach V12 (there is also a V10 on offer) and based on the Star of Australia there in China by a company called iWarrior - supported by AnYuan Bus Manufacturing in Pingxiang, Jiangxi Province - the coaches are said to be a, "a purpose-built vehicle … by experienced engineers that have previously worked in manufacturing Chinese-Australian buses."
A key difference to the Australasian market from an imported Chinese bus perspective, says CBC director Greg Sloan, is its use of European steel for the chassis as standard.
"We've built it on a stainless steel frame and chassis … from Finland – Stalatube – which is one of the best products you can buy," Sloan said.
"And we are using Australian seats: Styleride, TST – whatever the customer wants.
"The ones [coaches] we are bringing in at first are in a day-coach spec, which is 53/57 leather recliner seats."
According to CBC, key advantages of its vehicles include durability and longevity. Other key particulars are said to be:
• Body work of compressed fibreglass and aluminium, which assists in the prevention of body corrosion
• Flooring is strengthened PVC material, providing body with long-term protection
• Key parts and components are of known quality and high performance
• Quality welding and sealant finish;
• Large luggage 'through bins'
• USB ports on each seat; and
• Flexibility in specifications.
CBC says it offers an extensive warranty cover for a period of up to two years, including chassis and body. Running gear will be two years or 200,000 kilometres.
Sloan says as a long-term bus operator of FNQ Bus Lines, he's proud to be involved with this vehicle and support its introduction into the Australian bus and coach industry.
"I personally have placed orders on several buses as a testament to the superiority of the product," he said.
When ABC magazine asked how its buses differ from competing products, Sloan responded:
"It's … similar to everybody else's as far as body and chassis goes, but it's got ZF running gear underneath, plus Cummins, Allison, Webco, full multiplexed with CANBUS and such."
"There's a lot of flexibility for customers. If they want to order something different [to these initial set-ups] – if they want to change the brand of the air-conditioner, or they want a centre door, or they want to put a toilet in the back, or make other changes we can do that on order from the factory – and also offer a 'lifetime supply network' for it.
Asked further to clarify the idea of a 'lifetime supply network', Sloan responded:
"For example, we'll put a stock of windscreens and moving parts for it at [our] depot. I'm a bus operator myself in Far North Queensland. If I need a windscreen it could take me up to a week to get one."
"When people buy this bus we'll keep an inventory for it – so if they need it they use and we get another sent back in its place.
"It's a mini-start-up operation, we don't want to be big - we aren't big. I'm a bus operator not a bus salesman."
"I needed a certain type of bus and the opportunity occurred when dealing with the factory in China with one of our older buses we were trying to fix," he explained.
"With the engineer and a few other people there who got involved we came up with the basic concept and just kept improving on it.
Sloan says one of his very first buses [from another operator] had a lock-up clutch with its transmission and no information could be supplied on it as, for them, it was 'too old' - it was from a factory they used two locations ago and, "obviously the communications lines between companies that have separated aren't all that good."
"So I contacted this factory direct and that's how it all started. They went and found all the wiring diagrams out of that bus from their records and set up conference calls with me. They found the people who actually worked on it – the previous 9-year-old bus with only a couple of hundred thousand kays [on it].
"ZF couldn't explain what was wrong with it because we were looking for stuff that had been cut out of the wiring system in the way they had been built. And nobody knew.
"We thus had a bus that we couldn't use and these guys [iWarrior] helped me out and that is how the relationship sprung up over the past 18 months," Sloan explained.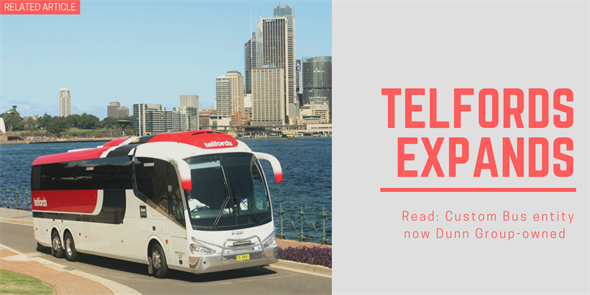 MEMBERSHIP DRIVE
CBC confirmed that no buses have been sold yet and only two have landed on Australian shores – the latest driven fresh off the wharf and making an impromptu appearance at the recent QBIC Annual Members Conference on the Sunshine Coast.
Sloan says he is a member of the Bus Industry Confederation (BIC), but the new bus distributor entity isn't yet but, "it is on the agenda".
TIMEFRAMES
It would take around four months form order from an Australasian customer to delivery, Sloan confirms.
"It's not built at a high-volume factory; it's built specifically more boutique."
The model shown at the time of our shoot is a 2-axle, 57-seat, 12.5m Challenger V12 coach with full bulbar, stone guard, leather seats and, "all the running gear".
"We are giving it a try and I'm going to use them on my own fleet, anyway," Sloane said.
"We can supply to anyone in Australia and New Zealand. We've got the rights for Australasia."
WHO IS AY?
1940 — Anyuan Bus Started as a vehicle transportation fleet under West Jiangxi Coal Administration.
1972 — Renamed as Pingxiang Mining Bureau Automobile Repairing Factory and produced its first bus in 1979.
1986 — Renamed as Pingxiang Bus Factory of Coal Industry Ministry.
2002 — Supported its mother company Anyuan Industrial Co., Ltd for IPO as its core business.
2006 — Passed Australian ADR and American DOT and entered into developed countries' luxury bus market.
2011 — Renamed as Anyuan Bus Manufacture Co., Ltd affiliated to Jiangxi Zhongmei Engineering Group.
2016 — Anyuan Bus introduced a new strategic investor and began a new chapter.
Located in Pingxiang Hi-tech Industry Park, Anyuan Bus covers an area of 343 acres with a construction area of 103 thousand square meters. Its total asset reaches 180 million RMB and employs more than 300 professionals. The complete bus production line consists of chassis, welding, painting, assembling, testing and spare parts workshops, and can produce 5000-8000 buses per year.
About CBC
With offices in Victoria, South Australia and Far North Queensland, Challenger Bus and Coach is the exclusive Australian distributor of Challenger 12-metre and 10-metre coaches.
About FNQ Bus Lines
FNQ Bus Lines Pty Ltd is a locally owned and operated company based in Mossman and Cooktown, Far North Queensland, that provides more than 17 school bus services from Hope Vale in the North to Cairns in the South, with more than 800 children travelling daily. FNQ Bus Lines takes pride in the ability to provide a higher standard of service, the company states.
Subscribe to our newsletter
Sign up to receive the ABC e-newsletter, digital magazine and other offers we choose to share with you straight to your inbox
You can also follow our updates by liking us on Facebook.