Dyson Group expanding
---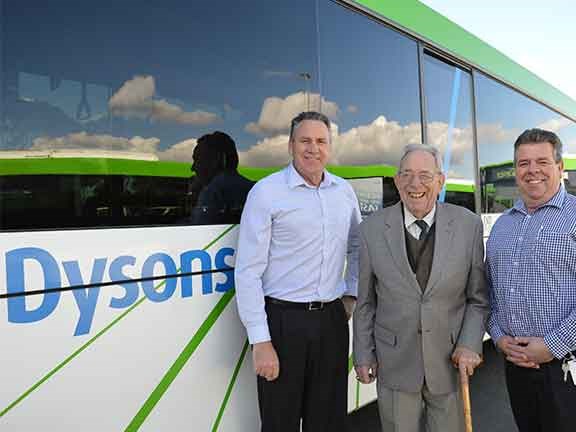 It's been a busy year for Lance Deacon, Col Dyson and Neil Dyson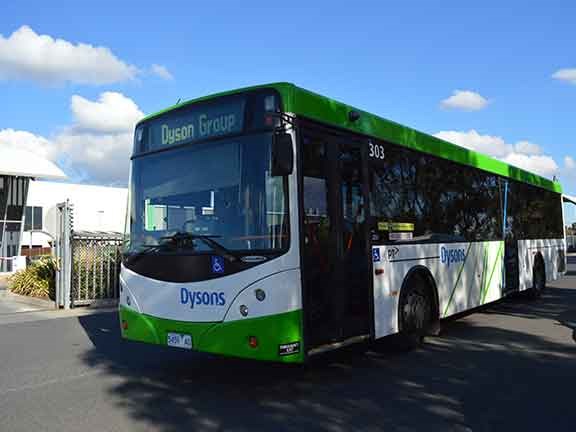 The fleet seems to be growing by the minute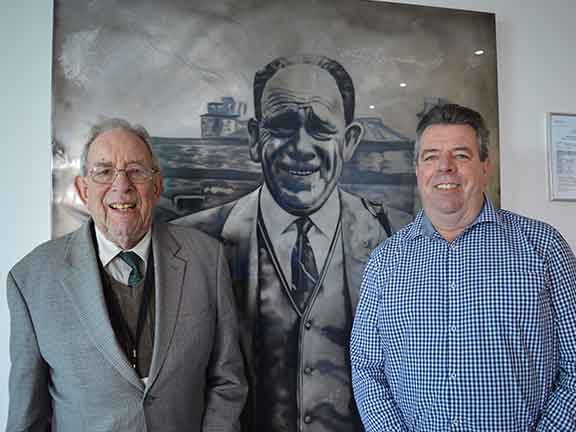 Col and Neil Dyson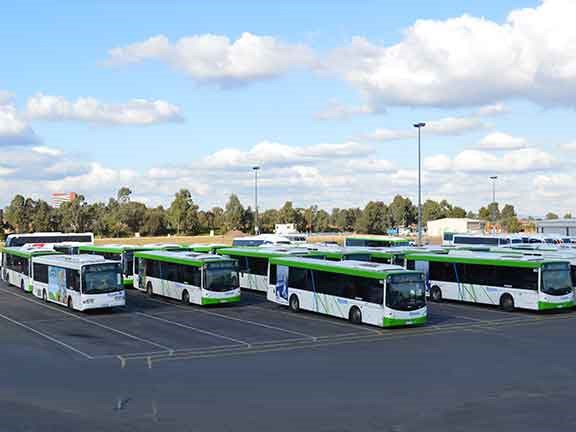 The Dysons fleet takes up a fair bit of space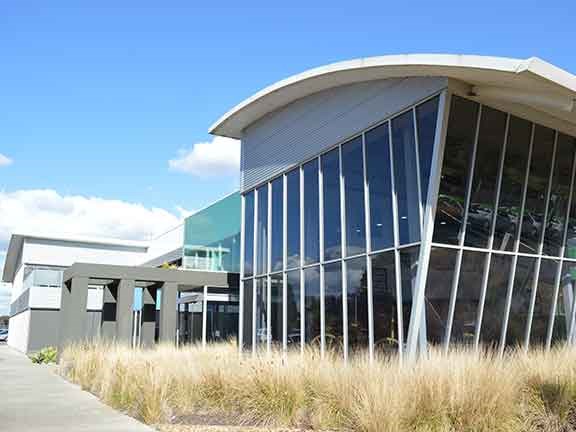 The Bundoora HQ is very modern, but also contains a historical bus museum as a nod to its rich history

It's been a busy year for the Melbourne-based Dyson Group of Companies with the purchase of several smaller operators in regional Victoria
With so much going on within the business in 2017, the senior management team at Dysons is celebrating 65 years of service this month and they have big plans for the next 12 months ahead.
A family-owned and operated bus company founded in 1952, the Dyson Group operates more than 480 buses and coaches while employing over 900 staff in metropolitan Melbourne, regional Victoria and NSW.
It's certainly come a long way since Laurence Dyson bought four buses in the early 1950s. The organisation now operates tours and charter, airport transfers, school runs and metropolitan commuter services. And business continues to grow with the purchase of several smaller regional Victorian bus operators this year.
All told, there are more than 20 extended Dyson family members working in the business which now spans spans an impressive four generations. Joint managing directors Neil Dyson, Lance Deacon and Shane Dyson all play a key part in developing the business. Lance worked in accounting for a decade before joining the family business in earnest, Neil started as a mechanic, and Shane started in operations.
Regional development
The trio has been working hard this year along with other senior managers to make the acquisition of Shepparton Transit as smooth as possible.
"We purchased Shepparton Transit off Larry Fallon, which is a pretty substantial 44-vehicle operation about an hour north of Melbourne on June 1 this year," Lance explains.
The Fallon family had previously operated the Shepparton Transit services since 2003. "Strategically it's good for us to have a base there in Shepparton because that helps connect up all our other regional depots all of which are no more than an hour's drive from each other now essentially," Neil says.
"Larry was looking to downsize. He's kept his little operation out at Cobram and he's got three sons all with their own operations; one at Wangaratta and one at Mount Beauty.
There was a bit of an agreement that if Larry wanted to sell, he would come and see us first and that's just how it happened."
While the purchase of Shepparton Transit included just the one large depot at Shepparton,
a number of vehicles are kept off site in other regional towns and utilised there as required. So Dyson Group now runs the busy Shepparton town service as well as bus services that connect residents with V/Line rail services.
All in the family
Readers could be forgiven for thinking that there couldn't possibly be any more Dysons, but you thought wrong!
"We moved Roy Dyson from our Wangaratta depot down to our new one at Shepparton and he's doing great things there already," Neil reveals. "Roy's 2IC is now looking after Wangaratta and doing an excellent job so far.
"There is scope for development of the bus network around Shepparton.
"It is quite a big place now, much bigger than it used to be, so we will be looking to see what we can do with the network there. We have already streamlined some of our 
V/Line activity there and have had good feedback on that. Our Moama to Murchison service will now be managed by Moama because that's where it starts and, funnily enough, that's how it used to be 20 odd years ago when we used to run that depot."
Bus services operating out of Tocumwal, Griffith and Seymour now utilise the Shepparton depot for vehicle swaps and driver contact amongst other tasks.
"It's been a very smooth transition; we started changing the livery and branding over onto our brand for those 44 vehicles and that will take a bit of time for the team here in Bundoora to complete," Neil says.
"We are not doing the full livery on all of the vehicles, only on the more modern ones. Some of the older ones we just tidy up and put the logo on and that is easy to do."
The services that the Dyson Group now runs in Shepparton include V/Line, charter, government and private school services as well as town services. All former Shepparton Transit employees have transitioned across to Dyson.
It's been a wise move strategically as Shepparton is in a good position for the Dyson Group with many locally based drivers, three workshop staff, an operations manager, an administrative person and a driver that works in between school runs in as an office assistant.
In terms of charter work, Neil says they will be looking for opportunities in and aroundShepparton, but he comments that the charter market is already pretty tight in the wider area.
Joining the team
Dyson Group has also acquired O'Connell's Omeo Bus Service, another family-owned business, after almost 60 years of operation.
The ex-O'Connell's operation consists of the Omeo and surrounding area-based school runs and the Alps Link Bus Service between Omeo and Bright, which Dyson Group will continue to run.
Joint managing director Neil Dyson says having a new base at Omeo is working out well.
"We bought Omeo Bus Services on May 1 this year, which is a four-vehicle operation that we purchased off Rod O'Connell," he explains. "We already ran the Omeo to Bairnsdale service, so taking over ownership of Omeo Bus Services made a lot of sense for us strategically and geographically.
"We will be looking to see what we can do out there to provide better services for people; it's a very handy place for us to have a depot."
"This is the first winter season that Dyson Group has operated snow services in our history and it's been a good season. We are really grateful to the O'Connell family for that opportunity and for coming to us first."
Hive of activity
The Bundoora depot and headquarters in Melbourne is a busy place. "We are a 24/7 operation around here," Neil says.
"We have two spray booths and the guys are used converting livery over to our brand, what with some of the acquisitions that we've done over the years.
"The guys are pretty quick at turning them over these days and they are very experienced."
The organisation does almost everything in-house, including panel and paint.
"The only thing we outsource is auto electrics, air-conditioning and ZF transmissions. We like to support other local businesses, especially when taking over smaller operators.
"The previous owners will generally have arrangements in place with local service providers and you don't want to upset the apple cart. It's best to just keep those arrangements in place a lot of the time."
There's some construction on the horizon at one of their depots in northern Victoria as well.
"My cousin Jamie heads up our regional depots and we are just about to expand our Wangaratta complex with a brand-new office driver's room," he says.
"The Moama and Wodonga depots are fine for the time being. We are lucky to have a lot of good people who look after everything at our regional depots."
The acquisition of Shepparton Transit is good news for experienced drivers in and around the regional city too.
"We have been looking closely at Shepparton and we think that we might need to hire a few more drivers between now and Christmas.
"But the main focus really is on
growing the network up there and hopefully putting on more services where they are needed most."
The organisation is in the midst of metropolitan Melbourne contract re-negotiations and will have a better idea of where it is at with that within the next four to six months. "Once we get the metro contracts sorted we can really start to plan ahead financially and that will allow us to get on with business," Neil says.
The metro contracts aside, the team has a big milestone to celebrate in October.
"It's our 65th anniversary and we have a dinner and awards ceremony at the Melbourne aquarium this month. We do an annual dinner dance usually, but instead of that we're doing a cocktail evening for something a bit different," Lance reveals.
"We have also produced a book on our history to mark the occasion that a lot of our past and present employees have contributed to, and it looks fantastic."
While charter services make up a fairly modest portion of the work the organisation currently does, the team is looking to put a renewed emphasis on luxury charter side of the business in 2017-18.
In January 1854, the first Cobb & Co coach left the Criterion Hotel in Melbourne, bound for Forest Creek, a gold-digging site close to Bendigo. Fast forward to 2017 and the Dyson Group now owns the brand, which it is looking to re-invigorate with the delivery of six new luxury coaches to be used as part of the organisation's tour and charter services in the years ahead.
ABC reported on director Col Dyson receiving the distinction of OAM for his services to the bus industry and local community recently. Now he's all set to receive the honour at Parliament House on October 18. That puts him in a very small group of Australian bus operators who have been acknowledged this way.
In the foyer of the Dyson Group head office in Bundoora is a 'family' tree tracing the history of the Dyson Group, which also includes non-family members who have contributed enormously to the business over the years.
This really shows that all the staff are considered part of the wider family; an inclusive mindset that has undoubtedly contributed to its continued growth and success.
Subscribe to our newsletter
Sign up to receive the ABC e-newsletter, digital magazine and other offers we choose to share with you straight to your inbox
You can also follow our updates by liking us on Facebook.